While a lot of people are excited about the new smartphone models being released recently there are still a good number of phone owners holding on to the #Samsung #Galaxy #S5. This phone model which was released in 2014 is a former flagship device that used to boast of top of the line specs. The S5 however can still compete with several newly released phone models as it can smoothly handle almost all of the apps available at the Google Play Store. While this phone has proven itself as a dependable daily driver there are instances when issues can occur. In this latest installment of our troubleshooting series we will tackle the Galaxy S5 shows charging icon even if not charging issue & other related problems.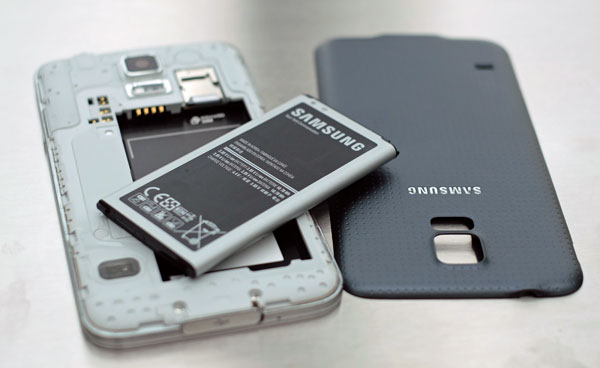 If you own a Samsung Galaxy S5  or any other Android device for that matter then feel free to contact us using this form. We will be more than happy to assist you with any concern that you may have with your device. This is a free service we are offering with no strings attached. We however ask that when you do contact us try to be as detailed as possible so that an accurate assessment can be made and the correct solution can be given.  
If you would like to browse the previous parts in this series then check out this link.  
You may also reach us at our Facebook and Google+ social media accounts.
S5 Shows Charging Icon Even If Not Charging
Problem: Hello, I' ve browsed around your troubleshooting items, but I didn't find by issue that is the following: The phone is always showing the lightning bolt like if it was charging but it is not plugged anywhere. It is very annoying because the screen is coming on and off all the time, it heats up the phone in my pocket, and it drains all the batteries I charge in an external charger. Because, it does not charge batteries either, so I've done a system reset /factory default, but it didn't solve the problem, then I cleaned the contacts of the chargers plug in the phone, and it stopped doing that for a while, but when I plugged the charger to check if it was working again, it started doing the same annoying thing… What could I do to solve this? Thanks a lot.
Solution: This issue is most likely a hardware related problem most likely caused by a defective battery or shorted charging port. I'm leaning towards the shorted charging port since you mentioned that the phone heats up and drains the battery quickly. Try using a new battery on your phone and see if this fixes the issue. If it doesn't then you will need to bring your phone to a service center and have it checked. It's very likely that the charging port assembly will have to be replaced.
S5 Not Charging When Phone Is On
Problem: After last OS update, within days I noticed the following:  A..Screen while phone in use (any use of any aspect) screen will 1) fade to black, 2) remain black while 3) a lower case white "x" appears at bottom right of screen followed by a second lower case white "x" and 4) the screen clears back to either the opened app or the home screen.  B.  When the phone is in rest mode the home screen will come on and go off randomly. C.  Charging issues: 1) Samsung issued wall charger and USB cord no longer work when phone is on only when off.  When on constant connection vibration as if the cord tip is not properly connected to the charging insert on phone. 2)When phone is off appears to accept the same charging device and rapidly charges. 3) The phone is overheating when in use.  4) Finally, When the Charger is connected when the phone is on and I remove the charger cord from the phone Gear VR App appears and requests if I like to finish registering and download the app.  I do not have the gear device and I have tried to force stop the app but my above problems persist.
Solution: The first thing that you need to do in this case since the issues occurred right after a software update is to do a factory reset. This will take out any old software data that might still be in your phone. This old data usually causes a conflict with the new software version resulting in these issues. Make sure to backup your phone data before performing the reset.
As soon as the reset is complete check if any of the issues still occur.
It's likely that the screen issue will not occur anymore. Regarding the charging issue, if you still experience it then follow the steps listed below.
Clean the charging port of your phone using a can of compressed air or cotton bud dipped in alcohol. Your aim is to take out any dirt or debris that could be stuck in this port.

Use a different charging cord and charger when charging your phone.

Try using a new battery.
If any of the charging issues still occur after following the steps listed above then you should have your phone checked at a service center. There's a chance that the charging port of your phone is damaged.
S5 Stuck In Samsung Logo
Problem: hey i'm using samsung S5 (SM-G900F)  i faced a problem…I received a message and after 2-3 minutes when I again held my phone it was off, the battery is actually charged upto 90%  I tried to attach it with the charged it shows a battery and again the black screen i'm not able to switch it on. Next I attached it to my laptop with a data cable here it again done the same thing i hold the power button for more few seconds it vibrate and shows a logo SAMSUNG S5 and again the black screen I last got updates and i agreed it. It got android 6.0.1 and this issue caused after 10-15 days of updates.
Solution: Here's what you need to do for this kind of issue. First, remove the battery and microSD card of your phone ( if you have one installed) then press and hold the power button for at least a minute. This will discharge the phone circuit and clear out its RAM. Reinsert just the battery then turn on your phone.
If the issue remains then try turning on your phone with the charger connected. This way you will be able to verify if the problem is power related. If the phone turns on this way then you might need to charge the battery or replace it with a new one.
You should also check if a glitch in the phone software is causing this problem by starting the phone in recovery mode. If you are able to start the phone in this mode then I recommend that you do a factory reset. Take note that this will erase your phone data so make sure to have a backup copy before doing this.
S5 Does Not Turn On
Problem: It was in the middle of the day, when I reached for my phone and it was off. Last time I checked, battery life was above 70 percent. I tried to charge it, but no light or vibration response. I took the battery out and put it back in, still no charge. I have tried rebooting, plugging into my computer to boot up, no luck. I tried my battery in another Samsung S5 and it works, so I think it may be the phone itself? Is this repairable? Thanks!
Solution: Since you have already established that the battery is working then the problem could be with the phone hardware itself. You should have this issue checked at a service center.
S5 Stuck In Bootloop If Not Connected To Charger
Problem: Hdy! I'm having serious issues with my phone. It's a galaxy s5. I've had it for almost 3 years. It's stuck in a bootloop. BUT… works perfectly fine when plugged into the wall. The USB itself will not give it enough charge to get passed the Samsung logo screen. But in the wall.. A OK. As soon as I unplug it, bootloop. I've done all the suggested troubleshooting, including a factory reset. I just can't figure out what's going on. Help please!!!!!!
Solution: Try checking first if this issue is caused by a weak battery by getting a new battery. If the issue still occurs even with a new battery installed then you should bring your phone to a service center and have it checked. I suspect that the issue is caused by a faulty charging port assembly.
S5 Not Starting After Update
Problem: hi my phone galaxy s5 was updating got really really hot i couldn't turn it off after the update so took the battery out it's cooled down but now it will not do anything iv tried all little tricks but no think it chargers and that's it please help thank you
Solution: It's either a glitch in the software update is preventing your phone from turning on or a hardware problem is causing this issue.
Try using a new battery on your phone and see if this works. If it doesn't then try doing a factory reset in recovery mode. This will delete your phone data so make sure to have a backup copy before proceeding with the reset.
If the above steps don't work then I recommend that you bring your phone to a service center and have it checked.
S5 Deleting Data From Phone That Won't Turn On
Problem: Help… I have a Samsung Galaxy S5 that shows the 'White Pixelated Screen Of Death'. Never dropped or misused. It won't turn on so I can't do a factory reset before sending it back to Verizon. I've already received a replacement phone but I need to erase everything before sending it in. Is there anything I can do? Verizon will charge me if there is any physical damage to the phone, so a steam roller is out of the question!   Thanks for any advice you can give me.
Solution: The best way to erase the data in your phone is to do a factory reset. Since this is impossible right now due to the issue with your phone display you can try connecting your phone to a computer with Kies or Smart Switch installed. Use the software to delete your phone data. If the computer can't detect your phone then another way to delete the data in your phone is to place it under a strong electromagnet.
S5 Black Screen Not turning On
Problem: Hi. While using my Samsung s5 mini, several horizontal stripes suddenly appeared on its display and the phone stopped reacting. I switched it off to restart but it stopped reacting entirely (black screen, no control lights on etc). I tried to take the battery out, as well as to charge it. Neither of it helped and it seems totally ,dead'. What problem this might be? Would it be typical for this type of phone?
Solution: Try using a new battery on your phone to verify if the problem is power related. If this doesn't work then check if you can start your phone in recovery mode. From here I recommend that you do a factory reset to eliminate any software issues that might be causing this problem. Take note that a reset will delete your phone data.
If the above steps fail then I recommend that you have your phone checked at a service center.
Feel free to send us your questions, suggestions and problems you've encountered while using your Android phone. We support every Android device that is available in the market today. And don't worry, we won't charge you a single penny for your questions. Contact us using this form. We read every message we receive can't guarantee a quick response. If we were able to help you, please help us spread the word by sharing our posts with your friends.