#Samsung has always been known for releasing high end Android smartphones that comes with beautiful displays. Take for instance the Samsung #Galaxy #S5, this former flagship model was released in 2014 and came with a 5.1 inch Super AMOLED display with 1080 x 1920 pixels. Viewing photos, watching videos, and even browsing the web with the device is really quite pleasant to the eyes due to its Full HD resolution.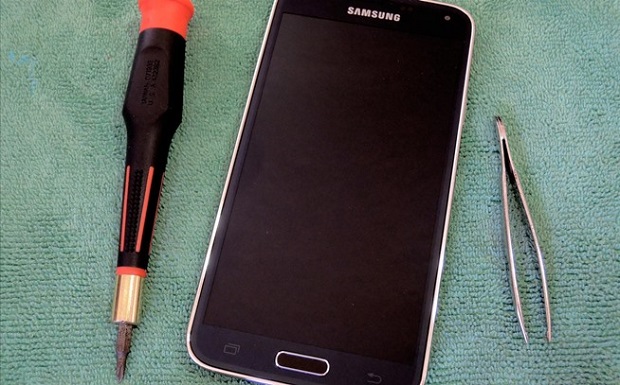 There are however instances when the display of the phone does not work as expected. This issue is what we will tackle today. In this latest installment of our troubleshooting series we will deal with the Galaxy S5 flickering screen issue & other related problems.
If you own a Samsung Galaxy S5  or any other Android device for that matter then feel free to contact us using this form. We will be more than happy to assist you with any concern that you may have with your device. This is a free service we are offering with no strings attached. We however ask that when you do contact us try to be as detailed as possible so that an accurate assessment can be made and the correct solution can be given.  
If you would like to browse the previous parts in this series then check out this link.  
You may also reach us at our Facebook and Google+ social media accounts.
S5 Flickering Screen
Problem: I have had my phone for 14 months.  I started having trouble with the screen that has not yet affected my ability to use the phone.  I usually leave my phone charge while I am sleeping. A couple months ago while I was travelling I started to have a flickering green fuzzy screen.  I do not leave it plugged in to charge anymore while I am sleeping but I still have the problem. It seems that when I get up the morning the phone screen is black even though all the functions are okay. The alarm will go off or notifications of sound. The screen will eventually come on but it is slow and I have to press the side power button and then the button at the bottom of the phone.  Once I get using the phone again it seems to have less problems and the screen is normal, but when I press the side button to lock the screen there is still that green buzzy flicker at the bottom and again to turn it on.  It also seems that if I take the battery out, it will start again more quickly without me having to wait.  I took it to a few shops, and they tell me it is the LCD but they could just be trying to sell me the repair or a new phone.  One of them suggested leaving it in to charge while sleeping may have caused it. The battery is ok.  It is not losing or gaining charge any differently.  Please advise on any suggestions. Thanks
Related Problem: My screen flickers. Not like a line or anything but a slight dimming to brighter setting flicker. I've cleaned the screen multiple times but it still does it. No water damage since it hasn't been near water.
Related Problem: Hi, yes, my Samsung seems to be having a screen flickering issue. As soon as I turn on my phone, the screen flickers pink for a moment then goes to my actual lock screen. I was wondering how this was happening, since this started when I was watching videos on Google. Could I get an answer as soon as possible? Please and thank you!
Solution: You should first thoroughly check if the problem is caused by your phone software. Start by checking if some form of corrupt data is causing this problem by wiping the cache partition of your phone.
If the problem still persists then proceed with checking if an app you installed has anything to do with this. For this you need to start your phone in Safe Mode. In this mode only the pre-installed apps are allowed to run while those apps you downloaded are disabled. If the screen does not flicker in this mode then the issue may be caused by an app. Find out what app this is and uninstall it.
In the event that your screen still flickers in Safe Mode then you need to backup your phone data and do a factory reset.
If the above troubleshooting steps fail to resolve the problem then this may already be hardware related possibly due to a faulty display. I suggest you bring your phone to an authorized service center and have it checked.
S5 Flickering Screen After Software Update
Problem: Ever since I updated my phone to the newer software version  my phone screen has been flickering a lot when I dim the brightness of the screen or when I turn power saving mode on. When I restart it its fine but then a couple minutes later it starts doing it again. It also happens when the screen is about to turn off since I have it on the 1 minute screen timeout option.Please help!
Solution: Since this problem started right after the software update then it may be caused by old software data that may still be in your phone. This old data is conflicting with the new software version and is causing this problem. To get rid of this old software data you should backup your phone data and do a factory reset.
S5 Flickering Screen Then Goes Black
Problem: I had a samsung s5 flickering screen then going black took it to samsung who gave me new device and its started flickering again had my first 1 over a year before it done this and this ones brand new and still doing it its very annoying as i really liked this fone before this and cant afford a new one its not goin black this time just flickering quite bad  ive done the *#0*# thing but doesn't tell me anything please help thanks.
Solution: Try checking first if the phone software has anything to do with this problem. Start by wiping the cache partition of your phone. This eliminates the temporary data in your device which if corrupt may cause this type of problem.
You should also check if an app installed in your phone is causing this by starting your phone in Safe Mode. In this mode only the pre-installed apps are allowed to run while apps you downloaded are disabled. If the screen flickering issue does not occur in this mode then an app may be causing the problem. Find out what app this is and uninstall it.
If the screen still flickers even in Safe Mode then I suggest you backup your phone data and do a factory reset.
If at this point the issue still persists then this could already be a hardware related problem. I suggest you bring your phone to an authorized service center and have it checked.
S5 Screen Goes Black
Problem: Hey Im generally rough with my phone. Ive dropped it a lot but for the most part it still works. Within the past 3 to 4 days, this issue has been popping up. When the phone is on, the screen just goes black. I can see the led light, and even make regular sounds, vibrations, or music come out, just the screen is unresponsive. So when I take the battery out to reset it, then put it back in and try and turn it on, i have to try 15-20 times. it turns on and the screen works the last time, but the 15-20 times i try to turn it on before that, i see a flicker of lines across the screen then black. the phone is still on, i get vibration feedback and the led flashes. Im thinking when i dropped it, the connection between the system and the screen is loose? can i take it apart and fix it on my own? (id be willing to take the risk of permanent damage)
Solution: This is most likely a hardware related issue already caused by dropping the device. Either the display is already defective or there may be a loose connection somewhere. You can take apart your phone if you are comfortable with the procedure. There are several videos on YouTube detailing this procedure. Make sure to follow the procedure concerning the display only since this is where you will be concentrating on.
S5 Screen Issue After Getting Wet
Problem: My boyfriend dropped his phone in the water and when he try to turn it on it went blank so we let dry and it started turning on but it won't look right so I was wondering if it's fixable. Thank you
Solution:  Since the phone got wet the first thing you should do is take out its battery, SIM card, and microSD card. Bury the phone in a bowl of rice for at least 48 hours. The rice will absorb the moisture inside the phone. While waiting for the 48 hours make sure the battery, SIM, and microSD are dry.
After the 48 hour period reinsert the battery then turn on your phone. If the issue still persists then the device may have suffered some water damage. It's best to bring your phone to an authorized service center and have it checked.
Feel free to send us your questions, suggestions and problems you've encountered while using your Android phone. We support every Android device that is available in the market today. And don't worry, we won't charge you a single penny for your questions. Contact us using this form. We read every message we receive can't guarantee a quick response. If we were able to help you, please help us spread the word by sharing our posts with your friends.