Samsung's Galaxy S23 Ultra packs in nearly everything you could ask for in a mega-phone. This fully loaded 6.8-inch handset sports a gorgeous Dynamic AMOLED display with a silky smooth 120Hz refresh rate, pro-level 200-megapixel camera, S Pen stylus and blistering Snapdragon 8 Gen 2 speed.
* If you buy through links on our site, we may earn an affiliate commission. For more details, please visit our Privacy policy page.
But during my testing, it was the Galaxy S23 Ultra's shockingly good battery life that really captured my attention. This thing is a true marathoner that keeps going long after rival phones have thrown in the towel. Here are my battery findings after two weeks using the Galaxy S23 Ultra as my daily driver.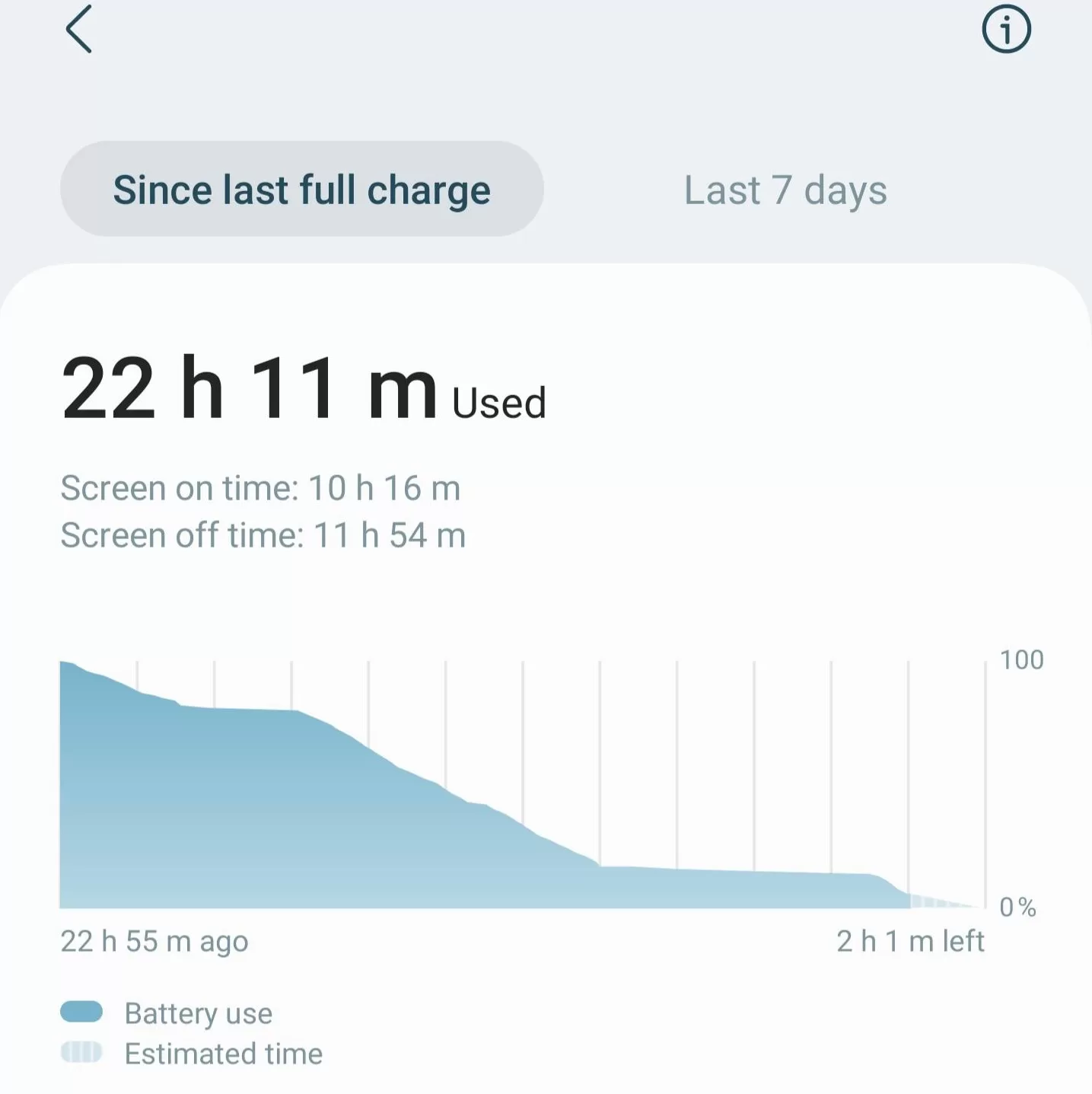 Big battery, long life
The Galaxy S23 Ultra houses a 5,000mAh battery, which is fairly standard for plus-sized Android flagships these days. But Samsung has worked some real magic with the software and silicon to extract more longevity from that cell.
In daily use, I never felt even a twinge of battery anxiety. The Galaxy S23 Ultra easily got me through a full day of heavy use with plenty of power to spare. We're talking screen-on times of 8-11 hours, depending on how hard I push the phone.
Even under heavy loads like GPS navigation and mobile hotspot usage, the Galaxy S23 Ultra just kept on ticking well into a second day. This gives you tremendous flexibility when you're traveling or out and about. You won't find yourself desperately hunting for a power outlet at 5pm.
The Galaxy S23 Ultra is the first Galaxy S phone I've used that I feel could truly be a single-device solution. The battery life finally matches what Apple's iPhones have offered for years.
New processor = big efficiency
A big factor in the Galaxy S23 Ultra's excellent endurance is the move to Qualcomm's new Snapdragon 8 Gen 2 chip. Built on a 4nm process, this processor is tuned for power efficiency – especially in standby mode. That pays dividends for real-world use when the phone spends a lot of time in your pocket or bag.
Past Samsung flagships tended to use different processors (often their own Exynos chips) for certain markets, and battery life could vary wildly. The global move to Snapdragon should result in a more consistent experience, and that's borne out in my testing.
Charges fast when you need it
Samsung played it safe with charging speeds this year but offers a couple of handy options. The phone supports up to 25-watt wired charging and 15 watts wirelessly. Not a record-setting, but completely sufficient given the large battery capacity.
Using Samsung's optional 45-watt charger, I could juice up from 0 to 60% in about 30 minutes. So even if you do manage to run the Galaxy S23 Ultra down, you can give it a quick recharge before heading out again.
For overnight charging, the included 15W USB-C PD adapter works fine. And I appreciate that Samsung still includes at least a basic charger in the box, which you don't get with iPhones.
Hands-on testing results
To evaluate the Galaxy S23 Ultra's endurance, I put it through a combination of synthetic battery tests and real-world usage sessions. Here's some of what I found:
Battery test (5G web surfing at 150 nits brightness): 13 hours 2 minutes at 60Hz / 12 hours 19 minutes on adaptive mode. That's a significant bump up from the Galaxy S22 Ultra's time of around 10 hours. Only the biggest battery beasts, like the Asus ROG Phone 6 Pro, last longer.
Typical weekend day (mixed usage): Unplugged at 8am, used heavily for streaming video, gaming, camera and GPS navigation throughout the day. The phone lasted until midnight with about 10% charge remaining. Screen-on time was just over 9 hours.
Typical workday (light/medium usage): Unplugged at 7am, used for email, messaging, and social media until 6pm. It still had 40% battery remaining with about 5 hours screen on time. It easily lasted a full second day before needing to recharge.
The Bottom Line
With incredible endurance that finally matches its other cutting-edge capabilities, the Galaxy S23 Ultra is Samsung's most complete flagship phone yet. You no longer have to depend on a hefty Galaxy S23 Ultra battery case to get through the day. Two-day battery life is now easily attainable for moderate to heavy use cases and this alone is worth the upgrade from previous models.
If you want a big phone that packs everything and compromises nowhere – including staying power – the Galaxy S23 Ultra delivers in spades. This is Samsung's new battery life king.