One of the reasons why people get Android devices is because of the easy way to expand its available storage. A person can get a phone such as the #Samsung Galaxy #S4 with a base storage of 16GB  but then can further increase this by simply adding a microSD card. The S4 can accommodate a microSD card of up to 64GB which is enough to store several videos, photos, and music. There are however instances when phone storage issues can occur on this phone. In this latest installment of our troubleshooting series we will tackle the Galaxy S4 phone storage does not have enough space issue & other related problems. We have gathered several issues of this nature sent to us by our readers and have addressed them below.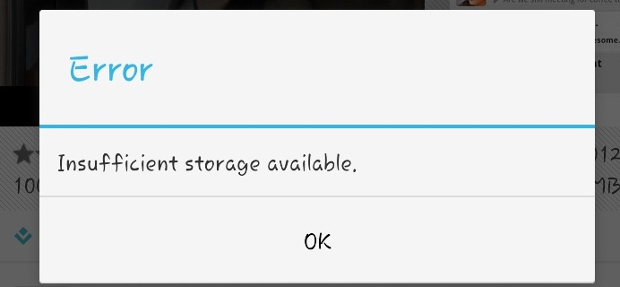 If you own a Samsung Galaxy S4  or any other Android device for that matter then feel free to contact us using this form. We will be more than happy to assist you with any concern that you may have with your device. This is a free service we are offering with no strings attached. We however ask that when you do contact us try to be as detailed as possible so that an accurate assessment can be made and the correct solution can be given.  
If you would like to browse the previous parts in this series then check out this link.  
You may also reach us at our Facebook and Google+ social media accounts.
S4 Phone Storage Does Not Have Enough Space
Problem: Good afternoon saw your article – How To Fix Common Samsung Galaxy S4 Problems and Errors- online. It's very informative. But I was not able to find solution to my problem. I am using a samsung galaxy s4 mini. I just bought it. The phone has internal storage of 32Gig and RAM of 1.5Gig. The issue am having with it is that whenever am trying to use camera or receive files it will say "The phone storage does not have enough space." I was surprised and confused. When I checked the "storage" under "settings" it showed "Total internal storage: 32.00GB." "Available 31.99GB." So I don't know why it is saying not enough space when I still have 31.99GB free in the internal storage. But, I discovered something when I checked under "My Files" it showed "Phone Storage" as "Total Space: 12.15MB" and "Available: 1.7MB." This shows that truly "The phone storage does not have enough space." My further check made me to realise that all of my few media are under "My Files" which is a folder inside "RAM". My problem is that how can I move my files to the "Internal Storage" of 32GB, that is still 31.99GB free.
Solution: When your phone has insufficient storage space the first thing that you will want to do is to check if certain apps are using up some space by saving some data. Going to the application manager and checking the data storage of each app will give you an idea of how large of a space each app is using. If you have a lot of apps then this could take some time. If an app is using a lot of space you can clear its cache and data. You can also go to the storage setting of your phone then click on cached data. You will then be presented with an option to clear the cached data in which case you should select ok.
If the issue still persists then start your phone in recovery mode then clear its cache partition. Restart your phone then check if the problem still occurs. If it does then I suggest you backup your phone data then do a factory reset.
S4 microSD Card Keeps On Unmounting
Problem: for months have had no issue using the SD card for the default music player when suddenly it stopped registering the SD. Half the night i got repeated messages about it unmounting and then nothing. The card is NOT corrupt and reads find in several other devices and my computer. it is a SanDisk 64gb card. i repeatedly restarted the phone removed the card tried safe mode and even a system reset and it will not read any SD card i try.
Solution: If you have already performed a factory reset and also tried several microSD cards on your phone then this could already be a hardware related problem. Try blowing the microSD card slot first with a can of compressed air. This will clear out any dirt or debris which may be causing this problem. Insert the card then check if the issue still occurs. If it does then I suggest you have your phone checked at an authorized service center. The SIM card holder/memory tray slot assembly could be damaged and needs to be replaced.This component usually costs less than $10 over at Amazon.
S4 Storage Space Running Out
Problem: I have 2 icons on the top bar. One says phone memory full. The other says storage space running out. I have deleted a few apps and I have tried to delete text messages, but it is not allowing me to delete any text messages. And occasionally thing randomly pop up while I am trying to delete things say some along the lines of this application has stopped would you like to exit. And it would be related to whatever I am trying to delete. It basically looks like it is trying but then it is just like oh no I am going to close it down and not do what you asked.
Solution: It looks like the phone is running out of storage space and at the same time experiencing some software glitches. To quickly resolve this problem you need to backup your phone data first. I suggest you do this using Kies or Smart Switch. Once you have backed up your data immediately do a factory reset. After the reset check if the issues stil occur.
S4 Storage Space Running Low
Problem: So I have downloaded many things into my "downloads" app. You know, the one with the green arrow? And it has been taking up too much space. So I cleared all content from it because I no longer needed it. Thinking that all was going to be well, I waited for the "storage space running low" notification to disappear. And it didn't do that. My phone still says I have 4g of content in my "downloads" file, yet I have deleted all of it. Please help guide me to a solution that will fix this problem.
Solution: You can check if any downloaded files are still present in your device by using a file manager app. These files are usually present in the downloads folder. If you see any files present then check what file it is first before deleting it.
So as not to delete any important file in your phone you can also start it in recovery mode then wipe its cache partition. This will delete the temporary data stored in your device which can get big in no time.
If you are still having issues with the storage space running low at this point then I suggest you backup your phone data then do a factory reset.
S4 Memory Full
Problem: Phone shows 10 gb used yet says memory full some functions will not work. I have hard reset phone several times. It works fine for a few hours then says memory full. When there is plenty of space. All pic and such on a 64gb sd card. Phone is a 16gb.
Solution: Try backing up your phone data then wipe the cache partition of your phone then follow this up with a factory reset from the recovery mode. Once this is done do not install anything in your phone yet. Observe first if the issue still occurs. If it doesn't then reinstall your apps. Make sure to check how much space the app uses from the application manager. If you install several games in your phone then it's very likely that you will run out of storage space.
S4 Storage Space Becoming Low
Problem: Hi, When I connect my Samsung S4 to the PC it shows "561 MB free of 9.22GB" in red. What can I do about it. I have very few pictures and no music on it. Is it important? Thanks
Solution: Although 561MB of storage space is still large ( you can still save a few hundred photos with this space) you can free up more space in your device by wiping its cache partition from the recovery mode. This will delete the temporary files stored in your phone.
If you have apps that you don't really use you can uninstall this as well to free up more space.
S4 Can't Access microSD Card
Problem: I have had this phone for a year with the same sd card that has worked fine. It starting showing this error and I can't access the card now.
Solution: Take out the microSD card and have your computer read it. You should also try to insert another microSD card in your phone.
If your microSD card can't be read by the computer then it could already be corrupt. Replace this with a new one.
If it can be read by the computer then the issue could be with the phone. Try wiping the cache partition of your phone from recovery mode then check if the microSD card can be read. If it can't be read then proceed with backing up your phone data then do a factory reset.
Feel free to send us your questions, suggestions and problems you've encountered while using your Android phone. We support every Android device that is available in the market today. And don't worry, we won't charge you a single penny for your questions. Contact us using this form. We read every message we receive can't guarantee a quick response. If we were able to help you, please help us spread the word by sharing our posts with your friends.