I was surprised to have read a lot screen problems sent by Samsung Galaxy Note 4 (#Samsung #GalaxyNote4) owners. While most of them are minor issues, we are still obliged to address the problems sent by our readers. So, consider this post as an answer to some of the issues we received.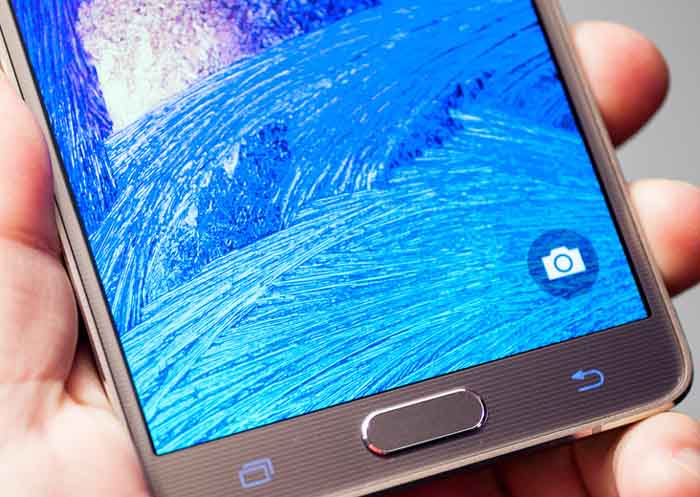 The first problem I addressed here is about a Note 4 that won't respond to touches anymore after it was dropped. It's actually easy to determine the problem due to the cause then but the thing is, there are data inside the phone that needs to be recovered before it can be sent for repair. That's where the problem enters.
Other issues I addressed in this post include screen freezes that most dreaded "dm-verify verifications failed" error. Read on to know more of these problems and how to address them.
If, however, you found this page because you were looking for a solution to a different problem, then I suggest you take time to visit our Samsung Galaxy Note 4 troubleshooting page as it contains a list of problems we already addressed in the past. Find issues related to yours and try the existing solutions. If they won't work for you, then feel free to contact us by filling up this form.
Backup data on Galaxy Note 4 with unresponsive screen
Problem: I recently dropped my Galaxy Note 4 on a cemented pavement and while it still displays fine, the touchscreen was totally messed up and I mean that the device won't respond to my touches anymore. And here's the kicker, the S Pen has also been damaged prior to this problem so I really don't have anything to work on. Fortunately, the phone still works perfectly; messages and calls come in and emails as well but the most painful part is that I couldn't read them because it won't respond. I read online that a Bluetooth mouse can be used to navigate but my question is, how can I even pair it with my phone when the Bluetooth is disabled? I will probably have it repaired but there are sensitive data I don't want to lose or seen by others. You guys are my last hope. Can you please tell me a way how to backup my data? I will do it whatever it takes just to salvage those data and pictures. By the way, my phone is PIN locked. Great, right? Thanks! — Susan
Suggestion: Hi Susan. Don't worry, there's always a way around every problem. All you need to do is try to look at it in a different perspective or angle. In your case, a Bluetooth mouse will not work but a wired one (USB) will. You just need to buy a USB OTG cable to interface the mouse with your phone and then you can proceed with whatever you want to do with it.
The USB OTG cable, whatever the brand is, will always work with your phone and any USB mouse will work like any other plug-and-play devices. You can easily find one at any local store that sells phone accessories and chargers and it's cheaper than you thought. If you don't have a USB mouse yet, then you'll have to buy that one either. But I assure you, you will be able to backup or even operate your phone with a wired mouse.
Galaxy Note 4 screen freezes
Problem: My touch screen wont work, I got it repaired recently at a repair shop and when it was returned, it was doing those split second freezes which I was ok with but as time went on it started to freeze more and longer to the point where my touch screen just completely stopped working. I factory reset my phone assuming it would get rid of a bug (assuming there was one) and I even took out the battery for a full day. It started working again but barely and now I'm stuck with my phone completely unstable. It does not sense my hand when I touch the screen and I haven't find the time to go check what the problem is but I'm starting to guess that the man who fixed my phone last time didn't take a proper look at what the problem might be. — Marissa
Troubleshooting: Hello Marissa. I really don't know if those split second freezes were caused by the firmware or a hardware problem so it's better if you observe the performance of your phone further. I suggest you boot in safe mode and see if it still freezes from time to time.
Turn off the phone completely.
Press and hold the Power key and the Volume Down key.
When the phone starts to boot, release the Power key but continue holding the Vol Down key until the phone finished restarting.
Safe mode will be displayed at the lower left corner; you may release the Volume Down key now.
If the phone freezes in safe mode, then you need to perform a master reset. I understand you already did the factory reset and while both have the same outcome, the master reset reformats the data partition thus deleting all possible corrupt data.
Turn off the Galaxy Note 4 completely.
Press and hold the Volume Up and the Home keys together, then press and hold the Power key.
When the Note 4 vibrates, release both the Home and Power keys but continue holding the Volume Up key.
When the Android System Recovery shows on the screen, release the Vol Up key.
Using the Volume Down key, highlight 'wipe data / factory reset' and press the Power key to select it.
Now highlight 'Yes — delete all user data' using the Vol Down key and press the Power key to begin the reset.
When the master reset is complete, highlight 'Reboot system now' and hit the Power key.
The Note 4 will restart but it will be longer than usual. When it reaches the Home screen, then begin your setup.
After the reset, don't install apps yet instead continue observing your phone just to see if it would still freeze even if all apps and services running are pre-installed. If so, then it's time you sent the phone in for repair…again.
Galaxy Note 4 shows "dm-verity verification failed" error
Problem: I have done rooting following the steps on a webpage I found online, however after rooting, I downloaded titanium backup and removed some built-in apps including touchwiz. Thereafter problem below arises:
Shows black screen at main page but phone is still working
Keeps popping up 'Unfortunately, the process.com.android.phone has stopped' – I have clear cache on phone, factory reset but it does not work
realized upon hard factory reset, it shows 'dm-verity verification failed problem' and seems like there is no solution online for this problem yet
Please help, thanks. — Wendy
Troubleshooting: It means that you've messed up the EFS partition of your phone where all very sensitive data of the device are stored. The partition can't easily be messed up with factory reset or any other kinds of resets so it's clear you have gone as far as deleting files that shouldn't be deleted. You mentioned, however, that you downloaded Titanium Backup, which has the capability to backup the EFS Folder so try to check if you've backed it up, that is if you used the app to backup some data in your phone. If there's a backup, then you can restore the EFS Folder without a sweat, otherwise, you need someone with expert knowledge to restore it for you.
Galaxy Note 4 screen is black after being dropped
Question: I dropped my phone tonight. The screen is black. It powers on and I can hear that I am getting text messages. Any suggestions on how to fix it? Nothing is visibly broken.
Answer: It's probably a hardware problem so you need a technician to check it for you. There's not much you can do about it because removing just one screw will void your warranty. If the phone just sounds off and functions normally except display things on the screen, then it's just a display problem; it might need replacement.
Galaxy Note 4 with cracked screen operating on its own
Problem: My screen is cracked but it was working fine. Recently my screen started operating on its own like it started making calls and opens apps that I've not touched.
P.S. My cracked screen is not replaced. Please help me.
Troubleshooting: If the digitizer (the glass on top of the display that makes touchscreen possible) is cracked, there's a chance that it's the one creating those "ghost" touches. Sooner or later you will decide to have it fixed or replaced so why not invest on it now. There's not much we can do about it because we can only confirm that it's really the digitizer that's causing the problem once it's replaced and the problems are gone.
Oh well, you may try to boot your phone in safe mode and see if it still operates on its own. If so, try the master reset and if the problem remained, have it fixed.
Connect with us
We are always open to your problems, questions and suggestions, so feel free to contact us by filling up this form. We support every Android device available and we are serious in what we do. This is a free service we offer and we won't charge you a penny for it. But please note that we receive hundreds of emails every day and it's impossible for us to respond to every single one of them. But rest assured we read every message we receive. For those whom we've helped, please spread the word by sharing our posts to your friends or by simply liking our Facebook and Google+ page or follow us on Twitter.