Smart speakers are a growing market and its clear that there are only a few leaders in the market today. What's surprising, however, is that Google's market share has taken a significant dip in Q3 2019. A large part of this is due to the emergence of Chinese OEMs like Xiaomi, Baidu, and Alibaba in the smart speakers' segment.
The figures compiled by Canalyst suggest that Google's smart assistant speaker sales only accounted for 12% of the market share in Q3 of this year. This is compared to 29.8% in Q3 2018. This, in turn, means that Google only shipped around 3.5 million units of its smart speakers. This is a drop of around 40% compared to the same period last year.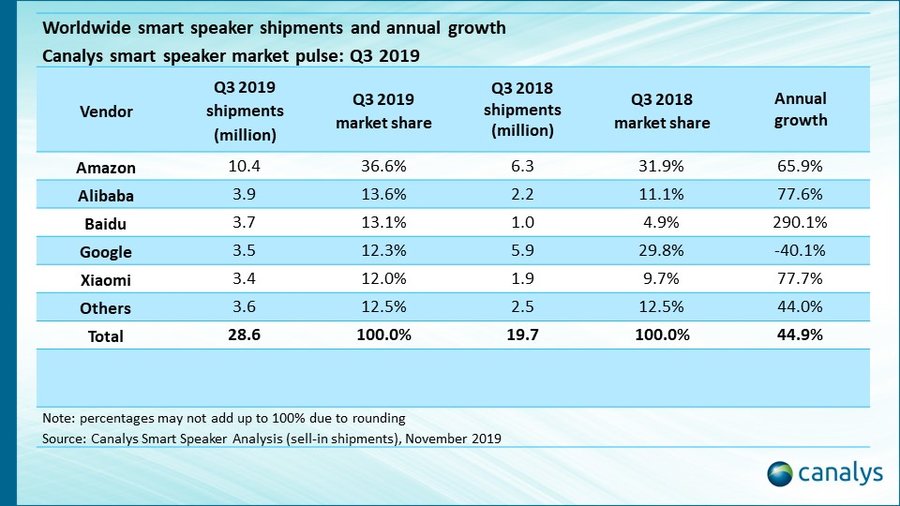 It's worth pointing out, however, that Amazon saw a great quarter by shipping 10 million units of its Alexa powered smart speakers. This gave the company a market share of 36% compared to 31% in the same period last year. Amazon sold 2.2 million units of its smart displays, again a significant lead over Google which only saw around 700,000 in smart display sales.
While this is pretty great news for Amazon and its voice assistant lineup, Google clearly has some catching up to do. The company ran several major promotions last year to boost the sales of its home speakers. Perhaps the company can do something similar this year as well.
With the holiday season upon us, customers are bound to be confused between competing products. Be sure to check out this article if you're torn between the Google Home Mini and the Amazon Echo Dot.
Do you own any of the aforementioned smart speakers? Be sure to let us know in the comments below.
Source: Canalys
Via: 9to5Google