The Outriders crossplay feature should have been fixed by now but some gamers report that it is still not working on them and they are still experiencing some issues with it. In this troubleshooting guide, we'll show you the solutions that you can do to fix any crossplay problem you may be having.
What is Outriders crossplay?
The latest Square Enix PvE game, Outriders, is one of the best looter/shooter games today and is best enjoyed with friends. Unlike other games of the same genre, Outriders does allow you to play with your pals even though they're playing on a different platform. This is called crossplay and there's no denying that it's a major selling point for this game. So, if you enjoy Outriders playing on a PC but your friends love the game on their PlayStation and Xbox, you simply have to enable crossplay to play together.
How does Outriders crossplay work?
In order for PC and console players to play together, each one must ensure that crossplay is enabled on their device so that they can both go into matchmaking. The steps to do so are the same across all platforms although there are different buttons that you need to use.
If you're wondering how to enable the Outriders crossplay feature, follow these steps:
Load the game and go to the Lobby menu.
Select Options.
Go to the Gameplay tab.
Scroll down and find Enable Crossplay.
Make sure that Enable Crossplay says ON.
Once you've enabled crossplay in your game settings, you can head back to the main screen and select the Play With Friends button at the upper right. This should tell your PC and consoles to join matchmaking and to create a game for you to begin your multiplayer match.
Causes for Outriders crossplay issues
The Outriders crossplay feature has been hit by a major bug on launch day and it took the publisher (Square Enix) and the developer (People Can Fly) several days to fix it. Crossplay issues that prevents console and PC players from playing together lingered during Day 1 that the feature was eventually disabled temporarily. At the time of this writing, People Can Fly has already released a patch and crossplay issues are a thing of the past, at least for the majority.
There are still people though that continue to experience crossplay issues such as long matchmaking times, disconnection during matchmaking that results to some players to be kicked from the party, or an error that prevents you from joining a party.
Known crossplay issues.
The Outriders crossplay feature was apparently buggy that it causes desynchronization between the PC and consoles early on. While the developer, People Can Fly, has been working on patches to make crossplay more stable, the multiplayer aspect of this game is still spotty at best. Even after Square Enix has announced that crossplay is back to normal and should no longer result to a mismatch which causes players from getting kicked from a party, other issues remain such as long wait time during matchmaking and Party Joining Failure error.
Server issues.
Both console and PC players are reporting server issues from time to time. The problems range from long matchmaking queues, untimely disconnections during matchmaking and in a multiplayer match, as well as network lag or low frame rate when online. While most of these issues are not entirely caused by the game servers, some connection issues with Outriders can also occur due to them.
Slow internet connection.
The state of your own internet connection at home can be the reason why you may be experiencing crossplay issues. If your internet is slow or disconnects randomly, it may cause your PC or console to lose sync with the game servers.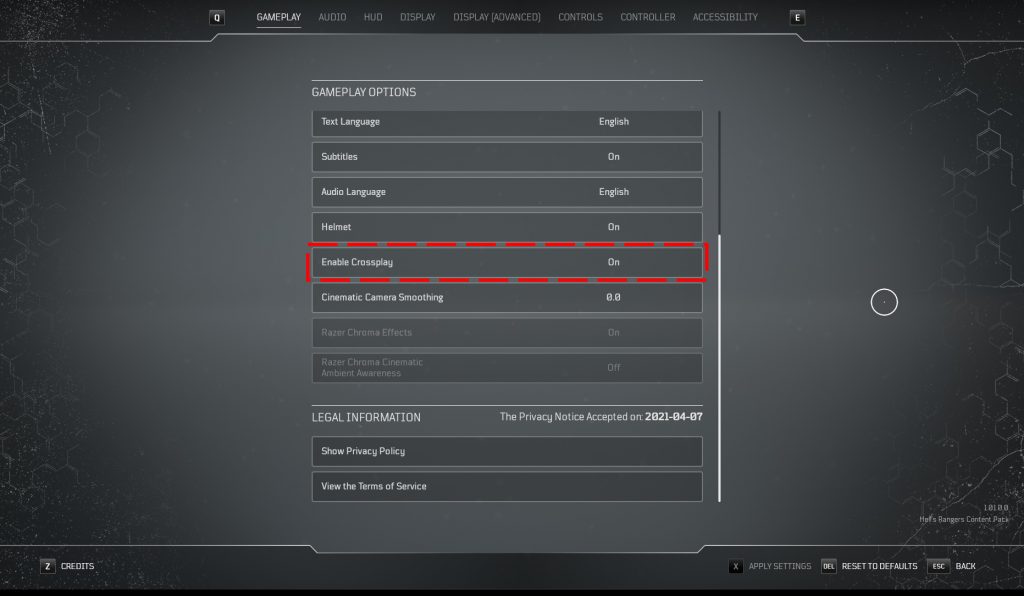 How to fix Outriders crossplay not working issue?
These are the solutions that you can try if you can't seem to make crossplay to work properly in your PC or console.
Fix #1: Check for server issues.
At the time of this writing, People Can Fly expects that the Outriders crossplay feature should be working normally. However, other aspects of the game such as matchmaking may be down or taken offline due to outage, maintenance, or high traffic.
To see if there are any server-side issues, visit the official Outriders server status website.
If you are active on Twitter, you can check out the official Outriders account for up-to-date server-related and game information.
Fix #2: Check the Game Privacy.
When on the main screen, make sure that the Game Privacy is set to OPEN. Alternatively, you can select FRIENDS ONLY if you want to play together with your pals only.
You also want to make sure that Crossplay feature is ENABLED.
Fix #3: Run a speedtest.
If there are no known server issues, the games privacy is set up correctly, and you've enabled crossplay feature under the Options menu, then the problem might be coming from your end.
Make sure that your internet connection is fast enough to allow a good connection to the server. To check, run a speed test on your device. The game requires a minimum of 5 Mbps for both download and upload in order to work. Anything slower than than may lead to disconnections or crossplay issues.
If you're using a wireless connection, try to switch to a wired setup to check if that will make a difference.
OTHER INTERESTING ARTICLES:
Visit our TheDroidGuy Youtube Channel for more troubleshooting videos and tutorials.