Do you have Multiple displays and have ShadowPlay recording wrong monitor issues? It could be an issue with the GeForce Experience software, display settings or monitor settings, incorrectly positioned monitors, or privacy control configuration, just to name a few. To fix the Shadowplay recording wrong monitor issue, several troubleshooting steps will be required.
NVIDIA ShadowPlay is a hardware-accelerated screen recording utility included with Nvidia's GeForce Experience program for GeForce GPUs. It was released in 2013 and can be set up to record a continuous buffer, allowing the user to store video in the past. Any Nvidia GTX 600 series card or higher is compatible with ShadowPlay. Frame Buffer Capture (NVFBC) and Inband Frame Readback are two capture methods ShadowPlay can use (NVIFR). Full screen mode is utilized with NVFBC. Instead of capturing the entire framebuffer, NVIFR lets you capture a single window. After capturing a frame, ShadowPlay encodes it with a dedicated GPU hardware accelerated H.264 video encoder that can record up to 4K resolution at 130 Mbit/s with minimum performance impact on the rest of the system. The bitrate can be manually adjusted, and the available ranges are determined by the user's screen resolution.
Fix desktop capture NVIDIA ShadowPlay recording wrong monitor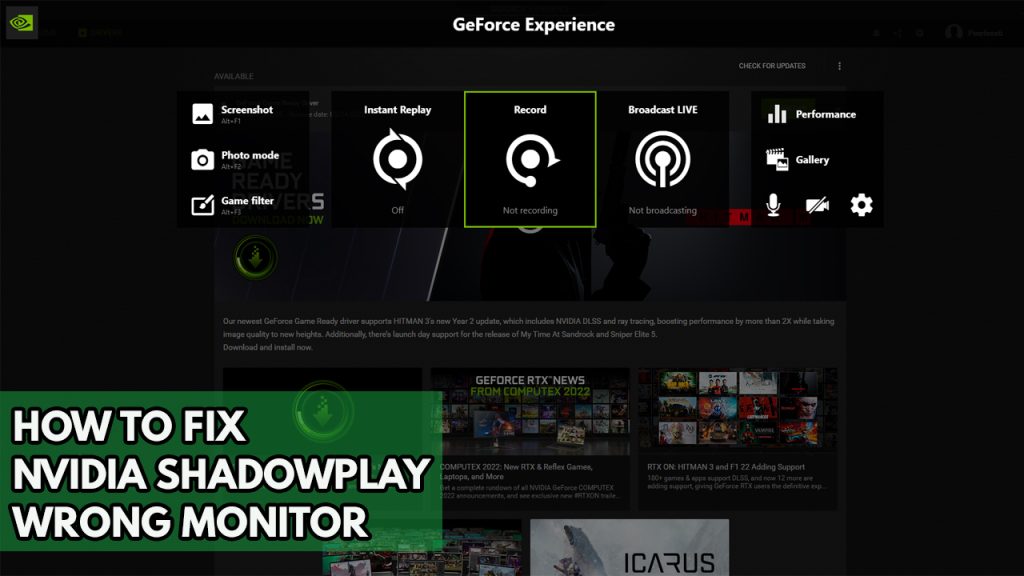 Nvidia Shadowplay is a GeForce Experience feature that lets you record your screen at a high resolution. Sometimes ShadowPlay does not always function as expected. It can be frustrating if you can't get it to record the screen you need. When trying to use ShadowPlay, one of the most common issues GeForce Experience users have is recording the wrong screen.
Below are several troubleshooting steps to fix the issue.
Fix #1 Check if NVIDIA service is running
If your NVIDIA isn't running, you'll have trouble recording your streaming experience using ShadowPlay. Follow the steps below to check the status of NVIDIA.
Time Needed : 3 minutes
Checking if NVIDIA is running
Type Run on your search bar of your desktop and click the icon that will be displayed on the results.

This will open the Run program.


Type services.msc.

This will allow you to open the Services window.


Find NVIDIA and set its Startup type to Automatic.

This will allow you to change the settings of NVIDIA.

If the Streaming Service is disabled, you can either start it or restart it. Then try to record using Shadowplay recording and if it fixes the issue.
Fix #2 Configure NVIDIA Control Panel
Making sure the Nvidia Control Panel is set up correctly can also assist ShadowPlay in recording the correct monitor. If it is not set up correctly you will likely have a wrong monitor recording with ShadowPlay.
Configuring NVIDIA control panel with monitor connections
Step 1: Right click the mouse on your desktop and select NVIDIA control panel. This will let you access NVIDIA control panel.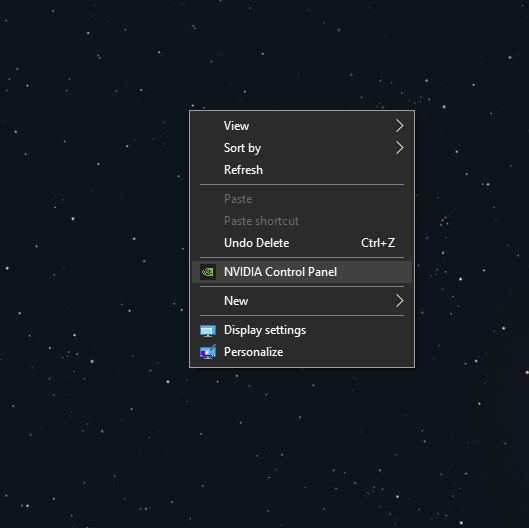 Step 2: Click Set Up Multiple Displays. This will allow you to set up multiple display settings.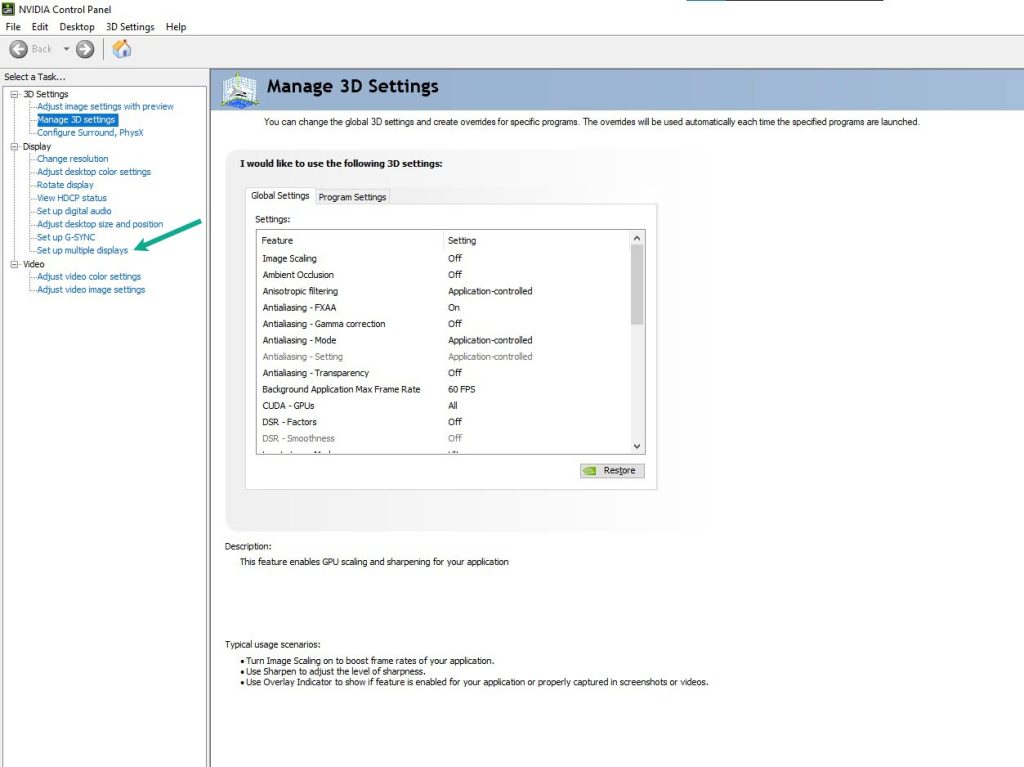 Step 3: Right click the monitor display to change primary monitor settings, make the monitor the primary one. This will check the monitor positions and allow changing primary monitor settings.
Fix #3 Unplug and replug monitor and restart computer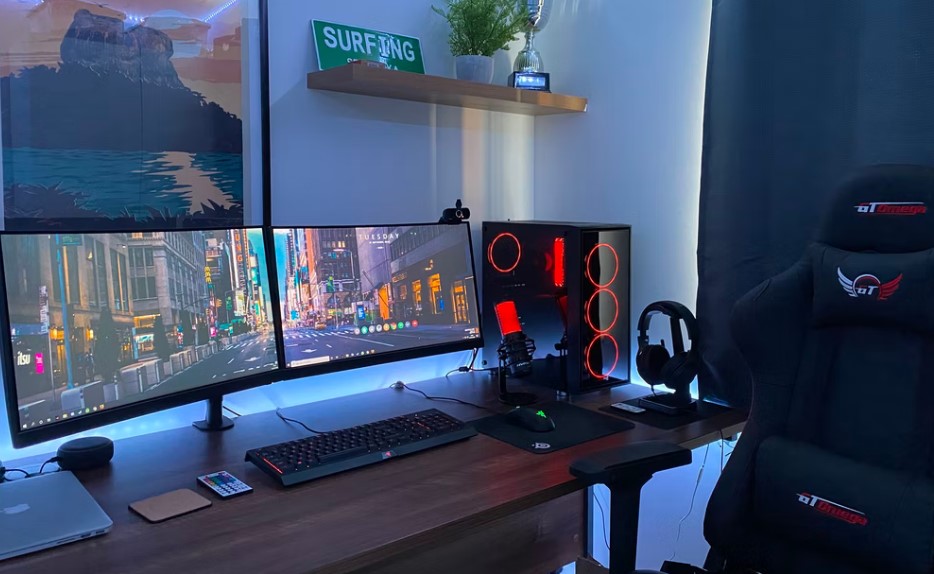 Simply unplug your primary monitor display cable and second monitor display cable and then restart your computer. It is the simplest solution to the problem of incorrect monitor recording with ShadowPlay. Plug the monitor cables back in once it's turned back on, and it should work. Although it may sound like conventional customer service advice, it does work on occasion, and it is such a simple remedy that it is worth a go.
Fix #4 Check privacy control configuration
Check the privacy configuration and edit the setup of NVIDIA Geforce Experience if ShadowPlay fails to record the proper monitor.
Step 1: To switch off the instant replay, open GeForce Experience and click the overlay button near your username.
Step 2: go to the cog icon in the GeForce Experience window's top right corner. Scroll down until you find a box labeled In-game overlay then select settings.
Step 3: Scroll down till you come across Privacy Control and click it.
Step 4: A new window will popup with a single option called Desktop Capture. Uncheck that box. Exit till you can turn on Instant Reply again after you've completed all of this. This should be sufficient to resolve the problem.
Fix #5 Use Full Screen recording
This method is more of a quick workaround, but it has previously worked for users. If the game you're playing supports fullscreen mode, take advantage of it straight immediately. It is also common practice to record games in this manner. Simply go to the game's settings and choose fullscreen. To make things easier, try starting a game using GeForce Experience, a program that launches games in fullscreen mode by default.
Fix #6 Sign out of Twitch
Twitch requires has allowed broadcasters from all around the world to demonstrate their skills. For quite some time, GeForce users have been streaming on Twitch. Twitch, on the other hand, is renowned for breaking ShadowPlay's screen recording feature. You can turn off Twitch for a while and see the difference for yourself.
Fix #7 Windows update
Make sure your machine has the most latest Windows updates installed. These updates will typically include improvements, Windows security patches, and bug fixes to address the issues you're having with recording the wrong display.
Updating Windows
Step 1: Right click the Start button.
Step 2: Select Settings. This will open Windows settings.
Step 3: Select Windows Update found on the bottom left menu of the new windows that appears which will take you to the Windows Update section.
Step 4: Select Check for updates.
Fix #8 Reinstall GeForce Experience Software
If ShadowPlay is still not working at this point, You can reinstall GeForce Experience to fix the issue you are experiencing. You need to reinstall as this might be because of the software issue with NVIDIA Geforce Experience, This will give you a fresh install and fix the ShadowPlay incorrect monitor recorded issue with your primary monitor and second monitor if you reinstalled Geforce Experience software.
Frequently Asked Questions
Is Nvidia ShadowPlay better than OBS?

Both of these tools have their own set of benefits and drawbacks, making it tough to choose the appropriate platform for their purposes.

Does ShadowPlay affect FPS?

Only a little affect, you won't notice it at all.

Is ShadowPlay good for recording?

Yes it is good for recording.

Can you use ShadowPlay without Nvidia?

ShadowPlay requires NVIDIA.

Can you use ShadowPlay to record desktop?

Yes you can also use ShadowPlay to record your desktop.