Are you getting Microsoft word not responding on Windows? Several factors can cause this issue such as corrupted Microsoft word files, add-ins issues, and outdated Windows. Several troubleshooting steps will be need to perform to fix Microsoft word not responding on Windows.
The word processing program Microsoft Word was created by Microsoft. It is a piece of the Microsoft Office suite's office productivity software. Microsoft Word is accessible on Microsoft Windows, Apple macOS, Android, and Apple iOS, as well as running on WINE on Linux. Create documents, reports, letters, and resumes of the highest caliber using Microsoft Word. Microsoft Word, in contrast to plain text editors, provides capabilities like spell check, grammar check, text and font formatting, HTML support, image support, complex page layout, and more. Remember that new Computers do not come with Microsoft Word. Before using it on your computer, it needs to be purchased and installed.
Microsoft Office application Word not responding error message? Here's how to fix Microsoft Word issue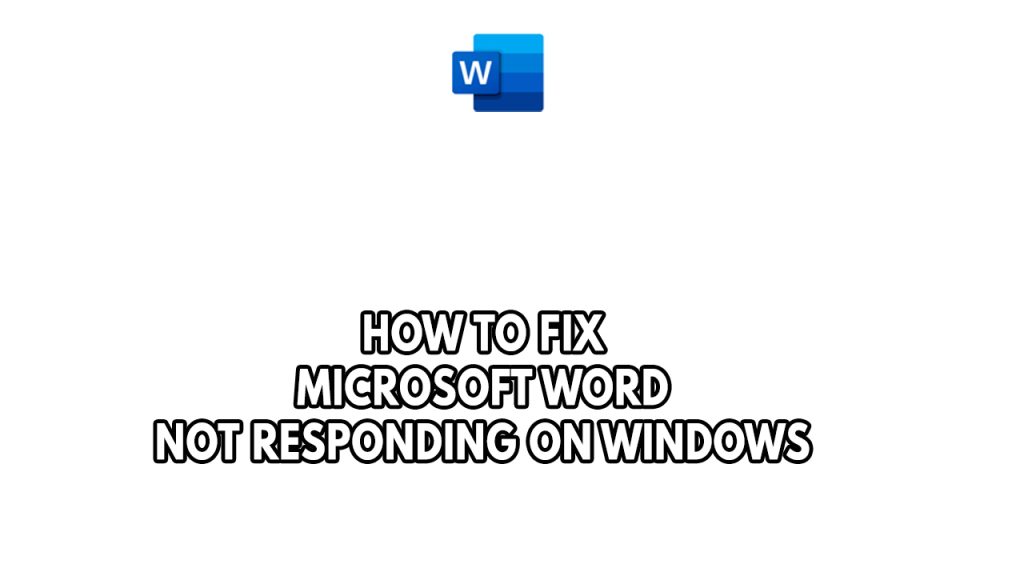 One of the issues you might encounter when using this application is the Microsoft Word not responding issue. This can be a frustrating experience especially if you have important thing to edit or open Microsoft word file.
Here's what you need to do to fix Microsoft word not responding issue.
Fix #1 Close Word application and relaunch Microsoft word
It's possible that Microsoft Word process that is running in the background has crashed or freeze. You must entirely close the Microsoft office app using the Task Manager PC tool in order to fix Microsoft Word not responding.
Close word application using task manager
Step 1: Right click on the Start button.
Step 2: Select Task Manager.
Step 3: On the pop up window of task manager, Click processes tab.
Step 4: Select Microsoft Office Word then right-click on the running program then select end task on task manager.
Step 5: Launch Microsoft Word.
Check if this fixes the Microsoft word not responding issue.
Fix #2 Open MS Word in safe mode
By starting Word office app in Safe mode without any templates or add-ins, you can check to determine if the Word office app is functioning properly. If it functions properly during safe mode, you can try to remove or disable add ins and check if this fixes the issue with the office applications.
Opening word in safe mode
Find the shortcut icon for your Office application.
Press and hold the CTRL key and double-click the application shortcut.
Click Yes when a window appears asking if you want to start the application in Safe Mode.
If it functions properly when you open word office app in safe mode, then follow the steps below to remove or disable add ins:
Disable add ins
Click File > Options > Add-ins.
Towards the bottom of the window, where it says Manage, click the Go button.
In the dialog box, select the add-ins you want to disable or remove.
To disable the add-in, just uncheck the box in front of its name. To uninstall the add-in select it and click Remove.
Click OK to save your changes and return to your document.
Now try to check if this fixes the word office app not responding problem after you disable add ins.
Fix #3 Repair corrupt word file
If your Word files gets corrupted, it can lead to a Word not responding or the word fails to open it, you need to fix the word files before you open MS Word. The Word app may stop working if you try to view corrupted files there. Therefore, you should try to fix such damaged files first using the word repair tool.
Repair Word files
Click File > Open > Browse and then go to the location or folder where the document (Word) is stored. Don't try to open the file from the Recent section as this won't go into the Open dialog box.
Click the file you want, and then click the arrow next to Open, and click Open and Repair.
Fix #4 Repair Microsoft Office Word
The next thing to do is to repair Microsoft office word if you get the responding error frequently. Your MS word might have a corrupted file and Windows can repair your MS Word.
Word Repair process
Right-click the Start button Windows Start button in Windows 8 and Windows 10 (lower-left corner), and select Apps and Features on the pop-up menu.
Select the Microsoft Office product you want to repair, and select Modify.
Depending if your copy of Office is Click-to-run or MSI-based install, you'll see the following options to proceed with the repair. Follow the steps for your installation type.
Follow the instructions on the screen to complete the repair.
after you have repair Microsoft Office word, try to see if the word not responding problem still occurs.
Fix #5 Switch default printer
Your printer and MS Word are integrated in Windows. Windows automatically selects your printer, but if the system makes a mistake, you must change the printer from the Settings menu. MS Word performance could be affected by the wrong printer option.
Windows 10
Select Start > Settings .
Go to Devices > Printers & scanners > select a printer > Manage. Then select Set as default.
Your default can be the printer you last used. To turn on this mode:
Open Start > Settings > Devices > Printers & scanners.
Select the checkbox beside Let Windows manage my default printer.
Windows 11
Select Start > Settings .
Go to Bluetooth & devices > Printers & scanners > select a printer. Then select Set as default.
Your default can be the printer you last used. To turn on this mode:
Open Start > Settings > Bluetooth & devices > Printers & scanners.
Select the toggle next to Let Windows manage my default printer and verify that it says On.
Fix #6 Update printer drivers
Outdated versions of printer drivers will usually have issues. If MS Word keeps displaying error responding messages, you might be experiencing this problem because of outdated printer drivers. In addition to operating badly, the printer might start to conflict with some Microsoft office apps. It is advisable to update printer drivers to fix the issue.
Windows 10
Select Start , then select Settings > Devices > Printers & scanners .
Scroll down to Related Settings and select Print server properties.
Select the Drivers tab, and see if your printer is listed. If it is, you're all set.
If you don't see your printer listed, select Add, and in the Welcome to the Add Printer Driver Wizard, select Next.
Select your device's architecture, and then select Next.
On the left, select your printer manufacturer, and on the right, select your printer driver.
Add Printer Device Wizard
Select Next, select Finish, and follow the instructions to add your driver.
Follow the instructions in the section above to remove and reinstall the printer.
Windows 11 (Use windows update)
Right-click Start , then select Settings > Windows Update.
Open Windows Update
Select Check for updates.
Fix #7 Reinstall Microsoft word
If at this point you are still having issues then you have to reinstall Microsoft office word to fix the issue. If you reinstall Microsoft word, you will have a fresh install and will fix all the issues you will encounter.
Frequently Asked Questions
Can I download Microsoft Word for free?

No, You need to purchase Microsoft word.

Does Microsoft Word have invitation template?

You can use the many invitation card templates provided by Microsoft Word to create your own invitations for weddings, birthday parties, or business meetings. You can use a Microsoft Word template exactly as is, or you can change the text, images, and colors to make the invitation uniquely yours.

Is Microsoft Word online free?

Yes, the web-based version of Microsoft Office is called Office Online, and it is totally free. In addition to directly competing with Google Docs, this online office suite has the potential to displace Office on desktop computers.

Is Microsoft Word for Mac free?

Yes, using Microsoft Word on a Mac requires a Microsoft 365 membership or a one-time purchase of Office 2021.

Can you download borders for Microsoft Word?

Although Microsoft Word has few border options, you can use a search engine to locate and download Microsoft Word border images from the Internet.