If you are a huge football fan like and currently living abroad, you might be wondering how you can watch this week's big game.  The Thursday night games typically are available on NFL Network and local Fox network stations.
The trick below works for people living anywhere in the world. You can watch tonight's game without cable by streaming online from within the U.S. or even internationally.
---
At A Glance:

Our Favorite VPN For Streaming
---
Watch NFL From Abroad
Let's keep this short and simple and follow these steps:
Get a streaming service like Sling TV (get 40% off here)
Sign up for a VPN like CyberGhost
Online Streaming Services
First thing first, you will need an online stream service. There are several services that stream TV shows, such as:
Youtube TV (7 day free trial)

Fox network available
NFL Network NOT available

Locast.org (completely free, but honestly their reliability stinks)
Sling TV (get 40% off here)

Fox network available
NFL Network available
Best VPN For NFL
After you get access to the streaming service, next you will want to actually be able to UNBLOCK the access to the services from abroad.  All of the services mentioned above will track your location and block you from accessing their service if you live outside of the United States.
To get around that, I personally use Cyberghost VPN to unblock the geolocation tracking.  What this VPN service will do connect your computer to a server in the U.S., then through that domestic server you will then technically be connecting to the streaming service from "inside the U.S."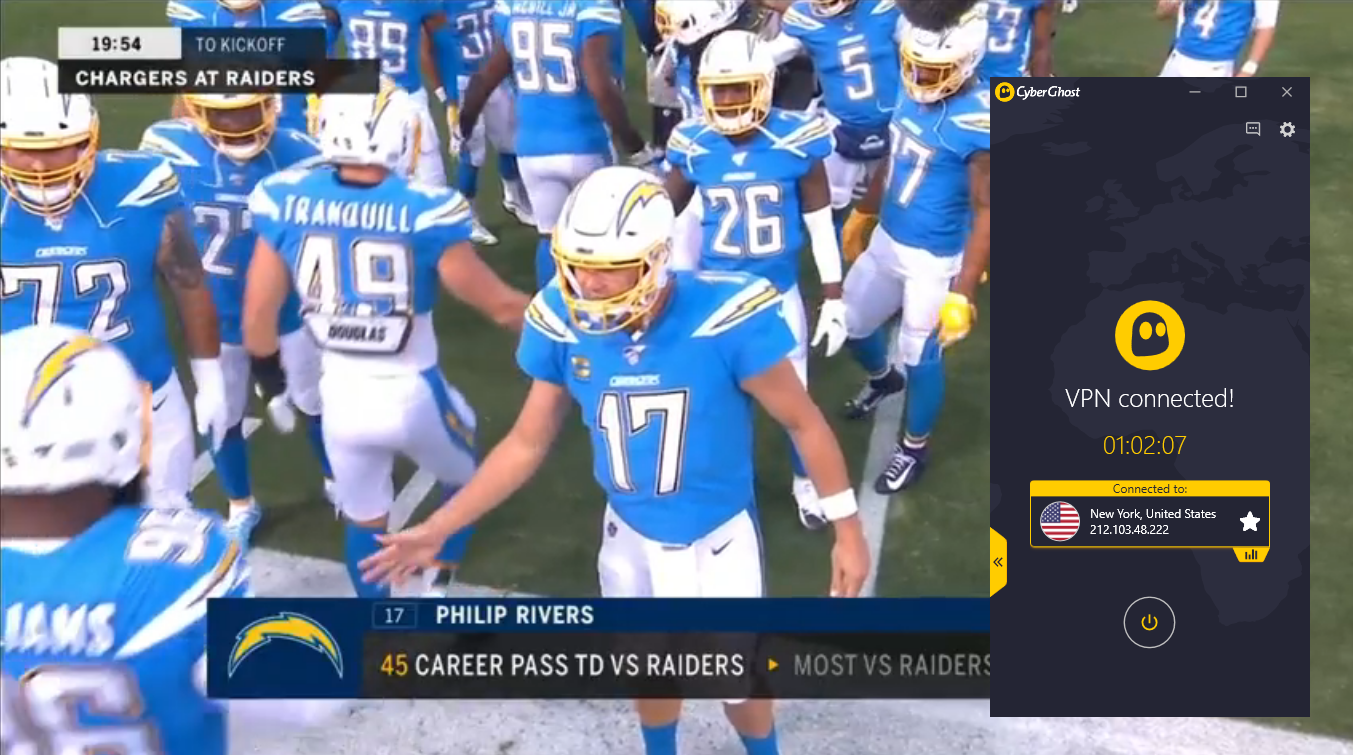 As you can see, I'm currently watching the game on Fox using Sling TV and accessing from abroad using Cyberghost.  You can see in the yellow highlight I'm currently connected to the New York server.
So simply sign up for Cyberghost, then log into a U.S. server, you will then have access to all the streaming services mentioned above.
Additional Tricks
If you continue to have problem accessing the service, here's another trick up our sleeve.  Manually change the geolocation while connected to the VPN.
To manually changing geolocation on your Chrome browser:
right click on your chrome browser
select "inspect"
go to the bottom and find the 3 vertical dots next to "Console"
select "sensors"
find Geolocation and manually enter these latitude and longitude coorindates
reload your browser
That should get you access you're looking for.  It will actually put your browser location at the Empire State building in New York.
Watch NFL From Abroad
Let's keep this short and simple and follow these steps:
Get a streaming service like Sling TV (get 40% off here)
Sign up for a VPN like CyberGhost