When you are a businessman out on vacation, one way to stay connected to your office is by accessing your email. And the best way to check you email while you are out on a trip is through your mobile device. For example, if you own a Samsung #GalaxyS5 then it would make sense to check your emails on your phone. Sometimes though you will experience the #S5 loading email problem in which case you won't be able to access your email. This and other related issues are what we will tackle in this post.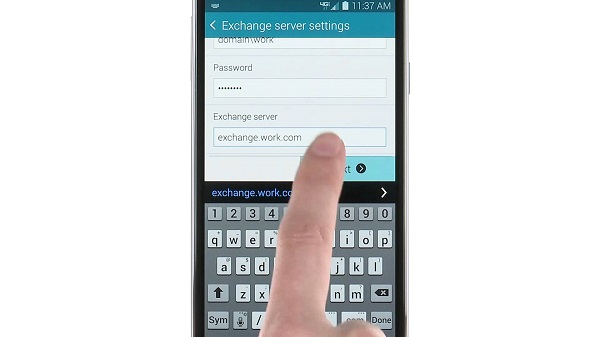 If you own a Galaxy S5 or any other Android device for that matter then feel free to contact us using this form. We will be more than happy to assist you with any concern that you may have with your device. This is a free service we are offering with no strings attached. We however ask that when you do contact us try to be as detailed as possible so that an accurate assessment can be made and the correct solution can be given.
If you would like to browse the previous parts in this series then check out this link.
S5 Takes Forever To Load Email
Problem: My S5 does not play well with 365 and it's always a struggle to get my office email on my phone. The Iphone users don't have a problem. I would like to upgrade to the S6 but not unless this has been fixed. It takes forever to load and sometimes hangs up and constantly looses the password from the settings. Very frustrating and I may have to look at the LG G4….but everything I have is Samsung. Thank you for all the tips
Solution: In issues such as this the first thing you need to make sure of is that your phone is connected to a fast and stable Internet source. Try opening your phone browser and see if you can access a website. If you can then your Internet connection is good.
Since you mentioned that the email app hangs up then this may be a data related problem. Try clearing the cache of the email app you are using then proceed with wiping the cache partition of your phone. This usually resolves issues related to apps freeing.
In case your email still takes some time to load you should consider deleting the email account from your phone then recreate it.
Before adding your email account make sure to check if there are any new software updates available for your phone first. In case this problem is caused by a software bug then the update may have the necessary fix for the issue.
S5 Corporate Email Stuck In Loading Screen
Problem: when setting up a corporate email account manually using ActiveSync, email account constantly says "loading emails" but nothing loads.
Solution: Setting up a corporate email on your phone has a few more requirements than setting up a regular email. Of course you need to check first if your phone is connected to a stable Internet source since you won't be able to load your emails if your phone is not connected online.
The next thing you will need to do is to start your phone in Safe Mode. What we are trying to do here is to check if a third party app, especially a security app, is responsible for this issue. When your phone is in Safe Mode all third party apps are disabled. Since I'm assuming you setup your corporate email on the stock email app then you will be able to use this. Once in Safe Mode try to check if your email is able to load.
If the "loading emails" screen still appears then there's a big possibility that the issue may be with your exchange server ActiveSync policy. If this is the case then you will have to bring this matter up with your company IT personnel.
S5 Email Not Downloading Due To Not Enough Space
Problem: My emails will no longer downlaoad for my aol account.. I get the message that there's not enough space in device storage. Delete some files and try again.
Solution: What you should do in this case is go to your phone settings then access the application manager. Look for your email app then check how much space it consumes. Next, go back to your phone settings then tap storage settings. From here you can check how much available space you have left. If you are running low on space (0-300MB) then you won't be able to download any new email messages.
You should try to free up some space on your phone by wiping its cache partition. Uninstalling apps that you don't really use is also a good way of freeing up some space. If you have a microSD card installed in your phone then you should consider transferring your data files stored in your phone to it. These files include videos, photos, music, and documents.
Finally, try to recreate your AOL email account. Go back to your email app from the application manager then tap clear cache and clear data. When you recreate your email account if you are given the option to choose IMAP or POP3 then always choose IMAP. IMAP has all your data on the servers while POP3 downloads the data to your phone which use up storage space.
S5 Setting Up Same Email Account Twice
Problem: Hi, I have a business email address and have recently changed to Microsoft Outlook 365 from my old server. My issue is I am struggling to add a new email account with the same email address. How can I keep both email accounts as I need emails from both accounts? The old email was using pop3 and the new an imap. Unfortunately I am not very technical and really only understand basics for phones. I would greatly appreciate your help. Many Thanks
Solution: Since you are still using the same email address then the messages you will be getting are still technically both the same. POP3 or Post Office Protocol 3 works by connecting to your email from the server – retrieving your email – storing the retrieved emails to your phone – deleting the email from the server – then disconnecting from the server. IMAP or Internet Message Access Protocol works by connecting to your email from the server – get user requested content then cache it in your phone – process the user edits such as marking as read, deleting emails, etc. – disconnecting from the server.
In my opinion the best way to resolve your issue is to setup your POP3 account using one email app then setup your IMAP account in another email app. You can use the stock email app and the Gmail app to do this. This makes it easier for you to determine what email is a POP3 and what email is an IMAP since you are using the same email address.
Take note though that the POP3 account deletes your email from the server once you download it to your phone unless you set it to leave a copy of the email on the server. If you check your POP3 account first then you probably won't get any new email on your imap account.
S5 Cannot Get Email Due To Not Enough Space
Problem: The problem is my phone keeps displaying the message that there is not enough space and to delete files.. That happens when I go into my email, I haven't had an email since 8/8/15. Doesn't seem long but my phone usually chime rings all day every day with them!
Solution: You should check first the amount of storage space your phone has and see if you are running low. To do this just go to Settings then click on Storage Settings. Check on the available space on your phone internal storage. If it is around 0-500MB then this is pretty low. You will have to delete some files in your phone. Start by wiping the cache partition of your phone. Next, if you have some apps that you don't necessarily use you should uninstall them. If your phone has a microSD card you should transfer your data from the internal storage to this card. These may include videos, photos, music, and documents.
Engage with us
Feel free to send us your questions, suggestions and problems you've encountered while using your Android phone. We support every Android device that is available in the market today. And don't worry, we won't charge you a single penny for your questions. Contact us using this form. We read every message we receive can't guarantee a quick response. If we were able to help you, please help us spread the word by sharing our posts with your friends.