I will address one of the common issues any smartphone owner may encounter–not being able to connect to the mobile data network. In this case, however, I will address the problem with the Samsung Galaxy Note 4 that can't connect to an LTE network.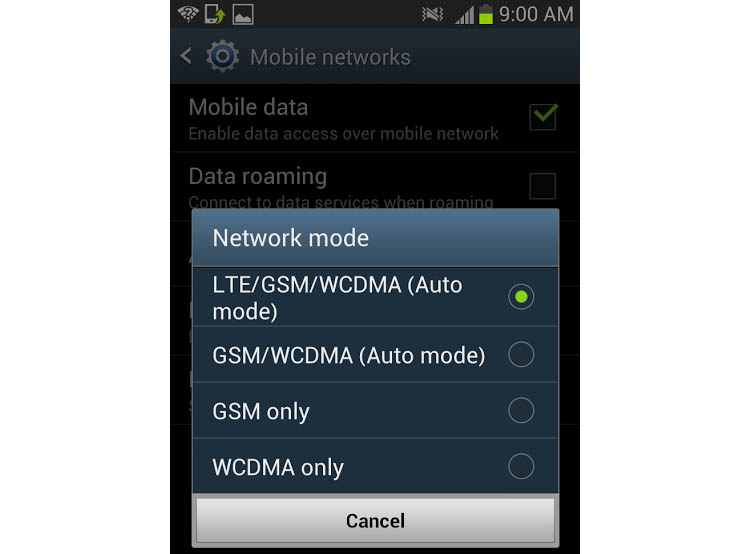 This post will tackle the problem sent by one of our readers who reported his Note 4 doesn't display the 4G LTE icon and therefore, he can't connect to the internet if not connected to a Wi-Fi network. He specified that his service provider is Lycamobile in the United States but if you have the same problem but on different provider, the troubleshooting procedures I used here will work for you as well.
For owners who are not really into technology, here's a couple of reasons why you need to address this issue immediately…
If your phone cannot connect to a mobile data network, you can't send and receive MMS or picture messages and…
You can't connect to the internet if there's no Wi-Fi network in range.
For you to be able to understand the problem, here's the actual message from our reader.
"I am not really into technology but I am going to do the best I do to explain it. Lycamobile is my network provider. When I put my phone on, my network bars show completely but the 4G LTE does not show. Therefore, I can only make regular calls and text through the regular text message but I can't use my internet unless I am connected to Wi-Fi. I feel like it is a minor problem which can be resolved. Help please. I can't get on Facebook, WhatsApp and I can't download the apps I need for work."
Now, before we dig into this problem further, if you have other issues with your phone, visit our Samsung Galaxy Note 4 Troubleshooting page as it contains problems we already addressed before. Find issues related or the same as yours and try the solutions we provided. If they won't work for you, then feel free to contact us as we are here to help. Fill up this form and hit Submit once finished. Remember, the more information you provide, the more accurate our solutions are.
Troubleshooting
While we want to fix the problems of our readers, we don't suggest things that we know could potentially damage their phones if done incorrectly. So, for those more complicated issues, please see a technician who can physically inspect the phone. Remember, we are basing our troubleshooting on what our readers say about their problems.
Now, going back to our topic, here are some steps you may follow to troubleshoot this problem…
Step 1: Reboot the phone first
Not being able to connect to the internet through mobile data network isn't actually a serious problem. So, instead of jumping immediately into some complicated troubleshooting procedures, why don't you reboot your phone first and see if that fixes the problem.
If you were able to connect via mobile data before this problem, maybe it's just a glitch or something. Minor glitches and system conflicts can easily be fixed by a reboot.
READ: Galaxy Note 4 Can't Connect Via Mobile Data
Step 2: Verify if mobile data is turned on
Mobile data needs to be enabled so your phone can connect to the network. So, if the 4G LTE or any other data icons don't show, perhaps it's disabled. To verify if it's enabled or not, follow these…
From the Home screen, tap the Apps icon.
Tap Settings.
Under the Wireless and networks section, touch More networks.
Touch Mobile networks.
Now tap Mobile data to enable it if it's disabled.
Now that you've verified mobile data is enabled, try to see if the 4G LTE icon shows. If not, then continue with your troubleshooting.
RELATED PROBLEM: Galaxy Note 4 Keeps Connecting To Mobile Data After Lollipop
Step 3: Verify the APN Settings are correct
The Access Point Name (APN) is a set of characters that allow your phone to connect to the mobile data network of your service provider. If some characters don't match with the default settings, then your phone can't get data service. Verify if the APN in your phone still conforms with that of Lycamobile…
From the Home screen, tap the Apps icon.
Tap Settings.
Under the Network connections section, touch More networks.
Touch Mobile networks and then Access Point Names.
The following are the APN information provided by Lycamobile through its website. Everything not mentioned should use default values…
APN – data.lycamobile.com
Username: leave this field blank
Password: leave this field blank
MMS APN – data.lycamobile.com
MMSC – https://lyca.mmsmvno.com/mms/wapenc
If the settings in your phone don't conform with these, then try to edit them if that makes a difference. If not, then there's no other option but to…
Step 4: Contact your service provider
First, you must verify your account is allowed to use data and that there are no blocks. A representative can tell you exactly what the status of your account is.
Secondly, try to verify if the APN in your phone is correct. If not, then the rep is obliged to give you the correct one, in fact, he/she is obliged to walk you through in setting the APN up in your phone and make it work.
Lastly, verify if you're in an area where this 4G coverage. If not, then you have no other option but to use 3G to connect to the internet via mobile data. Change mode by following these steps…
From the Home screen, tap the Apps icon.
Tap Settings.
Under the Network connections section, touch More networks.
Touch Mobile networks and then Network mode.
Try using WCDMA / GSM and if that works, switch back to LTE / WCDMA / GSM.
After you've followed all the steps and your internet service still won't work, you should coordinate with your service provider to get the problem sorted out because first, it is more likely a network-related issue and second, if it were a phone problem, they can send you a replacement unit that works.
Connect with us
We are always open to your problems, questions and suggestions, so feel free to contact us by filling up this form. We support every Android device available and we are serious in what we do. This is a free service we offer and we won't charge you a penny for it. But please note that we receive hundreds of emails every day and it's impossible for us to respond to every single one of them. But rest assured we read every message we receive. For those whom we've helped, please spread the word by sharing our posts to your friends or by simply liking our Facebook and Google+ page or follow us on Twitter.