Released in 2017, the Nintendo Switch has proven to be a reliable gaming platform in terms of software and hardware. With millions of consoles sold, especially during the pandemic, it's no wonder that from time to time, users encounter problems that can seem to affect a lot of devices at the same time. One such problem is connectivity-related.
In this article, we'll share some tips on what you can do if your Nintendo Switch won't connect to the internet for some reason.
What are the causes for Nintendo Switch connection issues?
These are some of the common reasons why your Nintendo Switch is unable to connect to the internet:
Nintendo server problem
Network equipment glitch
Software issues
Outdated game client
Unreliable ISP DNS server
Slow internet connection
Wi-fi interference
Hardware malfunction
How to fix Nintendo Switch won't connect to internet issue?
As shown above, there can be many different factors that can cause internet connectivity problems on the Switch. That said, you must perform a number of troubleshooting steps in order to determine the real cause of your problem.
Below are potential solutions that you can try if your Nintendo Switch won't connect to the internet either via wifi or Ethernet.
Fix #1: Check for Nintendo server outage.
One of the common reasons why a lot of players may seem to be having connectivity issues with a particular game or service almost at the same time can be server-related. A particular game's servers may be experiencing a glitch, or there may be a planned maintenance that you are not aware of.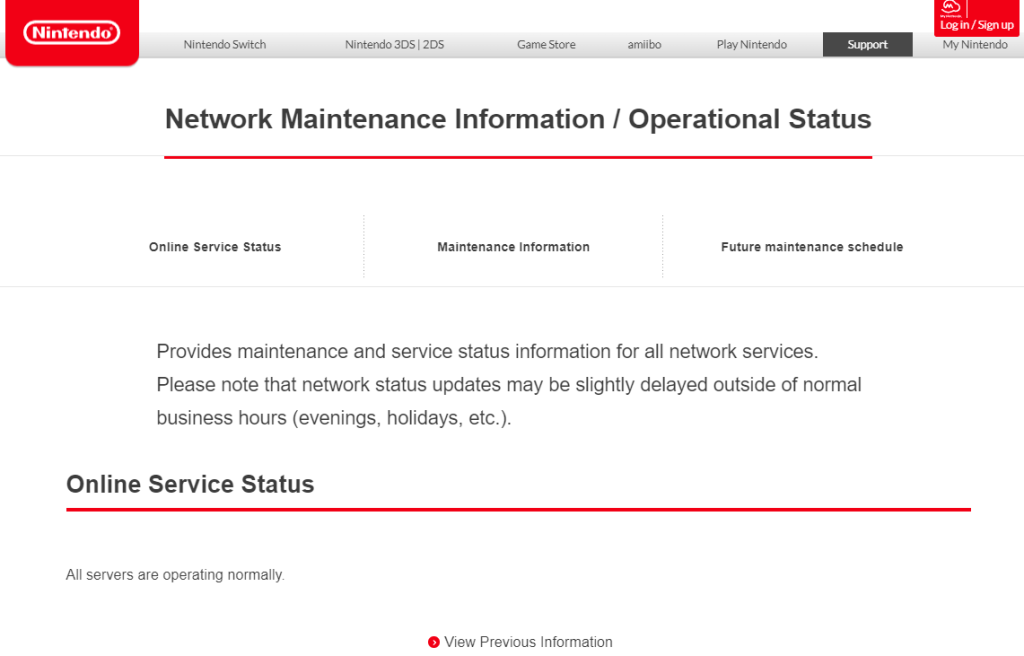 Fortunately for you, checking for the server status of Nintendo is easy. What you must do is to go to their official website. There should three tabs that you will see: Online Service Status, Maintenance Information, and Future maintenance schedule sections.
The Online Service Status tab shows the current status of the servers and this is where you should see any on-going problems from the server side. Maintenance information and Future maintenance schedule tabs are both related to possible planned and unplanned maintenance that Nintendo or game developers are will be doing.
Make sure that you make use of all or any of these tabs to gather information about the issue you're having.
Fix #2: Install updates.
If the network services are clear but your Nintendo Switch won't connect to the internet, the next basic step that you must do is to see if the reason for it is an outdated software. By default, your console should automatically check for updates but if you did not notice any prompt about any pending updates at this time, you can manually check to force the system to scan again.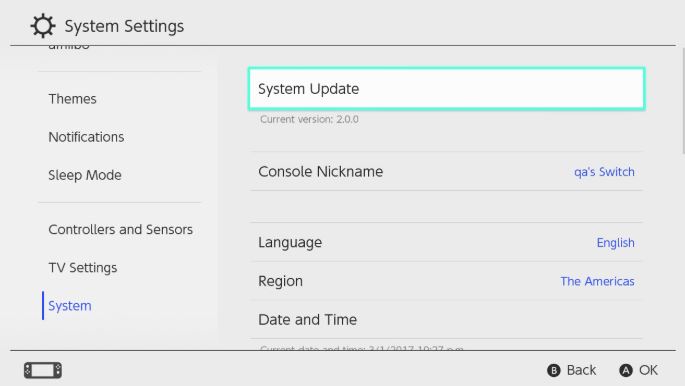 Here's how to do that:
Go to your Nintendo Switch home page.
Go to System Settings menu.
Select System.
Select System Update.
All online games will require that you update the software first before they run. So, another way to compel the console to check for an update is to play an online game like Fortnite or Animal Crossing and see if you'll get a message to update.
Sometimes, the Switch will download the update first but will hold off the installation until you give it a go.
If you're only having difficulty playing online with a certain game, you must ensure that that particular game is updated as well. Here's how to check for a game update on your Nintendo Switch:
Go to your Nintendo Switch home page.
Highlight the game tile.
Press the + or – button on your controller. Select Software update.
Select Via the Internet.
Alternatively, you can install the latest game update by downloading a copy from another Switch. If you are in range of another Switch with an updated game that you're playing, you can select the Match Version with Local Users option.
Fix #3: Refresh the console.
Internet connection problems on the Nintendo Switch can sometimes be fixed easily by simply restarting the device. So, if your console is already running the latest software version and there's no issues with the online services, be sure to power off and restart your Switch.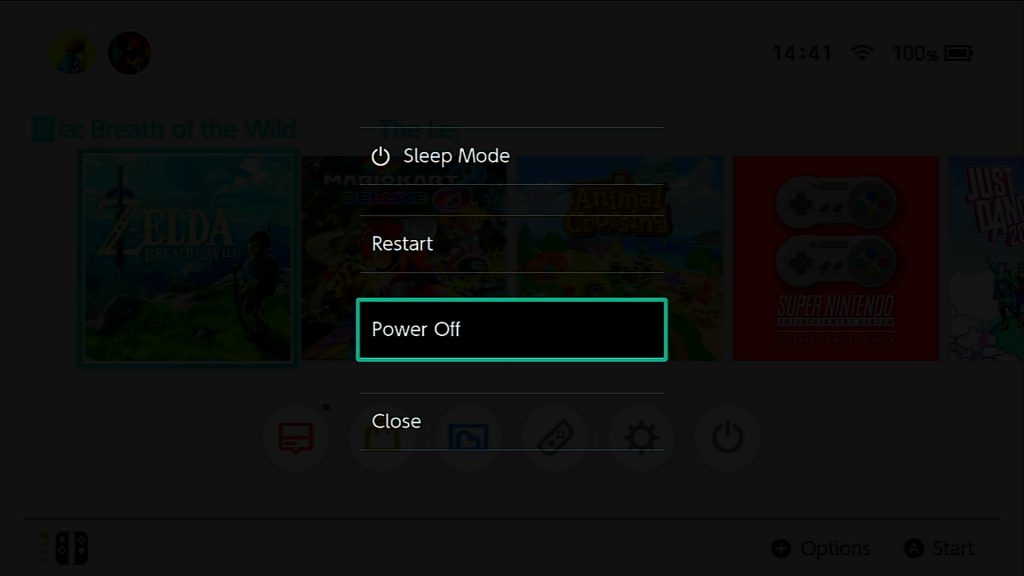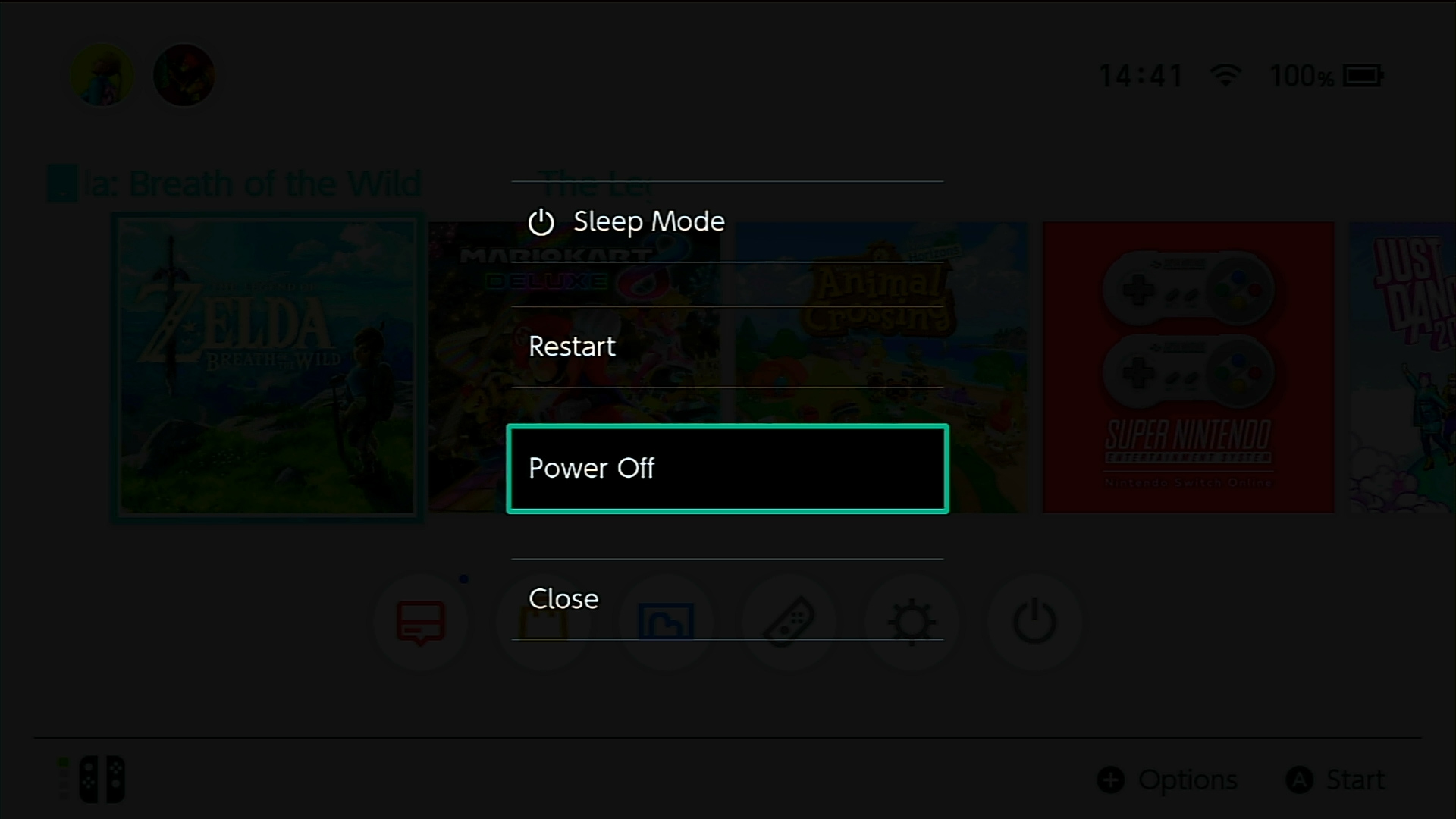 To completely shut down the system, you need press and hold the Power button on top of the console for a few seconds. The Power Menu should show three options: the Sleep Mode icon, Power options, and close.
Select Power Options and tap on Restart.
Wait for the device to reboot by giving it a few seconds. Afterwards, connect the Switch to the internet again and see if the problem is fixed.
Fix #4: Power cycle the modem/router.
A follow up potential solution is to also refresh your network equipment. This should be conducted if nothing has changed after a reboot of your Nintendo Switch.
In order to fully refresh your modem or router, be sure that it's disconnected from the power outlet for at least 30 seconds. You can do that by unplugging your devices from the power strip or disconnecting the power cable from the back.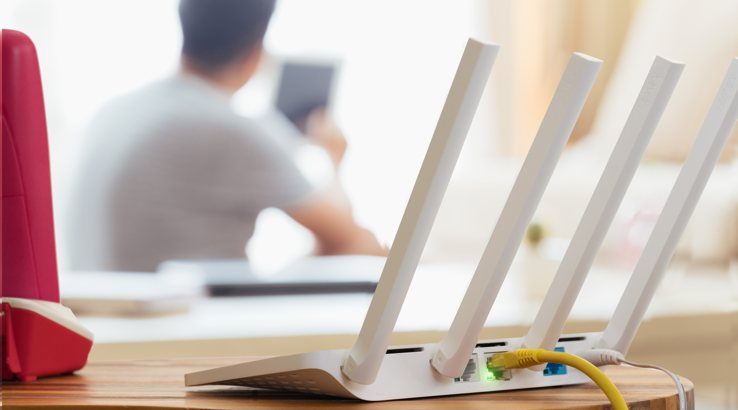 After 30 seconds, reconnect everything back in and start the devices back up. Some routers may take a few minutes to fully initialize so be sure that all the lights are back to normal before you check for the problem again.
Do not reset your router using its reset button. You don't need to return the router default settings for this step. A quick restart will do.
Fix #5: Use a faster DNS server.
For most people, the default Domain Name Server settings that their Internet Service Provider offers works. However, it's a known fact that ISP-DNS server is not as reliable as public DNS server provided by, say, Google. So, if you continue to experience internet connection issue on Nintendo Switch consoles, you should consider switching to Google DNS settings or any other preferred third party DNS that you want.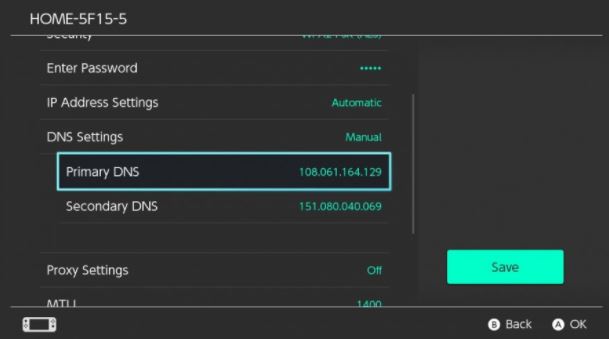 Here's what you must do:
Go to your Nintendo Switch home page.
Go to System Settings menu.
Select Internet and then go to Internet Settings.
Once you have the Registered Networks list, select your own network by pressing A. Then, select Change Settings, scroll down to DNS Settings and select it.
Then, select Manual, go to Primary DNS, and press OK.
Enter 8.8.8.8 for Primary DNS.
Then, go to Secondary DNS, enter 8.8.4.4, then press OK.
After changing the DNS server settings, run your online game again and see if it's now working.
Fix #6: Check Airplane mode or Flight Mode.
The Switch has a feature that allows you to quickly turn off all networking capabilities with a single button called Airplane Mode or Flight Mode. make sure that this feature is not enabled at this time.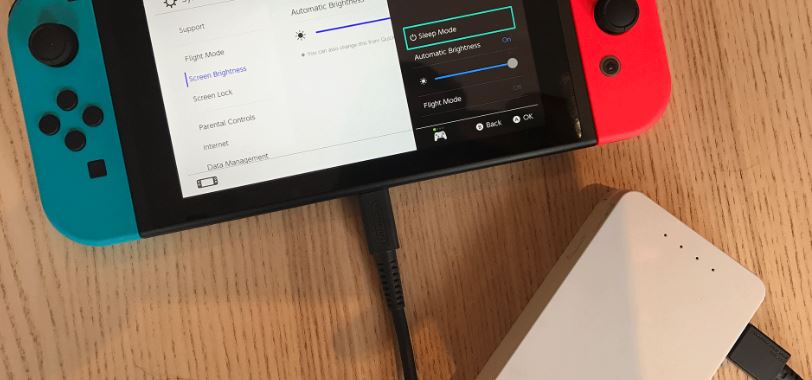 To check for Airplane Mode, follow these steps:
Go to your Nintendo Switch home page.
Go to System Settings menu.
Select Airplane Mode. Make sure that it says off at the right.
Another way to disable Airplane Mode right away is by using the Quick Settings panel by holding the Home button. From there, find Flight Mode and disable it if necessary.
Fix #7: Verify all network settings.
Like other gaming consoles, you can run an internet connection test on your Switch to check if there are certain aspects that may be causing the problem. For example, the download speed may be too slow everytime you play. This can be caused by having too many devices using your home wifi at the same time. To fix this kind of issue, you can try to disconnect other devices from the network to free up some bandwidth.
This test will show the following details:
Connection name
SSID
Internet connection status
Global IP address
NAT Type
Download speed
Upload speed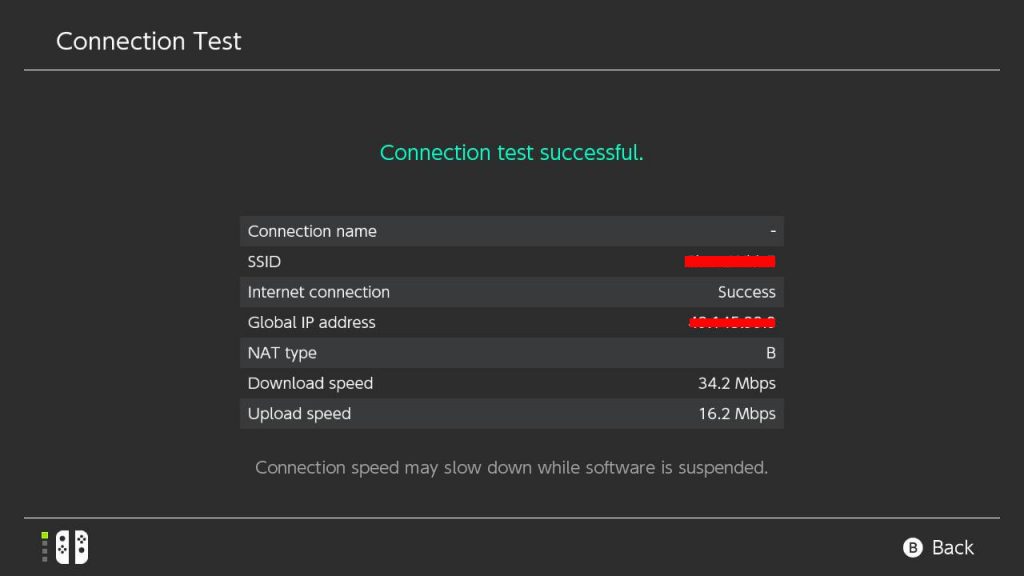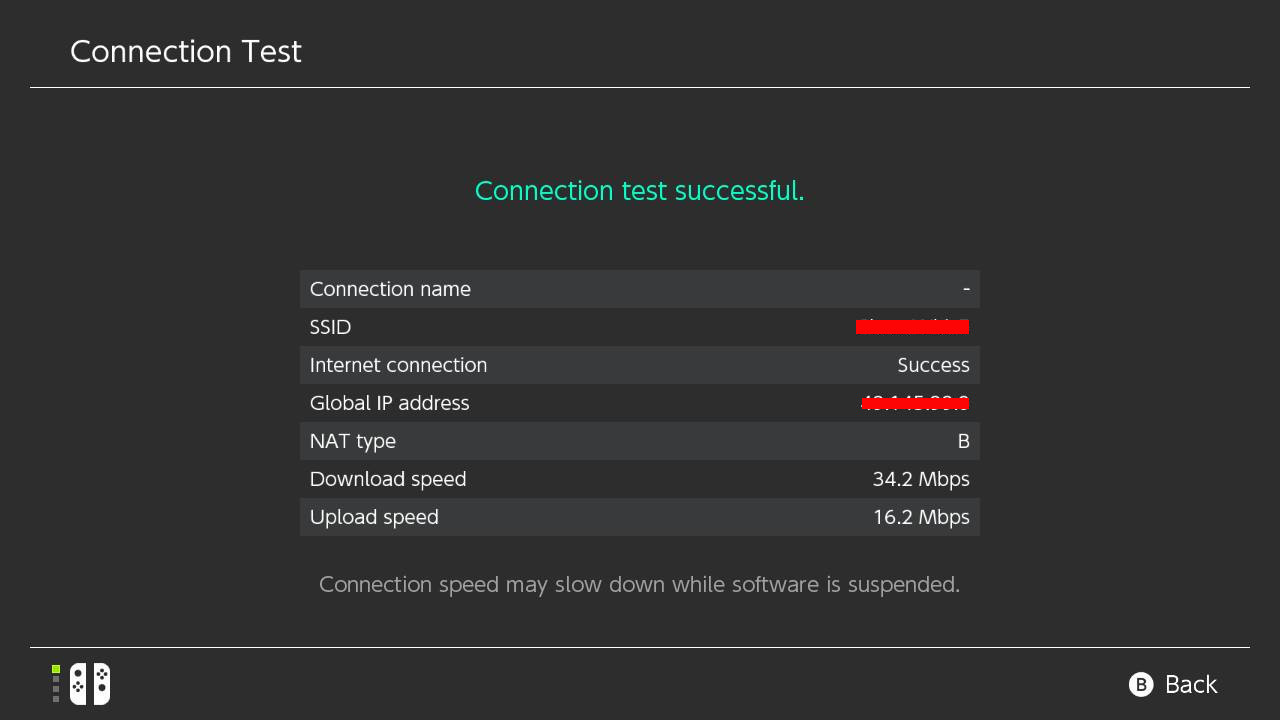 Some routers may become bad and cause connection issues to the connected devices. At times, wrong IP addresses may be provided due to issues with the router's DHCP. If you have multiple devices having internet connectivity issues right now, you can check their IP addresses to see if they've been provided with incorrect ones by the router.
You can check the network settings by going into the Internet Settings menu on your Nintendo Switch.
Go to your Nintendo Switch home page.
Go to System Settings menu.
Select Internet.
Select Test Connection option.
Allow your Nintendo Switch to perform a test.
If there's nothing wrong with your internet connection, you should get a Connection test successful message and below that should be the details of your network.
At this point, be sure to take note of the Download and Upload speeds. In order to establish a solid connection with the game servers, you must have a minimum of 5 Mbps for both download and upload.
Another factor that might cause connectivity issues on your Nintendo Switch is the NAT. preferably, you should have a Type A or B NAT in order not to have matchmaking issues with other players. If the NAT in your console shows something other than A or B, this may be the reason for your problem.
You must change the NAT Type of your Nintendo Switch first before you continue with your troubleshooting.
If ever you need to change certain things in your Network settings, you can go back to the Internet Settings menu, and select the Change Settings option instead.
For example, if it appears that you're not connected to the correct wifi network for some reason, or if you have been disconnected from your home network due to an incorrect wi-fi password, you can go by this route to change the incorrect information.
When changing the wi-fi password, keep in mind that it's case-sensitive.
Fix #8: Use wired connection.
If your console's network internet settings are all in order but the issue remains, try connecting it to the router by wire.
Both the classic Nintendo Switch and OLED Switch are capable of connecting either via wireless connection or wired. If you think that there may be an issue with your wifi, like for example, when there's signal interference issues, you can connect your console by Ethernet cable to the router instead. This is an effective way to figure out if your wireless connection is unstable.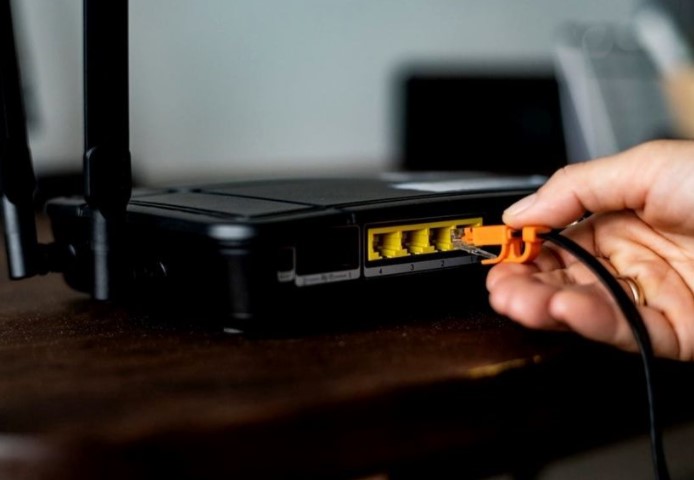 Unfortunately, the dock of the original Nintendo Switch does not come with a built-in Ethernet port so if you have that, you'll have to get an ethernet adapter first.
Check out the things that you need to do to connect your classic Nintendo Switch to the router with an Ethernet cable in this article.
Fix #9: Contact Nintendo support.
If connecting your Nintendo Switch by wire will fix the problem, you can assume that there must be a deeper reason for this situation. There's a chance that your console has a broken hardware component that needs fixing. At this point, the only option for you is to get help from Nintendo support.
OTHER INTERESTING ARTICLES YOU MAY LIKE: