While we already addressed many overheating issues with the Samsung Galaxy S6 Edge (#Samsung #GalaxyS6Edge) before, we are still receiving many emails every week from our readers complaining the same problem. Overheating can be caused by many factors so one issue might differ from the other even though both manifest the same result. The key to fixing the problem is to know the cause that's why you need to troubleshoot and that's the purpose of this post.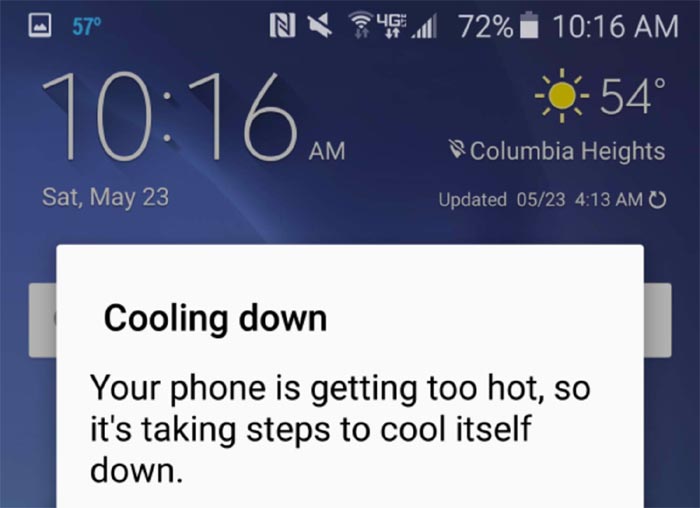 Below are some of overheating issues we received from our readers. I will guide you how to address the problem based on how and when it started to manifest. So, read on to learn more about the issues and their solutions.
For those who were trying to find a solution to an entirely different issue, visit the troubleshooting page we setup for the S6 Edge. We listed all issues we already addressed before. Find ones that are related to yours and try the solutions we suggested. If they don't work for you, then feel free to contact us by filling up this form and hitting submit after.
Here are the issues I addressed in this post…
---
Galaxy S6 Edge gets hot, turns off & won't turn back on
Problem: Hello guys! So I've had a Galaxy S6 Edge for a while, I've been having some issues with it. It gets hot, it turns off on it's on and won't turn back on and I don't receive notifications from my apps until hours later. What can I do?
Troubleshooting: Let's try to isolate the problem here because one my be the cause of the other. For instance, in your case, the heating up might be the reason why the phone turns off on its own, which may also lead to the delay of your messages and all that.
We are left to assume things because you haven't provided more information about the issue like when the problem started or if there was any significant events that occurred that may have led to it. That said, one of the things that could make your phone act like that is quick battery draining issue, which makes the phone hotter, turns it off either due to too much heat or loss of power.
My question is, when your phone dies, would you charge it to bring it back to life? If the answer is yes, then our assumption is correct, otherwise, it may fall into a system crash, which may render the device inactive for several minutes or even hours, making it seems like it's turned off. In this case, the temporary solution is to force reboot the phone: press and hold the Volume Down and Power keys together for 20 seconds or until the phone reboots.
The permanent solution is to perform the master reset and install the latest firmware version if applicable:
Master Reset
Turn off your Samsung Galaxy S6 Edge.
Press and hold the Volume Up, Home and Power keys together.
When the device powers on and displays 'Power on logo', release all keys and the Android icon will appear on the screen.
Wait until the Android Recovery Screen appears after about 30 seconds.
Using the Volume Down key, highlight the option, 'wipe data/factory reset' and press the Power key to select it.
Press the Vol Down button again until the option 'Yes — delete all user data' is highlighted and then press the Power key to select it.
After the reset is complete, highlight 'Reboot system now' and hit the Power key to restart the phone.
New Galaxy S6 Edge gets hot
Question: I have had just about every make of android phone you can think of over the years. All had their pros and cons. Best was the first droid incredible. What a phone!
HTC seems to be my favorite when I look back but I am getting off topic. I currently have a 1 day old Samsung S6 Edge. To cut right to the chase this thing gets hot no matter what I have tried. I cannot emphasize when I say close to molten lava or leaving your sandals at your pool chair in the middle of August in Phoenix.  I can't be the only one, right? What kind of damage is this causing? Thanks. — Buster
Answer: All smartphones get warm but not hot. There are several factors that may contribute to the heating up of the phone; battery, screen, CPU, RAM to name some. But as I said, these components may make the device warm after hours of use but not hot to the point that the owner will feel uncomfortable touching it. In your case, there's no need to troubleshoot because, clearly, the phone has issues out of the box. Therefore, you need to ask for a replacement unit.
Galaxy S6 Edge overheating, not charging, won't turn on
Problem: I have a Samsung Galaxy S6 Edge. It's not charging due to overheating problem and now it is switched off due to 0% battery. What can I do? I have placed  it in a cold place for 1 hour but nothing happened, still not charging. I cannot use my phone.
Answer: Or it's the other way around: it was overheating that's why it wasn't charging. But it doesn't really matter because your phone won't turn on now and seriously, we can't do any troubleshooting on a dead phone. Therefore, the first thing to do is bring the phone back to life.
We pretty much have addressed this issue multiple times so instead of parroting what we've advised our readers before, I'll just point you to our posts. The following are posts to troubleshoot a Galaxy S6 Edge that won't turn on:
This one is for the not charging issue:
As to the overheating issue, assuming you could bring the phone back to life, observe your phone closely to know when it overheats, how many apps are running before it starts to heat up, what are the triggers, etc. If the issue is caused by some apps, you may uninstall the culprits or perform the master reset especially if some of those apps are pre-installed because there's a chance it's also a firmware issue.
New Galaxy S6 Edge heating up out of the box
Questions: I have purchased Galaxy S6 Edge yesterday. While using the phone, the phone gets hot after a little bit of use. Is it normal for S6 Edge? Does it mean that I have purchased a faulty phone or this problem is present in S6 Edge generally?
Answers: I will try to answer your questions one by one:
Is it normal for a new Galaxy S6 Edge to get "hot" after a little bit of use? No. However, it's normal for phones to get warmer while being used.
Does it mean I have purchased a faulty phone? Probably. You need to observe it very closely to know if the phone is just getting warmer or hotter.
Is this problem present in S6 Edge in general? No. While we already received some emails from our readers complaining about the same issue, considering there were millions S6 Edge units sold, a few hundred units with overheating problems only indicate there were batches that were built with defects.
Our suggestion: call your provider and have the unit replaced as soon as possible while you are still eligible for a brand new replacement unit. There's no point in troubleshooting a brand new phone because ideally, it should work flawlessly out of the box.
Galaxy S6 Edge started to overheat after an update
Problem: My new Galaxy S6 Edge started to heat up to the point that it would turn itself off after an update. The update showed up a couple of days ago and I downloaded it yesterday. After that, the phone heats up like crazy. I don't know what happened and I really don't have a clue how to fix this. So, guys, can you help me?
Troubleshooting: Assuming the phone didn't suffer from liquid damage, the problem may be firmware-related. So, the first thing you should try is to wipe the cache partition:
Turn off the device.
Press and hold the following three buttons at the same time: Volume Up key, Home key, and Power key.
When the phone vibrates, release the Power key but continue to press and hold the Volume Up key and the Home key.
When the Android System Recovery screen appears, release the Volume Up and Home keys.
Press the Volume Down key to highlight 'wipe cache partition.'
Press the Power key to select.
When the wipe cache partition is complete, 'Reboot system now' is highlighted.
Press the Power key to restart the device.
After you did this, observe to see if the phone still overheats. If so, you need to do the master reset. Just follow the procedure in the first problem.
Galaxy S6 Edge heats up while being used normally
Problem: I am not an extensive user. In fact, I only have a few apps installed on my Galaxy S6 Edge. No games. My problem is, the device is heating up that I think if I continue to use it, it will burn my hand. I know that phones heat up if used but mine is just way over the threshold. I already did the factory reset and it did fix the problem for a few hours and then it starts to heat up again. What's wrong with my phone? Can you suggest a solution?
Troubleshooting: You said you already did the reset and it did fix the problem for a few hours. Did the problem start after you installed your apps? Try to isolate the problem by booting your S6 Edge in safe mode:
Turn off your Galaxy S6 Edge.
Press and hold the Power key.
When 'Samsung Galaxy S6 Edge' appears, immediately release the Power key and then press and hold the Volume Down button.
Continue holding the Volume Down button until the phone finishes the restart.
When you see Safe Mode on the lower left corner of the screen, release the button.
If the phone doesn't heat up in safe mode, it means one or some of your apps is causing the problem. Find the culprit and uninstall it. Otherwise, it's a firmware issue and one thing to fix it is to update to the latest version. If there's no update available, you better call your provider and negotiate a replacement.
Connect with us
We are always open to your problems, questions and suggestions, so feel free to contact us by filling up this form. We support every Android device available and we are serious in what we do. This is a free service we offer and we won't charge you a penny for it. But please note that we receive hundreds of emails every day and it's impossible for us to respond to every single one of them. But rest assured we read every message we receive. For those whom we've helped, please spread the word by sharing our posts to your friends or by simply liking our Facebook and Google+ page or follow us on Twitter.