Hello #GalaxyS8 users! We tackle a common S8 issue that some users are encountering lately. Hopefully you'll find this article useful in dealing with your own charging issue.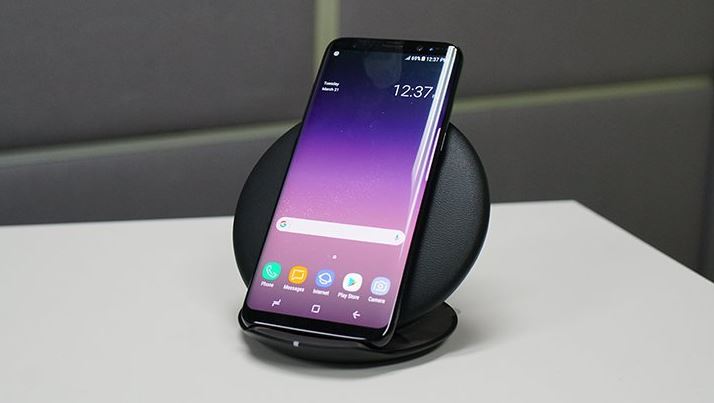 If you are looking for solutions to your own #Android issue, you can contact us by using the link provided at the bottom of this page.
When describing your issue, please be as detailed as possible so we can easily pinpoint a relevant solution. If you can, kindly include the exact error messages you are getting to give us an idea where to start. If you have already tried some troubleshooting steps before emailing us, make sure to mention them so we can skip them in our answers.
Below are specific topics we're bringing for you today:
Problem 1: Galaxy S8 charging is erratic, moisture detected error keeps showing, fast charging not working
I'm having this issue for more than a week now. I have a Samsung Galaxy S8+ and the problem is that whenever i plug my charger, it disconnects and connects frequently. after some inquiring i found out that if I'm using the phone or when the screen is lit the charging will be stable but as soon as the screen turns dark the charging stops and screen lit because of it. Then it again starts charging and screen goes dark and same goes on.
Note that I'm using the original adapter and the original wire that came in the box. I did some experimenting and when i swap the fast charging adapter with a normal one like the one that comes with an iPhone or any other ordinary adapter it charges without any trouble but it is cable charging and it takes about 4 hours if i don't use the phone to charge fully.
Now i don't know if it is a problem with the port or the fast charging adapter. The cable with which i charge has remained same throughout.
One other issue that may be related to this one is that i tried to charge my phone with the fast adapter while the phone was shut down. I thought maybe this way i can avoid the disconnection problem and charge the phone fast but as soon as i plug the cable in the phone, it vibrates with the screen reading "moisture detected." Then i turn on the phone and there is no moisture issue.
Also please ignore my bad English and please help if you have any solution. It is an amazing phone but I'm thinking of selling it if this problem doesn't go away. It would really be a shame. Also note that the phone was doing all okay before i got the update. Samsung released a software update about the size of 750MB and said it had some features for Bizby and whatnot. it wasn't a major update i think but the problem presented itself after that. Not i don't know if its related or not but thought that it might be useful. THANKS. — Sohaib Ali
Solution: Hi Sohaib. An issue like this can be caused by either a software glitch or a bad hardware. We believe though that it's the latter due to other symptoms you've described.
Wipe the cache partition
One thing that catches our attention is the fact that you said the issue appears to coincide after installing an update. Some users experienced similar troubles in the past with older Galaxy S devices so there's also a chance that the problem is software  related. Try to wipe the cache partition first and see what happens. Here's how to do that:
Turn off the device.
Press and hold the Volume Up key and the Bixby key, then press and hold the Power key.
When the Android logo displays, release all keys ('Installing system update' will show for about 30 – 60 seconds before showing the Android system recovery menu options).
Press the Volume down key to highlight "wipe cache partition."
Press the Power key to select.
Press the Volume down key to highlight "yes" and press the Power key to select.
When the wipe cache partition is complete, "Reboot system now" is highlighted.
Press the Power key to restart the device.
Now that you've deleted the system cache, you want to observe the phone for at least 24 hours. Should the problem returns after that, proceed to the next step.
Install all app updates
One of the main reasons why updates can appear problematic is the fact that apps may have become incompatible. Keep in mind that not all apps are designed to work with all Android versions and/or phone models. Sometimes, an old app can cause problems simply because it loses sync with the newer operating system version. If you are fond of installing all types of apps, make sure that you check each of them to ensure that they can work in a Galaxy S8 running Android Nougat. Visit an app's download page in Google Play Store and see if other users are reporting the same trouble as yours. If the issue is rampant and the developer does not seem to care, uninstall the said app.
Wipe the phone with factory reset
Doing a factory reset is one of the most effective solutions for most software issues. Make sure that you create a backup of your personal files. Once you've done that, do the steps below to factory reset your phone:
Back up data on the internal memory. If you have signed into a Google account on the device, you have activated Anti-theft and will need your Google credentials to finish the Master reset.
Turn off the device.
Press and hold the Volume Up key and the Bixby key, then press and hold the Power key.
When the Android logo displays, release all keys ('Installing system update' will show for about 30 – 60 seconds before showing the Android system recovery menu options).
Press the Volume down key several times to highlight wipe data / factory reset.
Press Power button to select.
Press the Volume down key until Yes — delete all user data is highlighted.
Press Power button to select and start the master reset.
When the master reset is complete, "Reboot system now" is highlighted.
Press the Power key to restart the device.
Recalibrate the battery (optional)
Now that your phone has been reset, you then want to recalibrate the battery to ensure that Android detects the true battery levels accurately. Make sure to do this if the issue reappears after a factory reset.
Use the phone by playing games or doing tasks to hasten power discharge, until the phone turns itself off.
Charge the phone without turning it back on.
Wait until the battery says it is fully charged to 100%.
Wait for an hour before unplugging the phone from the charger.
Use the phone until battery reaches 0% percent. The phone should turn off by itself.
Recharge the phone to 100%, wait for an hour before unplugging it again.
The battery should now be recalibrated. Observe how phone works.
Send the phone in
All these procedures we detail are meant to see that you've covered all possible software issues. However, if charging remains erratic, including wireless charging, you should contact Samsung to have your phone repaired or replaced.
The Galaxy S8 has water resistance protection and part of that protection comes in the form of disabling the charging port if the system detects water or moisture in that part. If your phone was never near water, or if you're positive that the device was never exposed to water, then the moisture detected error must be a sign that the charging port is defective. It may be sending incorrect signal to the operating system that there's moisture in the port when it doesn't exist at all.
Problem 2: Galaxy S8 screen won't turn on right away
Upon activation or call the screen does not always come on, but touch interaction still works. Varied affects–stays black, flickers then goes black, comes on but quickly turns off– this is done using the animation of a normal off, blacking in from sides. Usually have to repeatedly press button to get full on (remember, screen still interacts with touch, it is not actually off) AND there has been no damage to phone. Have done full factory resets, reset settings, started without sim card.
Verizon told me to go to Sam experience tech and have him flash fresh firmware; he said he did, but the dates on the second patch, kernel, and build do not show the date that it was done; they show date of last update.
So one big question is whether the guy actually did a firmware flash. What could be wrong with it, since everything works great, except the screen light only when activating out of deep standby? — Kweden
Solution: Hi Kweden. Kernel version, SE for Android status, and Android security patch level won't show when the firmware was last modified. Rather, they'll display date when a particular patch was released by a source like a carrier or Samsung. If the technician flashed the firmware using the latest available firmware for your device, it should show the date when that firmware version was released and not when it was installed in your phone.
Now, if your S8 actually still does the same strange screen issue after the firmware was reflashed, we say you ask for a replacement. We are not aware of an issue like this and there's no known hack how to fix it.
Problem 3: Galaxy S8 fast charging won't work, moisture detected error keeps showing when charging
Hi. I just came back from the beach. I took my new Samsung S8. Since the moment I got it i have problems with the moisture sign but I used to put some paper on the port and problem solve (even if i never exposed it to water).
After this vacation, whenever I tried to charge it, the same icon appear. But if i restart it while the cord was plugged it charges.
Now i came back and i discover the adaptive fast charging won't charge my phone, but any other will. But still it charges really slow and no icon appears of moisture detected error. 
If i turn the phone in safe mode the icon will appear but won't charge, and when i come back to normal mode it's the same problem. i just change from iPhone to Samsung and i think I'm regretting it. I don't know what Android version I have. — Diego_v5
Solution: Hi Diego_v5. Your issue seems similar to Sohaib above so we encourage you to do the suggested troubleshooting steps above. This may not be an isolated problem so we will monitor it and update this post accordingly if we can figure out an effective solution.
---