The first three issues in this post addresses questions about the #GalaxyS7 screen. One of these reported issues, S7 touchscreen not working properly, is discussed here briefly. Keep in mind that our blog does not provide hardware troubleshooting or diagnostics so if you find the solutions rather direct or not helpful at all, that's mainly due to one reason — the reason for the issue is hardware in nature. As a rule, we always suggest that users allow professionals handle any hardware issue but if you think you can fix your own issue yourself, look for other online guides that might help you.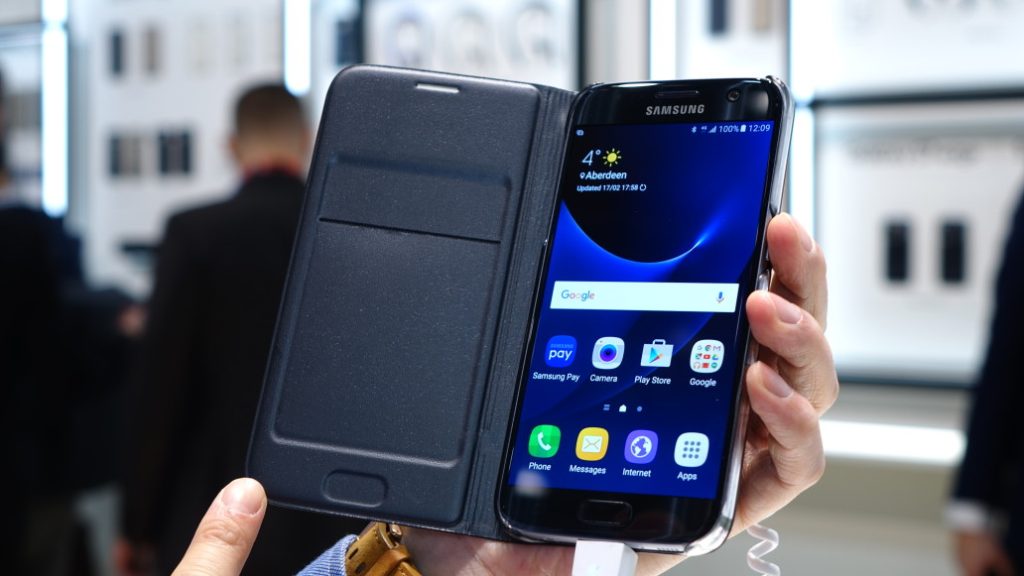 Below are the specific topics discussed in this material:
If you are looking for solutions to your own #Android issue, you can contact us by using the link provided at the bottom of this page, or you can install our free app from Google Play Store.
When describing your issue, please be as detailed as possible so we can easily pinpoint a relevant solution. If you can, kindly include the exact error messages you are getting to give us an idea where to start. If you have already tried some troubleshooting steps before emailing us, make sure to mention them so we can skip them in our answers.
---
Problem #1: Galaxy S7 screen is black and unresponsive
It seems my screen isn't working…like i turn on the phone and i don't get a boot animation or anything, just a black screen. nothing ever shows up.
Also the touch screen was working when i first restarted the phone because i heard the phone unlock with the water drop sound on the lock screen but since i restored the phone in Odin (with the black screen) even when i boot into recovery and download mode it's still a black screen.
I have never dropped my phone nor has it ever been water damaged. So i have no idea why this happened…i was using the camera app and the screen just went black on me. so anyone got an idea what's wrong or how to fix it?? — Wenganga
Solution: Hi Wenganga. A black screen caused by an operating system glitch or an app bug is one thing and black screen issue due to a hardware malfunction is quite another. The most effective way to know if you have a hardware problem or a software one is by doing a simple restart. If the screen remains black during the initial boot up, that's an indication of hardware defect. The initial screen that shows your carrier's logo or Samsung logo works independently from the operating system and is run by the bootloader. Thus, if you are not seeing either the carrier splash screen or the Samsung logo screen (while the bootloader loads) that's an indication of hardware problem. This is the same reason why nothing shows up and the screen remains black if you boot your phone in download mode or recovery mode. To fix this problem, you must bring it to Samsung or a reputable third party repair shop so your device can be checked and fixed.
Problem #2: Galaxy S7 touchscreen not working properly
Just 2 days ago my phone started glitching when I'd try to text. The bottom of my keyboard is unresponsive and even when I am trying to text only, the key board is over sensitive it erases too much or a adds too many words by itself. The keyboard has a glitch not just in texting but texting on Google, basically at any time I use the keyboard.
I tried to hard reset. Reboot delete cache. I even pressed *#0*# and that led me to the touch screen with the x axis to manually touch. once I got to the bottom of the axis it doesn't let me fill in the bottom part, which makes sense because I'm having most trouble on my key board toward the bottom. For instance thru text i have to press the emoji section 3 times before it opens and press each emoji 3 or 4 times before it allows me to place it in text.  Please help me I've tried everything.  I've never dropped the phone and the phone is 2 weeks old. — Kristina
Solution: Hi Kristina. The result of the service menu test that you did (by pressing *#0*#) is evidence that a portion of the touchscreen is defective. This means that the lower portion of the screen has lost its ability to detect input like your touch. This problem can be caused by a faulty touchscreen itself, or some components of the screen assembly. Unfortunately, there is no amount of software troubleshooting that you can do on your end to fix this. You must call Samsung or your carrier so you can have the phone replaced.
Problem #3: Galaxy S7 screen flickers if brightness is not set to maximum
So i have this device for like 2 months. I bought it from Romania, and got the Exynos processor version though the reseller who says it is with Snapdragon actually. First of all, i first encountered some a very uncomfortably overheating which made the aluminum edges to be hard to keep in hand. I ignored this problem at first, though i was pretty frustrated that my friend with another S7 Edge didn't encounter any overheating problems.
The real problem is that 2 or 3 days ago my screen started flickering when the brightness was any lower than the maximum. Flickering gets worse once with the less brightness. Just after a day, my screen only appears green and i can do nothing on my device. I just want to know if there is something to do with the device, which i hope won't happen since the retailer will give all my money back.
I will never buy any Samsung again after this pretty amazing experience with their best model by far. — Vlad
Solution: Hi Vlad. The first thing that you want to do is check if the issue is due to a third party app. You can do that by restarting the phone in safe mode. Here's how:
Turn the phone off.
Press and hold the Volume Down and Power keys for 20 to 30 seconds.
Once you see the Samsung logo, release the Power key immediately but continue pressing the Volume Down key.
Your phone should continue booting up and you will be prompted to unlock your phone as usual.
You will know if the phone successfully booted in safe mode if the text "Safe mode" is displayed at the lower-left corner of the screen.
Safe mode prevents third party apps from running so if one of them is the culprit, the screen should work normally. If the problem remains though, the next thing that you can want to do is factory reset. To do that, follow these steps:
Turn off your Samsung Galaxy S7.
Press and hold the Volume Up, Home and Power keys together.
When the device powers on and displays 'Power on logo', release all keys and the Android icon will appear on the screen.
Wait until the Android Recovery Screen appears after about 30 seconds.
Using the Volume Down key, highlight the option, 'wipe data/factory reset' and press the Power key to select it.
Press the Volume Down button again until the option 'Yes — delete all user data' is highlighted and then press the Power key to select it.
After the reset is complete, highlight 'Reboot system now' and hit the Power key to restart the phone.
Factory reset restores all settings and built-in apps to their original factory state. If the screen issue is caused by a glitch that developed after some time, it should be eliminated by this process. However, if the problem remains after a factory reset, an unknown hardware issue should be causing the screen to behave erratically. Contact Samsung or the retailer to get a replacement unit.
Problem #4: Galaxy S7 can't reply to automated SMS
I get automated text messages from our laundry service asking if we want them to stop by and pick up laundry that day. Reply Y if yes. Whenever I reply with Y, the message fails. I have the same issue with a local bakery that texts us coupon codes and asks for a reply to claim them. Same issue as the message fails when I try to reply. I have to think it has something to do with these types of automated messages. I do recall the first time I tried to respond to one and a message bubble popped up and I accidentally tapped my preference to probably be "Do not allow messages to be sent to automatic texts" or something like that.  Once I tapped it, it said that it would remember the preference. So how do I reset that preference so that I can respond to these text messages? — Brian
Solution: Hi Brian. If you were able to send a reply to automated SMS previously on this device, the best thing that you can do is to restore the default settings of your Messaging app to default. There are two ways to do that. One is by clearing the data of the said app. Here's how:
Go to Settings.
Proceed to Applications.
Select Application Manager or Applications.
Tap the All tab.
Look for the app in question and tap it.
Tap Storage.
From there, you will see the Clear Cache and Clear Data buttons.
Tap Clear Data.
Tapping the Clear Data button is the virtual equivalent of re-installing the app. Doing so deletes your text messages.
If deleting the app's data won't fix the issue, the next best thing to do is by doing a factory reset.
Problem #5: Galaxy S7 won't read SD card | Galaxy S7 overheating issue
Hi! Not sure if this is a software or hardware problem yet.
My notifications popped up last week saying my SD card was damaged and may need to try reformatting it. I couldn't do it for a few days, due to dealing with personal issues that kept me extremely busy. But on Friday I noticed the CPU was overheating, so I decided to see if a factory reset would solve that problem. Well, it didn't. And the SD card message popped up again, so I, reluctantly, reformatted the card.
Then my husband and I went on a trip over Memorial Day weekend. While we were away, the SD card fouled up again after I had been using the GPS on my device for our trip, causing it to get really hot. I immediately stopped the GPS and put my device into sleep mode till it cooled. (Unfortunately, I couldn't remove the card till we got home, since you have to have the silly tool to do that, which I keep in the box my device came in…). Anyway, I think the SD card error appeared during the overheating, this time. It seems that was what alerted me to the overheating this time.
So I'm wondering if I got a bad SD card. It says it's Samsung EVO microSD (128GB), but I ordered it from Amazon and it took a month to arrive (so, it came from China).
Unfortunately, I didn't get insurance with my device…I guess because I never needed it before…
Anyway, I was just wondering if you've ever encountered a problem like this one on the Galaxy S7 or on other similar Android device.
Oh, and now my device won't recognize whether an SD card is even in it. It has a message to "mount SD card," but it is grayed out and un-"clickable" whether card is in or not. I performed soft reset. Nothing changed. (I didn't notice this problem till I tried to remove SD card, assuming it was a bad one.)
Another thing I'm wondering if it may have started this issue is that, maybe 2 months ago, my charger and cord that came with my device slowed way down, and so I started using another charger instead. And then I started using a heavy duty Anker cable I had with the original charger that came with my device, thinking just the cable was bad. It charged fine when I was using the phone charger, but when I started using the Anker cable I had to immediately quit due to it feeling hot at micro USB port area, and I went back to phone charger, which seemed ok.
Anyhow, I'm hoping I haven't fried, or partially fried, my device.
Please let me know if you think there is a solution to this (these) issue(s).
Thanks! — Gina
Solution: Hi Gina. When it comes to issues similar to yours, an average user has a very limited set of options in terms of troubleshooting. That's because identification of the real cause is difficult to achieve in the first place.
For your first problem regarding the SD card, the only thing that you can do is to try another one so you can observe what happens next. If the second SD card suffers the same fate, that is, it gets corrupted like the first, you can assume that the device is somehow causing the SD card to malfunction. This can be due to a faulty hardware (probably connected to the overheating issue), or a software glitch. Because there's a possibility that software error may be the cause, we recommend that you  do the basic software troubleshooting like clearing of the cache partition, booting in safe mode, or factory reset. If you've already done all the software solutions without getting any positive result, that's the time that you want to consider having the phone checked.
For reference, here's the steps on how to wipe the cache partition of a Galaxy S7:
Turn off the phone.
Once the phone has completely shut down, press and hold Volume, Home, and Power buttons at the same time.
Wait until the Samsung logo appears before releasing the Power button.
Once the Android logo shows up, release the two other buttons.
Wait for the Recovery menu to appear (may take up to a minute).
Go to wipe cache partition option using the Volume buttons, then press Power button to confirm.
Wait for the device to wipe the cache partition
Once the cache has been deleted, Reboot system now option will then be highlighted.
Press Power button again to confirm the reboot.
For your second issue (overheating), this may also be due to software glitch or bad hardware. Sometimes, third party apps or services can run constantly in the background. This forces the processor and other components to run all the time. The more active the processor, the hotter the inside of your device becomes, resulting to perceived overheating. If you suspect that software is to blame, try to factory reset your S7 and observe it for 48 hours without any apps. This will give you enough time to see the difference.
If the phone continues to overheat even without the third party apps, you can bet hardware is to blame. Find a way to have the device checked or, better still, replaced.
---
Engage with us
If you are one of the users who encounters a problem with your device, let us know. We offer solutions for Android-related problems for free so if you have an issue with your Android device, simply fill in the short questionnaire in this link and we will try to publish our answers in the next posts. We cannot guarantee a quick response so if your issue is time sensitive, please find another way to resolve your problem. 
If you find this post helpful, please help us by spreading the word to your friends. TheDroidGuy has social network presence as well so you may want to interact with our community in our Facebook and Google+ pages.