We have been receiving a growing number of #GalaxyS7 issues recently so you can expect to see more posts for this particular device more often. In this post today, we cover 6 more issues that we've collected over the last few days. We hope that the solutions provided here will help not only the users mentioned here today but also others who may have similar troubles. For those who may be new to our blog, don't forget to visit our main Galaxy S7 troubleshooting page.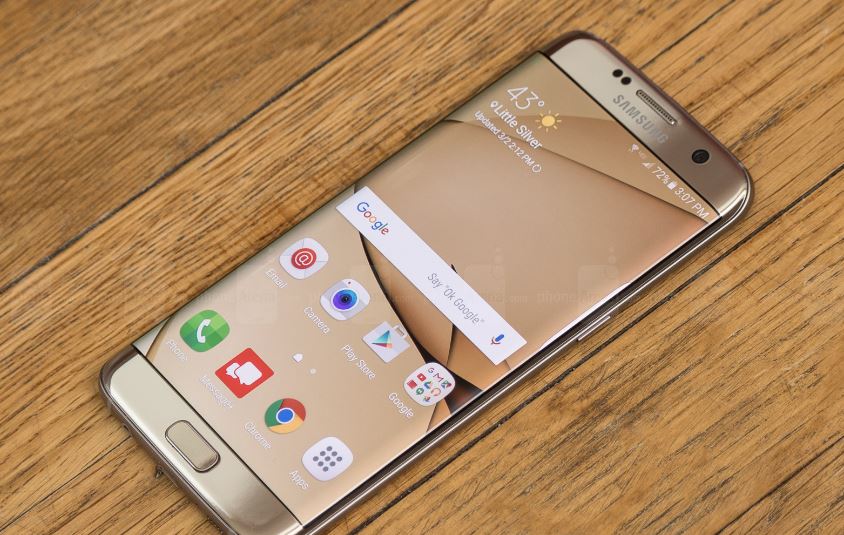 Below are the specific topics we're discussing here today:
If you are looking for solutions to your own #Android issue, you can contact us by using the link provided at the bottom of this page, or you can install our free app from Google Play Store.
When describing your issue, please be as detailed as possible so we can easily pinpoint a relevant solution. If you can, kindly include the exact error messages you are getting to give us an idea where to start. If you have already tried some troubleshooting steps before emailing us, make sure to mention them so we can skip them in our answers.
---
Problem #1: Galaxy S7 won't turn on after phone got accidentally dropped
My Galaxy S7 was getting hot about a month after I got it. It would get hot when charging or even just during use. I did drop it without a case (I took of the case to try and keep it from overheating). After I dropped it the screen went black. Now I can't get it to turn on. I tried the stuff on your troubleshooting page. When I push the power button and the down volume I can tell it turns on because the blue light on top starts to flash and the lights below turn on, but the screen does not come on. It starts to get hot again and then it vibrates that it is shutting down. Is this because it was dropped or a more serious problem. Even with insurance the clowns want $175 to replace it. — Sherri
Solution: Hi Sherri. That the screen malfunctioned right away after the phone was dropped is already a clear indicator of a hardware problem. You don't need any other troubleshooting step to tell you that your phone's screen is toast. The purpose of our suggested troubleshooting steps, to try and boot the phone to different modes, is to ascertain in an indirect way whether or not bad hardware is to blame. Some users may experience signs of  hardware problem later, while others like yourself encounter them immediately. The accidental drop may have damaged the screen resulting to black screen of death issue. There's also a chance that the battery or some components of the motherboard may be damaged too as the phone now exhibits symptoms of overheating and random reboot issues.
We hope the issue is localized to the screen only as replacement of the screen assembly should fix the issue relatively easily. However, if other critical components in the motherboard are affected as well, replacing the screen may not be enough to give you a fully working phone after repair. Overheating during charging, for example, may be an indicator of a malfunctioning charging port or battery. In the end, the only thing that you can actually do is to hope for the best. That said, make sure that you let Samsung handle the repair. Better still, just get a replacement unit if that's still possible.
Problem #2: Refurbished Galaxy S7 mobile data with Sprint keeps disconnecting
So I got a refurbished S7 just a few days ago and right off the bat it's having trouble with the SIM card. Sprint puts in a new one and everything seems fine for like one day. Then I lose all mobile data on a trip to the airport and have to drive back with no GPS, lost as F**k. So 8 Sprint customer support/techs, 1 store visit, 2 Samsung techs and 1 geeks quad visit later, I FINALLY factory reset the thing and restore it with Smart Switch and it's running like a top. I go to sleep, wake up, have 1/2 the next day before the cellular data dues on me AGAIN! SIM card status reads mobile data "disconnected." Both Sprint and Samsung don't want to give me a replacement because I bought it from a 3rd party. What the hell can I do? It seems not a physically damaged phone. It seems just got software and simple card issues. The settings doesn't even have the system update button and the ##BRAND# just brings me to a voice-mail error message. HELP! — Eric
Solution: Hi Eric. Frankly, we don't think there's anything that we can do to help you fix your problem. The reason why we say so is the fact that we don't have enough information to even begin our troubleshooting with. Telling us that you have a refurbished Galaxy S7 does not help. For instance, we don't know if you have a GSM or CDMA phone. We assume it is a CDMA phone because you mention Sprint but we can be mistaken on this one too. Keep in mind that this critical information matters because if your phone is actually not a Sprint Galaxy S7 model, that may be the reason why you're having the issue in the first place. In other words, if you have an S7 from different carrier, for example an AT&T model and you're trying to use it on Sprint network, the networking functionality of the device may not work as expected. Even if your S7 has been network unlocked, that doesn't guarantee that it will work properly on a different network. Given how little information you provide us, we can only speculate on what may be happening right now. It's possible that the phone's software may not be compatible with Sprint's system, causing an incomplete provisioning/registration process. There's also a chance that the phone's hardware may be incompatible with Sprint's operating frequency. The best thing that you can do right now is to work with Sprint so they can check if your phone is fully compatible with your device. Try to gather as much information about your phone as possible so you can give them to Sprint's technical support. Again, you should remember, if this Galaxy S7 is not a Sprint model, you don't have to expect that everything should work as expected. There will always be some functionalities that will be left out so you must accept that fact.
Problem #3: Galaxy S7 randomly freezing and rebooting when battery level is low
Hi Guys. Few days ago, I was on a WhatsApp call until my battery went to 0% and the phone died. I have then put it on charge, powered it on soon after and left it for about an hour. When I have taken it back I have found it frozen. I have then reset it by pressing the key combination, and when the phone was back, it worked fine for about 15 seconds and then got stuck again. Since then I'm not able to use my phone normally. It gets stuck after few seconds of a reboot if it is connected to the charger. It gets stuck even if not on charge.
I have noticed though that the amount of time the phone takes to freeze after a reboot changes based on how much the battery is charged. When it is about 35% I can use the phone almost normally with no issue even though sometimes it freezes even when the battery is at 10%. As soon as I connect it to the charger it freezes after few seconds even if the battery is almost down. I have launched it in safe mode but it get stuck the same way. Can it be a battery issue? Thanks. — Leo
Solution: Hi Leo. There's a chance that the root of the issue may be battery-related so the first thing that you want to do is recalibrate it. This is a process of retraining the operating system on how to measure battery levels properly. Battery recalibration is a simple step so you can do it anytime. Here's how it's done:
Use the phone by playing games or doing tasks to hasten power discharge, until the phone turns itself off.
Turn the phone on again and let it turn itself off.
Charge the phone without turning it back on.
Wait until the battery says it fully charged to 100%
Unplug the charger and turn the phone on.
If the phone says it's not 100% anymore, turn it off, plug the charger back in and wait until 100% charge is reached.
Unplug the charger the turn the phone on again.
Use the phone until you drain the battery down to 0.
Repeat the cycle once.
The next good thing that you can try if nothing changes after recalibrating the battery is factory reset. You want to do this to see if the issue is software in nature or not. As the name suggests, factory reset will restore all software settings to their known working state, making it a good method to check if there's an issue on the hardware department. You must observe the phone for some time, at least 24 hours, after a factory reset to see the difference. Should the issue remains, that's a sign that the problem will not be resolved on your level. In this case, you must find a way to have the phone repaired or replaced.
For reference, here are the steps on how to factory reset your Galaxy S7:
Turn off your Samsung Galaxy S7.
Press and then hold the Home and Volume UP keys, then press and hold the Power key.
When the Samsung Galaxy S7 shows on the screen, release the Power key but continue holding the Home and Volume Up keys.
When the Android logo shows, you may release both keys and leave the phone be for about 30 to 60 seconds.
Using the Volume Down key, navigate through the options and highlight 'wipe data / factory reset.'
Once highlighted, you may press the Power key to select it.
Now highlight the option 'Yes — delete all user data' using the Volume Down key and press the Power button to select it.
Wait until your phone is finished doing the Master Reset. Once completed, highlight 'Reboot system now' and press the Power key.
The phone will now reboot longer than usual.
Problem #4: Galaxy S7 won't charge beyond 0% and randomly reboots
Hello, I have a 7-month old Samsung Galaxy S7. Last Friday (13/01/17) my phone was dead so I plugged it into the charger. The lightning bolt symbol appeared like usual but then instead of showing the battery percentage, the phone went blank. I tried again and again but I was having no luck. So I just left it in the charger and hoped for the best. Still no luck. Four days later I tried leaving it charged overnight again. When I woke up it had begun charging again and was on 9%. It charged throughout the day with no issues but now (same day) it has reverted back to the same problem. I can turn the phone on but it just says 0% and turns back off. Do you have any suggestions? I look forward to hearing from you. Kind regards. — Ruairi
Solution: Hi Ruairi. There are a number of factors that you want to consider to get to the bottom of this issue. Like most Android issues, this one may be caused by a software glitch, an app bug, or a hardware malfunction so you need to go through a series of troubleshooting steps.
Use another charger or USB cable. The first thing that you want to do is to ensure that you have a good working sets of charging cable and charger head. Try charging another Samsung device with your current charger to see if it's working. Alternatively, you can get another Samsung charger and USB cable to see if the current one is defective.
Check the charging port for defects or debris. The most commonly damaged component in smartphones today is the charging port. Depending on how you take care of your device, the charging port may or may not be damaged at this time. Try to examine the port using some form of magnification to check whether there are bent pins inside. If a pin has been damaged due to wear and tear, charging may become impossible or erratic. It's also a good way to check for possible lint or debris that may be getting in the way when a charger is inserted.
Restart the phone to safe mode. While we're not aware of any third party app causing a boot issue such as yours, we insist that you observe how charging works when the phone is in a different boot mode. That said, we want you to charge the phone while it's on safe mode. Here's how to boot your S7 to safe mode:

Turn your Galaxy S7 off.
Press and hold the Power button.
Once the 'Samsung Galaxy S7' logo appears, release the Power key and immediately press and hold the Volume Down button.
Continue holding the button until the phone finishes rebooting.
Once you see the text "Safe mode" at the bottom left corner of the screen, release the Volume Down button.

Recalibrate the battery. See our explanation and steps above.
Wipe the phone via factory reset. This should be the ultimate software solution that you can try on your end. If the issue persists after a factory reset, have the phone repaired or replaced.
Problem #5: Galaxy S7 Messages app keeps showing an error report
The issue I'm dealing with is my Messages app. I recently hard-reset my phone due to a different issue. I can't exactly remember what, but after I reset my phone, the Messages app started sending out an Error Report. I have had the S7 for some time now and I never encountered this issue until now. After about 30 seconds of being on Messages- whether I'm writing a message or I just opened it- it'll crash and send me an Error Report message. I waited a couple days, hoping the error would fix itself. When the issue didn't go away, I soft reset my phone and the issue went away for maybe a couple of hours but came right back. So now, here I am, asking for some advice. This crash is driving me insane! Please help. — Erica
Solution: Hi Erica. We suggest that you try wiping the cache and data of the Messages app first if you haven't done it yet. Here's how to do it:
Open the Settings menu either through your notification shade (drop-down) or through the Settings app in your app drawer.
Navigate down to "Apps". This may be renamed to something like Applications or Application Manager in OEM skinned versions of Android 6.0.
Once in there, click on an application.
You'll now see a list of stuff that gives you information about the app, including Storage, Permissions, Memory Use, and more. These are all clickable items. You'll want to click on Storage.
You should now clearly see the Clear Data and Clear Cache buttons for the application.
If the issue won't go away, do a factory reset. And if the issue continues even after a factory reset, consider using another messaging app. There are a lot of free messaging apps in Google Play Store that you can choose from.
Problem #6: Galaxy S7 charging erratically, stuck in boot loop
My daughter's phone, whose email is above, is an S7. Her phone is malfunctioning. It will only hold a charge for about 3 hours, if it is idle. The screen goes dark as early as with a 35% charge remaining. It goes into a reboot mode randomly, where it turns off, reboots, comes back to the log in screen and then starts the process over, last night for over 20 minutes, and when it is doing it, it doesn't respond to any keys, like the power button or the reboot key combo you recommend on your site. From dark screen to 100% charge took less than 15 minutes. She has tried the hard reboot you recommend, but nothing seems to be helping. It has not gotten wet, but I am sure it has slipped out of her hand at some point or another. — Bterfly92
Solution: Hi Bterfly92. The issue may appear different from others in this post but the potential solutions remain the same. Possible causes include a malfunctioning battery or screen assembly, or an unknown software glitch. Like in almost any Android issue troubleshooting, the way to know if bad hardware is to blame is by doing all software troubleshooting for the issue. If nothing changes after you've exhausted software troubleshooting, you can then assume that a hardware issue is responsible. Please follow our suggestion for Ruairi above.
---
Engage with us
If you are one of the users who encounters a problem with your device, let us know. We offer solutions for Android-related problems for free so if you have an issue with your Android device, simply fill in the short questionnaire in this link and we will try to publish our answers in the next posts. We cannot guarantee a quick response so if your issue is time sensitive, please find another way to resolve your problem. 
If you find this post helpful, please help us by spreading the word to your friends. TheDroidGuy has social network presence as well so you may want to interact with our community in our Facebook and Google+ pages.