Water and electronics do not obviously mix well. If you are looking for advice on what to do with a water-soaked #GalaxyS6 or #GalaxyS6Edge, keep reading and you may find this post helpful.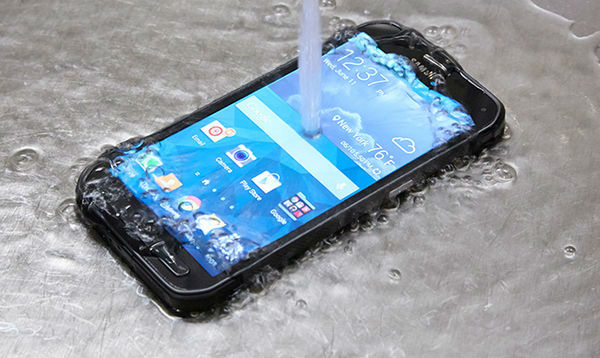 This post covers the following topics:
If you have an #Android problem, share them with us by using the link below and we will do our best to give you effective solutions.
---
Problem #1: Can files be recovered from a water-damaged Galaxy S6 by moving the NAND chip to a working motherboard?
Hey now. A good friend of mine's wife got her Samsung Galaxy S6 wet and after days in a dry rite bag it will not turn on. My friend has tried charging the battery and still nothing.
Normally we would say, chock it up to lesson learned but in this case it has the last pictures and video of her with her mother before she past recently so it is worth it to him to invest in recovering the data.
We have tried contacting a couple web sites that claim to handle difficult recovery but no one will touch it if it won't power up. Samsung would just return a refurb if sent in so we are seeking advice.
https://www.werecoverdata.com/cellphone-recovery/
https://www.krollontrack.com/data-recovery/data-recovery-process/data-recovery-methods/
I believe it is unlikely that the NAND flash chip itself suffered damage, but it is located close to the SIM card slot so it is higher risk than other components, though I would lean toward an issue in the power circuitry over the memory chip.
I thought we should be able to find a company that could remove the NAND chip and either place it on another main board or use a Data I/O device to access the memory. We used to do this type of thing at work with leaded memory components but have outsourced many of the manufacturing capabilities over the years so I can even try. However I can not find a company that seems to offer this service if necessary.
I am hoping you can suggest a company or maybe something I am overlooking.
I have found that the KLUBG4G1BD-E0B1 chip is likely the one we need to research though I haven't opened the phone. I have not been able to find a datasheet or supporting documentation even though Samsung appears to be marketing the chip outside their company for use in mobile application.
I did find this document https://csrc.nist.gov/groups/STM/cmvp/documents/140-1/140sp/140sp2380.pdf
If I am interpreting this correctly, it is likely that I can't simply move the NAND to another S6 main board (something that we could do if I found a cheap damaged phone that would at least power on). As It looks to me like the NAND is likely encrypted and protected by a password that is used by the CPU during boot to unlock and decrypt. Am I correct? or am I misinterpreting what I read?
Do you think it could be possible the password if it exists could be extracted from the firmware? The paper from Samsung was written by Jisoo Kim, and engineer for Samsung in Korea from what I can find (he may even have a LinkedIn profile. But I have not been able to find an email address for him to discuss the potential issues with him.
So, what do you think?
Is it possible to move the NAND to a new phone (for all I know the passcode is common to all s6's and not locked down to a specific CPU/mainboard)?
Is there anything else we can try to get the powered up?
Do you know any companies that offer this service?
Would you be interested in following up with Mr. Kim at Samsung? You may have better luck than me.
At this point I am just recommending that they keep the phone tucked away till I can find an inexpensive broken s6 on eBay so I can experiment with moving components, maybe the mainboard is still good. I don't know.
Thanks for taking the time to read this and any effort you put into finding me a solution. — TimeZoner
Solution: Hi TimeZoner. We understand the importance of getting back stored data from the phone of your friend's wife but dealing with this problem is actually a tricky business, if not an impossible one, given the fact that the phone no longer powers on.
We are not aware of any online site that offers remote services to recover files from a non-functioning smartphone so going this route is definitely out of the question.
Fishing out the NAND chip from the motherboard (assuming that it's not damaged) and moving it to working S6 system may be a viable option. Samsung NAND chips are usually cryptographically (password) protected at a certain level to prevent unauthorized access to user data so placing the one from the damaged phone to another motherboard may not work unless you have the key handy during the authentication attempt.
The process of accessing NAND chip data is proprietary so it's obviously not readily available online. We don't know of any company that offers the kind of services you are looking for so we think you are really out of luck in this regard. iFixit offers hardware troubleshooting and diagnosis for almost all Samsung devices. You may want to contact them for more specific hardware-related information. This page may be of help.
Problem #2: Water-damaged Galaxy S6 Edge won't boot normally
Droid Guy, I have a new Samsung S6 Edge that got dropped in water for 1 second. It will kind of turn on when it is plugged in only. Kind of means that the grey battery symbol with a lightning bolt comes on and then changes to the green battery  and fills up and says 100%. When I press the power button it will cycle through 4 different screens over and over first, the white letter on black background Samsung Galaxy Edge (powered by Android) Screen, Colored Samsung the Yellow "Sprint" Screen to the Yellow "Sprint Spark" screen.
If I press the Power and Volume Down buttons the phone will go to the grey battery with the lightning bolt then to the green battery filing up to 100%. The screen will then time out the go to just a green changing light in the top left corner of the phone.
If I hold down the Volume Down, Power and Home button on the front bottom of the screen it will bring up a blue screen that says warning – a custom OS can cause critical problems in phone and installing application…bottom of the screen has a triangle with an "!" in it.
That is about all the phone will do. It will not do anything when the phone is not plugged in.
Not sure if what options I have with this phone. Thank you. — Matthew
Solution: Hi Matthew. It looks like your phone is no longer booting up normally. The screen that you see after pressing Volume Down, Power and Home buttons simultaneously is called Download Mode screen. When in this environment, you can flash or install a new firmware or operating system to your phone usually using ODIN.
Try booting the phone in recovery mode first by pressing Volume Up, Power and Home buttons at the same time so you can either try to wipe the cache partition or reset to factory defaults. If you can reach recovery mode, make sure to do the wipe cache partition first to see if that will make any difference. If that won't work proceed to factory reset.
If your phone still fails to load normally after a factory reset, boot it again to download mode and flash a stock firmware. Please refer to this post for more specific steps to do: How to unroot Samsung Galaxy S6 Edge to stock firmware.
Note: Make sure to select the correct firmware for your phone to avoid problems.
Problem #3: Galaxy S6 only loads download mode after it got dropped into a bucket of water
I'm max from Dominican Republic. Yesterday I was recording with my Galaxy S6, when I fell into a bucket of water. Take it out and let it dry , I was told to go into a bag of rice. My Galaxy S6 did not recognize the ID touch, then the screen flickered and capacitive buttons after 1 day was good but when I charge it, it told me that the battery had high temperature and kept charging. When turned off the mobile came a thermometer symbol and the Galaxy S6 vibrates.
I need your help. I want to know if you need to change the USB port or my cell phone broke. When I plug in Download mode works fine for changing the software, the problem is that no load. — JC
Solution: Hi JC. There's no telling what will happen to an electronic device if liquid or water seeps into inside components. It's also highly recommended that you don't turn the phone on after it gets water damage unless you are absolutely sure that there is no remaining liquid or moisture inside. This is so to prevent shorting out other components. Unfortunately, checking for moisture or water inside is usually not practical for an average S6 user.
Opening the phone by yourself will obviously void the warranty and will not guarantee a 100% fix. This is the reason why we always recommend that you must seek the expertise of qualified technicians, or better still, Samsung's for a fix.
See also Things to do when you have a water-damaged Android phone
Problem #4: Galaxy S6 back button not working properly after phone got water damaged
I dropped my phone in the toilet a few months ago. I put my phone in rice and when I took it out everything works fine except for the back button keeps going off because of a shortage I think. I use this app called All Gestures because I can turn off the back button and use swipes anywhere on my screen to go back. I looked at the indicator and there's a red x so I know there's water damage. I'm on my 15 going to be 16 in a few months and I want to show my mom that I can be great with my stuff so she doesn't have to replace it. Please help me. I don't want to replace it at all because I might downgrade. — Kiara
Solution: Hi Kiara. As much as we would like to help you, there's honestly little that can be done to fix this issue yourself. Just like our suggestion for others above in this post, the best course of action for you is have the phone serviced to completely remove any remaining water inside. Keep in mind that any moisture on the motherboard will eventually corrode some components or short them out. This can result to more problems in the near future if you don't have it fixed right away.
Calling Samsung will not help either as they deem water damage as customer misuse, which means that your phone is now out of standard warranty. You may want to save some money to have the phone serviced.
---
Engage with us
If you are one of the users who encounters a problem with your device, let us know. We offer solutions for Android-related problems for free so if you have an issue with your Android device, simply fill in the short questionnaire in this link and we will try to publish our answers in the next posts. We cannot guarantee a quick response so if your issue is time sensitive, please find another way to resolve your problem. 
When describing your issue, please be as detailed as possible so we can easily pinpoint a relevant solution. If you can, kindly include the exact error messages you are getting to give us an idea where to start. If you have already tried some troubleshooting steps before emailing us, make sure to mention them so we can skip them in our answers.
If you find this post helpful, please help us by spreading the word to your friends. TheDroidGuy has social network presence as well so you may want to interact with our community in our Facebook and Google+ pages.