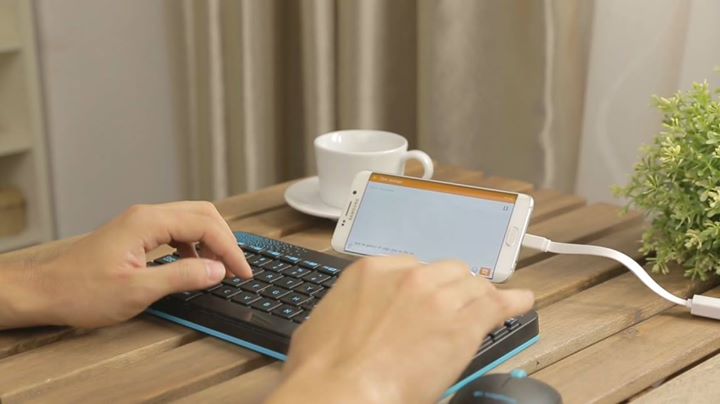 Ever wonder how to fix a bad USB port? Well, the answer depends. If you have basic or average electronics knowledge and skill, you may be able to fix and/or replace the part yourself. For those who can't even manage to pry open the back part of the #GalaxyS6, fixing it themselves is obviously out of question. Our blog does not provide step-by-step tutorials for any hardware repair, so if you're looking for details how to fix a particular hardware component in your S6, direct your search somewhere else.
Below are the topics covered in this post today:
If you are looking for solutions to your own #Android issue, you can contact us by using the link provided at the bottom of this page, or you can install our free app from Google Play Store.
When describing your issue, please be as detailed as possible so we can easily pinpoint a relevant solution. If you can, kindly include the exact error messages you are getting to give us an idea where to start. If you have already tried some troubleshooting steps before emailing us, make sure to mention them so we can skip them in our answers.
---
Problem #1: Galaxy S6 Edge won't charge due to broken charging port
Hello. So my S6 Edge just had something bizarre happen yesterday. It worked fine charging, then it didn't. I plugged it in on my way to an event, took it off while I was there. When I left, I went to plug it back in again, and the plugin wouldn't attach. I tried another charger when I got home and the same thing happened.
We took it to our local cell repair shop this morning and they told us the tab inside the phone is split or bent and won't allow the charger to plug in all the way; thus, not allowing it to charge. They recommended the solution is to replace the tab; however…..the cost was $280. The reason – – they said almost a 99% chance when they try, they end up breaking the screen on the phone. So I'm paying for them to break and then replace a screen they broke – not pleased.
They said it's a design flaw with this model because the screen is glued down and the tab is part of a complete part system underneath the screen.
My question – – do I have any other options besides now spending another $300 to have it fixed or $100 for a pad charging station?? If this is a design flaw, shouldn't Samsung be warrantying this issue? My phone is barely a year old.
Thank you. — Jessie
Solution: Hi Jessie. We think that a $300-repair is a bit high for a year-old S6. If you can no longer get a replacement from Samsung or from your wireless carrier at this time, we'd say skipping the repair and going for wireless charging is your only option.
The thing is, like any other technology, inductive or wireless charging has its cons. First of all, wireless charging is slower and less efficient compared to standard charging by wire.
Another disadvantage of wireless charging is being inoperable while being charged. The device must also be kept on the charging pad throughout the entire charging process. The way wireless charging works is the reason for this. Basically what happens is that an alternating current is given to the charger creating a magnetic field, which also induces a voltage in your phone. For this to happen though, both the charging pad and your S6 must be docked physically. This means that you have to wait for hours at a time for the charging process to finish before you can send text messages or make calls again. If you're okay with these disadvantages, then you can forego the repair of the USB port.
Design flaw or not, the fact that it was you, the user, who broke the phone is the only thing that matters to Samsung when claiming for a warranty. Technicians like us may not like how the hardware is put together because it doesn't make our jobs any easier, but there's really nothing that we can do about that.
Problem #2: Haptic feedback on Galaxy S6 keyboard keeps turning off even when set to off | Recent Apps button not working
Hello. I tried to search something similar to my issue on your page, but didn't find, so I hope you could help me.
From the beginning: my battery recharged and phone switched off. So I plug it to charge and turn on. After turning on I noticed that when I'm typing on keyboard there is vibration and sound (I turned off these features).
Secondly, my Recent App button stop working (but it light up when I touch it).
Thirdly, when I swipe down Status bar, Settings icon and next to it (doesn't know how to name it) doesn't work then I push it.
And the last thing is that my notifications doesn't appear on the screen (sounds come, but message doesn't appear). Tried to restart phone and wipe/clear cache data, but didn't helped. I hope you understand me 🙂
Best regards. — Arnas
Solution: Hi Arnas. It looks like you have a general software problems. Since wiping the cache did not appear to make any headway, the factory reset is your ultimate fix. It's because it will bring the phone back to its factory defaults by deleting all files, data, settings, apps, personal information, accounts, etc. If there are things you don't want to lose during the process, you must back them up prior to performing the Factory reset.
Turn off your Samsung Galaxy S6 Edge.
Press and hold the Volume Up, Home and Power keys together.
When the device powers on and displays 'Power on logo', release all keys and the Android icon will appear on the screen.
Wait until the Android Recovery Screen appears after about 30 seconds.
Using the Volume Down key, highlight the option, 'wipe data/factory reset' and press the Power key to select it.
Press the Volume Down button again until the option 'Yes — delete all user data' is highlighted and then press the Power key to select it.
After the reset is complete, highlight 'Reboot system now' and hit the Power key to restart the phone.
Problem #3: Galaxy S6 won't turn back on after leaving it charged overnight
Hey Guys 🙂
I updated the latest update on 22.04.2016 evening time. Everything seemed alright after the update so as i went to bed i put it on charge over night as i mostly do. but at the morning it was odd since my alarm for work didn't go off so when i tried to open my phone, nothing is happening — it was just a black screen.
i tried hard reset with POWER+VOLUME DOWN, POWER+VOLUME UP+HOME….tried every combination there is but nothing is happening.
when ever i put it on charge, no indicator was there except my phone get warm,not burning hot but warm.
I've bought my phone at April last year and i took care of it very well. Nothing has happened to it before. It's still in good condition working fine.
So please please help!
I live in Norway and since I've bought it outside my country i don't have warranty to return it 🙁 or get it repaired.
Thanks in Advanced 🙂 — Sina
Solution: Hi Sina. Hopefully, the battery has simply fully depleted itself and is still working. To check if that's the case, try using another official S6 charger or any Samsung charger and leave the phone charged for at least 30-45 minutes. Make sure that you also use a different USB cable if available. Sometimes, the charger itself may work but not the USB cable.
If nothing will change, try to charge the phone via a computer and again, leave it there for at least 30-45 minutes.
If the red LED charging light (or any light indicator) won't turn on during these procedures, you can safely assume that there's a hardware issue behind the trouble. It can be a bad battery or other component on the logic board. Unlike its predecessors, the S6 does not have a removable battery pack so it's not easy for an average user if the battery is causing the problem or not. Unfortunately, there's really nothing much that you can do if a phone is totally unresponsive other than have the phone either replaced or repaired.
Problem #4: iHeartRadio app causing Galaxy S6 to reboot
I contacted you last week about my phone rebooting all day…I just wanted to let you know it is still happening and I have been able to say that it only happens when I'm listening to the I Heart Radio app. I had just been grumbling and letting it reboot itself and moving on…but this morning it rebooted and when it came back up my lock screen wallpaper was set back to the default, the home/lock screen text was white (mine was always black – and I can't find a way to change it back) and the Edge settings were changed…tab was on the opposite side and all the settings I had were changed…has anyone else reported anything similar? It's becoming quite frustrating. — Cheri
Solution: Hi Cheri. There are hundreds of thousands of apps in the Play Store and we don't keep tabs of issues being caused by each one of them so we can't say if this is happening to other devices as well. If your phone reboots only when you're using this app, that's an obvious indicator that it may not be properly coded to work with your device or operating system version. The first thing that you want to try is to ensure that the app is fully updated by visiting its Google Play Store download page.
If updating it won't help, the steps below may be helpful:
If you're streaming over a mobile network, try opening a website in your device's browser. If you're not able to connect, your mobile data coverage might not be reliable enough for streaming
If you're streaming over Wi-Fi try rebooting your modem and/or router
If you're streaming over Wi-Fi at work or a business check to make sure streaming services are not blocked
If the issue persists, make sure to contact the app's developer for direct support.
Problem #5: Galaxy S6 speaker and earpiece repair
So the top speaker and earpiece don't work.
When I play something, the top speaker just makes a ticking sound like electric discharges, at about 3-4 hertz frequency, but no other sound comes out of it. When i talk on the phone, I need to put it on loud speaker or talk on a headset (earphones with microphone). if I just put the phone to the ear I hear nothing but the electric discharges.
I don't know how this happened cause I just bought this phone from someone on Kijiji Montreal. He said it was brand new and it looked brand new.
I looked for info on the web but didn't find this particular problem anywhere.
I found video tutorials of how to change the speakers and where to order.
But before I actually order or open up the phone, maybe you will tell me it's just a parameter or something easy.. or maybe the speaker is not plugged in properly. Do you have any idea? Thanks! — Daniel
Solution: Hi Daniel. Our blog does not provide hardware diagnostics and troubleshooting tips. If you want to repair your phone yourself, please look for other online resources.
Problem #6: Windows 10 PC not recognizing Galaxy S6 after Marshmallow update
Hello, I had my phone connected to my PC earlier today (Windows 10) and everything was fine.  Then a window popped up on my phone asking me to install new software as it has been doing for the last few weeks.  I finally said ok since I was not in the middle of anything important.  Now that the installation is complete, I can no longer see my phone in Windows Explorer.  I have restarted the computer and the phone with no luck.  I wanted to put new music on my phone but cannot since the computer is not recognizing it.  As I've been googling looking for help, I see there are all sorts of bugs with Android 6.0.  Had I known, I would NOT have installed new software.  Is there any fix for this, or any way to go back to my old software?  Thank you for any help! — Lisa
Solution: Hi Lisa. The problem may not be entirely due to a fault in your phone's new operating system. The issue may actually lie on your PC. Everytime you connect a USB device to your PC, it automatically searches for the right driver in its system so it can recognize your phone. Sometimes, USB drivers get corrupted or outdated so you must ensure that they get updated from time to time. This is especially true in your case since you updated the operating system of your S6. For your computer, the new connected device is an entirely new system because it runs a new operating system version. Although there are systems in place in Windows platform to automatically search for the right drivers online, this may have failed in your PC. What you must do is to ensure that your PC is equipped with the right drivers to be able to read your phone again.
---
Engage with us
If you are one of the users who encounters a problem with your device, let us know. We offer solutions for Android-related problems for free so if you have an issue with your Android device, simply fill in the short questionnaire in this link and we will try to publish our answers in the next posts. We cannot guarantee a quick response so if your issue is time sensitive, please find another way to resolve your problem. 
If you find this post helpful, please help us by spreading the word to your friends. TheDroidGuy has social network presence as well so you may want to interact with our community in our Facebook and Google+ pages.