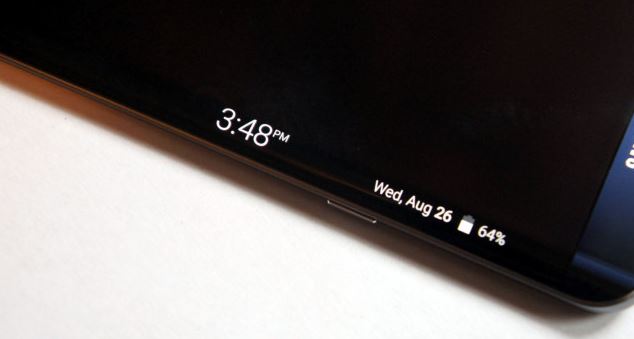 A lot questions have been thrown our way on what to do with an unresponsive smartphone before. In this post, we show you what you can do on your end if your #GalaxyS6 and #GalaxyS6Edge have trouble turning on, or does not respond to any of your commands. Included here as well are other unrelated Galaxy S6 issues.
If you are looking for solutions to your own #Android issue, you can contact us by using the link provided at the bottom of this page, or you can install our free app from Google Play Store.
When describing your issue, please be as detailed as possible so we can easily pinpoint a relevant solution. If you can, kindly include the exact error messages you are getting to give us an idea where to start. If you have already tried some troubleshooting steps before emailing us, make sure to mention them so we can skip them in our answers.
---
Problem #1: Galaxy S6 screen turns black
Phone screen flickers yellow briefly and then occasionally affords a very brief view of the screen – too brief to read anything. The screen then goes completely black.
On rare occasions, it will boot up normally but I notice that the screen flickers a lot more on low brightness. It may always boot up correctly in recovery mode (it's hard to tell because I don't always initiate it correctly).
When it does boot successfully, it appears to be fine for a period of time after than but will revert to the problem if left unattended (haven't got a good handle on how long it needs to be left before it replicates the issue).
At times (but not always), the LED indicator will flash red when I press the power button.
While checking yesterday, it did seem to get worse as the battery drained but this morning, on full charge, it refused point blank to unlock.
I've performed a clearance of the cache to no benefit followed by a factory reset. The factory reset appeared to work at first but it reverted to the problems overnight (potentially as apps reinstalled).
As an aside, the phone did recently have a restart that took a long time after which it had to optimise a single application. I haven't been able to explain that. May be unrelated but may be the entire cause. Wouldn't expect it to be related because I would have expected the factory reset to remove the cause.
Haven't run a virus checker (currently downloading Avast) but do have Malware Bytes. — Pete
Solution: Hi Pete. Factory reset is a drastic, yet effective solution if the cause of the issue is a firmware glitch that may have developed over time. As long as the issue is due to an operating system bug, performing a factory reset gives you a high chance of success. It works by removing all personal data off the phone and restoring everything back to, as the name suggests, factory settings. Personal or user data refers to contacts, call logs, SMS/MMS, apps, photos, videos, music, and other files added by the user after the initial setup.
Factory reset only deals with user data and cache partition and does not modify the operating system or ROM. The only "modification" to the ROM is by forcing it to revert back to the state when the phone left the factory. This means that any firmware-related glitch that may have developed throughout the course of usage will be eliminated as you restore the OS back to its clean, initial state. However, factory reset will not fix an issue caused by a poorly coded app, or by a bad firmware update. If the issue returns after you did a factory reset and re-installed your apps, any of the following might be the cause:
a third party app
a bad screen assembly
other hardware malfunction
To try to check if the issue is due to a bad app, do a factory reset and observe the phone for at least 24 hours.  Make sure not to install any app during this period.
The two other potential causes can only be determined by subjecting the phone to a physical check. If you have access to a nearby Samsung shop, make sure that you bring it to them to have it checked.
Problem #2: Galaxy S6 stuck in bootloop
Something happened to where my phone was on the download target screen after it died and i put the phone on the charger. I don't recall downloading anything or any out of the ordinary app that would make it turn on to this screen.
Anyways a little further in the day, I didn't pay it any mind and just thought I must have accidently pushed something. but i read in the forums, did the wipe partition and reboot. it worked but then after like 30 seconds when i got in my phone it went back to the download target screen. So i went to recovery mode again and went to wipe data factory reset then reboot and now it just starts and loops the start screen. to make things worst, I'm currently in Japan for my job and won't be back in the states until July. what are my options? — Mike
Solution: Hi Mike. Well, options-wise, there's not much. The only instance that a new phone like a Galaxy S6 gets stuck in download mode or in bootloop is when a user attempts to modify the firmware. Normal usage of an S6 won't result to bootloop.
The only hope for solution in this case is by flashing another ROM, or the stock ROM to your device. Otherwise, call Samsung and have it replaced.
Problem #3: What to do if Galaxy S6 Edge is unresponsive
Yesterday i was on my phone watching videos when my S6 edge froze for about a minute and a half. i tried to turn it off, change screens, everything, but nothing happens. it just stayed and reset itself. After that the phone just turned off and wouldn't charge. i am going to take it in to T-Mobile & see what the problem is.
few minutes ago i put it back on the charger (yesterday i left it on the charger for hours) and finally the lightning bolt came up for about 10 seconds then shut back off. I am waiting to see if it turns back on and if it was just dead but so far nothing.
i already tried to reset my phone and it's not working. looks like the phone has no life. No LED lights or anything showing up. I have looked up many many things to see if i could find a solution and still nothing. So far this is a problem that the internet has not had. Please help thanks. — Reno
Solution: Hi Reno. There's not much that an end user can do in terms of solutions if a phone is dead, or not responding. The best thing that you can try includes checking if you can power it on to other modes like safe mode, download mode, or recovery mode. If you can boot the phone to any of these modes, that's a strong indicator that the issue may have a software cause. That means that you may be able to fix it on your end. However, if the phone continues to be unresponsive, your only chance is by calling Samsung and bringing the device to them.
For reference, here are the steps on how to boot your S6 to different modes:
How to boot an S6 to Safe Mode
Press and hold the Volume Down and Power keys for 20 to 30 seconds.
Once you see the Samsung logo, release the Power key immediately but continue pressing the Volume Down key.
Your phone should continue booting up and you will be prompted to unlock your phone as usual.
You will know if the phone successfully booted in safe mode if the text "Safe mode" is displayed at the lower-left corner of the screen.
How to boot an S6 to Recovery Mode
Turn off your Samsung Galaxy S6 Edge.
Press and hold the Volume Up, Home and Power keys together.
When the device powers on and displays 'Power on logo', release all keys and the Android icon will appear on the screen.
Wait until the Android Recovery Screen appears after about 30 seconds.
How to boot an S6 to Download Mode
Turn off your Samsung Galaxy S6 Edge.
Press and hold the Volume Down, Home and Power keys together.
When the device powers on and displays 'Power on logo', release all keys and the Android icon will appear on the screen.
Wait until the Android Recovery Screen appears after about 30 seconds.
If your phone only boots in download mode, that means that your only way out is by means of flashing a new or stock ROM. Go online and search Google on how to manually install a firmware to your device. Keep in mind that flashing can potentially brick your device so make sure that you use the correct firmware version as well as follow the instructions to the letter.
Problem #4: Soma FM app on Galaxy S6 not working properly
I am having an issue with the Soma Fm app. either it is causing a soft reset or it is conflicting with the internet browser or system stuff. have you heard of anything or any way to get round this issue?
second is an annoyance. listening to music (any app) and you are browsing, it will randomly start playing videos and take over the audio which is obnoxious. Is there a browser that blocks this as the built-in one and chrome don't seem to have any options to disable this.
Please help before I hunt down a Samsung employee to hurt them. I've this stupid ommision and terrible phone.
I will never buy their phones again because of this one POS. kind regards. — Tony
Solution: Hi Tony. The first thing that you want to do if you're facing an issue with a particular app is to wipe its cache and data. If you haven't done this yet, here are the steps:
Go to Settings.
Proceed to Applications.
Select Manage Applications.
Tap the All tab.
Choose the name of the app that has been going rogue.
Tap Storage.
From there, you will see the Clear Cache and Clear Data buttons.
If wiping an app's cache and data won't help, the next solution that you can try is wipe the cache partition, also known as the system cache. Here's how:
Turn off the device.
Press and hold the following three buttons at the same time: Volume Up key, Home key, and Power key.
When the phone vibrates, release the Power key but continue to press and hold the Volume Up key and the Home key.
When the Android System Recovery screen appears, release the Volume Up and Home keys.
Press the Volume Down key to highlight 'wipe cache partition.'
Press the Power key to select.
When the wipe cache partition is complete, 'Reboot system now' is highlighted.
Press the Power key to restart the device.
You can also reinstall the said app to see the difference. If the reinstall don't work either, contact the developer and let them know about the issue.
For your second question, the answer is no. There's no browser that behaves like what you want.
Problem #5: Galaxy S6 Marshmallow update battery drain issue | How to wipe the cache partition of Galaxy S6
My husband and I both installed the Marshmallow update a few weeks ago. This caused a few issues.
1) battery drain!  We have had these phones for a while, no problem with this before the update.  I was trying to clear the cache as recommended by turning off the phone, holding down the power, home, volume down all at the same time (which I also did following the Lollipop update per recommendation) but I didn't get the same screen. Instead I got a different screen and saw other ways people on your site got this response but none related to mine.
Here is what I got:
Warning!!!!
A custom OS can cause critical problems in phone and installed applications.
If you want to download a custom OS , press the volume up key.
Otherwise, press the volume down key to cancel.
So I pressed the volume up button and got this:
Downloading.  Do not turn off target! It had the little droid guy and some stuff in the top left corner I don't understand.
 I don't see a place to attach a photo but I took pictures of the screens.
Thanks in advance ! — Dawn
Solution: Hi Dawn. If you want to wipe the cache partition, make sure that you're pressing the right button combinations so you boot the phone to Recovery mode. Right now, what you're getting is the download mode screen. Be sure that you press and hold Volume Up, Home, and Power buttons.
Remember, if wiping the cache won't help, a factory reset may work. To do that, these are the steps:
Turn off your Samsung Galaxy S6 Edge.
Press and hold the Volume Up, Home and Power keys together.
When the device powers on and displays 'Power on logo', release all keys and the Android icon will appear on the screen.
Wait until the Android Recovery Screen appears after about 30 seconds.
Using the Volume Down key, highlight the option, 'wipe data/factory reset' and press the Power key to select it.
Press the Volume Down button again until the option 'Yes — delete all user data' is highlighted and then press the Power key to select it.
After the reset is complete, highlight 'Reboot system now' and hit the Power key to restart the phone.
---
Engage with us
If you are one of the users who encounters a problem with your device, let us know. We offer solutions for Android-related problems for free so if you have an issue with your Android device, simply fill in the short questionnaire in this link and we will try to publish our answers in the next posts. We cannot guarantee a quick response so if your issue is time sensitive, please find another way to resolve your problem. 
If you find this post helpful, please help us by spreading the word to your friends. TheDroidGuy has social network presence as well so you may want to interact with our community in our Facebook and Google+ pages.