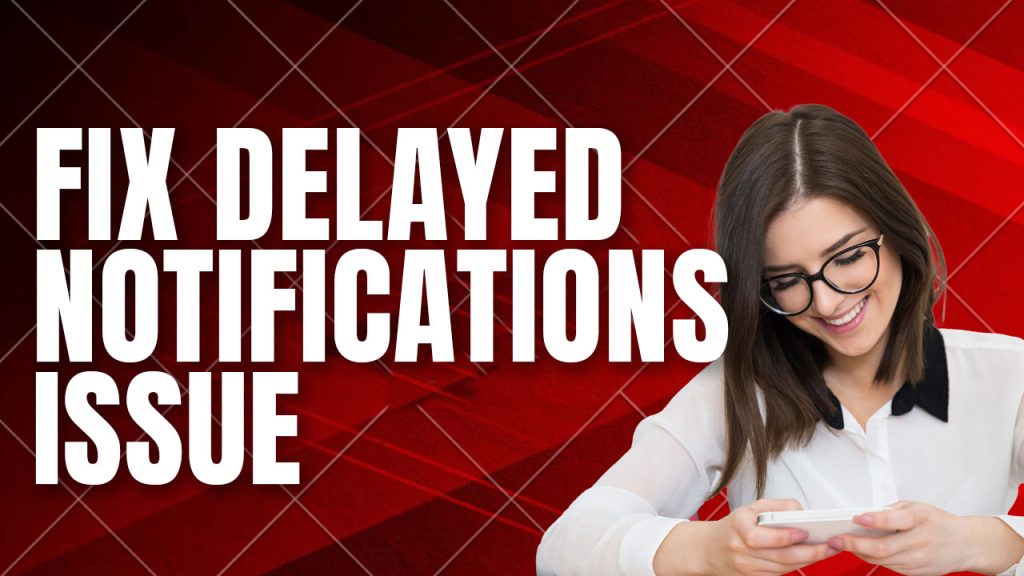 A notification provides you with timely information from the phone apps, messages or calls from other people, and important reminders on your smartphone.That said, it can be so frustrating if you missed any of these due to delayed notifications. 
In this post, we will help you address the delayed notifications issue on Samsung Galaxy S22. Read more for more detailed instructions.
POSSIBLE CAUSES OF DELAYED NOTIFICATIONS ISSUE
Problems with delayed notifications can be due to temporary software glitches and random network problems. But in most cases, the main trigger is from within the phone settings. To give you some input on what to consider ruling out when fixing the problem, we've outlined all the possible causes as follows:
1. NOTIFICATION SETTINGS
If you are experiencing delayed notifications on a particular app, it is possible that you have turned off the app's notification or you have set the notification tone to silent. Being said, check your phone settings and make sure that notifications are being enabled.
2. NETWORK CONNECTION
Weak or unstable network connection can also be the main trigger. Your Galaxy S22 should be connected to an excellent and stable mobile network or Wi-Fi network to avoid delayed notifications issues.
3. BATTERY OPTIMIZATION
One of the amazing features most Samsung devices have is battery optimization. This feature automatically saves the phone's battery life. It limits some apps to perform random activities when the battery is running low. Thus, it causes delayed notifications.
TROUBLESHOOTING PROCEDURES TO FIX DELAYED NOTIFICATIONS ON GALAXY S22
Fixing notification issues on your Samsung device can be quick and simple for as long as the underlying cause is not hardware malfunctions. Here are the things you can try to fix delayed notification issue tied to some software glitch on your Galaxy S22:
SOLUTION #1: CHECK AND UPDATE NOTIFICATION SETTINGS
Notification settings, if not configured appropriately, can cause the notifications to be delayed or missed out. So, the first thing you need to do to fix the delayed notifications problem on the Galaxy S22 is to check the notification settings on your device. This is to determine if the problem is either with a particular app or the entire phone settings.
It can also be of help to check the app's notification settings to identify if there are possible changes that need to be done for the app to send notifications real-time.
To check notifications settings on your Galaxy S22, follow these:
1. From the main screen, go to Settings.
2. Select Apps.
3. Tap the affected app, then head to App notifications.
Be sure to enable the notifications if needed and set the tone appropriately.
SOLUTION #2: CHECK THE NETWORK CONNECTION
Having a strong and stable cellular or WiFi network connection on your device is a must for the features to work as expected. Note that unable network connection causes delays in notifications, aside from other issues that you may encounter when having an unstable signal on your device. Checking the network connection is therefore recommended.
Notifications may take longer to transmit to the phone's server if it has a weak or unstable signal. As a result, there is a delay between the time the notification is sent and the time it is displayed on your device.
If your phone has a weak or unstable cellular or Wi-Fi signal, restart your device (turn it off and on again). Doing so will reset the phone's network settings and refresh its entire system. You can also move to a different area where you can get a stronger signal.
SOLUTION #3: CHECK BATTERY PHONE OPTIMIZATION
The phone's battery optimization feature can affect the delivery of notifications on your device. This feature optimizes the battery life of the phone and extends its overall life by limiting some apps activities. An app that has not been optimized can be restricted by pushing notifications on time.
To ensure that the affected app has not been restricted, you can add it to the unmonitored apps list. This will prevent the battery optimization feature from impacting the apps' ability to receive notifications real-time. Thus, fixing the delayed notifications problem on your Galaxy S22.
Here's what you need to do:
1. From home, go to Settings.
2. Select Device care.
3. Check if the Optimize now has been enabled. If it isn't, then try turning it on.
Alternatively, you can follow these steps to check if the Power mode is optimized:
1. Head to Battery.
2. Tap the three dots (See More) on the top right side of the screen to go to Settings.
3. Make sure to disable "Put unused apps to sleep" as well as the Optimize settings option.
You can also check if the affected app/apps are listed in Sleeping apps. If so, remove the app/s from the list and restart the phone to refresh.
If the problem about delayed notifications on your Galaxy S22 continues, then this is the point where you may have to resort to some reset settings. Applicable reset options that you can try should you find the need to troubleshoot your Galaxy S22 further are reset network settings and reset all settings.
Wiping system cache can also be regarded among other options as it would help clear out any errant system cache including those that might have messed up the phone's notification reception.
In order to get this done, you will need to boot your device in Android recovery mode to access and execute the wipe cache partition command. This process does not affect any user data so you won't lose any important information afterwards. Just be sure to pick the correct Android recovery menu option, that is, "wipe cache partition."
Hope this helps!