A battery test by a reputable source has revealed that the 120 Hz display on the Galaxy S20 Ultra may affect its battery life significantly.
The battery life was apparently better when the phone was running in 60 Hz mode, suggesting that the increased refresh rate has something to do with the poor battery life.
Battery drain is expected to be a common problem for 5G phones until networks are expanded.
The Galaxy S20 Ultra is Samsung's first phone to come with a 120 Hz display. This allows for an extremely smooth user experience particularly with regards to scrolling and viewing media content.
A new battery comparison test by Tom's Guide has revealed how much of a beating the 5,000 mAh battery can take while running on 120 Hz display mode. The phone also comes with a 60 Hz display mode which offers significantly improved battery performance as compared to 120 Hz.
What's also odd is that the Galaxy S10 Plus from last year is shown to be outperforming the galaxy s20 Ultra (120 Hz) in terms of battery life. This test was conducted by keeping all the phones on for as long as they last, something that the average smartphone user is unlikely to do. Keeping this in mind, battery performance may vary in terms of real-world usage.
However, it's pretty evident that the upgraded refresh rate has an impact on battery life. The comparison chart shows how the galaxy s20 Ultra in 60 Hz performs only fairly better than the iPhone 11 Pro Max, which has a smaller 3,969 mAh battery under the hood.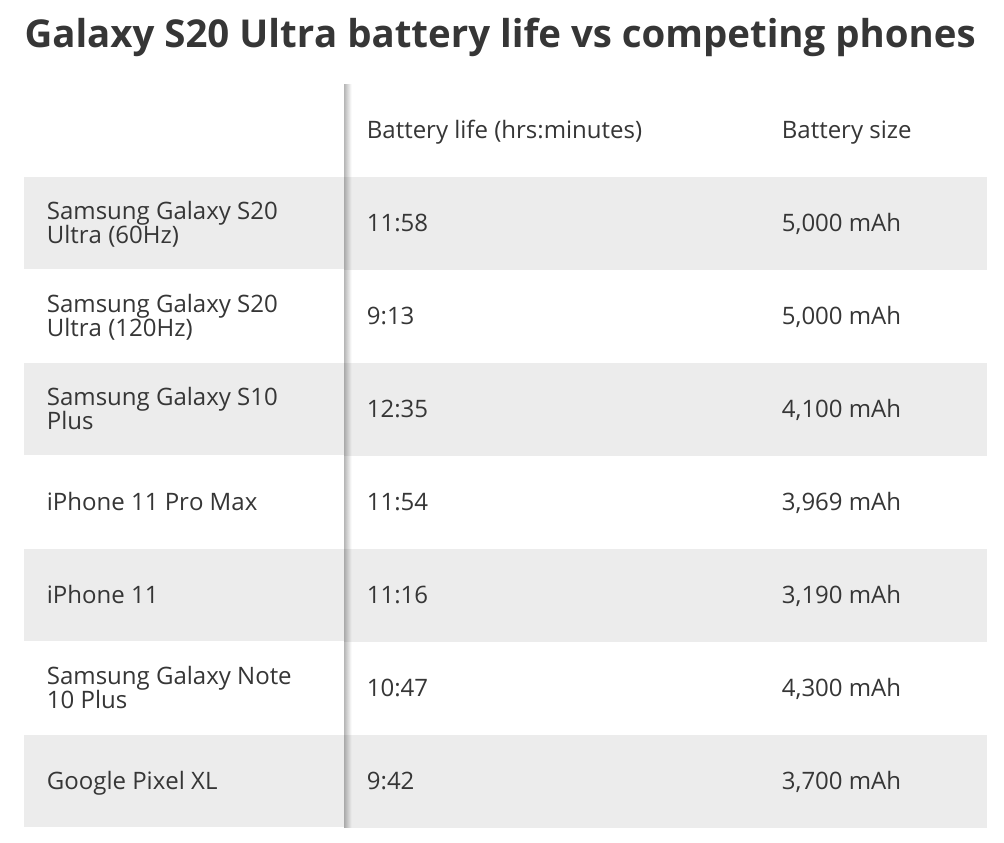 The fact that the galaxy s20 Ultra comes with 5G connectivity on board is also a major factor in the reduced battery life. As we've seen with existing 5G phones, the battery tends to drain pretty quickly, especially if you're in a low coverage area. This problem is expected to be resolved to some degree when 5G is available in more places.
Source: Tom's Guide
Via: 9to5Google