The new #Samsung #GalaxyNote5 is a feature-rich smart device just like its previous predecessors and it's not surprising to know that many users find it a delight to use. Sporting an incredible hardware — a colorful, large display, bigger memory capacity, faster processor, much better S Pen, fast charging capability, to name a few– the Note 5 is undeniably fantastic in almost every sense. Since its release, this phone has garnered a lot of praise from reviewers and critics alike although we notice that some users appear to experience a minor hiccup when trying to compose and send text messages.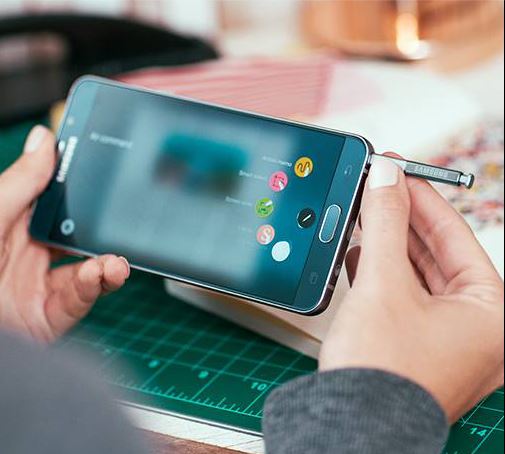 Image credit: Samsung[/caption]
Some Note 5 users are complaining that their messaging app seems to perform slower when trying to compose a text message or when attempting to send SMS. One is even experiencing a total inability to send a text message. For all we know, these may be isolated cases but we want to let the Android community know that these issues exist on an otherwise near-perfect smart device.
Whether the issues are unique to the new Note 5 (although similar problems do occur on other Samsung and non-Samsung devices as well), or if there are some network problems behind them, doing the troubleshooting mentioned in these post may help. We will continue to monitor this issue and may publish another one in the near future if more similar reports emerge.
Galaxy Note 5 Cannot Send Text Messages And Other SMS Issues
These are the topics covered in this post:
Problem #1: Galaxy Note 5 messaging app retains previously sent message; unread text number indicator on top of messages app not showing
Three issues related to texting:
On the texting icon it says I have 1 message (since 24 hours ago). It doesn't clear after I've checked my messages numerous times. There are no new text messages.
In a group conversation texting thread I typed xyz, changed my mind and didn't send it. I left the screen and came back to it the next day. I deleted the xyz and wrote another message and sent it. I left the screen. I sent another message later and xyz is there again. (sent deleted it last time). This happened several times so I just sent it to try and get rid of it. Closed screen, came back and xyz is still there in the message box waiting to be sent!
When I write a comma, it doesn't automatically leave a space, like you notice here. It does when I use other punctuation. Like this. See here.
Thank you for any help you can offer. — Angela
Solution: Hi Angela. It should have helped us give you a more specific answer if you include the name of the app you are using. Anyhow, try clearing the cache and data of the texting app you are using. Here's how:
Go to Settings.
Proceed to Applications.
Select Manage Applications or Applications Manager.
Tap the All tab.
Look for the app in question and press Clear cache and Clear data buttons.
If wiping the app's cache and data won't help, you can also delete the system cache. This is to ensure that the device uses a clean cache when loading any text-associated apps that may affect the function of the message app you are using.
These are the steps to clear the cache partition:
Turn the device off.
Press and hold the Power, Volume Up and Home buttons simultaneously.
When the phone vibrates, release the Power button but continue to press and hold the Volume Up and Home buttons.
Now, when Android recovery screen appears, highlight the wipe cache partition option using Volume Down button.
To confirm the selection, press the Power button.
Wait for a while until wiping the cache partition is finished.
Now, "Reboot System now" will appear on the screen. To highlight the option use the Volume Up/Down key.
Press the Power button to confirm it, and your device will automatically reboot.
These two procedures will resolve all the three concerns.
Problem #2: Galaxy Note 5 could not send text reply in group message
I can receive group message texts and pictures but I cannot send them. I am able to send pictures and have people see them, but when I send a text it says it has been sent however nobody in the group actually receives it. So I am able to receive group message texts and pictures but only am able to reply with pictures, texts won't work. There is Apple users in the message (not all of them are) if that means anything. — Collin
Solution: Hi Collin. We need more information from you to be of help. Please get back to us with answers for the following:
Messaging app you are using
Count of contacts out of the total number who are not receiving your text reply
Names of messaging app your contacts who are not receiving your messages are using
Carriers and smartphone models of contacts not receiving your text reply
We will update this post accordingly once we receive your answer.
Problem #3: Received images via text on Galaxy Note 5 are in low resolution
Pictures that are sent to me via text come in with very low resolution. I compare the same pictures sent to others and they look great. Please help. — Will
Solution: Hi Will. Each carrier has their own MMS limitation when it comes to image file size. Please talk to your carrier's support team about any specific setting you may need to change on your device to allow higher resolution. MMS settings vary for each carrier as well as for the app you are using so we cannot give you specific instructions.
Problem #4: Galaxy Note 5 does not allow sending of SMS/text message
Phone will suddenly stop allowing me to text. Will get message not sent. Phone shows 4 or 5 bars of connectivity. If I reset the phone, it will work perfectly again. — John
Solution: Hi John. You should talk to your carrier about this issue first as this might be network related. There may be an on-going network outage or problems affecting your area that you don't know of. This is an important first step before troubleshooting your phone.
And speaking of, we recommend that you do the standard software troubleshooting procedures provided below to rule out any software or app-related problems.
Boot the phone in safe mode
Booting your Note 5 in safe mode is a useful procedure in determining if a third party app installed on the phone is responsible for the problem. Safe mode prevents third party applications from running, leaving only pre-installed ones to function normally as well as the basic functions like SD card access, mobile data, Wi-Fi, camera, and background syncing, and text messaging. If the problem fails to occur while in this mode, that's a clear sign that one of your apps is the cause. Consider uninstalling apps one by one until the problem is gone. Here are the steps on how to boot your Note 5 in safe mode:
Turn off the phone completely.
Press and hold the Power key.
Once 'Samsung Galaxy Note5' shows, release the Power key and immediately press and hold the Volume Down button.
The phone will restart but keep the Volume Down button pressed.
Once the phone has finished restarting, 'Safe mode' will be display in the lower-left corner of the screen.
You may now release the Volume Down button.
Delete the system cache
Your Android phone uses several partitions to store many different set of files to execute tasks. One of these partitions is the system cache, also known as the cache partition, which keeps files needed by the system to load apps quickly. The cache partition in your Note 5 also stores downloaded APKs of apps from the Play Store.
Over time, cache partition gets disorganized and cluttered so it is recommended to wipe it clean once every few months. If your cache is left in its cluttered and sometimes outdated state, it may cause problems loading apps as well as affecting some of their functions in some way. Problems due to poor cache partition state may manifest in many guises like periodic freezing, slow loading of apps, unusual app behaviors, etc. To prevent such problems from occurring, simply follow the steps provided above to clear the cache partition:
Perform a factory reset
If you're looking for a faster way to regain the normal functions of your phone, you must reset your phone settings to defaults via factory reset. Usually recommended for devices that show multiple software problems, factory reset is an effective method of eliminating bugs that may have impaired the phone.
Keep in mind though that some problems may be due to third party apps so performing factory reset and installing the same set of apps afterwards may not be a good idea. If the problem remains after a factory reset, simply do another round and uninstall them individually until the issue is gone.
Here are the steps to perform a factory reset on your Note 5:
From the Home screen, tap the Apps icon.
Find and tap the Settings icon.
Under the 'Personal' section, find and tap Backup and reset.
Tap Factory data reset.
Touch Reset device to proceed with the reset.
Depending on the security lock you used, enter the PIN or password.
Tap Continue.
Touch Delete all to confirm your action.
All these three procedures are meant to address a possible software-related issue on your phone. If doing all of them won't help resolve the issue, call your carrier and ask for first hand assistance from them.
Problem #5: Note 5 text messaging app slow performance
Note 5 original text messaging app lags. Cleared cache before I clear data, just want to know if that's going to erase my text messages stored? Or is that getting rid of old data, no longer being use because it has already been deleted. I have some messages I would like to keep, would hate to lose them. Thanks in advance. — Cynthia
Solution: Hi Cynthia. We are currently collecting more information about a possible text lag issues specific to Note 5s only so we are not 100% sure at this time if your issue is caused by your network or by your device.
The answer to your question is no. Clearing an app's cache won't delete your messages but deleting the data will. Tapping the clear data button is the virtual equivalent of re-installing an app, which basically deletes everything.
See also How to fix Samsung Galaxy Note 5 texting lag and Home button delay