Fortnite is the premier battle royale game today and as millions of players find it more interesting as new seasons pile on, shady parties are also ramping up their efforts to compromise unwitting users. The good thing is, Epic Games make it easier for anyone who want activate 2-factor authentication (2FA) on their Fortnite account.
Also known as multi-factor authentication, 2FA makes it harder for someone to hack your Fortnite account. This security method works by asking Epic Games to send you a confirmation code everytime you log-in to your account. This happens when you access Fortnite on your device, or when trying to check your Epic Games settings using a computer or console. For example, if you use an authenticator app, you'll have to check this app and get a unique code from it so you can enter it on your device or computer. Since only you can have the confirmation code, anyone who may access your password won't be able to log in since they'll be needing the code.
If you want to know how to enable two-factor authentication (2FA) for your Fornite or Epic Games account
What is Fortnite 2-factor authentication or 2FA?
Two-factor authentication or 2FA is an online method to gain access to an account by providing 2 different types of information. 2FA, also known as multi-factor authentication, is an often an added security employed by many companies to authenticate access requests of users.
Traditionally, the main method to access an account such as your Epic Games account is by entering the username and password. As this method is now considered obsolete and weak, companies like Epic Games encourage users to use two-factor authentication in order to secure their account.
In Fortnite, two-factor authentication is also required if you want to do other things aside from playing. If you plan on giving gifts to your friends or if you want to join a Fortnite competitive event like Fortnite World Cup, you must ensure that you can authenticate your account using 2FA.
Reasons why you want to activate 2FA when playing Fortnite?
As mentioned, there are a number of reasons why you want to activate 2-factor authentication in your Fortnite account. Let's discuss each of these reasons briefly below.
Account security.
If you tend to use weak account passwords or worse, recycle them across multiple other accounts, you should surely consider using two-factor authentication (2FA). 2FA is an additional security layer in case a hacker compromises your account or get hold of your password. With 2FA enabled, no one except you can gain access to your Fortnite account.
Access to free games from Epic Games Store.
Epic Games sometimes give free games and they only do so for those accounts that have an activated 2FA.
To give gifts like skins and other items.
If you play Fortnite and want to give someone a game item or skin, you can only do so with an authenticated Epic Games account. So, you must enable two-factor authentication first by going to Epic Games website.
Joining Fortinite competitions.
You also need to prove to Epic Games that you can access your account using other types of information using 2FA when joining a competitive event. This is not just for security but also to ensure that only real persons with real-life credentials are being accepted.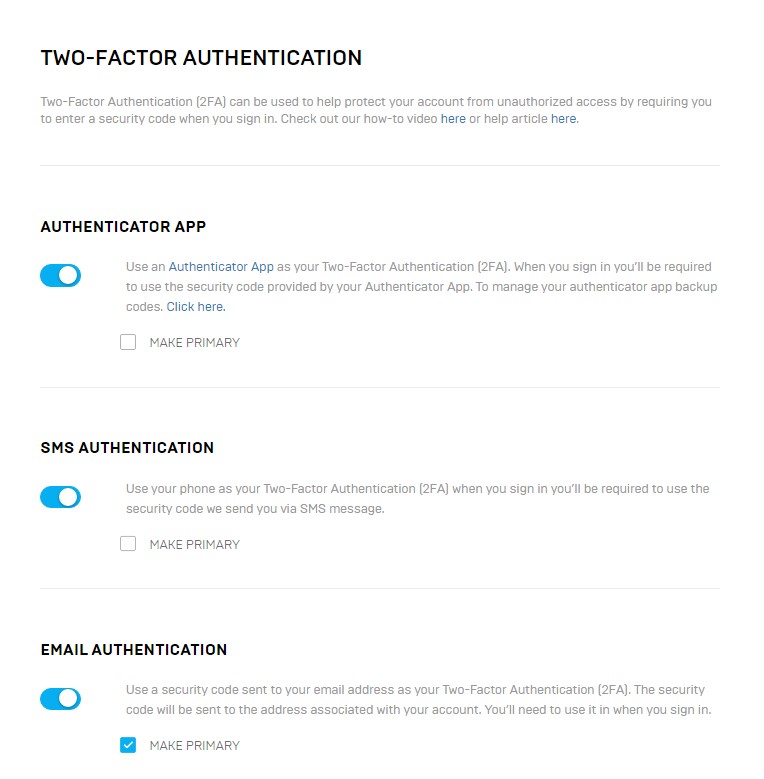 Easy steps to activate Fortnite 2-Factor Authentication (2FA)
If you want to activate Fortnite 2-factor authentication, you'll need to visit the official Epic Games website to do so. Here are the exact steps to do that:
Open a web browser and go to Epic Games login page.
Log in to your account.
On the left pane, click PASSWORD & SECURITY tab.
Scroll down to TWO-FACTOR AUTHENTICATION section and move the slider of the 2FA you want to activate it. There should be 3 options that you can use: AUTHENTICATOR APP, SMS AUTHENTICATION, and EMAIL AUTHENTICATION. If you want to activate all three, then simply enable all of them.
If using all three authentication methods, make sure to pick which of them should be the Primary method by selecting the MAKE PRIMARY box below.
What authenticator apps to use?
An authenticator app is an app that you install on your mobile device that generates a unique code to prove to a certain system that you are the owner of an account.
An authenticator app works with the system that you're using to prove your identity. The code that's generated by the app has a time expiry so be sure to input it before it is renewed. The code as well as the time when it's generated are shared between Epic Games and the authenticator app developer and serve as a key to access your account.
Epic Games recommend at least four common authenticator apps for you:
Google Authenticator
LastPass Authenticator
Microsoft Authenticator
Authy
All of these apps are free to download and install for iOS and Android users. There are other authenticator apps that you can also use but make sure that they're safe.
FURTHER READING:
Visit our TheDroidGuy Youtube Channel for more troubleshooting videos and tutorials.