Android phone owners have been experiencing one particular problem lately regarding the tap to speak feature. When this feature is used the microphone icon will get stuck on the screen. This issue which affects most Samsung models is also present on the #Samsung Galaxy #S5. We have been receiving this type of issue from our readers who own the S5 and are seeking a solution.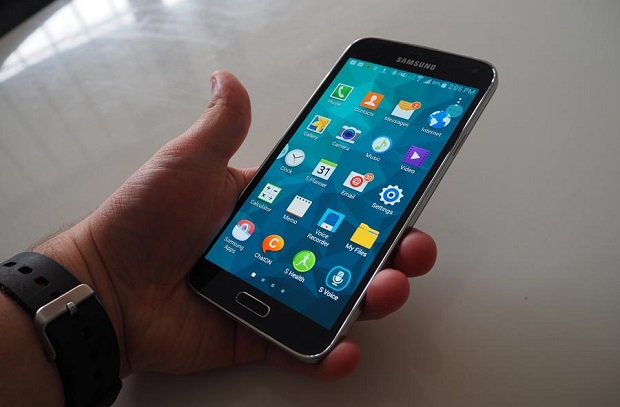 If you own a Samsung Galaxy S5  or any other Android device for that matter then feel free to contact us using this form. We will be more than happy to assist you with any concern that you may have with your device. This is a free service we are offering with no strings attached. We however ask that when you do contact us try to be as detailed as possible so that an accurate assessment can be made and the correct solution can be given.  
If you would like to browse the previous parts in this series then check out this link.  
Aside from sending us an email you may also reach us at our Facebook and Google+ social media accounts.
Listed below are some of the tap to speak freezing problems sent our way.
"I've had this problem for about a week.  My phone will be on the main screen, off, sitting idle.  When I activate the screen to use it, the screen has the ""Tap to Speak"" feature on the lower half and it's frozen.  The ""Tap to Speak"" is what comes up when you hit the microphone button on the Samsung keyboard.  You can't close it or activate the microphone.  the  Settings button does work though.  The people at Sprint and Samsung are both stumped because I have done all of the normal fixes & nothing is working.  When it happens I hit the power button and do a restart.  That makes the problem go away but it doesn't end it.  I am not an excessive user but it happens 1-3 times per day.
 I have done the following:
1)  Reset using power button.
2)  Do a reset by pulling the battery.
3)  Wiped the cache partition then rebooted.  Also cleared the cache from many apps, including the Messages app.
4)  Transferred data to Kies 3, then did a factory data reset.
5)  Replaced the Samsung keyboard with a Swift key keyboard."
"The Speak Now box get stuck and doesn't go away I have to reset my phone restart my phone to fix it 3 to 4 times a day. Thanks"
"All of a sudden a few weeks ago, the voice to text box freezes on the screen, blocking the entire lower screen  Sometimes clearing the apps (boxes on the left side of the home button) makes it go away, but usually not. I tried clearing the phone system cache by turning on the phone with volume up,home and system on held as the phone  comes on, but no android system recovery page appears. I have installed no now apps. I suspect this came with some phone upgrade I have no control over. How can this be fixed? Can I get a new phone?"
"When using the speech recognition to send texts.  The voice input box will not go away.  The only solution is to restart.  I have cleared the cache 2x but the issue returns almost immediately."
"I bought a new Samsung 5 Galaxy two months ago.  About two weeks ago I started having the screen freeze when it said ""tap to speak"".  It wouldn't let me close it, or do anything else as it froze everything.  I would have to power off and back on.  I went to the Verizon store and they said I had too many apps open and to close them.  However, you can't close them when it is frozen.  Plus it happens sporadically and not always when too many apps are open. Any ideas? Thank you"
"After I send a message, the tap screen comes up for more messages, but will not work and stays on and when I go back to the main screen its on that. I have to turn off the phone to get it off."
"When using the factory installed Instant messaging app, the google microphone screen will suddenly freeze.  Phone must be restarted to correct, but then very soon it freezes again.  I use the microphone function almost exclusively to dictate IM. I have soft rebooted, cleared the cache/data on the IM app to no avail. Suggestions? thanks TC"
"Hi my name is Chris I have a Samsung s5 I use the speech to text option all the time what's happening is the speech to text option with the green circle usually I can X out of it but it stays on my screen even on the homepage. I can't get rid of it unless I restart my phone. It doesn't happen all the time but it's extremely frustrating can you help me please. Thank you for reading my email hope to hear from you soon."
There is a temporary solution to this problem and that is to restart the phone. This is not an ideal solution though as it can be quite inconvenient to constantly do a restart.
One solution that seems to work for those experiencing this problem is to uninstall the app update of the Google App. Just go to your phone Settings then head over to Application Manager. Search for Google App then click on uninstall updates. You should also uninstall the app update for the Google Text-to-Speech Engine app.
Until a new update arrives don't update these apps just yet as the latest update to the app comes with a bug that is causing this problem.
Feel free to send us your questions, suggestions and problems you've encountered while using your Android phone. We support every Android device that is available in the market today. And don't worry, we won't charge you a single penny for your questions. Contact us using this form. We read every message we receive can't guarantee a quick response. If we were able to help you, please help us spread the word by sharing our posts with your friends.