Read and understand why your #Samsung Galaxy S7 (#GalaxyS7) can't get detected by your computer and learn how to #troubleshoot it in order to fix the issue.
Learn how to troubleshoot your phone that can be detected by your PC but can't be recognized.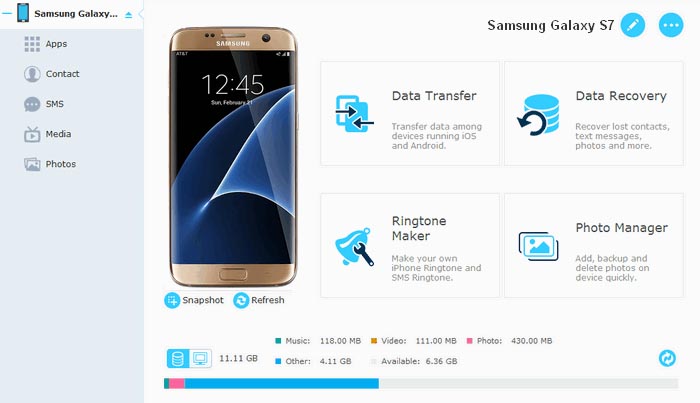 One of the easiest ways to get your data and files that are saved in your Samsung Galaxy S7's internal storage backed up is by connecting your phone to a computer and just copy them over. This process is safe and very easy to do given that your device can be detected and recognized by your computer. Meaning, both devices must be properly bridged to be able to transfer files to and fro. However, things may happen and one of the most common issues when an owner is transferring files is when the phone cannot connect to the computer.
In this post, I will tackle two common problems that are related to the topic at hand. The first one is about the issue wherein the phone cannot be detected by the computer when connecting to it via USB cable while the second issue is about a phone that's not recognized by the PC but gets detected. There's a big difference between "not detected" and "not recognized." When the latter happens, the phone is actually getting detected by the computer but after sometime, the machine will say that the USB device isn't recognized. When the former happens, however, the computer won't say anything or show notification about a USB device connected to it, so it is the more serious issue between these two. Read about these problems by clicking the links below:
Now, before anything else, if you have other issues with your phone, make sure you drop by our Galaxy S7 troubleshooting page for we have already provided solutions to hundreds of problems reported by our readers. Odds are that we may have already provided a solution to the problem you currently have so try to find issues that are similar with yours on that page and feel free to use the solutions we suggested. If they don't work or if you need further assistance, fill up our Android issues questionnaire and hit submit to contact us.
How to troubleshoot your Galaxy S7 that's not detected by your computer
When your Galaxy S7 isn't detected by your computer when you connect it using the USB cable that came with it, then you will have to troubleshoot your computer first especially if you know the phone gets detected by other computers as it's possible it's an issue with the USB port of your computer. If the problem isn't due to the faulty USB port of your computer, it might be a cable problem or a loose connection in your phone's charging port. With all these being said, here are the steps on how to troubleshoot this problem:
Step 1: Connect your phone to other USB ports on your computer
Simply connect your phone to your computer the way you usually do by using the charging/data cable that came with it in the box, if the phone isn't getting detected when you plug the cable in, try to plug it into another USB port; try one port after another just to rule out the possibility that it's an issue with the USB port on your computer.
Step 2: Reboot your PC if all USB ports didn't work
There's also a possibility that your computer is experiencing system issues that may hinder it from detecting devices connected to it. While we don't know if that's really the problem, it's better that you reboot your computer and see if that makes a difference. Should the problem remain after the reboot, then it's not a problem with your computer but could be with cable or the phone itself.
However, I suggest you try to connect other devices to your computer like flash drives or anything that uses the USB port just to know more if it really isn't a port problem. If the computer can detect other devices except your phone, then continue with the steps below.
Step 3: Verify the USB cable doesn't have a break or something
You can physically check if the cable has visible breaks or lumps and if you can't find one, then it's better you try charging your phone using it. While the cable has sets of wire inside its insulation for both power and data, plugging the charger and connecting your phone using it will immediately tell you if its integrity is still intact. If there's a break somewhere, the device may not charge especially if one of the power wires is cut off.
Another way to determine if it really is a cable problem is by using a different cable. If the phone works with it, then the original one must have been broken for some reason. Of course, if it's a cable issue then replace the old one with a new one that you know works.
Step 4: Make sure the USB option is set as "media device"
This one's very important since the phone can actually be connected to the computer just to charge. When it is set to do such, then the computer may not be able to detect it since data transfer is also temporarily disabled. So, pull down your notification bar and see if you have the USB options icon and if you can see one, then at this point the problem is already solved. You just have to touch the USB options icon and select Media Device (MTP). If it's the first time you're connecting the phone to the computer, the latter may still take a few minutes to install necessary drivers. However, if you don't have the USB options icon, try these things:
Unplug the USB cable from your Galaxy S7

Power off your phone

Wait 20 seconds

Power it back on

Plug the USB cable back into your phone

Check to see if the USB options icon appears
If the USB options icon is nowhere to be found after that, then proceed to the next step.
Step 5: Check the charging port on your phone
You must, at least, use two different cables to rule out the possibility that it's a cable issue. If your phone is still not detected by the computer, then it's time you checked on your phone's charging port. It might be loose that the connectors are having difficulty establishing proper contact or there might be some debris, lint or dirt in it. A blast of compressed air would get rid of the latter but as to loose connection, you really have to check further.
If there's nothing wrong with the pins in the charging port of your phone and if there are no debris or dirt, connect the cable and try to check if the connection is loose. If it snaps right in and that the cable won't move when you wiggle it, then the connection is fine, otherwise, you have to use a new cable that fits right perfectly into the port. If the problem still continues even with a new cable, then there's really a more serious issue with your device.
Step 6: Let the tech check and/or repair your phone
After doing the steps above and your phone is still not detected by your computer, then it's time you let the technician check it for you and do what is necessary to discover and fix the problem. You don't have to do anything about hardware problems to make sure the warranty of the device won't be voided.
How to troubleshoot your Galaxy S7 that can't be recognized by your PC
Usually, when you connect a smartphone to a computer, it detects it and install necessary drivers and a few moments later it will be able to recognize the device being connected to it. However, it doesn't work that way every single time. There will always be situations wherein the computer can detect a device is connected to it but it can't recognize what it is. As a result, the user won't be able to transfer files to and fro. If you're currently experiencing this issue, here's what you need to do:
Step 1: Unplug the cable from your phone and reboot it and your computer
It might be the only thing you need to do to fix this problem. Glitches happen more often than you think and most of the time a reboot is all it takes to fix them. We're not only trying to fix your phone here but your computer as well since we don't know where the issue lies. So, unplug the cable from your phone and then reboot both your device and your computer to refresh their respective memories and get rid of possible glitches.
Once your phone and computer become ready after the reboot, connect your phone once again to see if it gets recognized this time. The latter may still try to re-install the drivers so you may have to wait a few moments before you can see the prompt telling you that the phone is either recognized or not. If it doesn't get recognized still, then we may be facing just a simple driver issue.
Step 2: Make sure necessary drivers are installed on your computer
Recent operating systems install generic drivers for most of devices that use USB connection. That's what happens when you connect your device to your computer; it would take a few minutes finding and installing necessary drivers and once successful, the device gets recognized and you can immediately transfer files through USB connection. However, smartphone manufacturers especially big ones like Samsung always make sure their devices can easily be recognized by computers. So, they have their own drivers or software suites that when installed, the computer will be able to recognize your device. Needless to say, you need to download the software Samsung is providing its customers. You can either download KIES or Smart Switch. Just go to the website and download it from there.
Step 3: Reset your phone if the problem persists after installing KIES or Smart Switch
The second step is supposed to fix the problem with drivers but if the problem still persists after doing so, then you have to backup all your data and files and then reset your phone to bring it back to configuration that works.
Turn off your Samsung Galaxy S7.

Press and then hold the Home and Volume UP keys, then press and hold the Power key.

When the Samsung Galaxy S7 shows on the screen, release the Power key but continue holding the Home and Volume Up keys.

When the Android logo shows, you may release both keys and leave the phone be for about 30 to 60 seconds.

Using the Volume Down key, navigate through the options and highlight 'wipe data / factory reset.'

Once highlighted, you may press the Power key to select it.

Now highlight the option 'Yes — delete all user data' using the Volume Down key and press the Power button to select it.

Wait until your phone is finished doing the Master Reset. Once completed, highlight 'Reboot system now' and press the Power key.

The phone will now reboot longer than usual.
After the reset, try to connect your phone to your computer and see if the problem is fixed. If not, then have a technician take a look at it.
I hope that this troubleshooting guide can help you one way or another. If you need more help, then feel free to contact us.
Connect with us
We are always open to your problems, questions and suggestions, so feel free to contact us by filling up this form. We support every Android device available and we are serious in what we do. This is a free service we offer and we won't charge you a penny for it. But please note that we receive hundreds of emails every day and it's impossible for us to respond to every single one of them. But rest assured we read every message we receive. For those whom we've helped, please spread the word by sharing our posts to your friends or by simply liking our Facebook and Google+ page or follow us on Twitter.