The #Samsung Galaxy S6 Edge (#GalaxyS6Edge) has a relatively huge 2,600 mAh battery to power up its hardware and it's enough to keep the device alive for the entire day depending on the usage. There are, however, reports from some owners that their devices refuse to come back on while others said theirs overheated and don't respond when plugged in.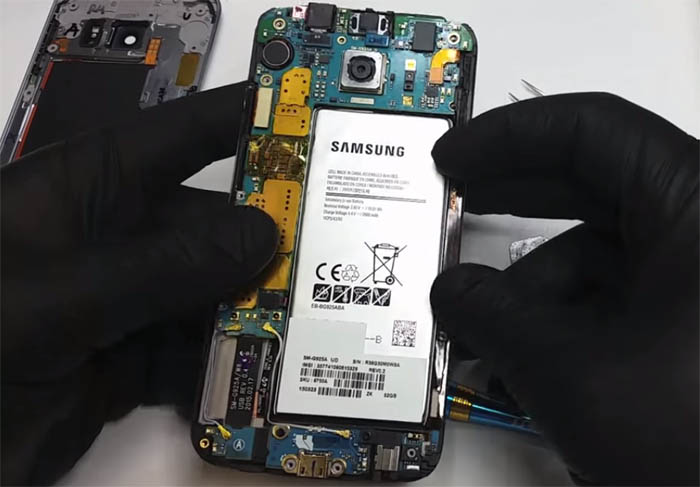 In this post, I addressed some of the charging and power related problems as reported by our readers. Take time to read each problem to learn how to deal with them. Here's the list of the issues, just click on the link to jump to a specific issue…
As for those who other issues, visit our troubleshooting page. We already addressed a lot of S6 Edge problems before and we may have already provided a solution to the problem you're having right now. If you can't find an issue similar to yours, then feel free to contact us by filling out this questionnaire. Make sure you provide all necessary information about the problem so we can help you better.
---
Galaxy S6 Edge shows a notice that it's overheating but it's not even warming up
Problem: Hi, I was getting a message on screen saying ' your device is overheating you will only be able to access phone and contacts'. However the phone was not even warm. I allowed the battery to drain and when i tried to recharge it I am getting symbol that's a RED TRIANGLE WITH A THERMOMETER IN THE MIDDLE in the middle of the battery symbol, can you help me fix this? Thank you. I purchased the phone off AMAZON about 6 months ago.
Answer: If the phone suffered some kind of liquid damage, then that's the reason why it's telling you it's overheating even if it's not. There's nothing you can do if it's the case; you need a technician to check the extent of the damage. The same thing goes if the phone suffered physical damage like if it was dropped or fell on a cemented floor or pavement.
As to the liquid damage, you need to verify it by removing the SIM card tray. Inside the SIM card slot, there's a small piece of sticker. If it's white, then it's not tripped; meaning, the phone didn't suffer from liquid damage. If it shows red, then it's tripped.
Prior to sending your phone for checkup and/or repair though, backup all your data and perform the master reset:
Turn off your Samsung Galaxy S6 Edge.
Press and hold the Volume Up, Home and Power keys together.
When the device powers on and displays 'Power on logo', release all keys and the Android icon will appear on the screen.
Wait until the Android Recovery Screen appears after about 30 seconds.
Using the Volume Down key, highlight the option, 'wipe data/factory reset' and press the Power key to select it.
Press the Vol Down button again until the option 'Yes — delete all user data' is highlighted and then press the Power key to select it.
After the reset is complete, highlight 'Reboot system now' and hit the Power key to restart the phone.
Galaxy S6 Edge won't respond, turn on or charge
Problem: Hi! It's been 6 months using the Samsung Galaxy S6 Edge. No water contact, no damage at all. It suddenly stops working and refuses to turn back on. I have read that many people have the same issue. The LED light doesn't show up nor the battery which shows up when the cable is connected. The battery was 40 percent or so when it turned off, so there is no way that the battery drained.
Troubleshooting: System crashes happen all the time and you can tell exactly if it's the case or not because your device just stops responding for no apparent reason. Based on your description, it seems like it's the case. So, to try and fix this, press and hold the Volume Down button and the Power key together for 10 to 15 seconds. If the phone won't reboot after that, then the problem could be more serious and you help from a technician. Otherwise, problem solved!
Galaxy S6 Edge overheated while watching videos on YouTube
Problem: I only got my phone 2 and half weeks ago with EE on a contract. I was in the middle of watching a video on face book when the screen locked and then the phone got really hot and I couldn't turn it off, in then got so hot I though it was going to burst into flames it then switched it self off and now wont turn back on. I feel really angry as I've bought this phone in good faith and now paying for a phone that is faulty. EE don't want to help as they say need to contact Samsung. I'm now left with out a phone which is my life line. what do I do now? What are my consumer rights surely if a item is faulty it's down to the company to replace the item and take the old one back?
Answer: It looks like your phone actually overheated and problems like this are covered by the warranty. Your service provider should be the first one to look for ways to make sure the customer can continue using the phone and the service but since you already got a big "NO, NO" from them, you have no other option but to contact Samsung.
You may be advised to send the phone over so they can check it and it may take 2 to 3 weeks before you can have the phone back. Everything depends entirely how Samsung's technician evaluates the problem. If the device didn't suffer from liquid and physical damages, there's a chance it would be replaced but there's no guarantee.
Galaxy S6 Edge charges very slowly
Problem: When I plug in my phone, it states that it will take 6 hours to fully charge and that is very frustrating. Even after 6 hours, the battery still drains very fast (faster than iPhone). Please help, I need my phone.
Troubleshooting: First of all, make sure you're using the original charger and USB cable. Then, boot your phone in safe mode and try charging it again.
Turn off your Galaxy S6 Edge.
Press and hold the Power key.
When 'Samsung Galaxy S6 Edge' appears, immediately release the Power key and then press and hold the Volume Down button.
Continue holding the Volume Down button until the phone finishes the restart.
When you see Safe Mode on the lower left corner of the screen, release the button.
If the phone charges fine in safe mode, then your downloaded apps have something to do with the problem. There may be a lot of them running in the background sucking up the battery quicker than the power adapter can charge. If this is the case, then I suggest you backup your data and do the factory reset.
However, if the phone still charges so slow in safe mode, try turning it off and see if it charges fine. If so, a reset is still necessary and may fix this problem. Otherwise, you really need to see a technician about it.
Galaxy S6 Edge screen sucking up the battery
Problem: My Galaxy S6 Edge will die in a few hours after charging to 100%. When I check the battery report no apps are even using that much battery. The highest is usually the screen which is about 19%. Why is this happening and how can I fix it?
Answer: The screen is normally the battery sucker but you can actually minimize that by setting its brightness to a lower level. If you have apps that can manipulate the screen, they might also cause this. In case you can't find anything in particular that might cause this, then you have to reset the phone. That usually works.
Galaxy S6 Edge has LED indicator lit up but screen is black, won't respond
Problem: The phone turned off after last night. Blue indicator light still blinking but all screen is blank. It won't charge or do nothing. Just afraid what happen to the phone because it was well-looked after. I can't even switch it on or off. It's not responding at all.
Solution: Those things you said are clear indication that your phone is suffering from a system crash. There's nothing more to it except the system just stopped responding. You can fix it by pressing and holding the Volume Down button and Power key together for 10 to 15 seconds. After that, the phone will reboot and the problem fixed.
Galaxy S6 Edge charging process gets interrupted
Problem: My 8 month old S6 Edge was about to die when I plugged it in. But it still died then turned itself on, buzzed a few times then turned back off. I unplugged it then tried a different outlet. It went to a teal screen that said factory mode on the top left and some info and in the middle it said "downloading… Do not turn off target" so I unplugged it and let it die. It did that one more time then the next few times (using a fast charger) it went up 1 % every 4 seconds, which is way too fast. I turned it on and it booted up fine but then it died. Now the lightning bolt shows up after a few seconds, doesn't buzz, no led, then the bolt goes away. By the time it boots up it dies again. I tried 3 chargers.
Answer: The real problem here is that the phone won't charge successfully or gets disconnected or interrupted. Try pressing and holding the Volume Down and Power keys for 10 seconds to see if it reboots. If not, then there's not enough battery left to power up the components. Should the phone refuse to charge even in a slow pace, then there's a problem with battery or the USB port. You need a technician for that.
Connect with us
We are always open to your problems, questions and suggestions, so feel free to contact us by filling up this form. This is a free service we offer and we won't charge you a penny for it. But please note that we receive hundreds of emails every day and it's impossible for us to respond to every single one of them. But rest assured we read every message we receive. For those whom we've helped, please spread the word by sharing our posts to your friends or by simply liking our Facebook and Google+ page or follow us on Twitter.