High-tiered smartphones are typically packed with better scheme and more advanced features and functions. But it's not a guarantee that they're always going to be flawless. Just like the Samsung Galaxy S6 Edge stock Messaging tool. While it's programmed to work perfect, it has failed to cater the needs of some users. Addressed in this post are five text messaging issues with the Galaxy S6 Edge.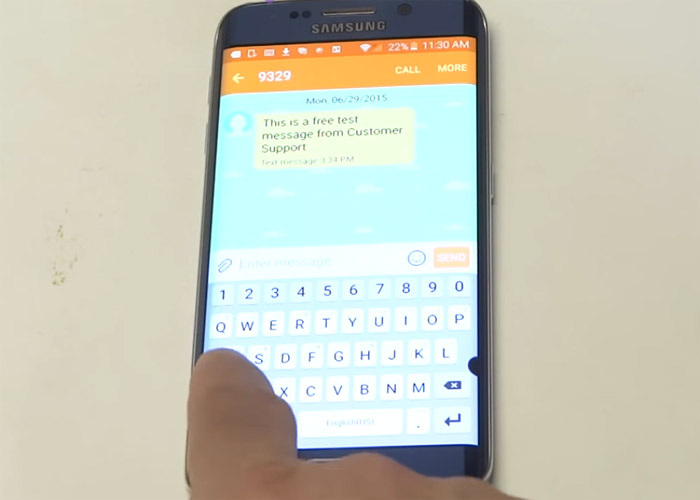 Read on to learn how to fix these problems if by any chance, you're also experiencing the same dilemma on your device.
Problem: Can't add area code automatically
"That's what I keep getting when I try to send texts with 7 digits, in my same area code.  Just switched from Verizon to Sprint and I didn't used to have to enter area code if it was same as mine.  I saw on S5, there was a place where you could add "auto area code".  However, it is no longer available in S6.
I use this as my store cell phone, contacting customers via texts when their orders are ready.  It's kind of a hassle to have to enter the same area code for each and every customer.  Please tell me there's a code to give me 7 digits back!"
Solution: Most likely, the problem is with how the contact numbers are saved. Sometimes, carrier switches, reformats, and system updates can cause the phone number formats to become incompatible. Try to check the contact information and make sure you've indicated the area code in the contact numbers. You may need to update the contact information, if necessary. Given that the contact numbers are stored with area codes, you will no longer be required to enter area code on all future messages to that person.
Suggestions:
Try to navigate to your Phone app settings and find the Auto area code option. (Please refer to the steps below this page.)
If that won't work, then you can try these workarounds instead:
Delete call logs/history and old message threads.
Clear data in the Dialer (Phone app) or Dialer storage.
Go to your phone Settings -> Applications-> select All to view all choices.
Find Dialer/Phone app and Clear the Data.
Do the same with the Phone/Dialer Storage.
Another user-defined solution (if your contacts are synced to your Google account) is to go to google.com/contacts and then change the phone number formats by removing the parentheses. For example: from +1(222)777- 8888 to +1 222-777-8888.
Hope that helps.
Problem: SMS character limit too low
Hi, I don't use smileys or anything but my character count on SMS is only 160 which means after about 5 lines of text (only text) it converts into an MMS message! Five lines really isn't a lot in the grand scheme. I've looked through all of my settings and can't find a way to change this! Do you know if there is anything I can do to change the character allowance? I've never ever had this problem on a phone before."
Solution: Sad to say, there is no way to increase the number of characters you can send via SMS. Technically, anything over 160 characters is no longer considered an SMS. While the stock messaging app allows for longer messages, the messages will be concatenated or split up. If the message exceeds 480 characters, it will be converted to MMS. You do have other options like using a better third-party messaging app like Handcent.
The Handcent app has an option under Settings-> Send message settings-> split 160. Using that setting allows you to split the message if it already exceeds 160.
Problem: White blank screen shows up while entering messages
"When entering messages on the phone button, a white blank screen occurs and stays there for 5-10 seconds. And I have to force stop the app every time. I was just curious if I can fix it somehow. "
Solution: It could be an issue with the messaging app you are using. Problems like this usually occur when messages or conversations are already piling up or your inbox is already full. Try to check your message board and ensure it still have enough space. If it is, then you should consider clearing it up this time. Also check your messaging app settings and see if the auto delete option is enabled. Otherwise, there were probably hundreds of text messages or conversations that have triggered the app to act this way.
Problem: Can't send texts messages (SMS), often sent as MMS
"Most of the time my messages FAIL TO SEND to a certain number or numbers in my phone. Only sends after SEND AS MMS option is clicked. It fails more often than not."
Solution: Failed SMS usually happens when the message has exceeded the character limit, which is 160. Also, if you're using the stock messaging app and it configured to not break up long messages, the SMS will be sent via MMS, which can fail with Wi-Fi enabled. The same thing can happen if you attach anything or send an SMS to more than one person and you have set tit to send group messages by MMS. To make sure this isn't the case, you can try to create a test message of 160 characters or less and then send it to a single recipient. If the problem persists, I suggest you should talk to your carrier for it's possible that they're setting some limits on your device based on your data plan. Or you can also try to use other messaging apps like Google messenger or Hangouts to see what happens.
Problem: Recover deleted texts
"I just accidentally deleted all my texts from my Samsung Galaxy S6 Edge and need to recover them ASAP. I need to know the easiest and best program to use. I'm desperate for help."
Solution: The easiest way to recover deleted messages from your Galaxy S6 Edge is using Android Data Recovery tool. It's a professional recovery tool designed to restore lost data from Android devices including your Galaxy S6 Edge. It works by accessing your phone's internal memory and locate the data you've lost such as text messages, photos, contacts, and more. Just download the Android data recovery app for free on and install it on your computer. After that, use the USB cable to connect your phone to the computer, and then start recovering texts through it. If you need further assistance on how to recover deleted text messages using this tool, please refer to the steps I outlined below this page.
Step-by-Step Guide
Please refer to the following steps if necessary.
Steps to Add Auto Area Code:
Open the Phone
Tap the Menu key.
Tap Call Settings.
Select Additional Settings.
Tap on Auto area code and then enter the area code in the given field.
Tap ObK to save changes.
Steps to Recover Deleted Text Messages using Android Data Recovery Tool:
Connect your phone to the computer.
On your computer, enable USB debugging.
Open the Android Data Recovery Tool.
If prompted, enable USB debugging on your phone with the following steps:

Go to Settings->About Phone
Tap Build number seven times until you see a message saying, "You are now a developer!"
Go back to Settings-> Developer options.
Turn on USB debugging option.

Connect your phone to the computer again until your phone is detected.
On the Android Data Recovery tool, begin to analyze and scan your phone by clicking the Next
Wait until the tool is done analyzing your device. Once finished, you'll be prompted to whether allow or not to proceed.
Go to your phone and then tap Allow on your phone's screen.
Click on Start to begin scanning your phone.
A new screen containing a list of data file such as gallery, video, contacts, etc., will appear. Locate and select Messaging to scan for text messages then click on Next.
You can choose to scan for all files or delete files in Standard Mode or Advanced Mode, as you prefer.
In the scan result, you will see all the messages you can retrieve. If you wish, you can preview them one by one.
Mark the messages you want to restore.
Click on Recover to continue.
The selected messages will be saved as HTML file on your computer.
If you want to transfer the messages directly from the computer to your phone, you can use the Android Data Recovery tool to carry it out.
Connect with Us
Please visit our Samsung Galaxy S6 Edge Troubleshooting Page to view other device issues we've addressed in our prior posts. We also offer a tutorial section on the same page for you to browse on including a series of how-to topics on the use of same device. Should you wish to contact our Android support team to get help on certain topics or issues with your Android device(s), you may do so by filling up the Android Questionnaire Form we provide in our respective T/S pages. We would appreciate if you could give us more important details of the problem you need help with so we would be able to cater you with the best quick fixes and efficient workarounds available.