It is important that your smartphone can connect to the internet via #WiFi but many #Samsung Galaxy S6 Edge Plus (#S6EdgePlus) owners are complaining that their devices can no longer connect or get connection from Wi-Fi. This problem can range from a simple app problem to a more complex firmware or hardware issue.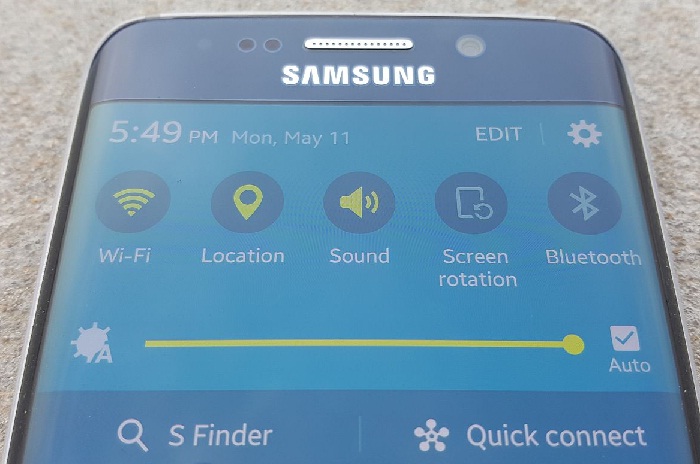 Continue reading to understand more about the problems I addressed in this post and to learn how to troubleshoot your phone in case you'll encounter one of them in the future. It's better that you already know what to do when it happens. All of the problems I cited here are related to the capability of the phone to connect to a Wi-Fi hotspot.
For our readers who have other concerns, make sure you visit our troubleshooting page as we've already addressed a lot of problems with this device. Find ones that are similar to yours and use the solutions we provided. If they don't work or if you need more help, contact us through our Android issues questionnaire and make sure you provide as much information as possible about the problem so we can give you more accurate solutions.
Galaxy S6 Edge+ shows acquiring IP but saves the network
Problem: My phone which is a Galaxy S6 Edge Plus used to connect to my neighbor's Wi-Fi. Oh by the way, my neighbor knows I'm connecting to his network, in fact, he gave me the password to his Wi-Fi. Anyway, my phone used to connect to it without any problem but now, it just says that it's acquiring IP address and then instead of connecting, it saves the network. What's the problem?
Troubleshooting: You said you know the password to the network, so try to "Forget" it and then allow your phone to detect and connect to it. Then, enter the password. If you're prompted that the password is incorrect, then the reason why the phone saves the network instead of connecting is because the authentication failed. Meaning, it still remembers the network but it can no longer connect to it successfully due to incorrect password or login credentials.
The best solution to this problem is ask your neighbor for the password and reconnect, that is if he still wants you to connect to it and just forgot to update you with the new password.
There's no problem with your phone, it's a network issue.
Galaxy S6 Edge+ cannot connect to Wi-Fi network it used to connect
Problem: Hello. How come I can no longer connect to the Wi-Fi network my phone used to connect? I have the S6 Edge+ and just last week I have successfully connected to Starbucks' hotspot. Now, I can no longer connect to it, so I was obliged to use data just to receive emails. Can you guys help?
Troubleshooting: More often than not it's an issue with the network's login credentials specifically the password. So verify with Starbucks' attendants if their IT guys changed the password. Or, you can also verify it by "forgetting" the network and reconnecting to it, once asked to enter the password, key in the one you know, if it goes through then the password wasn't changed otherwise, ask the attendant for it. Assuming the password stays the same but your phone can't connect to the network, try wiping the cache partition:
Turn off the device.

Press and hold the following three buttons at the same time: Volume Up key, Home key, and Power key.

When the phone vibrates, release the Power key but continue to press and hold the Volume Up key and the Home key.

When the Android System Recovery screen appears, release the Volume Up and Home keys.

Press the Volume Down key to highlight 'wipe cache partition.'

Press the Power key to select.

When the wipe cache partition is complete, 'Reboot system now' is highlighted.

Press the Power key to restart the device.
Galaxy S6 Edge+ Wi-Fi keeps toggling its switch off
Problem: I need  your help so bad guys. I have the S6 Edge+ and the Wi-Fi is not functioning well. It always turns itself off and as a result, my emails won't update or download. I don't have any idea when this problem started let alone know how to fix it.
Troubleshooting: There are apps that can manipulate some core functions of your phone and among those apps are ones added by your provider. With that being said, you must isolate the problem by running the phone in diagnostic state to know if your third-party apps have something to do with it.
Press and hold the Volume Down and Power keys for 20 to 30 seconds.

Once you see the Samsung logo, release the Power key immediately but continue pressing the Volume Down key.

Your phone should continue booting up and you will be prompted to unlock your phone as usual.

You will know if the phone successfully booted in safe mode if the text "Safe mode" is displayed at the lower-left corner of the screen.
If the problem still occurs in safe mode, then it's a firmware issue, otherwise, find the app that's causing the problem and uninstall it. If it's a firmware problem, then you have to wipe the cache partition first and then reset your phone. Of course you need to backup your data and files and follow these steps:
Turn off your Samsung Galaxy S6 Edge.

Press and hold the Volume Up, Home and Power keys together.

When the device powers on and displays 'Power on logo', release all keys and the Android icon will appear on the screen.

Wait until the Android Recovery Screen appears after about 30 seconds.

Using the Volume Down key, highlight the option, 'wipe data/factory reset' and press the Power key to select it.

Press the Vol Down button again until the option 'Yes — delete all user data' is highlighted and then press the Power key to select it.

After the reset is complete, highlight 'Reboot system now' and hit the Power key to restart the phone.
I hope this helps.
Samsung Galaxy S6 Edge+ Wifi is slow
Problem: Hi i am having issue with my wifi. The wifi is fast for about a minute after i connected to the wifi. It will become slow after that and what i need to do is turn off and on wifi again to get the fast wifi back.. after a few minutes, my wifi will go slow again and i need to turn off and on my wifi again.. this cycle keeps going endlessly.. can you help me identify the problem?? I have done wipe cache, change router channel and everything.. using ipv4 and 2.4ghz.. Thanks.
Solution: It seems like there's nothing we can do with your Samsung Galaxy S6 Edge+. As you indicated in your post, you did the wiping of the cache partition on your phone but the issue still persists. The first thing that you should do is to make sure that the Wi-fi signal in your area is not weak because if so, that might be the reason that you're connection is slow. But if your Wifi signal is strong but you're still having a slow connection, then there may be something wrong with your router or on your Internet Service Provider.
In which case, we cannot do anything about your internet connection. So, calling your ISP is the best thing to do. Further troubleshooting procedures will be provided by your service provider and if the issue is on their end there's a chance that the problem will be fixed immediately.
CONNECT WITH US
We are always open to your problems, questions and suggestions, so feel free to contact us by filling up this form. This is a free service we offer and we won't charge you a penny for it. But please note that we receive hundreds of emails every day and it's impossible for us to respond to every single one of them. But rest assured we read every message we receive. For those whom we've helped, please spread the word by sharing our posts to your friends or by simply liking our Facebook and Google+ page or follow us on Twitter.