The black screen of death (#BSOD) is not new to the #Samsung Galaxy S5 (#GalaxyS5) because some of the early adopter complained about their devices that suddenly died a few weeks after they bought it. The fact is we encountered a lot of related issues way back in 2014 when the device was released.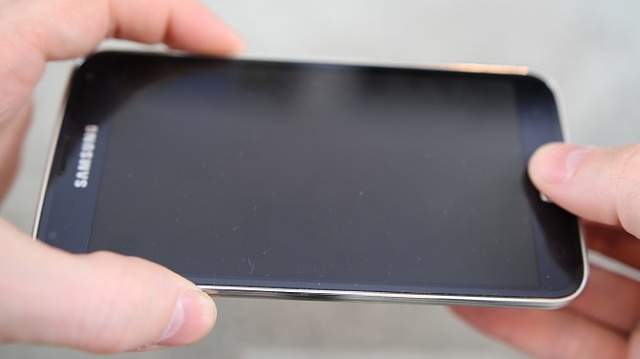 The BSOD is one of the most dreaded issues with the S5 as many had to go through the hassle of going to a shop, wait there for a few hours only to be told that their devices have to be replaced. Well, that's for the lucky ones. Those who weren't so lucky ended up having a bricked handset and weren't eligible for replacement.
In this post, I will tackle this problem once again as we started to receive reports that some owners are once again being haunted by issue and it seems like this time, it's firmware-related as there are those who said the problem occurred after an update.
Before going into our troubleshooting, for those who have other issues with their Galaxy S5, make sure you visit our troubleshooting page as we've already addressed hundreds of problems with this phone since 2014. Odds are that we already answered your problem before and all you gotta is find something similar and use the solutions we provided. If you need further assistance, you can always contact us through our Android problems questionnaire.
Troubleshooting Galaxy S5 black screen of death
The "black screen of death" is actually just another description of an unresponsive display. There have been a lot of users who experienced having their devices turned off on their own and then refused to come back on leaving the screen black or blank.
There are variations to this problem: black screen with blue lights blinking, black screen but the phone plays notifications, black screen with buzzing sound, etc. The point is this problem quite vague and while it clearly speaks of the phone's current condition, a little more details would surely help us troubleshooters in finding out what really is the issue with it.
But enough talk. Let's go to our troubleshooting so that you'll know what to do in case your Galaxy S5 suffers the black screen of death.
Step 1: Verify it's not just a system crash or frozen phone
System crash happens all the time that this often leaves the phone frozen and unresponsive. This must be the first thing you need to do as it may save you from a lot of trouble if it's really the case with your device.
Remove the battery and leave it out for 30 seconds and while it's out, press and hold the Power key for 30 seconds as well to perform a soft reset. This procedure, albeit simple, will refresh your phone's memory. After 30 seconds, place the battery back in and the the back cover and attempt to turn it on.
If the phone turns on, then problem solved, otherwise, you need to do the next step.
Step 2: Make sure there's enough battery to power your device up
Aside from the system crash, the other common cause of the black screen is drained battery. So, the next thing you should do is plug the charger in and see if the phone charges. It should display the usual charging icon and light up the LED at the top of the display. If none of these charging signs show, then you must troubleshoot the device with a "not charging" issue and we already have posts for it:
Aside from the obvious reason, plugging the charger in will tell you immediately if there's a problem with your phone's hardware so if it refused to charge, here's what I suggest you do:
Connect your device to a computer to see if it responds to that.

Use a different charger and/or USB cable to verify further if it's an issue with the charger or the phone.

Try a new or different battery that you know isn't busted.

Verify your device isn't water-damaged.
Step 3: Boot your device in safe mode
Assuming your Galaxy S5 is charging but still has a black screen that won't respond, try to boot your device in safe mode to rule out the possibility that some apps are causing this problem. Doing this procedure will put your device in diagnostic state where only pre-installed apps and services are running.
Turn the device off.

Press and hold the Power key.

When 'Samsung Galaxy S5′ appears on the screen, release the Power key.

Immediately after releasing the Power key, press and hold the Volume down key.

Continue to hold the Volume down key until the device finishes restarting.

Safe mode will display in the bottom left corner of the screen.

Release the Volume down key when you see Safe Mode.
Step 4: Boot your device in recovery mode
If your Galaxy S5 cannot boot in safe mode, then try to boot it in recovery mode. In this state, all of the phone's hardware are powered up only that the Android's user interface isn't loaded; it is running on its barebones.
For firmware related issues, the device may still be able to boot in recovery mode but if the issue is with the hardware, then even a flicker on the screen is impossible depending on how bad the issue is.
In case the device responds when you try to boot it in recovery mode, try to wipe the cache partition. Here's how you boot your phone in recovery mode and how to delete the system cache:
Turn off the device.

Press and hold the following three buttons at the same time: Volume Up key, Home key, and Power key.

When the phone vibrates, release the Power key but continue to press and hold the Volume Up key and the Home key.

When the Android System Recovery screen appears, release the Volume Up and Home keys.

Press the Volume Down key to highlight 'wipe cache partition.'

Press the Power key to select.

When the wipe cache partition is complete, 'Reboot system now' is highlighted.

Press the Power key to restart the device.
If you've successfully wiped the cache partition and the phone is still not booting up normally, then follow the same steps but this time, choose 'wipe data/factory reset' to bring the phone back to its default settings.
Step 5: Send the phone in for repair
This is your last resort in case your device still cannot boot up or still got the black screen of death. Apparently, at this point, there's nothing much you can do for your device. Anything beyond this is just a waste of your time you let the tech handle the problem for you.
CONNECT WITH US
We are always open to your problems, questions and suggestions, so feel free to contact us by filling up this form. This is a free service we offer and we won't charge you a penny for it. But please note that we receive hundreds of emails every day and it's impossible for us to respond to every single one of them. But rest assured we read every message we receive. For those whom we've helped, please spread the word by sharing our posts to your friends or by simply liking our Facebook and Google+ page or follow us on Twitter.