We have received several complaints from our readers saying that their #Samsung Galaxy Note 5 (#Note5) is frozen or won't respond for some reason. While we've already addressed several issues in the past, the problem keeps repeating and thus, we can never stop addressing such issue as we feel obliged to give support to our readers who contacted us requesting support.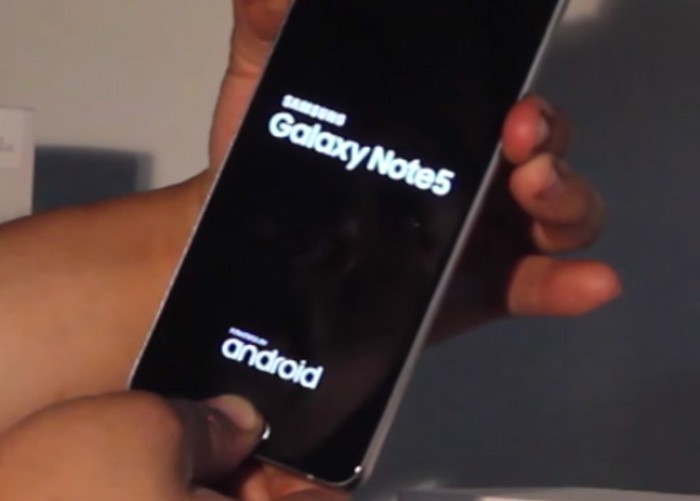 So, in this post, I will deal with the Galaxy Note 5 that's unresponsive, which can be caused by a firmware issue or a hardware problem. You need to thoroughly troubleshoot your device to be able to determine why it's happening and what caused or triggered it. It is imperative that you know the cause to be able to formulate a solution that may just fix the problem.
In the course of this troubleshooting guide, you will understand why there are times when a smartphone freezes, what causes it to become unresponsive and what you need to do in order to get the phone out of being stuck and bring it back to life for your perusal. So continue reading especially if you're one of the owners of this great device so that you'd know what to do in case this issue happens to your in the future.
For those who have other issues, try to visit our Note 5 troubleshooting page. We've already addressed hundreds of problems with this device since it was released and odds are that there's already an existing solution to your concern. So, try to find issues that are similar with yours and use the solutions or troubleshooting guides we suggested. If they don't work or if you need more assistance after using them, then contact us by filling up our Android issues questionnaire and hitting submit.
How to troubleshoot your unresponsive Galaxy Note 5
As I said earlier, the reason why your Galaxy Note 5 is not responding might be due to a firmware issue or a hardware problem but the thing is, when it's due to the latter, there's only so much we can do especially that we don't want the device's warranty to become void. However, we have to rule out the other possibility that the reason why your phone froze is due to an unforeseen firmware issue especially if there were significant firmware-related updates you downloaded recently. Needless to say, let's rule out the possibility that it's a system-related problem first and that said, here's what you need to do:
Step 1: Try to do the Forced Reboot procedure on your Note 5
There is always a possibility that the firmware froze or the system crashed due to unseen causes and when this happens, the most common result is freezing or being unresponsive. This must be the first thing you need to rule out because if this is really the case, then you don't have to go through the hassle of doing the next troubleshooting procedures. So, for this, all you need to do is press and hold both the Volume Down and the Power keys together for 10 to 15 seconds. Provided the phone still has enough battery to power up its components and assuming the problem is really due to the system crashing, then the phone should reboot normally. It is equivalent to the battery pull procedure you may have already known but since the Note 5 doesn't have a removable battery, you have to hold a combination of buttons to perform a simulated battery disconnect. If the phone won't reboot after doing this procedure, then try the next step.
Step 2: Try charging your Note 5 to see if it responds
Another thing that we need to rule out is the possibility that the battery was just drained completely and that there's not enough battery left to power up all the hardware components of the phone. When it happens, even a flicker on the screen won't happen when you hold the Power key. But aside from that, we also need to see if the phone actually acknowledges that it's connected to a charger that's giving out power. If it doesn't respond to that, then there's a chance that the battery is already damaged or there could other components inside that are also been damaged for some reason.
On the other hand, if the phone charges normally when connected to a charger, then let it replenish its battery until it reaches 100% or even 50% and then attempt to turn it on again. If it still won't respond nor turn on after that, then proceed to the next step. However, if the phone won't charge, then try to read the following posts as they'll help you fix a charging issue:
Step 3: Try to boot your Note 5 up in Safe Mode
Assuming your Note 5 actually charges but still frozen or won't turn on when you press the Power key, the next thing you need to do is to start it up in its diagnostic state wherein only core services and pre-installed apps are running. This will rule out the possibility that one or some of your downloaded apps has been causing the issue. This is how you start up your phone in safe mode:
Press and hold the Power key.

When 'Samsung Galaxy Note5' appears, immediately release the Power key and then press and hold the Volume Down button.

Continue holding the Volume Down button until the phone finishes the restart.

When you see Safe Mode on the lower left corner of the screen, release the button.
Now, if your phone successfully booted up in this mode, you can already rest assured that the hardware is fine and that we might just be dealing with a minor app issue. So, the next thing you have to do is find the culprit and uninstall it. Begin your search from your most recent installation until you can find the problem.
RELATED POSTS
This is definitely an easy task but it takes a lot of time. For instance, you would uninstall the app you just installed in safe mode, after you uninstalled it, try to boot your phone up normally to see if it can but if it fails, then you need to boot your phone up in safe mode again and uninstall another app. You have to do this until your device can boot up successfully in normal mode. This is how you uninstall the app on your phone:
From the Home screen, tap the Apps icon.

Find and touch the Play Store app.

Once inside the Play Store, you can search an app by category, or if you know the name of the app, just type it in the search field.

Once you found the desired app, tap on it.

Now touch the Install button, and then Accept.

For paid apps, tap the price and follow on-screen instructions.

Depending on the size of the app and the speed of your internet connection, it may take a few to several minutes for the app to be downloaded and installed.

The installation will be automated and you will be notified once finished, then you can use the app.
Step 4: Attempt to boot your phone in Recovery Mode
You can only reach this far if your device won't boot up in safe mode even if it's charging because obviously its hardware is working quite well when it can charge successfully. So, you need to try to start your phone up in another mode to see if it can because if so, there's a big chance you can fix the problem on your own without outside help. For example, if the phone can successfully start in recovery mode, you can then try to wipe the cache partition. Here's how…
Turn off your Galaxy Note 5.

Press and hold the following three buttons at the same time: Volume Up key, Home key, and Power key.

When the phone vibrates, release the Power key but continue to press and hold the Volume Up key and the Home key.

When the Android System Recovery screen appears, release the Volume Up and Home keys.

Press the Volume Down key to highlight 'wipe cache partition.'

Press the Power key to select.

When the wipe cache partition is complete, 'Reboot system now' is highlighted.

Press the Power key to restart the device.
If the problem isn't fixed by this but the phone can boot up in recovery mode, then try to reset it. However, you must know that all your files and data will be deleted and the phone will be left with nothing except for apps that were pre-installed on it.
Turn off your Samsung Galaxy Note 5.

Press and hold the Volume Up, Home and Power keys together.

When the device powers on and displays 'Power on logo', release all keys and the Android icon will appear on the screen.

Wait until the Android Recovery Screen appears after about 30 seconds.

Using the Volume Down key, highlight the option, 'wipe data/factory reset' and press the Power key to select it.

Press the Vol Down button again until the option 'Yes — delete all user data' is highlighted and then press the Power key to select it.

After the reset is complete, highlight 'Reboot system now' and hit the Power key to restart the phone.
ALSO READ
Step 5: Send the phone in for checkup and/or repair
Should the problem persist even after you did all of those things, then we might be facing a hardware issue and as I said earlier, there's nothing much we can do about it since the warranty will become void even if we remove just one screw from it. So, bring it to a technician and have it checked and/or repaired because as far as troubleshooting is concerned, you've already done your part.
Connect with us
We are always open to your problems, questions and suggestions, so feel free to contact us by filling up this form. This is a free service we offer and we won't charge you a penny for it. But please note that we receive hundreds of emails every day and it's impossible for us to respond to every single one of them. But rest assured we read every message we receive. For those whom we've helped, please spread the word by sharing our posts to your friends or by simply liking our Facebook and Google+ page or follow us on Twitter.