What to do if your Samsung #Galaxy Note 5 (#Galaxy #Note5) got updated to #Marshmallow but can't recognize your fingerprints and PIN after the update.
Learn how to deal with your phone that doesn't seem to find new firmware updates.
Read about the issue of one of our readers who used to send emails with attached pictures amounting to almost 20MB but can no longer do so.
What if you downgraded your Note 5 from Marshmallow to Lollipop but the phone got stuck in boot loop?
Learn more about the error message "Unable to update software. A network or server issue has occurred. Please try again later."
An owner complained about a problem with her phone that just got updated to Marshmallow but can no longer have a solid connection when in calls via Viber, Tango and WhatsApp.
What you should do if your phone sees an update but can't pull it down for installation.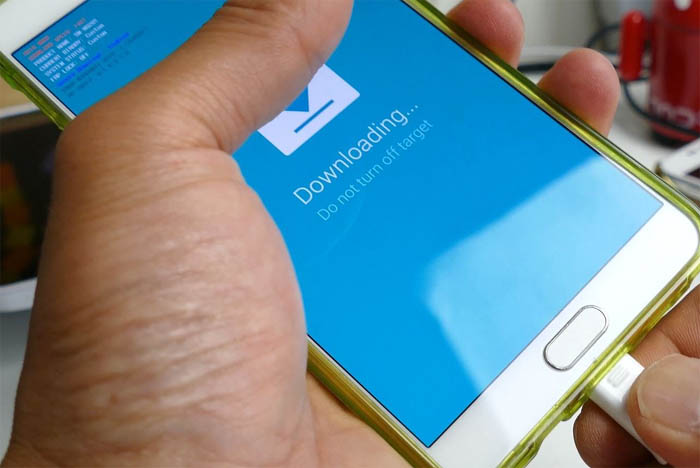 Everybody expects that firmware updates are supposed to fix problems but we received a not of complaints from Samsung Galaxy Note 5 owners because Marshmallow seemed to have brought more problems than fix existing ones. Firmware issues are often very complicated to deal with and there are cases when phones got bricked due to issues brought by these updates.
In this post, I will try to tackle some of the problems we received from our readers. Continue reading below to know more about these firmware problems and how to fix or troubleshoot them. If you've already contacted us before, try to see if your concern is among the ones I addressed.
For those who have other concerns, make sure you visit our Note 5 troubleshooting page and browse for issues that are similar or related to yours. You may then use the solutions or troubleshooting procedures we suggested. If you still need further assistance, you can always contact us by completing our Android issues questionnaire. Please provide us with necessary information about your problem so we can provide more accurate answers.
Q: "I got notification 2 days ago in my Samsung Galaxy Note 5 to upgrade to Marshmallow. I did the upgrade and it was successfully installed but when I entered my old screen pattern, it didn't work and I even tried my 4 PIN code. My device is not able to recognize both of the password anymore. I would really appreciate if you could help me with this. I learnt how to do the factory reset through your website but I have all my important contact numbers and files in it. Please help save my important files."
A: I don't want to give you false hopes here. So, as early as now, you should know that you can't bypass the fingerprint lock if the phone won't recognize your prints nor your PIN…unless you reset it. That's how security works for this device.
Some owners, however, suggested that it's possible the cause of the problem are some corrupt system caches. There were even reports that wiping the cache partition gave them access to their phones again without losing anything. So, in your case, it's worth trying. Here's how…
Turn off your Galaxy Note 5.
Press and hold the following three buttons at the same time: Volume Up key, Home key, and Power key.
When the phone vibrates, release the Power key but continue to press and hold the Volume Up key and the Home key.
When the Android System Recovery screen appears, release the Volume Up and Home keys.
Press the Volume Down key to highlight 'wipe cache partition.'
Press the Power key to select.
When the wipe cache partition is complete, 'Reboot system now' is highlighted.
Press the Power key to restart the device.
If this doesn't work, then there's only one thing left to do so you can regain access to your phone, although you really have to make some compromises.
Q: "My note 5 will not update to the 6.0.1 (I am on 5.1.1 and my model number is SM-N920C) update. I have tried OTA, it says my device is up to date. Then I have tried Kies which told me to try smart switch. In smart switch there is no Update button. I have tried factory resetting the phone, nothing. I have never rooted my phone and never installed a custom recovery. (it's only a month old 29-April-16). How do I make it update? Thank you!"
A: Firmware updates are rolled out by region and for units that are carried by a provider, the update is channeled through its respective carriers. Samsung has long rolled up the Marshmallow update for the Note 5 so it could be that your provider is the one preventing it from reaching your phone. It's better you call them about it as they can give you more accurate answers.
Q: "After many months of being able to email 6 pictures in the original size as an attachment which equaled 19 MB approximately, now today, April 29, 2016, I kept receiving a message that the email failed.  I sent one picture at a time at medium size and it worked but I don't know what the problem is.  Why am I no longer able to send 6 pictures, 19 MB in an email?"
A: You left us hanging here. You should have told us what email service you're using so we can provide more accurate answer to your questions. Well, anyway, if you're using Gmail, Yahoo, AOL (and mostly any free email service), the attachment limit is often 25MB. However, such limit may not apply if you're using a corporate email. In this case, you need to contact  your company's IT personnel and ask for their help.
Another factor that may lead to this problem is the stability and speed of your internet connection. When your connection is not that stable or fast, the uploading and sending processes may take too long that the system decides to just drop it. So, verify that your connection is good, stable and fast. You may restart your router or modem.
I understand the convenience of attaching multiple files to one email but I think, just to work around this issue, it would be helpful if you just attach a picture or two to one email message until you finish sending them all. It's your call.
Q: "I flashed the update 5.1.1. It is stuck on boot loop. I also wiped the cache partition but I cannot wipe data because I have personal data in my phone. I also tried flashing it 2 3 times but I can't find a solution. I just downgraded my device from Marshmallow to Lollipop."
A: If you're savvy enough to manually flash an old firmware to your phone, then you must have known that there are risks involved however easy the process may seem. You should have at least tried to back up your data before anything else. Now that you encountered a problem, you contact us in hopes that we know something that could get your phone out of boot loop. We modders all know that sometimes a reset is necessary to make the new firmware  (well, in your case, old firmware), work.
We don't know if you did something wrong but please verify if you got the correct firmware for phone's model. Also, make sure the flashing process isn't interrupted.
Q: "Hi there. I have an unlocked Galaxy Note 5 N920c and I'm unable to download an update. Keeps stating the popular error "Unable to update software. A network or server issue has occurred. Please try again later." I've tried it on WiFi without the SIM…on cellular only. Changed SIM and even tried smart switch on the PC. No luck. Am I doing something wrong?  I have a T-Mobile SIM card. Thank you!"
A: The Note 5 N920C is unbranded. Meaning, it's not carried by any carrier or service provider. It should pull updates from Samsung servers but Smart Switch should have been able to help you update your phone but since it failed as well, here are some things you can do:
Contact Samsung and ask tech support why you're not getting any firmware update.
Try resetting your phone (instructions below) and after that, search for updates to see if the phone can upgrade its firmware.
Download the firmware and use Odin to manually flash it on your phone.
 How to Master Reset Galaxy Note 5
Remove your Google account and disengage the screen locks to make sure you won't trip the Factory Reset Protection (FRP).
Turn off your Samsung Galaxy Note 5.
Press and hold the Volume Up, Home and Power keys together.
When the device powers on and displays 'Power on logo', release all keys and the Android icon will appear on the screen.
Wait until the Android Recovery Screen appears after about 30 seconds.
Using the Volume Down key, highlight the option, 'wipe data/factory reset' and press the Power key to select it.
Press the Vol Down button again until the option 'Yes — delete all user data' is highlighted and then press the Power key to select it.
After the reset is complete, highlight 'Reboot system now' and hit the Power key to restart the phone.
Q: "After updating the OS to 6.0.1 I am experiencing  internet connection disruptions whether connected to the 4G or Wifi. A simple example the line is disconnected when using Viber, Tango or Whats app voice telecom. I tried rebooting, but the problem still persists. There is another Software update that am trying to download but an error message is popping up. Any solution without  having to factory reset?"
A: You know what, it could have been more helpful for us to determine what the problem with your phone is if you included the actual error message you got. Why is it so hard to include details like that? But anyway, try any of the following:
Turn off mobile data and make sure your phone is connected to Wi-Fi and try making calls through the apps you mentioned. The Note 5 has the smart network switch feature that allows it to connect to mobile data if it senses Wi-Fi is weaker and vice versa. The thing is, when it happens, the phone loses connection instead of making it better. That might be the reason why your calls won't connect or get disconnected.
Do the same thing for mobile data. Turn off the Wi-Fi switch and make sure your phone is connected to your provider's mobile data network and try to make calls.
About the new software update, well, install it. It won't go away unless you downloaded and installed it on your phone.
As the error, we just can't provide you a solution simply because we don't know what the error is all about.
Q: "Hi. I am recently facing  a software glitch. My Note 5 is showing a update of 361.47 MB. I have downloaded the update but while installing it gets stuck up at 26 percent and reboots itself. I have tried hard reset, wipe cache partition, and factory reset but to no avail. The 3rd party applications were Angry Birds , AOP, Subway Surfer. Please guide me step by step what to do."
A: Alright, here's what you need to do…
Secure a computer you can use that has an active internet connection.
Go to Samsung's website and download Smart Switch.
Connect your phone to your computer and launch Smart Switch.
Hit the Update button and you'll be good.
Connect with us
We are always open to your problems, questions and suggestions, so feel free to contact us by filling up this form. This is a free service we offer and we won't charge you a penny for it. But please note that we receive hundreds of emails every day and it's impossible for us to respond to every single one of them. But rest assured we read every message we receive. For those whom we've helped, please spread the word by sharing our posts to your friends or by simply liking our Facebook and Google+ page or follow us on Twitter.