Do you want to play Final Fantasy 7 Remake PC version with the PS4 or PS5 controller? You may want to use the PlayStation controllers because you find them more comfortable to use than the other controllers. In this article we will be showing you the easy way to this.
One of the Triple A games that can be purchased on the Steam Store and the Epic Games Store is the Final Fantasy VII Remake Intergrade PC version, which comes with both the base game and the DLC. It is a PlayStation 5 port of the action role-playing game by Square Enix, which is also sold on disc. The popular 90's PlayStation 1 game Final Fantasy VII from Square Soft was remade as Final Fantasy 7 Remake Intergrade.
How to play Final Fantasy VII Remake with the PS4 or PS5 controller on PC? Here's a step by step guide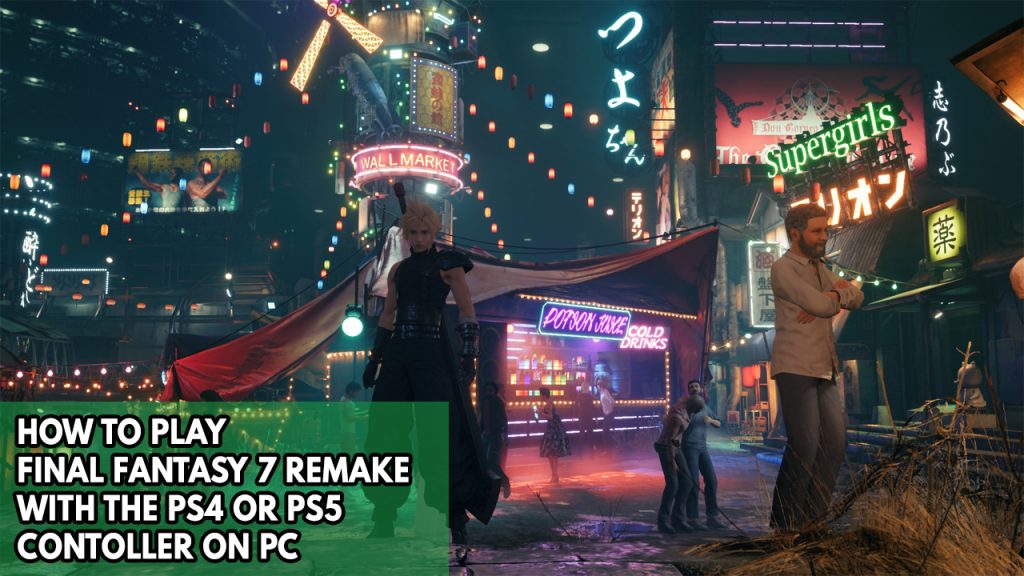 PlayStation controller does not have native support for Final Fantasy 7 Remake game in Epic Games Store. In order to use controller, you can currently either use an Xbox controller or third-party software like DS4Windows controller.
Here's what you need to do to play Square Enix game Final Fantasy 7 Remake with PlayStation controller support on PC.
Add non steam game from Epic Games Store
There are a few things you should be aware of before adding a third-party video game from the Epic Store to your Steam library. Non-Steam games don't have achievements, hours played, or any other data tallied by Steam like conventional Steam games do. Additionally, the library page will not contain the game's title image, description, or any other game-related information. Make sure you are aware of the location of the game you wish to download and install on your PC. Then, just follow the simplest procedure to add it to your Steam.
Time Needed : 3 minutes
Adding non steam game to Steam
Open Steam.

This will open your Steam client.


In your Steam launcher, click Library.

This will open your Libraries tab.


At the lower left of the library tab, select ADD A Game + icon.

This will let you add a non steam games.


At the lower left of the library tab, select ADD A Game + icon.

This will allow you to add Final Fantasy 7.


On the popup window, select Final Fantasy 7 Remake, then check the box beside it.

This will let you add it on your launcher for gaming.


Click Add selected programs button.

This will add the selected programs in your Steam libraries.


The game will be displayed in your Steam.

This will display it in your Steam.


Alternatively you can also add non steam games by selecting Games menu on the top menu of your Steam launcher for controller support.

Follow Step 4 to Step 7.

You can now utilize and connect the PS4 controller or PS5 controller native support feature of Steam after adding the titles to your Steam.
You can enable the controllers' Steam input features if they don't work in the general controller settings.
Step 1: Select Properties. This will allow you to go to Properties window.
Step 2: Select controllers tab then under override click the drop down menu under the word use default settings then select enable steam input.
Step 3: Click the general controller settings in the controllers tab to enable PlayStation configuration support, Xbox configuration support or other controllers support.
Step 4: Check mark the box of type of controllers you have so you can use it.
After you have setup the controller in the general controller settings, Try to Final Fantasy 7 remake and check if your PlayStation controller works.
Remove games that are not from Steam
If you want the games taken off of your Steam. You can use the steps listed below.
Removing
Step 1: Launch Steam.
Step 2: On Steam, Go to your list of games.
Step 3: In the sidebar list, find the program(s) you want to delete.
Step 4: Right-click it and select Manage > Remove non-Steam games from the menu that appears.
Hiding games that are not from Steam
If you don't want to completely remove the games from Steam, you may simply hide it from your Steam.
Hiding
Step 1: Right-click on the games you wish to hide after you've chosen it.
Step 2: Select Manage > Hide this game from the drop-down.
Step 3: Open the Hidden dropdown in the game list to find the games again.
Using Steam overlay that are not from Steam
Step 1: When you first start to play, you should receive a notification instructing you on how to open the overlay. You might not be able to utilize the overlay if you don't see this, but you can still try.
Step 2: To access the Steam overlay, press Shift + Tab.
Step 3: The overlay will display, and you'll have access to all of the overlay's features.
Try to play and the overlay will be enable.