Is FIFA 21 crashing or freezing on you? If yes, then you've come to the right guide. In this troubleshooting article, we'll show you the reasons why this game may be crashing and how to fix it effectively.
What are the causes for FIFA 21 crashes?
FIFA 21 can crash randomly or persistently due to several reasons. Below are some of the common issues that can lead to this game to crash, freeze, or become unresponsive.
Hardware does not support the game. 
This game, while not as demanding as other top games today, requires a decent system in order to run properly. If you are experiencing a crash after installation, it's possible that your PC may not be able to handle it.
Random bugs.
There's no perfect game and newly released titles may sometimes encounter bugs. In order to address teething issues for new games, developers release updates from time to time. Make sure that you update the game to lessen the chances of encountering problems.
Game is outdated.
By default, FIFA 21 should update automatically every now and then. However, if you intentionally disabled this automatic feature, or if your computer is not connected to the internet most of the time, your games may not receive updates as they become available.
This can also happen if you deliberately want to enjoy the game alone. If this is your situation, make sure to allow the game to update every now and then.
Game files are corrupted.
There may also be situations where a game may crash even though it's fully updated because of corrupted files. Like regular files, game files may become corrupted. We're not here to discuss all the varied reasons why this thing can happen but some of the common reasons can be due to a system update, or malware.
GPU drivers need update.
Inconsistent graphics card drivers can also be the main reason why a game crashes or freezes. Just like Windows OS and other programs, you also want to make sure that you GPU runs the latest drivers to avoid encountering game issues.
Third party program interference.
Other programs that interact with FIFA 21 may create a conflict. This can sometimes happen with programs that has an overlay feature such as Discord, NVIDIA GeForce Experience, and other similar apps.
In some rare cases, the cause of the problem may remain a mystery and may never be known because it lies deep within the PC's Windows software.
How to fix FIFA 21 crashing issues?
If you have no idea what is causing the crashes on FIFA 21, you'll need to perform a number of troubleshooting steps. Follow this guide and see which of the solutions below will help.
Ensure that your PC can run FIFA 21.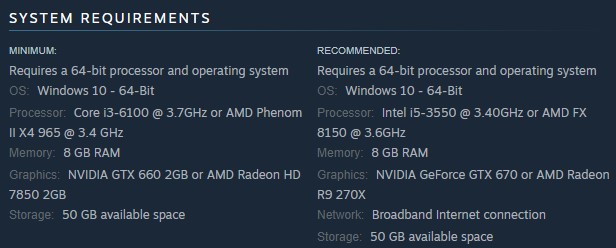 Ideally, you should check ahead of time if your PC can run FIFA 21 before installing it. If you did not do that and you have an old rig, it's possible that your machine may not be equipped to play this game. Below are the minimum system requirements (Steam):
Requires a 64-bit processor and operating system
OS: Windows 10 – 64-Bit
Processor: Core i3-6100 @ 3.7GHz or AMD Phenom II X4 965 @ 3.4 GHz
Memory: 8 GB RAM
Graphics: NVIDIA GTX 660 2GB or AMD Radeon HD 7850 2GB
Storage: 50 GB available space
Keep the software environment updated.
In order to keep away bugs and fix known ones, you'll want to ensure that the game is always updated. The other things that you need to update are the drivers, especially the GPU drivers, third party programs (all of them), and Windows Operating System.
Restart FIFA 21 game.
One simple yet sometimes effective ways in fixing random crashing issue is by force closing the game. To do that, simply open the Task Manager (CTRL+ALT+DEL), find the game, and hit End Task.
Reboot your PC.
You can also power cycle your PC if it's been running for some time already. This can help to fix random bugs as it refreshes the system.
Disable third party programs.
If you are running other applications while gaming such as Discord, NVIDIA GeForce Experience, or other similar apps, try closing them one by one to see if any of them is causing a conflict.
Repair local files.
To address a possible issue with your game files, you can use the Windows 10 repair tool.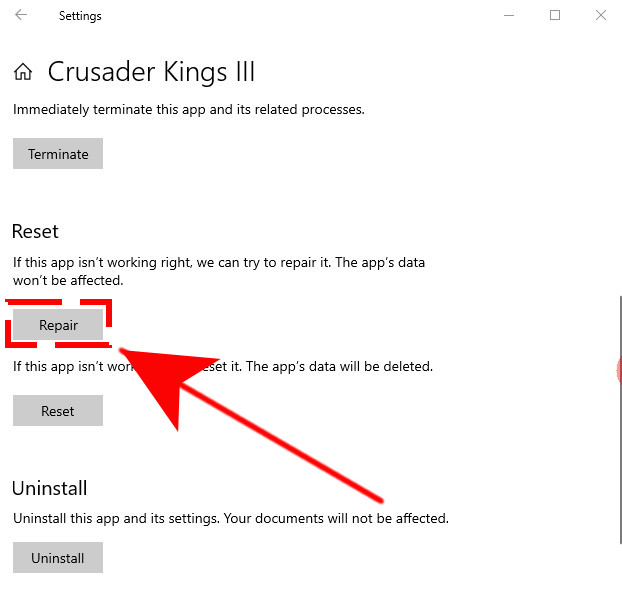 Here's how to do that:
Press the Windows button at the lower left corner.
Search for FIFA 21 app.
Right click on the FIFA 21 app.
Select App settings.
Click on Repair button.
Reinstall game.
Should none of these solutions help, you can try to delete the game and install it from scratch. This should only be done if you are desperate and you've already exhausted every possible solution that you can find.
Suggested readings:
Visit our TheDroidGuy Youtube Channel for more troubleshooting videos and tutorials.