Looking to outfit your home with a new Wi-Fi system? There's plenty of options out there, but a couple of the most talked about systems are the Google WiFi system and the Eero system. Both are designed to replace your home router and modem entirely, all while outfitting your home with a wireless network system that you should never have to think about again. But, which one should you get? That's the question we're diving into below, be sure to follow along!
---
At A Glance:

Eero Vs Google Wifi Best Home Wifi System 2020
---
* If you buy through links on our site, we may earn an affiliate commission. For more details, please visit our Privacy policy page.
Eero Vs Google Wifi Best Home Wifi System Comparison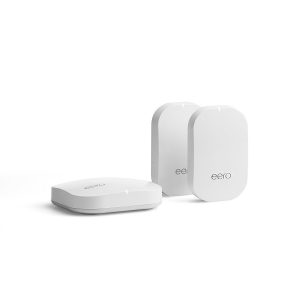 Eero home WiFi system is built to provide your household with a new way to do internet. A way that's faster, more consistent, and less frustrating than other WiFi systems out there. With the Eero, you're going to need the Eero itself, and then the Eero beacons, which will expand the area coverage of the Eero. Each Eero beacon will need to be plugged in to a wall outlet, but if you can do that, then you'll have WiFi (and a new nightlight) within that room. Setting up your Eero is really simple with the mobile app.
Deciding on how many Eero beacons you'll need is going to be a bit of a challenge, though. While other home WiFi systems give their coverage in square feet, this one does not. On Amazon, the Eero starter kit (1 Eero, plus 2 beacons) says it will cover a 2 – 4 bedroom home, or 2 – 4 bedrooms. What does that mean, exactly? Is it 2 large bedrooms, or 4 small bedrooms? And will they cover the entire home, including the basement, kitchen, family rooms, and so on? While I'm sure you could give them a call before ordering so they can help you decide on how many you may need, the lack of accuracy in the online descriptions isn't really helpful.
Aside from that, one of the key features with the Eero home WiFi system is the "pause the internet" feature. Within your app, you can create profiles for household users, and set time limits for specific users. For example, if you don't want your kids getting on their devices right when they come home from school, you can set a time when their internet pauses. Or, if you want to make sure you stay off of it a couple of hours before bed, you can do that, too.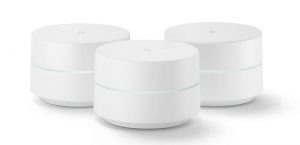 Google WiFi is another home WiFi system, and the name is pretty self-explanatory. It's made by Google to replace your current home WiFi system that's reliable and covers more ground. It's pretty easy to set up if you can follow basic instructions and have access to the mobile app.
Just like the Eero beacons, this system comes with Google pods to place around your home or to target dead zones. A standard pack on Amazon comes with 3 of them. Each of these pods will cover up to 1,500 sq. ft. of space, so the three pack should be plenty, but who knows, you may even be able to get away with just 2.
For this WiFi system, the app is really the hub to control everything. From pausing the internet for different users, to setting up and sharing a guest network password with visitors, and so on, you get a lot of customization with Google WiFi.
Eero Vs Google Wifi Comparison
Both of these WiFi systems are going to be great choices for your household. They're both quality products that have been tested and have received awesome ratings among users.
Special Features
As far as bells and whistles go, this is where the eero really shines. With parental controls, built in adjustable nightlights on all beacons, guest WiFi, and more. If you like extras, and don't mind the cost, then this may be the perfect option for you.
While Google WiFi doesn't have a fancy built-in nightlight, I wouldn't call it bare-bones. This system also has parental controls, and a guest network as well. As we mentioned earlier, it is a bit cheaper and easier to gauge how many you'll need, though.
Eero Vs Google Wifi Best Home Wifi System Comparison Verdict
Because these are both great systems, we can't really say one is better than the other here. It all comes down to what you and your household is looking for in a new home WiFi system. We recommend weighing both of these options according to your priorities (sticking to a budget, special features, etc), and then going from there. Either way, we're pretty confident that you're going to enjoy both of these systems just as much as we do.
If you have experience with either of these products, be sure to tell us about it in the comments!

* If you buy through links on our site, we may earn an affiliate commission. For more details, please visit our Privacy policy page.