Are you looking for a new home WiFi system? If you are, you've come to the right place. Home WiFi is different than it once was, and new ways call for new systems. Today, we're going to talk about two of our favorite current systems for WiFi, which are the Linksys Velop and Google WiFi. They're both pretty awesome in their own right, but if you're trying to decide between the two for your own household, this article is for you.
* If you buy through links on our site, we may earn an affiliate commission. For more details, please visit our Privacy policy page.
I like to refer to the Linksys Velops as towers. These vertical rectangles are actually pretty powerful, and a great way to get better internet access within your home. Because you're going to need more than one of these (more on that later), you can strategically place them in areas where your internet connection is typically very weak or borderline non-existent. This will instantly boost your internet in both those areas, and everywhere around your house. Setting it up isn't complicated either. Once you receive them, you'll just have to follow a few simple steps.
Before purchasing, you'll need to figure out how many to order for a home your size. Today, we're going by Amazon's choice, which includes 3 Velop towers, which are said to cover up to 6,000 sq. ft. of space. If you think this is far too much, you can buy the 2 pack or even the single.
Buy it now: Amazon
Special Features
The Linksys Velop comes equipped with some awesome special features. There's guest network capabilities, parental controls to limit usage from specific devices, and possibly our favorite: Alexa integration. If you have Amazon Alexa, you can set up your Velop system to work with it, and control it all with just your voice.
For this 3 pack recommended as Amazon's Choice, the price is $500.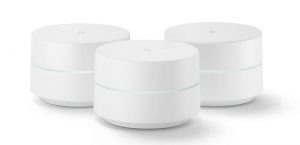 Google WiFi is another option, equally as efficient as the Velop by Linksys. If you have problems with dead zones or buffering, these are intended to do away with those completely by bringing a stable network connection to your home. These are significantly smaller than the Velop towers, but are just as good. Again, setup process is simple and really easy to follow, which we really appreciate, as we're sure everyone will.
As for coverage, each pod is going to cover up to 1,500 sq. ft. of space. The standard pack sold on Amazon comes with 3, and we think that's a great place to start with these, just because you can, as we mentioned previously, target specific areas in your household that have internet issues. So if you do decide to go with the pack of 3, it should cover any home up to 4,500 sq. ft.
Buy it now: Amazon
Special Features
For Google WiFi, the special features include family controls and guest WiFi. But one of our favorites is the Network Assist, which will constantly be managing your network behind the scenes to ensure that you have the fastest possible connection 24/7. You can also control everything right within the app, which really streamlines it all.
The price for this 3 pack is typically going to be $300, but right now (and from time to time) Amazon runs different sales to knock the price down a bit.
Comparison
When deciding which one of these would be best for you to invest in, just know that they're both great, and we're pretty sure you won't be disappointed with either of them. They're very similar in how they're set up, how they run, overall efficiency, and even the special features. The biggest factor is the variance in price. With the Velop system, you'll pay $500 for 6,000 square feet worth of coverage, and with Google WiFi, $300 will get you 4,500 sq. ft. Other than that, the other major difference is that the Velop system works in tandem with Amazon Alexa, so if you use that frequently, it might be fun to have that feature.
Verdict
Whichever home WiFi system you decide on, we're pretty sure you're going to love this newer, more reliable way to get internet within your home. Better connections, here we come!
Have you used either of these systems? Be sure to tell us about your experience in the comments.
* If you buy through links on our site, we may earn an affiliate commission. For more details, please visit our Privacy policy page.