Home WiFi systems have come a long way over the past 30 years, and this new way to get the internet is better than ever. If you're tired of specific dead zones in your home, or you need something far more powerful for how much your household uses the internet, we highly recommend looking into one of the new systems.
---
At A Glance:

Netgear Orbi Vs Eero Best Home WiFi System 2020
---
* If you buy through links on our site, we may earn an affiliate commission. For more details, please visit our Privacy policy page.
Today, we're comparing two of our favorites. The Eero, and the Orbi by Netgear. They're both fantastic systems, but have some different features and varieties to look into. Here's our take:
Netgear Orbi Vs Eero Best Home WiFi System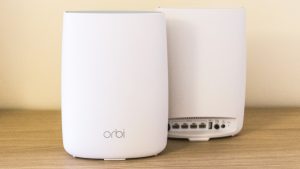 If you're looking for internet that's fast, reliable, and easy to set up, you'll need to look no further than Netgear's Orbi. The Orbi is a pod of sorts equipped to bring the internet to your home and your whole home. Yes, that even includes your attic, basement, and typical dead zones (which in my house happens to be the dining room—you know where yours are). Setting up your Orbi pods is going to be easy, too. By following some simple instructions, you'll be back on the network in no time.
What is very typical of these systems is that you'll need more than one, and it'll be pretty standard that they come that way. For example, Amazon's choice listing of these Orbi pods by Netgear is a 2-pack. Because they seamlessly connect, it's not a hassle to add more if you need them, but that brings us to the questions, how many will you need exactly? With this particular package (Amazon's choice), you're going to get up to 5,000 square feet worth of coverage. If you think your home will need more than that, you can purchase the wall plug add on (adds up to 1,500 sq. ft.), or another pod (which adds up to 2,500 extra sq. ft).
Special Features
With Orbi, you'll be able to establish a guest network specifically for friends and family who visit your home. This network is secure while ensuring everyone that needs internet access has it. Another neat feature is the tri-band technology it utilizes, which provides a seamless connection to every user, even as more people come online. While a lot of internet systems will begin to trip or stutter with more users, this technology protects against that by amplifying the connection.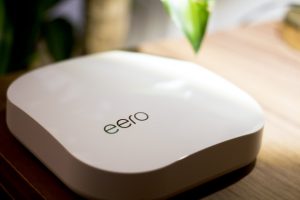 Eero is another home WiFi system built with seamlessness in mind, to provide users with the internet, that they won't feel frustrated with any longer. This system should cover all of the dead zones within your home as well, and setting up Eero is simple, too. All you'll need is your Eero, and the iOS or Android app on your mobile device. Yep, that's right. There's no need to have a guy come out to your house or spend hours on the phone with tech support. If that's not fantastic all on its own, I'm not sure what it is.
Just like the Orbi, chances are you're going to need more than one of these Eeros. Unfortunately, this is where you're going to have to do a bit more research because the coverage of these is not extremely clear. You'll need the Eero itself, and then some of the Eero "beacons" to add on to it. Amazon's choice for Eero comes with said Eero, and then 2 additional beacons. Supposedly, this should be sufficient for a 2 – 4 bedroom home, but that's not clear.
Special Features
Similar to Orbi, you'll be able to set up an independent, secured guest network for people visiting your home. There are also parental controls so that you can pause the internet for your kids or specific users at different times during the day or night, examples being after school or perhaps bedtime. Another neat feature on the individual beacons (which plug into a wall outlet), is the built-in LED nightlights. These lights auto-adjust to light and darkness, so they're not on during the day, or you can adjust the brightness and timing from the app on your mobile device.
Netgear Orbi Vs Eero Comparison
In general comparison, neither of these is necessarily better than the other. You're going to want to dive into more in-depth research for how many Eeros you may need, but the system itself is just as smooth and reliable as Netgear's Orbi WiFi system. They both have neat qualities and features to bring a fantastic internet experience to your home.
The one thing we would say about the price comparison, again, is dependent on how many Eeros a home your size will require. At first glance, both of these systems are the same price. But with the Orbi, you're guaranteed up to 5,000 sq. Ft. of coverage, whereas for the same amount of coverage from the Eero, you may need more on the package from Amazon. We encourage you to really look into that before buying, but the system has just as many good qualities as the Orbi.
Netgear Orbi Vs Eero Best Home WiFi System Verdict
Whichever system you decide to go with, we hope it brings your old network connection back with new life, ready to tackle whatever your household brings to it. You can't go wrong with either of these systems and if you do decide to go with one, be sure to tell us about your experience with it in the comments.

* If you buy through links on our site, we may earn an affiliate commission. For more details, please visit our Privacy policy page.