Today we're going to compare two of the best home WiFi systems for 2018. Although they both exist as a way for households to achieve more efficient internet, both systems are unique in their own right and are going to have different pros and cons. Today, we're going to tackle those so that you can find the best home WiFi system for your household and your wallet.
| Product | Brand | Name | Price |
| --- | --- | --- | --- |
| | NETGEAR | NETGEAR Orbi Home Mesh WiFi System | 3-Pack Wall-Plug Version (RBK33) | Check Price on Amazon |
| | Linksys | Linksys Velop AC2200 Tri-Band Whole Home WiFi Intelligent Mesh System | Check Price on Amazon |
* If you buy through links on our site, we may earn an affiliate commission. For more details, please visit our Privacy policy page.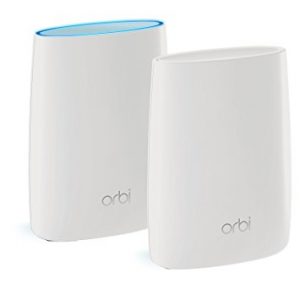 The Orbi system created by NetGear is designed to bring fast, efficient WiFi to your home or office. The Orbi is a pod of sorts that you're going to strategically place in your home and set up for internet access. The setup process is straightforward, because you don't have to create a special account or anything like that. Once you receive your pods, you'll plug them in and follow the steps on your computer or mobile device to connect. It's as simple as that.
Depending on the size of your home, you will need more or less Orbi pods, because they'll need to be placed near-dead zones or places where the first one might not reach. The standard pack comes with 2 Orbi pods, boasting that they will cover up to 5,000 square feet of space. Add on Orbi pods are available for either 1,500 square foot coverage or 2,500 square foot coverage, depending on what you need.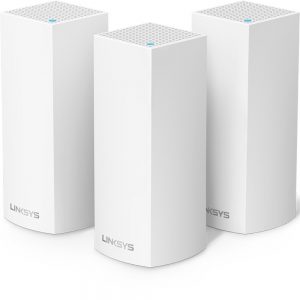 The Linksys Velop is another home WiFi system that's built to provide you with a smooth, stable internet connection, no matter where you are in the house, including your attic or basement. Instead of pods, I think these would be more accurately described as towers. With the mobile app, you'll be able to control your WiFi system from anywhere, whether you're there or not.
Amazon's Choice for the Linksys Velop is the standard 3 pack, but this is going to cover up to 6,000 sq. Ft. of space, so if you don't need that much, you can certainly buy a single Velop or purchase the two pack. This system can also be linked to your Amazon Alexa, and then controlled from there. An example would be, "Hey Alexa, ask Linksys to ___."
Another neat feature with the Velop is the parental controls. You can block specific devices from using the connection, put restrictions on particular websites, and even set time limits, all from the Linksys app.
Comparison
Both the Orbi and the Velop are great options if you're looking for a new home WiFi system, but there are definitely some differences you're going to want to note.
The first of those is the square foot coverage. With the Orbi, you're going to run 2,500 square feet per pod. This is great because the average homeowner is not going to need more than 2. The Velop, on the other hand, only boasts of covering 2,000 square feet per tower. While again, most people could probably get away with two, I think that most buyers are looking for a little extra wiggle room just in case these don't deliver as much as they say, or if they want to target particular dead zones within their homes.
Price
And with that comes the price. Right now, at least, you can get the starter pack of two Orbi pods on Amazon for a fair price, which is a steal compared to the pricier Velop starter pack. While the Velop pack comes with three, it's a bit of a trade-off because of the lesser square foot coverage.
Buy it now: Amazon (Orbi)
Buy it now: Amazon (Velop)
Special Features
The Velop doesn't have a higher price for no reason, though. With the Linksys Velop system, you're going to have access to a lot of neat features. From the mobile app to parental controls, guest networks, and Alexa integration, this system delivers more than just internet.
The Orbi pods, although great in a lot of ways, don't offer many, if any, extra features besides the separate guest Network. If you're looking for something simple that will do the job, this may be perfect for you, whereas the Velop has a plethora of options for users.
Verdict
Both Netgear's Orbi system and Linksys' Velop system are awesome options for new home WiFi systems. You can't go wrong with either, because they're both fast and efficient. So, in the end, it comes down to area coverage, price, and features. Once you've decided what is most important to you and your household in a WiFi system, you can get to pick out the one that's best for you.
Do you have experience with either of these systems? We'd love to hear about it in the comments.
| Product | Brand | Name | Price |
| --- | --- | --- | --- |
| | NETGEAR | NETGEAR Orbi Home Mesh WiFi System | 3-Pack Wall-Plug Version (RBK33) | Check Price on Amazon |
| | Linksys | Linksys Velop AC2200 Tri-Band Whole Home WiFi Intelligent Mesh System | Check Price on Amazon |
* If you buy through links on our site, we may earn an affiliate commission. For more details, please visit our Privacy policy page.