In this post, we will show you how to fix the Destiny 2 FPS drops that seem to be bugging some gamers who downloaded the game from Steam. Such a problem can be due to an unstable connection, or it can be a sign of a serious hardware issue. Continue reading to learn more.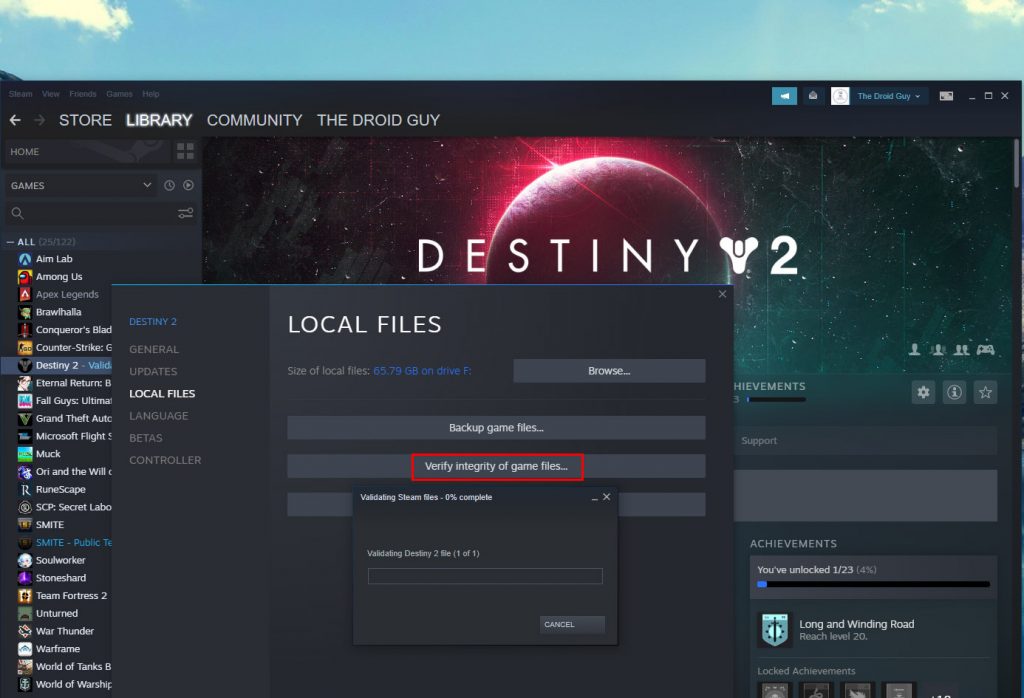 Issues like FPS drops, stuttering and lagging are among the most common performance-related problems you may encounter if you're a PC gamer. Sometimes it's just due to a minor glitch in the game itself, but there are times when it's also a result of a hardware problem.
The drop in FPS will always result in stuttering and while you may still be able to continue gaming, you just can't enjoy it, especially if you're playing a shooter game. That's why you need to troubleshoot your phone as soon as you notice that the graphics aren't as smooth as they should be.
If you're one of the gamers with FPS drop issues while gaming Destiny 2, then here are the things you should do:
Fix #1: Force stop Destiny 2 and reopen it
Before anything else, you have to make sure that the FPS drops aren't due to a minor technical issue with the game. So try force stopping it first, and then reopen it to see if the drops won't occur anymore. Here's how it's done:
Press the CTRL, ALT and Delete keys at the same time.
Click Task manager.
Look for Destiny 2, click on it and then click the End task button at the lower-left corner of the window.
After that, reopen the game and see if the problem is fixed.
Fix #2: Make sure you have a stable Internet connection
The FPS drop and stuttering can also be due to an unstable or slow Internet connection. After doing the first solution and Destiny 2 continues to have the problem, then make sure to check your Internet connection.
To do so, log on to SpeedTest.net.
Click Go and wait until the test is finished.
Compare the results to your plan. If the Download and Upload speeds are way lower than what you're supposed to be getting, then try rebooting your router or modem. You may also call your Internet Service Provider if the problem persists.
Fix #3: Try updating your graphics card driver
There are also times when an obsolete graphics card driver will cause problems like this. So after doing the previous solutions and the issue continues, make sure that the drivers on your PC are all updated. Here's how you update your GPU driver:
Click the Start icon, type "file explorer" and click the File Explorer app.
On the left panel, right-click on This PC and click Properties.
Click Device Manager.
Expand Display adapters, right-click on your GPU and click Update driver.
Click Search automatically for drivers, and wait until your PC finishes the update.
After doing that, try to see if the problem is fixed.
Fix #4: Delete the game's cache
Corrupted game cache will also result in performance issues. That might be the reason why Destiny 2 has FPS drops. So what you have to do next is to delete its old cache so that it will be replaced with a new one. Here's how you do that:
Press the Windows and R keys on your keyboard.
Type %appdata% and click OK.
Look for the Bungie folder and double-click it.
Now look for the DestinyPC folder and delete it.
Most of the time, this will fix minor gaming issues, so try running Destiny 2 and see if the problem is fixed.
Fix #5: Verify the integrity of the game files
Lastly, if all else fails, then you have to let the Steam client fix the problem for you. As long as it's not due to a hardware or connection problem, you should be able to fix it using the client. You simply have to verify the integrity of the game files and the Steam client will fix any issue it can find during the scan. Here's how you initialize it:
Launch the Steam client.
Navigate to the Library tab, right-click on Destiny 2 and click Properties.
Navigate to Local Files and then click Verify integrity of game files.
Wait until the verification is finished.
That should take care of the Destiny 2 FPS drops and stuttering issues.
We hope that we've been able to help you.
Please support us by subscribing to our YouTube channel. Thanks for reading!
ALSO READ: