Do you want to know the best dark mode extensions for chrome? You might want to have a dark mode enabled for all the websites for several reasons such as you do not want bright colors in your browser. In this article we will be showing you the best dark mode extensions for chrome in 2023.
An extension for Chrome is a small piece of software that allows users to personalize web browsers. Browsers often make use of and support a wide range of extensions, including those that alter the user experience, control cookies, obstruct adverts, and add distinctive scripting and design to websites. Through the Chrome Web Store, these Chrome browser extensions can be downloaded.
Dark reader? Dark theme extensions for google chrome in 2023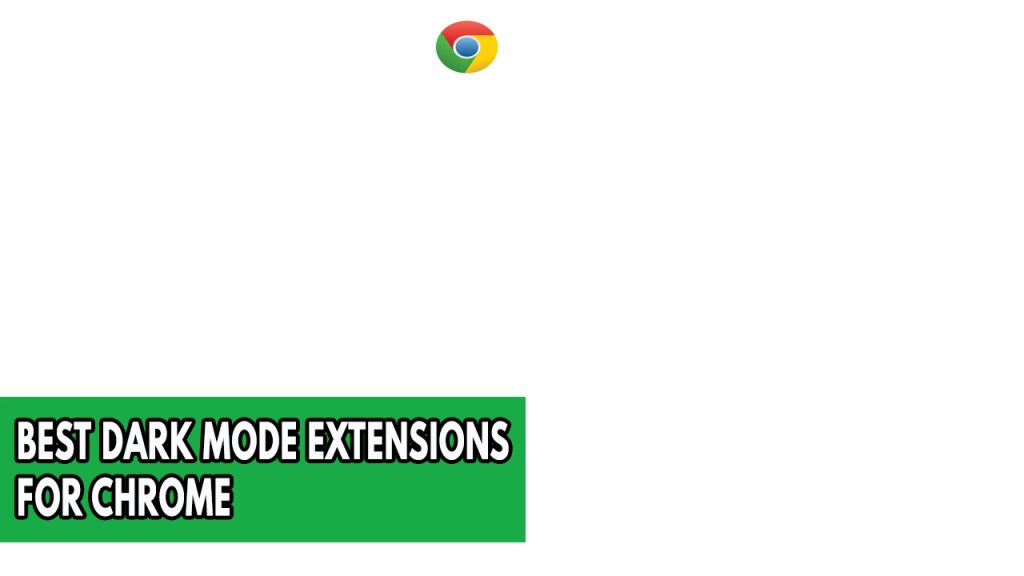 Chrome is one of the most popular browsers in recent times, millions use it on a daily basis and that's why we have to be on top with the best chrome setups for 2019. With these dark mode extensions, you can change the color scheme of your browser to black and white. Some people do not want bright colors in their browser because they think it is a distraction. By using dark mode extensions for chrome, the pages in the browser look even cooler than before.
Below our compiled list of the best dark mode extensions for chrome.
Dark Reader extension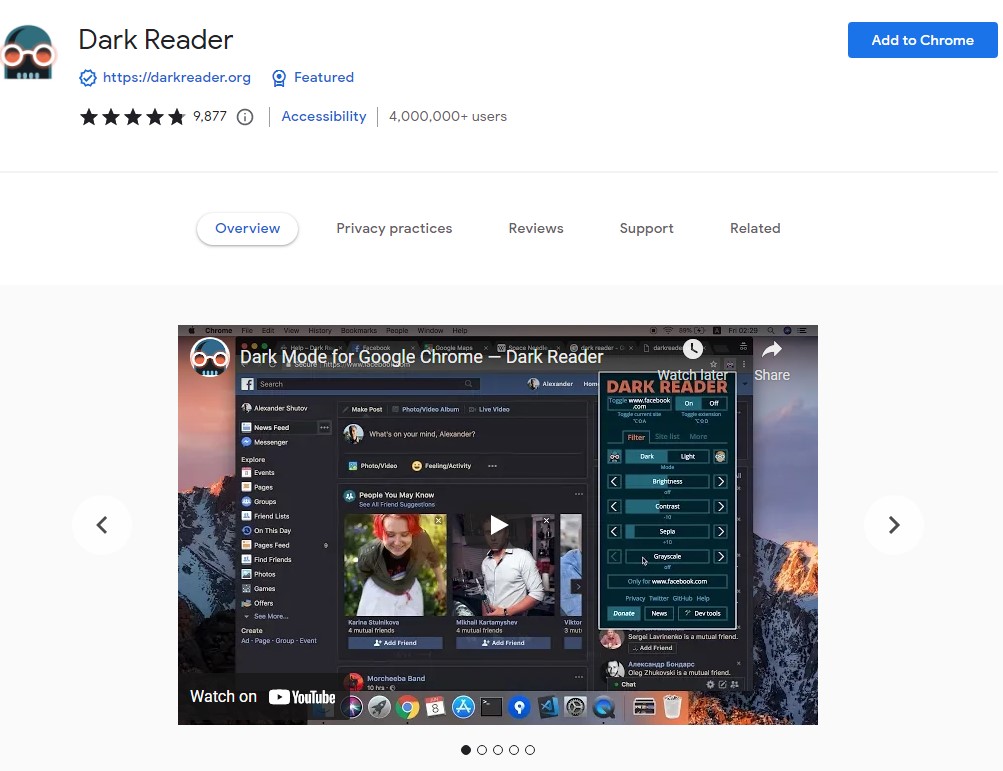 Dark Reader extensions is a dark mode for all the websites. Use a dark theme when browsing at night or during the day to protect your eyes.
Using an on-demand dark styles theme generator, this eye-care extensions for google chrome turns on night mode for web pages. Bright color are turned into high contrast, easy-to-read hues at night thanks to Dark Reader.
The font settings, ignore-list, sepia filter, contrast, brightness, and other parameters can all be changed.
The settings popup can display news about Dark Reader. For knowledgeable users, there are also Developer Tools.
Both ads and user data are not displayed by Dark Reader. It is totally open source and one of the best dark mode extensions for chrome that you can download.
The dark themes will instantly be applied to the open tabs after the extension has been installed. In addition to allowing you to disable the dark theme, the extension also allows you to modify the level of darkness. Both brightness and contrast can be changed. Even sepia and deep grayscale are options. You can even add websites to the whitelist and blacklist in addition.
Lunar Reader extension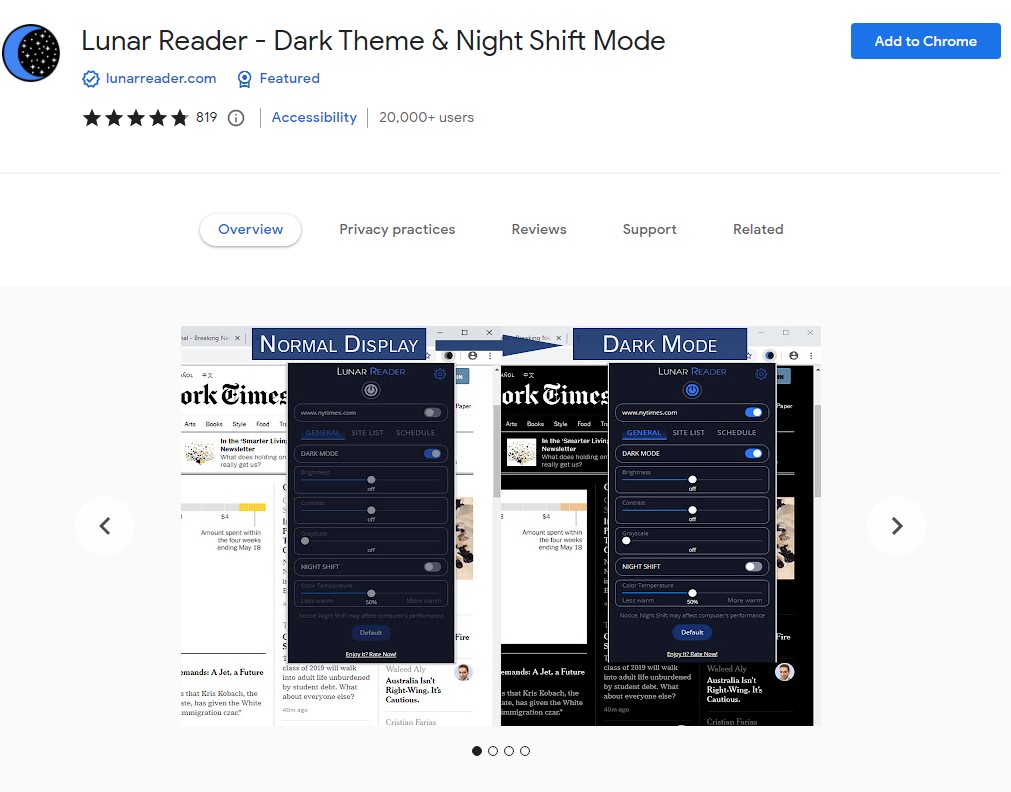 With Lunar Reader extensions for google chrome you will have dark theme and night shift feature for every web pages. The night shift feature will warm up the hue of the website, making it considerably more pleasant to view. You have the option to select either the night shift mode or the dark theme. Simple keyboard shortcuts can be used to easily activate these settings as well. Each dark theme and night shift mode can have a timetable set up, and you can choose when the dark theme should automatically activate.
Additionally, Luna Reader applies the dark theme to all webpages, both previously visited and new ones. Even while it appears to be natural on the majority of websites, there may be spots where the colors have been altered for certain objects.
The website's brightness, contrast, and grayscale can all be changed. You may also activate the night shift feature, which gives websites a yellow appearance. Blacklist, Whitelist, and the scheduling of the dark mode are additional features. This is also one of the best dark mode extensions for chrome.
Midnight Lizard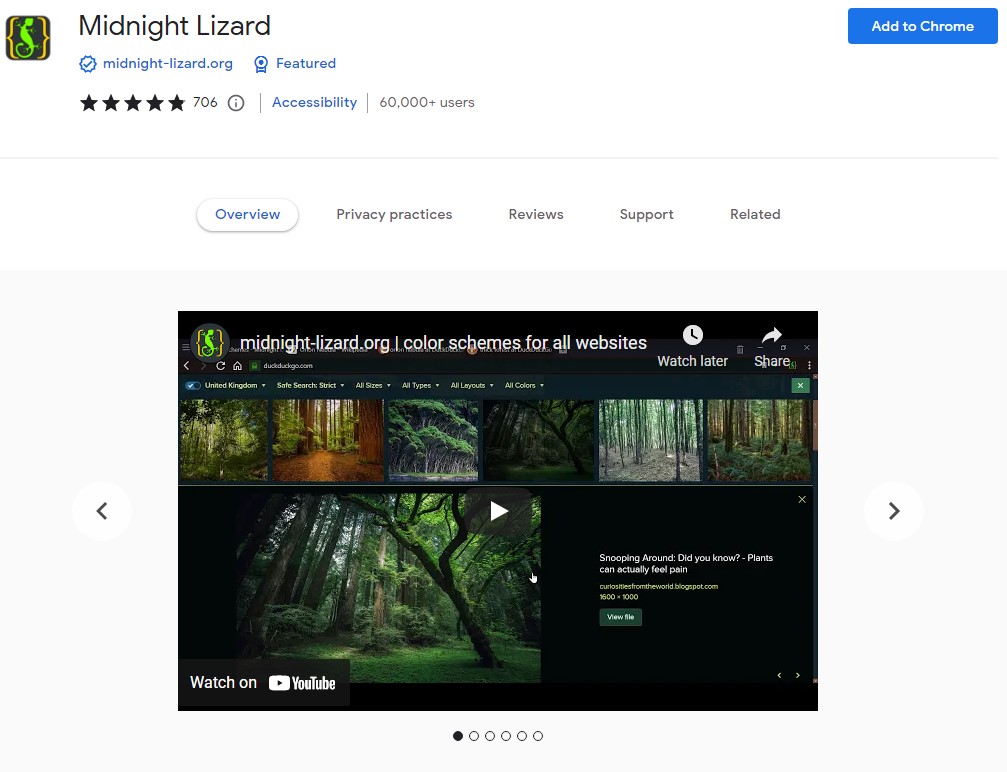 Custom color schemes for every website, including high contrast, grayscale, blue light filter, screen shader, night mode, and dark themes.
All websites can use the Midnight Lizard color schemes. Many predetermined color schemes are available, and you can install more at midnight-lizard.org.
Along with a variety of light and vibrant default color , Midnight Lizard also offers dark and night mode color , as well as the option to create your own.
You can pick from a variety of pre-established color or design your own using any colors you like.
For accessibility, there are many predetermined color you can pick from, or you can design your own by making the necessary adjustments.
You can set the time periods for automatic extension activation and deactivation.
All platforms that Firefox and Chromium-based browsers support are compatible with this extension.
Apply a blue light filter to protect your eyes at night to mimic patterns found in natural sunshine.
You need to test this extension if you're new to the dark mode and your eyes are still getting used to the darkness of websites. This is due to the fact that it has a variety of color in addition to the standard dark theme. Any of these might be chosen based on your requirements. Even the color can be changed.
Customization options include the ability to alter the colors of the background, text, links, borders, photos, and more. One of the best dark mode extensions for chrome that you can use.
Dark Night Mode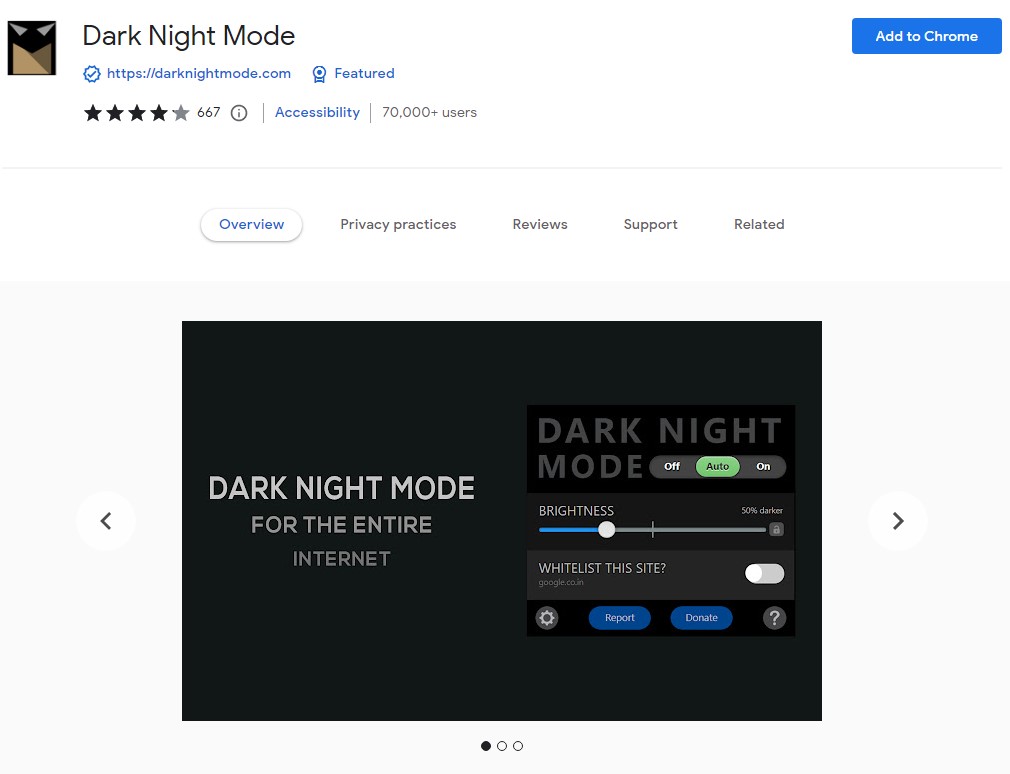 Dark night mode extensions for google is an open source software to force dark mode. The websites you visit are all made darker so you may browse without straining your eyes. For anyone who use the internet, especially at night, this Chrome extension is really helpful.
As you navigate, they instantly add dark mode to every website using a special algorithm. In essence, it intelligently identifies the color of each webpage element and changes it to a darker shade. The majority of the colors are kept by darkening bright color more intensely than dark hues. Contrary to other comparable extensions, they do not flip the colors, so webpages that are black will not turn white. The photos won't be warped either, which is an added bonus.
Dark night mode doesn't give many customization options, in contrast to other extensions. In this extension, you can simply change the brightness level when you apply dark mode.
It features an auto mode with adjustable timings in the extension settings. even add websites to your whitelist. Even though all the colors are clearly visible, there may be certain areas where the dark mode appears out of place.
Dark Mode – Night Eye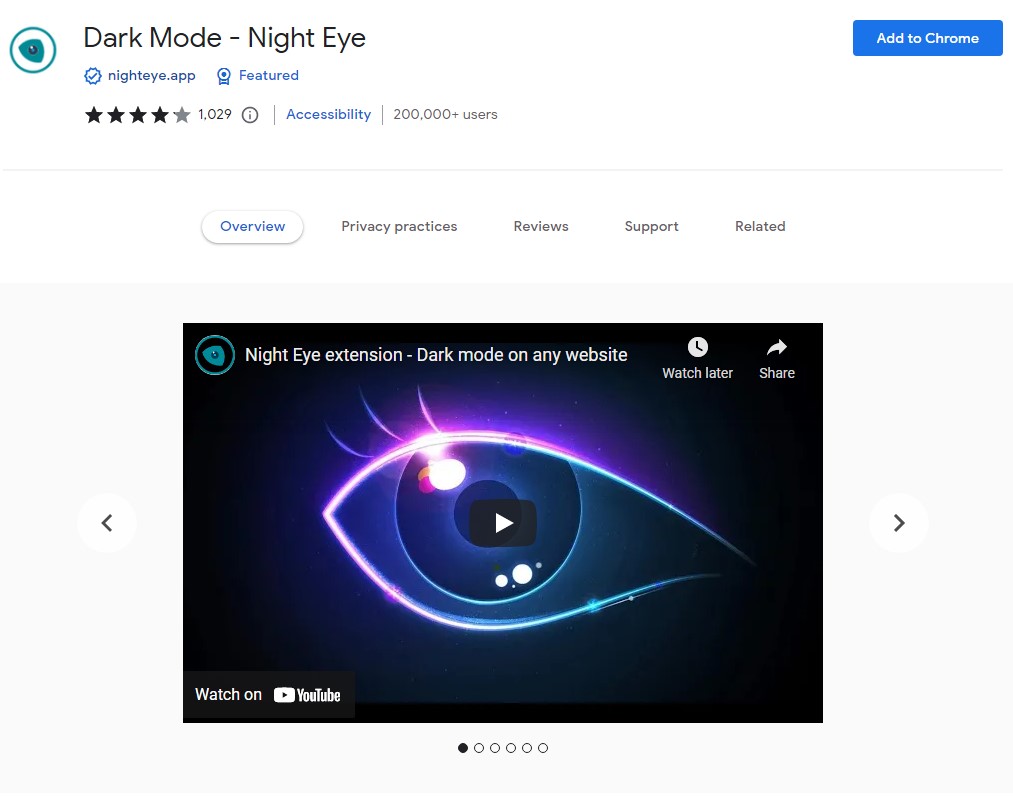 Change the settings for each webpage to dark or light mode as desired. Night Eye can help you take care of your eyes and prevent eye strain.
Nearly all websites have dark mode enabled by default, and Night Eye allows you to control the built-in dark themes on those that do.
This dark mode extension is the best option for your eyes because it is trusted by more than 300,000 users across all major browsers. Intelligent conversion, no advertisements, no data mining, and helpful assistance!
For the past three years, they have constantly updated the extensions on a monthly basis, and want to continue doing so for a very long time.
If the website already has a built-in dark theme, you may adjust it directly from this extension; if not such as google docs, will will convert the colors to give you a seamless and reliable dark mode when you enable dark theme.
This extension is another another well-regarded choice that might meet your needs. If you want to enhance it with new features, it even functions offline and has in-app purchases available.
A wide variety of devices work with the extension. Since it employs the unique algorithms of each website you visit rather than inverting colors like other night mode extensions, it operates somewhat differently from them. You will therefore have control over it if a website you've already opened supports a dark mode for its visitors. Among these websites are Reddit and YouTube.
Dark Mode extension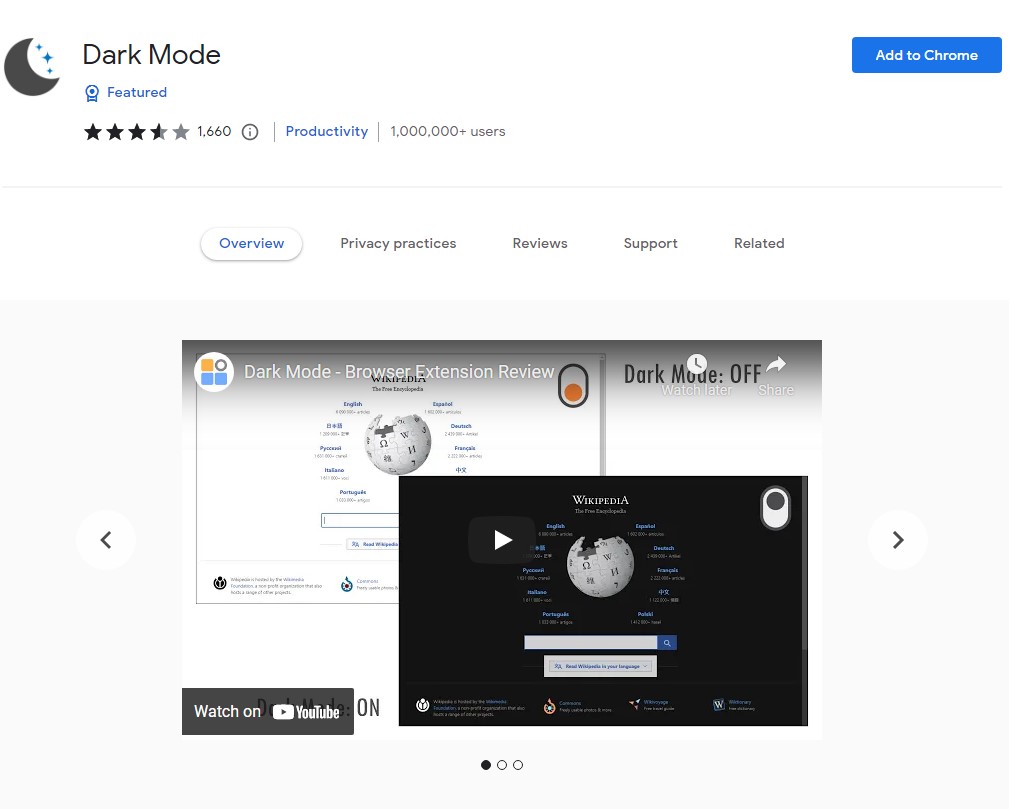 Dark mode extension is a Google Chrome dark mode extensions made for web pages. A Chrome browser extension that makes it easy to instantly make the screen (browser) black at night.
You may easily and fast turn the extension ON or OFF by using the ON|OFF switch provided by the toolbar button. Please visit the settings page and select a different theme from the more than 50 alternatives available if you do not like the current dark theme.
Additionally, you can use the white-list feature to prevent a particular domain from appearing in dark mode. Simply enter a domain (or domains) in the space provided (comma separated) on the settings page to exclude websites from night mode. As an alternative, you can exclude specific websites by using the context-menu option in mouse right-click.
Turn off the light extension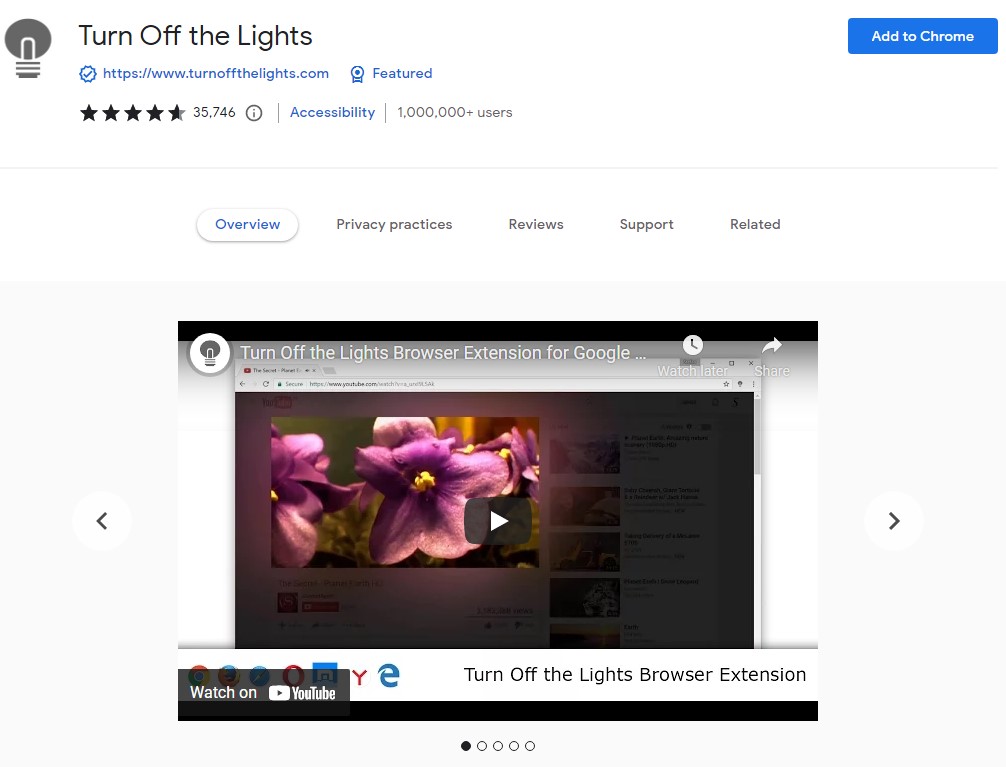 You can see the videos as though you were in a movie theater by allowing the entire page to gradually fade to black. Works for YouTube and other platforms.
The page will get dark with just one press of the lamp button. and instantly concentrate on the video. It can be clicked on once more to bring up the page's default state.
A small and practical add-on called Turn Off the Lights was created to make watching more relaxing. It functions for all popular video sites, including Youku, Vimeo, DailyMotion, Hulu, and Metacafe. Additionally, these extensions work with the web browsers Maxthon, Yandex, Microsoft Edge, Apple Safari, Mozilla Firefox, Opera, and Google Chrome.
Turn off the light extension enable dark backgrounds on websites. This dark mode extension can be a good option if all you're looking for is something video-related.
Enable dark mode extensions for google chrome incognito mode
All of the dark mode extensions that you install on Google Chrome are by default only compatible with normal browsing mode when you enable dark mode. However, some of them have options that allow you to use them in incognito mode as well to use the above extensions.
Enabling dark mode chrome extensions in incognito mode
Step 1: Click the three dot icon at the top of any window or tab in Chrome.
Step 2: Choose Settings.
Step 3: Click Extensions.
Step 4: In Incognito windows, locate the extension you want to allow.
Step 5: Under that extension, click Details.
Step 6: Turn on Allow in Incognito.
Frequently Asked Questions
How Do I Enable Dark Mode Extensions in Chrome?

Find a good dark mode extension in the Chrome web store.
Click the "Add to Chrome" button.
In any Chrome tab, click the "extensions" icon.
To activate Chrome dark mode, click on your extension.

Are dark mode extensions safe?

Yes, all of the extensions on our list are secure. Any extension that may be obtained on the Chrome web store is generally quite secure. Google would not permit consumers to download it if it weren't.

How do Dark mode extensions work?

Web-based technologies like HTML, JavaScript, and CSS are used to build extensions. They interact with the Chrome browser while operating in a distinct, sandboxed execution environment. By employing APIs to change browser behavior and access web content, extensions allow you to "extend" the browser.