After roughly 9 years of development, Cyberpunk 2077 has finally arrived. Unfortunately, the most anticipated AAA game for 2020 does not only come with minor bugs (at least for the last gen consoles) but also with major game-breaking glitches. The PS4 and Xbox One versions are so bad that CD Projekt Red never showed demos for them. All throughout the development period and just before the release, all trailers for the game shown are for the PC version. With such a sad state, the developer offered full Cyberpunk 2077 refunds. Learn what you need to do if you want to get your own refund below.
What's wrong with the game?
While the PC version of the game has largely been free of game-breaking bugs, it's a completely different story for the last gen versions (PlayStation 4 and Xbox One). I've played the game on both PC and PlayStation 4 versions and the latter is just an abysmal experience. It's no surprise that many PlayStation 4 gamers are demanding for full refunds.
I can't speak for Xbox One gamers but they too have more or less similar level of customer satisfaction.
How do you know if you can get a full refund?
CD Projekt Red, the game's developer, was the first to offer a full refund although the idea met resistance from Sony Interactive Entertainment and retailers. Eventually, Sony stopped selling the digital version of the and and confirmed that it can issue refunds for those who purchased Cyberpunk 2077 via its PlayStation Store.
Other retailers have followed suit so if you think that you are not getting your money's worth with this game, you can begin processing your refund request.
While a refund for all gamers may not be possible, a huge number of those who aren't satisfied, especially those players who purchased the Xbox One and PlayStation 4 game versions, may be prioritized.
If you are wondering whether or not you're qualified for a refund, continue reading below.
How to get refunds for Cyberpunk 2077 via PlayStation Store?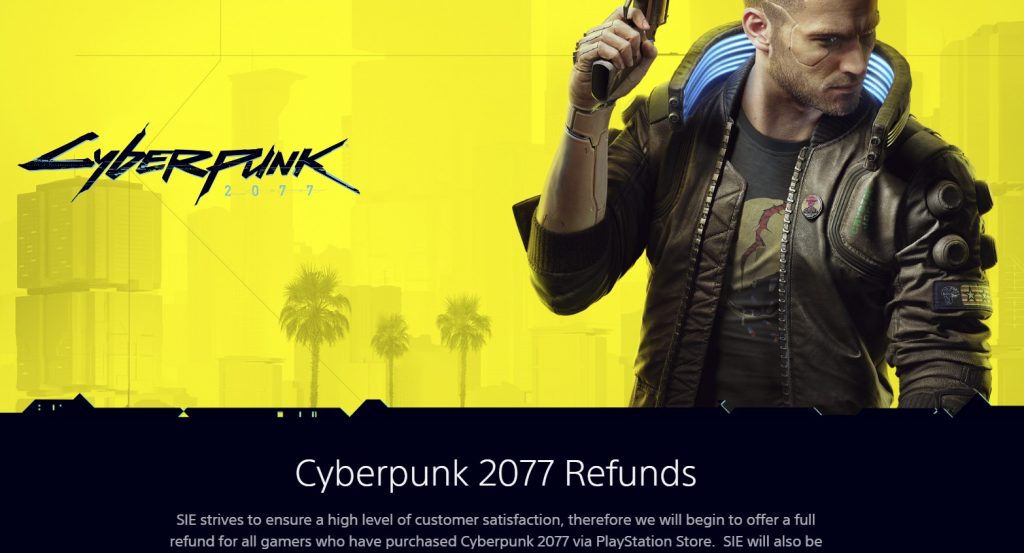 Sony had initially pushed back on the advice of developer CD Projekt Red for Cyberpunk 2077 refunds. After a bit of confusion and refusal to issue refunds, Sony announced that it's now open for refunds request. So, if you purchased Cyberpunk 2077 via PlayStation Store, you can visit the official PlayStation website to submit your request:
https://www.playstation.com/en-us/cyberpunk-2077-refunds/
At the time of this writing, Sony has also temporarily removed Cyberpunk 2077 from PlayStation Store "until further notice." This means that the game will surely become available again once CD Projekt Red sorts out the problems. There's no timetable yet when the PS4 digital version will return in the PS Store but I'm pretty sure not many gamers are excited to buy them anyway.
How to get refunds for Cyberpunk 2077 Xbox One version?
If you have the Xbox One, Xbox Series X, or Xbox Series S versions, you can visit the Xbox Store for your game refund:
https://support.xbox.com/en-US/help/subscriptions-billing/buy-games-apps/refund-orders
We're not getting many huge issues from Series X versions as the majority of the problems are specific to less powerful last gen consoles.
Bear in mind that Microsoft has a general policy regarding refunds that only items purchased within 14 days are eligible. Even if you submit for a request for refund, there's no guarantee that you'll actually receive it.
The turnaround time of the refund may also vary as it's based on your payment option in your account.
How do I get a refund if I bought Cyberpunk 2077 via Steam?
For gamers who have purchased Cyberpunk 2077 via Steam, there's also a 14-day refund policy that you need to mind. On top of that, you can only qualify for a full refund if you haven't played the said game for longer than two hours.
With the mess that game is into right now, Valve may give some leeways and may consider refund requests even if you are no longer eligible under the two stated conditions.
If you think that the game has serious performance issues, we suggest that you still attempt to get a refund anyhow.
Can you get a full refund for a physical copy of Cyberpunk 2077?
If you have the physical copy of the game, you'll have to go back to the retailer where you purchased it from. The way to get your refund may vary based on store policy. Stores like GameStop or Amazon have return policy of 30 days, which means that you can consider getting your money back as long as you return the item within their stated period.
Other interesting articles:
Visit our TheDroidGuy Youtube Channel for more troubleshooting videos and tutorials.