Emulation is a great tool that allows you to run something designed for one specific console on to another. So for example, in this case, today we're talking about and comparing 2 emulators that will allow you to play your Android games and run your Android mobile apps right on your desktop.
This is great for a couple of reasons. First, there's a lot of intense games for mobile! Clash of clans and similar games require a lot of thought (and battery life). They're really so big, that it would be amazing to play them right on your computer screen. This comes in handy for that, but also if you just use your computer more than your device, you can hook the emulator up to ensure you get notified about messages, so you don't have to be tied to your phone all day.
Two very popular Android/PC emulators right now are BlueStacks and Andy. They're both pretty amazing, so to help you narrow down which one you'd like to get, we're going to compare their features. So without further ado, here's our take.
Bluestacks
Bluestacks is an Android emulator for PC that has plenty to offer. After an easy download process, you can begin playing all of your favorite mobile games on the big screen: your PC! It's not only for games though, because you can also utilize other popular apps like Whatsapp, Viber, facebook Messenger, and more.
A common theme among many emulators is that they just tend to be a little on the slow side, and also a little sparse on the scale of graphics quality. You'll be pleased to hear, though, that this isn't the case with Bluestacks. Because of their signature "layercake" technology, you'll get access to all of your favorites, with fantastic quality graphics and smooth gameplay.
Get it here: Bluestacks
Andy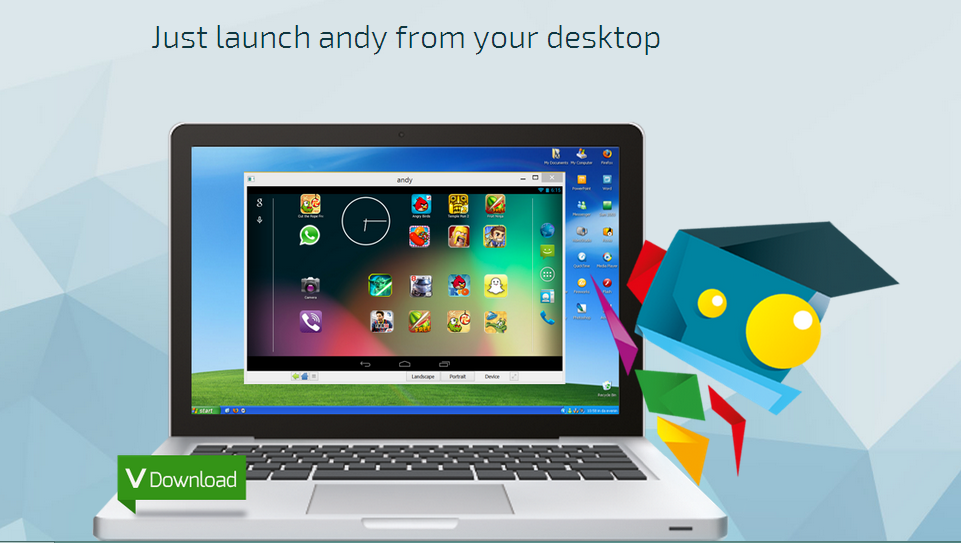 Andy is another great emulator. You can play all of your favorite games and access different apps, everything from Clash of Clans all the way to facebook or your messages. But the neat thing about this particular emulator is that you can really use your phone in tandem if you so choose. For example, you can convert your phone to an external controller, use it for cloud storage, and more. There's also sensor, camera, and microphone integration, designed for an unforgettable gaming experience.
One of the neat things about Andy is that your games and apps will sync with your Google account. So if you're playing on your computer and need to get to work, you can pick back up during your lunch hour on your phone. The seamlessness of it all is truly amazing, so you can just keep advancing in levels, whether you have an hour or just a few minutes here and there throughout your day.
Get it here: Andy
Comparison
Both Bluestacks and Andy are awesome emulators, and we're pretty sure you'll love whichever one you decide to get. The free programs themselves don't have a whole lot of differences, as they both will support Android games and similar apps. But they do have their differences in other areas, believe it or not, so we're going to go ahead and share those with you.
The major difference between Bluestacks and Andy is Enterprise. While you can download both Bluestacks and Andy for free for personal use, they both offer Enterprise options, which you'll have to pay for, because it is a license.
Andy is very up-front with the cost of their Enterprise option. You can either pay $12 a month, or pre-purchase for the entire year at just $99. If you do this, you'll be able to play on several different computers, get access to premium support (hello help from developers!), receive early access to new releases, and more. It's really a great offer, and you know what you're getting in to up front.
Bluestacks, on the other hand, is not so clear about how their Enterprise program works, although they do say it will remove their ads from the emulator. Their Enterprise program is more geared toward specifically being used in a commercial environment, so there's more hoops you have to jump through. And when I say hoops, I mean creating an account with them, giving them your business information, contract agreement, and so on. While Andy's Enterprise program is designed simply, for either standard users or commercial users (because both can benefit from the features), Bluestacks' Enterprise program really is only for commercial users.
When it comes down to it, we really recommend that you delve even deeper and check out what interface you'd prefer, and more nitty gritty details. As we previously mentioned, both emulators are going to run the same games and other apps, but what kind of experience are you looking for? If you're willing to pay a few bucks each month, Andy's Enterprise program promises a lot, even if you're not a business looking to use their program.
Verdict
You can't go wrong with either of these great emulators. If you truly just can't decide, we recommend trying them out. Yes, both! Because the basic versions are entirely free, you've got nothing to lose in taking each for a spin. And when you do pick one, be sure to tell us all about it in the comments section. We'd love to hear your thoughts on the program!