Many smartwatches are becoming independent in that they don't need to hook up to a phone's Bluetooth signal in order to work properly. However many smartwatches still use Bluetooth connectivity, and many people use these smartwatches for sporting activities. There's also an insurmountable amount of smartwatches to choose from. Follow along below and we'll not only show you the Best Bluetooth smartwatches on the market right now (from cheap to high-end), but we'll also show you the options equipped with heart rate monitors, as this will give you a much more accurate view of how intense your workout was.

---
At A Glance:

5 Best Bluetooth Smartwatches With Heart Monitoring in 2022
---
* If you buy through links on our site, we may earn an affiliate commission. For more details, please visit our Privacy policy page.
Best Bluetooth Smartwatches With Heart Monitoring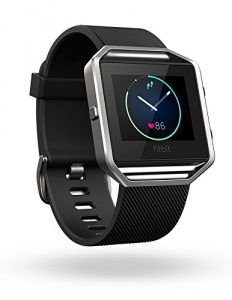 1. Fitbit Blaze
If you're looking for a top-of-the-line smartwatch to achieve not only your fitness goals, but a device that can accommodate everyday life as well, the Fitbit Blaze is a must have. It's equipped with an impressive state-of-the-art heart rate monitor, not only allowing you to check up on your regular heart rate, but also to see different heart rate zones for the different levels of intensity throughout your workout.
A neat feature that fitness enthusiasts will love is multi-sport tracking. You can track runs, cross-training, biking and many other types of cardio workouts. It's also got a GPS so that you can map your routes on whatever workout you're currently tracking. In addition, this enables it to show you statistics on your pace as well as the duration of your workout and so much more.
Buy on Amazon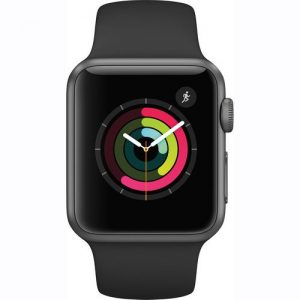 2. Apple Watch Series 1
Apple has released upgraded versions of its Apple Watch over the years, with the latest one being the Watch Series 3. There's been very minimal improvements, meaning that Watch Series 1 still functions as an excellent Bluetooth smartwatch still, and for a whole lot cheaper since there are newer versions out.
The great thing about the Apple Watch is that, much like the Huawei Watch 2, it looks professional, but you still get Apple's suite of fitness features–heart monitoring, tracking different types of exercises, tracking your pace, calories burned, etc.
On top of all that, you get an expansive suite of apps to use as well–Twitter, Facebook, WhatsApp, Uber, Evernote, TripAdvisor and so much more. While the Apple Watch only works with iPhone (for the time being), since newer versions of the Apple Watch has come out, this has become a whole lot cheaper to get your hands on. Check it for yourself at the link below.
Buy on Amazon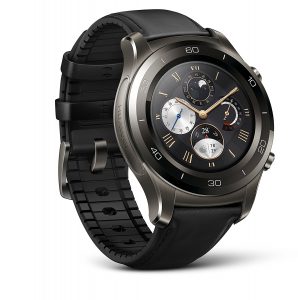 3. Huawei Watch 2
Not into the many fitness-style smartwatches out there? Or, maybe you're looking for something that fits more into a professional setting while still offering the benefits of fitness-related features, such as heart-rate monitoring. In that case, the Huawei Watch 2 is the perfect option. Equipped with Android Wear 2.0, the Huawei Watch 2 will give you access to all of your favorite apps–social media or fitness related–while giving you a classy look.
The Huawei Watch 2 has a lot of great benefits–changeable straps, a built-in GPS, heart rate monitoring, the ability to listen to music offline independent of your smartphone, long battery life, and of course, the bevy of fitness options we mentioned earlier. The only thing this smartwatch doesn't have is sleep tracking, which isn't a huge issue with all of the value you're getting instead.
Buy on Amazon
4. SEPVER GW01 Smartwatch
The GW01 from SEPVER is a little known smartwatch, but is a feature-rich device to the likes that you haven't seen before in such an affordable package. In the GW01, you get multiple functions–making calls, answering calls, push messages, a heart rate monitor, pedometer, sleep monitor (if you so choose to wear it to bed) and more. You can also access all of your favorite apps with it–Facebook, Twitter and WhatsApp just to name a few.
The GW01 also has a nice looking 1.33-inch round IPS 240×240 HD screen and is equipped with a low-power processor, which performs well, but also makes battery life a priority. The smartwatch works with both Android and iOS.
5. Willful SW018
If you're looking for something a little less stylish, but more sporty, the Willful SW018 won't let you down. Compatible with Android and iOS, this watch can be taken in almost any environment with its IP68 Waterproof rating. Whether you're on a run or are wanting to track your swimming activities, the SW018 will continue to do just that even in these adverse conditions that might seem dangerous for most technology.
It has a scratch-resistant HD screen–perfect for outdoor activities. And, of course, it has all the sensors that you might expect a smartwatch to have–heart rate monitor, pedometer, sleep monitor and more. You can use various apps with it and even get push SMS messages with the Bluetooth connection.
Finally, it has a decent sized 360mAh battery. If you use it regularly all day, battery should last you until the end of day, but with infrequent use, you should be able to get 7 days out of a single charge, according to the manufacturer.
Best Bluetooth Smartwatches With Heart Monitoring Our Take
All of the smartwatches on this list are made of quality while being affordable. Any one of these would make a perfect gift for this upcoming holiday season, whether you're shopping for the outdoorsman or a professional. The Apple Watch, Huawei Watch 2 and Fitbit Blaze might be a little pricey, but the quality that bring is insurmountable. But, if you need a more affordable option, the Willful SW018 and SEPVER GW01 aren't bad choices either.

* If you buy through links on our site, we may earn an affiliate commission. For more details, please visit our Privacy policy page.