Many people have entered the competitive shooting scene as a result of the rise of competitive fps shooters. Most players nowadays overlook the effectiveness of employing aim trainers to potentially boost their chances of winning in any FPS competitive game, whether they're just having fun or trying to climb the ranks. Some FPS games include a shooting range where you may perfect your weapon accuracy, but how do they track your aim and have detailed statistics? In this article we will give the best aim trainer.
A first-person shooter is a genre of shooter game in which the player sees the action through the character's eyes. The protagonist's arms are frequently seen at the bottom of the screen, holding a weapon. Valorant, Call of Duty, and Halo are just a few of the top games in this genre. They are distinct from third-person shooters in that the player can see the character they are controlling in a third-person shooter. Combat, typically using firearms, is the primary design focus.
FPS aim trainers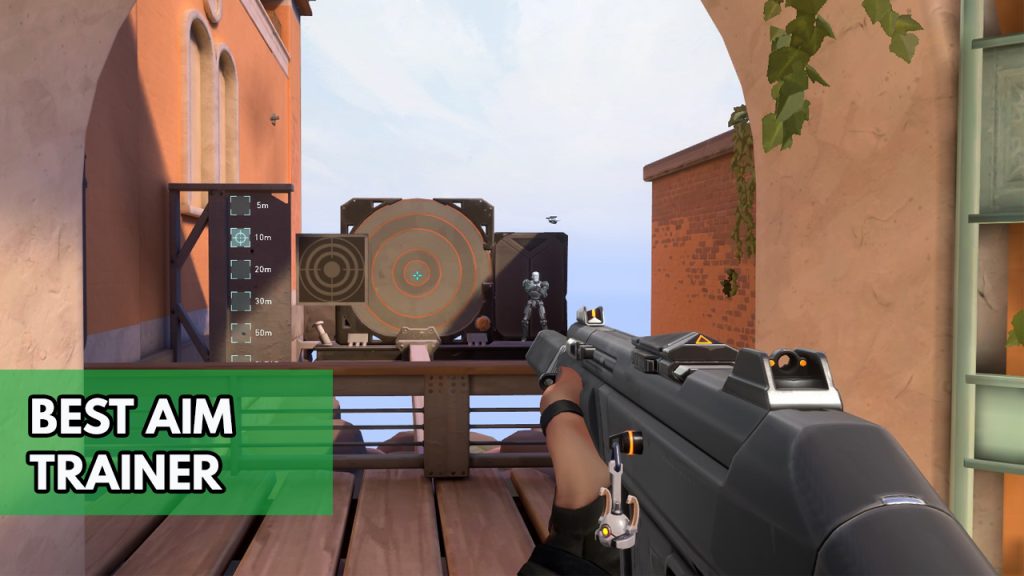 Whether you're playing tactical shooters or battle royales, having decent aim and FPS skills is always important if you want to advance in the game. While shooter games need you to learn other fundamentals, you can only go so far without practicing your aim.
A training range is included in most games to allow players to perfect their skills, but it's only the beginning. Training ranges also require you to have a computer with you at all times that can run your game, which may not be possible for traveling players. The aim trainers come in handy here because you don't need a gaming PC to use most aim trainers, and some are even browser-based. These aim trainer include routines and training courses aimed at increasing aiming skills such as tracking, accuracy, reflex training, muscle memory and reaction time. You may even find other aim trainers that have game modes for specific games, which makes them even better because they'll be more identical to the game you want to improve your aim.
Below are the best aim trainers to use for first person shooters.
1.) Aim Lab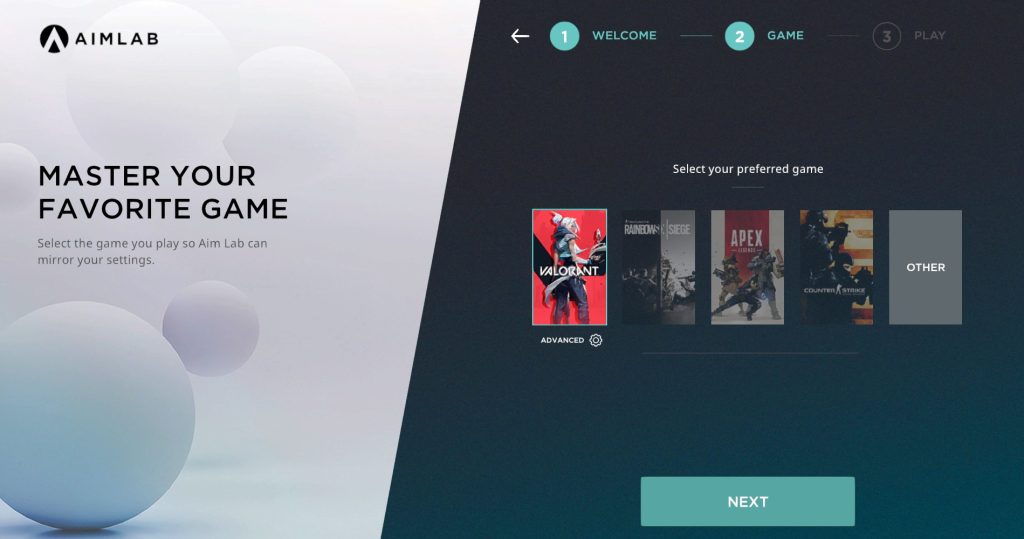 Aim Lab is a free aim trainer on Steam and of the best aim trainers available with over 20 million gamers, from newbies to esports pros, use Aim Lab as their primary aim trainer. For every FPS/TPS game, our unique aim analysis optimizes your gameplay, targets your weaknesses, and builds essential skills, all for free! Warm up with our limitless situations and gain in-game rank.
On Steam, Aim Labs is available in Early Access. They are fully aware, as a small crew of lifelong gamers, that many of the best ideas come directly from the community. They've prioritized community feedback from the beginning and used it to rapidly enhance Aim Lab. They are eager to continue to grow alongside a broader community by exposing their beta program to additional users through Early Access.
It even comes with pre-made playlists for Valorant, Rainbow Six Siege, Apex Legends, and CS:GO so you can start practicing your aim right away.
The workshop allows you to experiment with various scenarios and tweaks to improve your training experience. You can also add an Apex Legends or Valorant weapon skin to inspire you to improve your aim.
This free-to-play aim trainer also keeps you updated on recommended courses to try after you've completed a training course.
Each course also provides a wealth of training data, allowing you to identify which weaknesses to address and serving as a wonderful motivator for uncovering your strengths.
2.) Aim Master

Aim Master is a free play aim trainer with a straightforward user interface. It is currently in beta. As a beginning weapon, you can choose from a Sniper Rifle, Hand Canon, or Assault Rifle. You may also adjust the sensitivity settings for CS:GO, Fortnite, Overwatch, and PUBG with this aim trainer. You can also create a free account to keep track of advanced statistics for each game and compete for the top spot in the leaderboards with other players.
3.) AimBeast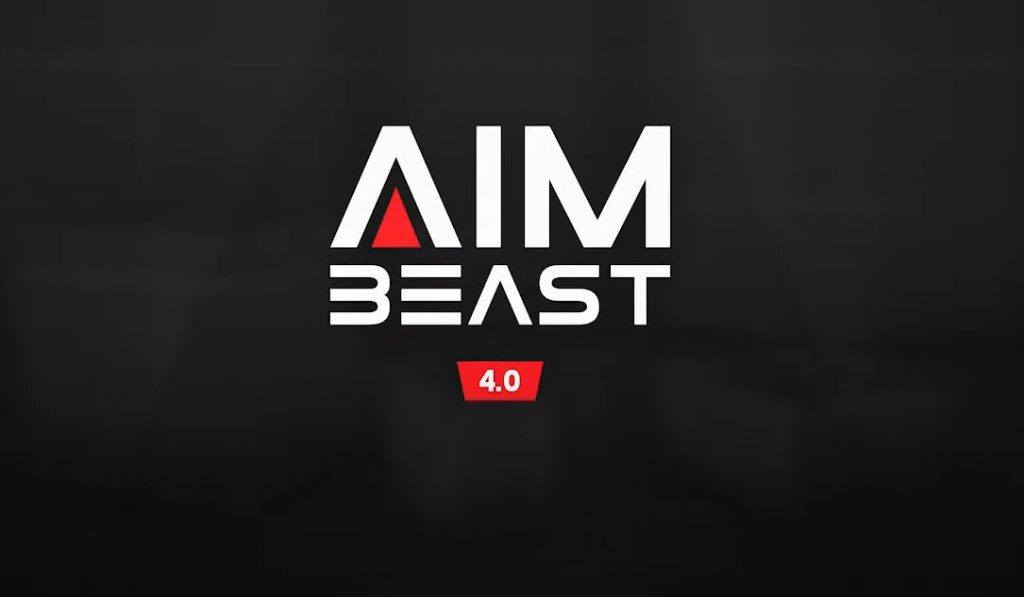 Aimbeast is the best way for FPS players to improve their aim and warm up. This aim trainer has the most advanced AI movement system, which employs imitation learning to allow bots to walk and behave the same way that humans do. Every bot's mobility system, as well as every characteristic and behavior, is completely programmable. You may browse and play a large number of situations produced by the community and developers; each scenario has many variables and can be customized in great depth; when you upload a scenario to the workshop, a leaderboard is created and everyone can play it.
Everything in the game, including crosshairs, noises, map textures, HUD, map shading, sky type, third person settings, and more, may be readily customized via the options menu.
Aimbeast provides the greatest and easiest tools for building training map and scenarios, owing to a quick and simple map editor that allows you to quickly create, test, and share your maps in real time.
You can keep tabs on your progress in whatever training courses you play by looking at a graph that shows how far you've progressed with your aiming skills over time. You may also filter by date or parameter (scoring, kills, accuracy, etc.) to get a sense of how each scenario has improved over time.
Aimbeast provides the shortest input latency and highest performance of any current aim trainer, and it now accepts controllers as well. If you're using a controller, you can pick between input curves to match your game, however if you're using a mouse or keyboard, you can directly adapt your sensitivity to other games.
Combine your favorite scenarios to create automated drills. You can also opt to play community-created routines and keep track using the in-game progress tracking page.
4.) Aimtastic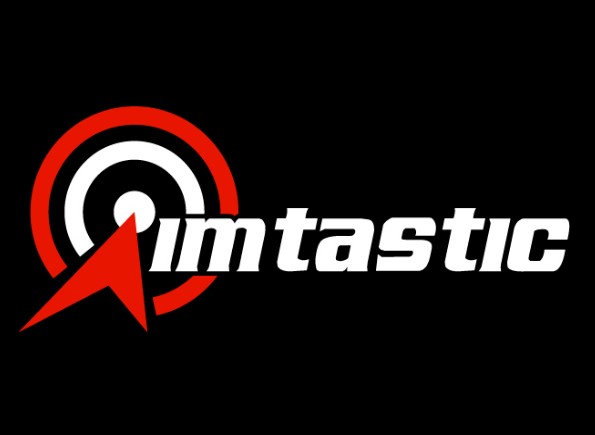 Aimtastic, a training game for FPS games, is another free aim trainer on Steam. Assists you in becoming a better aimer. There are a variety of practice scenarios included, which are perfect for warming up or taking your aim to the next level. If players desire more levels to explore and support the development, they can purchase the supplied DLCs or use the accompanying workshop mod to make their own. This is definitely one of the greatest free aim trainers you can get because it doesn't have as many restrictions as Aim Lab.
The majority of the workouts focus on honing your aim in circumstances when you must travel the map. While strolling along a corridor, be prepared to shoot targets emerging from doorways. All of Kovaak's and others' classic aim maps, such as tile frenzy, are included in the game.
The majority of aim trainers are static, requiring you to stand still and shoot at targets that show on your screen; however, aimtastic is different. It requires you to explore certain maps while refining your aim, much as in real games.
5.) Aiming.Pro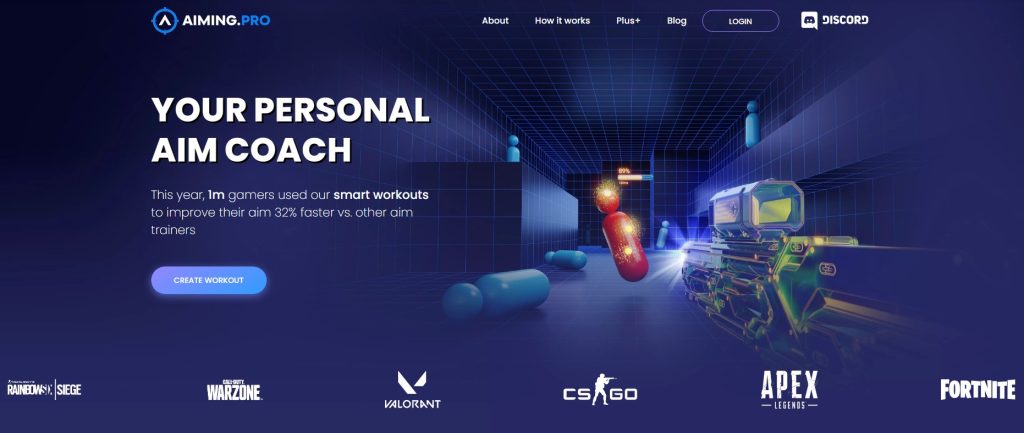 This is a web-based aim trainer that offers a variety of free training courses as well as detailed statistics for a subscription. Using our aim trainer, you may improve your ranking in specific FPS games. Competitive pros have carefully selected drills based on each game's main premise to improve your aim in the areas that matter.
To enter the elite ranks of Valorant, Apex, CSGO, and COD, hit the set goal in each level and keep moving forward. Begin your adventure with The Trainer right now to reach your maximum gaming potential.
On your first visit, this aim trainer will give you four random shooting courses, and you may create a free account to chart your progresses. There's also background music to help you relax while you practice your aim, which isn't available in other aim trainers.
Aiming.Pro also comes with their own customized teaching assistant, so if you're looking for an aiming course for Apex Legends, Valorant, or CS:GO, this is the trainer for you.
6.) Aim Trainer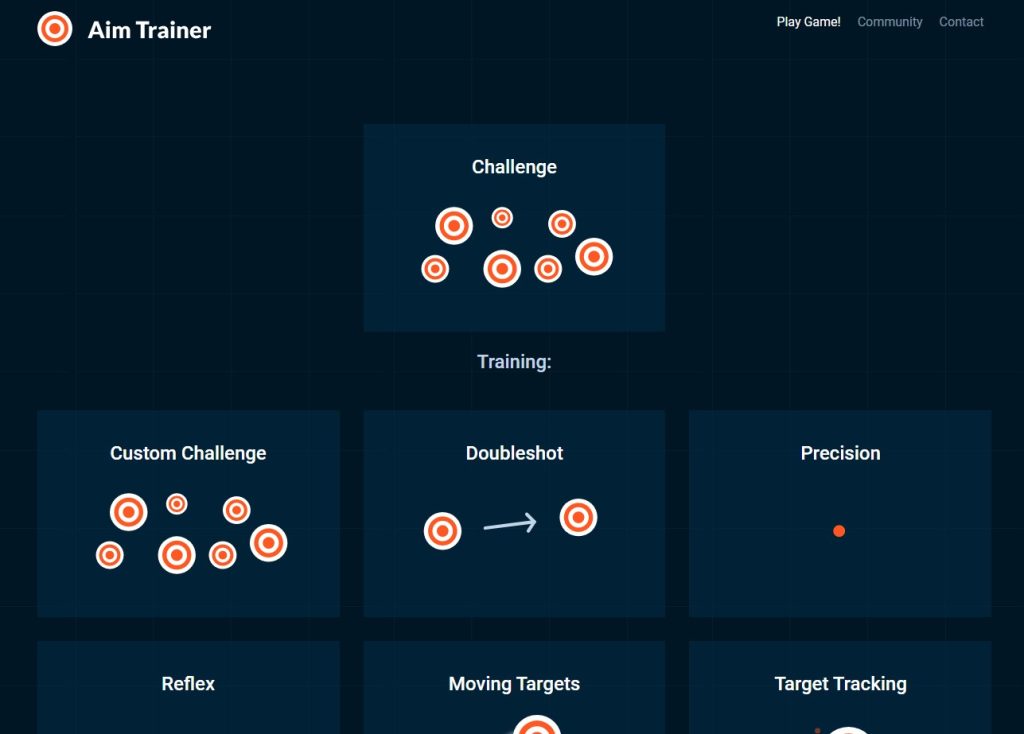 Aim Trainer is a free browser game that helps players improve their aim in games like Fortnite, Counter-Strike: Global Offensive, and Call of Duty. The game was created with only one goal in mind: to enhance the individual's aim. One of the greatest Aim Trainers available, with several customizable options and challenges designed to help players improve various elements of aiming. It's a program designed specifically to assist gamers improve their skills in games like Rainbow Six Siege, Overwatch, PUBG, and other FPS titles.
Aim Trainer's mission is to help players improve their aiming and other areas of first-person shooter games. While each game is unique, FPS games such as Fortnite, Counter-Strike: Global Offensive, Apex Legends, and Rainbow Six have comparable mechanics and hence similar skill requirements, which Aim Trainer may help players better.
You will definitely be able to improve your accuracy and aiming with Aim Trainer by your side and a lot of practice, and it has been confirmed numerous times that the best eSport players of FPS games such as Overwatch, PUBG, Fortnite, Call of Duty, and other shooters train this way in order to hone their skills.
7.) 3D Aim Trainer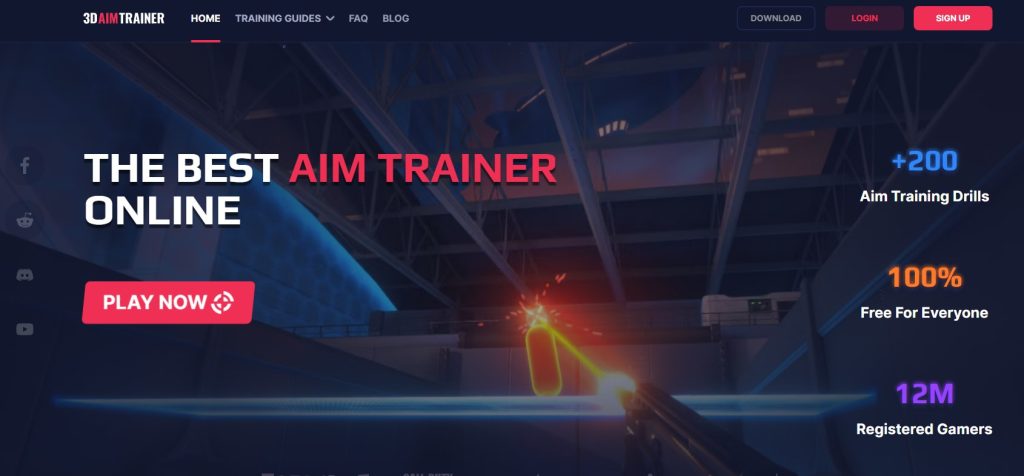 To help you improve your aim, this aim trainer perfectly simulates your favorite games in several training environments. The mouse sensitivity is calculated using our sensitivity calculator. Training with the carefully prepared situations and aim games will improve your aim more quickly than simply playing a standard FPS game.
Track your game stats, and use our their mouse accuracy test to start establishing muscle memory. To put your goal to the test, compare your performance to that of other players and get the results you want. The precise statistics and leaderboards that 3D Aim Trainer has unblocked available for every FPS player in the world are critical components that will help you improve your aim.
Using the 3D Aim Trainer, will improve aim, mouse control, and shot accuracy much faster than simply playing any Shooter.
They assist you in converting and synchronizing mouse sens and field of view (FOV) for hipfire and scopes so that you may improve aim practice (ADS). All weapons and their properties, such as rate of fire, clip size, and reload time, are supported. All gaming character traits like movement speed, jump, crouch, and height are also supported.
Frequently Asked Questions
What is the best aim trainer for Valorant?

3D aim trainer would be best suited for aim trainer for Valorant.

What is the best aim trainer?

Aim Labs would be the best aim trainers available and its free.

Is there an aim trainer for controller?

Yes, you can use 3D aim trainer if you are using a controller.

What is the best free AIM trainer?

Aim Lab is the best free aim trainer available.

What is the best aim trainer for Fortnite?

Aim Lab would be the aim trainer for Fortnite.