If you ever find the screen too bright on your Nintendo Switch, there is a solution and an easy way to modify the settings. With users spending more time playing on the console, it is best that you are comfortable looking at your screen to enjoy playing games. To find out how to adjust your Nintendo Switch Screen Brightness, we suggest that you keep on reading as the detailed instructions will be provided below.
Important Note Before Adjusting the Brightness on Nintendo Switch
As the default setting seems okay for the majority of Switch users, Nintendo still provides an option to modify the brightness of the screen for user's preference. Take note that this option can only be possible if the Nintendo Switch is in handheld mode or tabletop mode. Also, if Auto Brightness feature is enabled, the brightness will be automatically adjusted based on your surroundings. You can disable auto brightness if you prefer to adjust the light on your console using the brightness slider.
How to Adjust Nintendo Switch Screen Brightness
There are two ways of adjusting the brightness of your Nintendo Switch console. You can make the adjustment any time you want and will only take a minute or two. Detailed steps are given below for both methods.
Adjust Brightness from the System Settings Menu
You can enable auto brightness or change the level by heading to the System Settings of your Switch. Here's how to do it: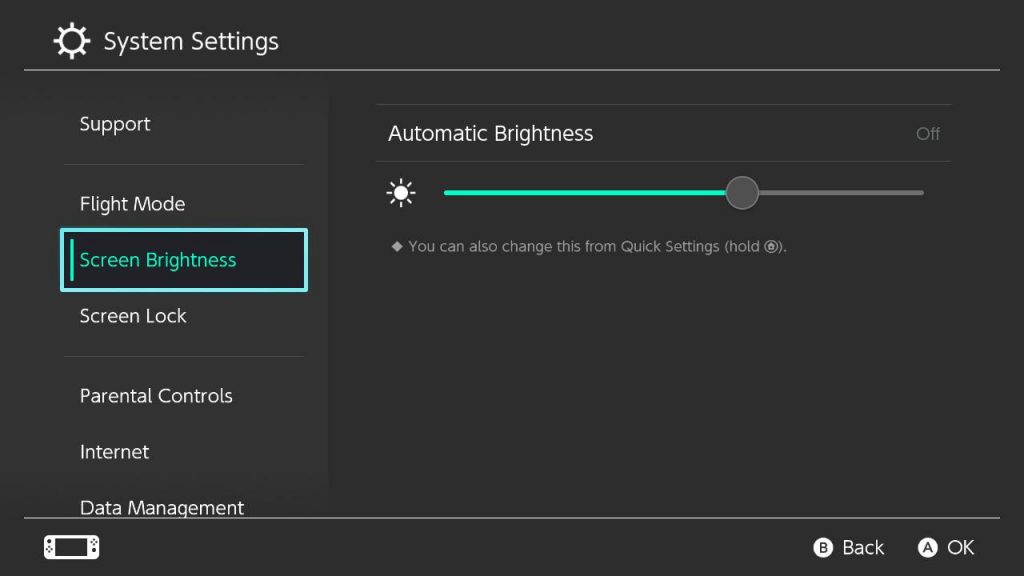 Access the Main menu of your Nintendo Switch.
Select System Settings found at the bottom.
Select Screen Brightness on the sidebar.
On the right pane, tap Automatic Brightness to enable the auto brightness feature or use the brightness level slider to adjust manually.
Adjust Brightness from the Quick Settings Menu
The simplest way to adjust the brightness would be through the Quick Settings menu. This option however, will not be available if the console is docked with your TV.
Press and hold the Home button located at the bottom of the right Joy con to pull up the Quick Settings.
Select Automatic Brightness or use the slider to adjust the brightness level manually.
Tap Back or press the Home button to close the Quick Settings on your Switch.
Aside from the feature mentioned above, you can also use the Quick Settings menu to enable the Flight mode or set your console to sleep.
Enable Dark Mode or Basic Black Theme on the Console
After you have tried either of the two ways of adjusting the light on your screen and still not happy with the results on your Switch, you may try to use the Dark Mode theme instead. This is a theme available on your Switch aside from the default Basic White. This could be the one suited for you especially if you are playing in a room with low light.  
Other interesting articles:
Visit our TheDroidGuy Youtube Channel for more troubleshooting videos and tutorials.