The Samsung Galaxy S10 is the best smartphone you can get today. The handset was released a few months ago amidst much anticipation and it's safe to say that the phone has delivered on it. If you've recently purchased the phone, you would be hard pressed not to include a wallet case for Galaxy S10, given how beautiful the device is.
* If you buy through links on our site, we may earn an affiliate commission. For more details, please visit our Privacy policy page.
There are different styles and varieties of cases for the Galaxy S10, which makes the choice even harder for customers. Wallet cases are among the most popular out there as they allow you to keep some other stuff handy in addition to your phone. Given the amount of options out there, picking a good wallet case for your Galaxy S10 is no easy job.
This is why we've decided to compile a list of some of the best wallet cases available for the Galaxy S10 right now. While most are third party offerings, Samsung also offers its own cases for the new flagship which are definitely worth checking out. So without waiting any further, let's have a look at our list.
Best Wallet Case for Galaxy S10
This is a comprehensive wallet case designed specifically for Samsung's new flagship. It comes with RFID blocking enabled to keep your cards and precious information safe. It can hold a total of three cards, and some cash as well, making this the perfect wallet case for your Galaxy S10. The body of the case also comes with a shock absorbent TPU bumper, resisting most of the damage during impact.
You can pick up this attractive case in Black or Burgundy, thus offering something for everyone. The case also features a flip stand, allowing you to rest your device on a flat surface in landscape orientation. The best part about the case is that it even supports wireless chargers, so you're not required to remove the case in order to charge your Galaxy S10 wirelessly.
This isn't your conventional Galaxy S10 wallet case and is significantly slimmer than you would expect. However, despite the exterior, the case can fit up to three credit/debit cards or personal IDs, giving you enough versatility to carry around your most important belongings. The case maker has used a TPU sub frame and a rigid polycarbonate shell, giving it the durability that is necessary for a smartphone like the Galaxy S10. Luckily,
Encased also offers a lifetime guarantee for the product, so you're well covered here. The design is particularly interesting as well, offering a slightly raised lip and easy to push buttons, ensuring that the hardened shell of the case doesn't affect usability. This attractive wallet case is priced favorably, making it a very appealing prospect for all.
Case-Mate is no stranger to making smartphone cases and covers, and this particular Wallet Folio case for the Galaxy S10 is a fantastic offering. It comes with enough slots to house your cards as well as cash, giving you the ability to leave your wallet at home. This is perhaps one of the primary reasons why people prefer wallet cases instead of standard slim rugged cases.
Another advantage to picking this offering is the fact that the company offers several colors for the case, something that other manufacturers cannot offer. Be careful, however, as the same listing even mentions some other non-wallet type cases. There's also a kickstand here, allowing the phone to stay upright in landscape orientation. This is also one of the highlight features of wallet cases as they can serve two purposes.
If you also have a wireless charger at home, you will be pleased to know that this case will work with it despite being relatively thick. Needless to say, the case is made with durable leather and is expected to last a long time. Much like other wallet cases on this list, the Case-Mate Wallet Folio can be bought for on Amazon.
This is yet another versatile wallet cover that allows you to store some bills as well as cards, although some mention that it can only hold up to 2-3 cards at a time. For a wallet case, though, this isn't all that bad. The case comes from UK manufacturer who designs it in the region and is handcrafted in neighboring European countries. Made using European Nubuck leather, the case is very comfortable to the touch and is likely to last a long time if maintained properly.
It also comes with a secure TPU holder, allowing the phone to remain safely enclosed even in the event of a drop. As you would expect, all the slots here are well positioned and designed with optimum care. The case is also expected to work with wireless chargers, although it highly depends on which charger you're using. However, this wallet case is significantly expensive compared to standard wallet cases.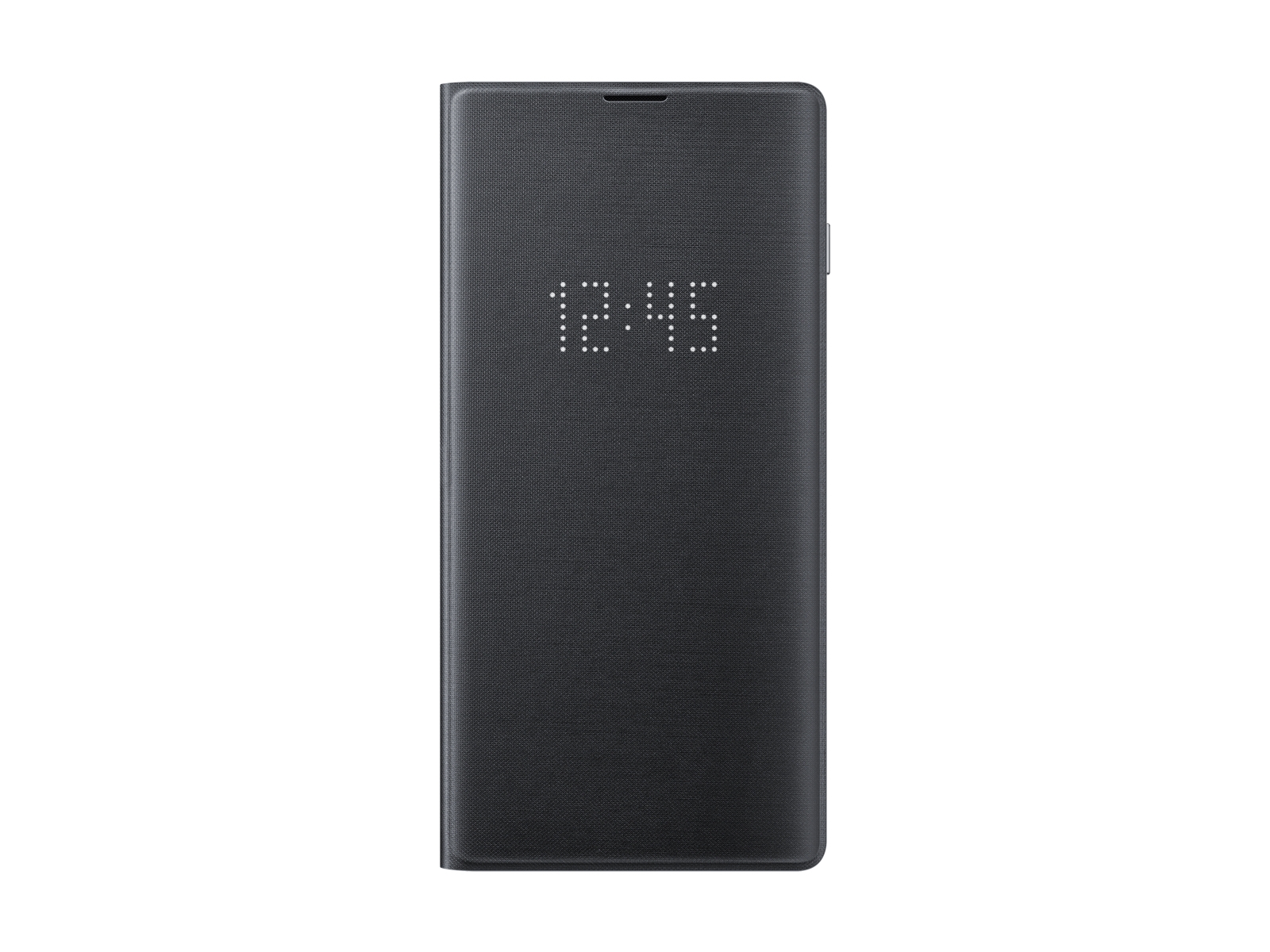 This cover is sold directly by Samsung and has been available since the company has been offering the Galaxy S10 in the market. For this reason, you cannot get this in Amazon but directly from Samsung's American online store.
In terms of features, it's packed and will definitely stand out against any other competitive wallet case meant for the Galaxy S10. When closed, the cover shows the time in a LED format, something which Samsung has done with multiple cases in the past.
Whenever you have a pending alarm notification or an incoming call, you can simply swipe on the cover to answer/reject the call, thus negating the need to actually look at your phone display. Customers have the option to ship out the case right away or pick it up from a dedicated Samsung store around you, something that most third-party retailers cannot offer. Since this is offered directly by Samsung, this case is fairly priced.
Although the company classifies this as a wallet case, it's slightly different in that it doesn't come with a prominent covering, much like conventional wallet cases. It can fit up to three cards or cash, which is all that we expect from a wallet case.
The sides are made of high-textured materials, offering enough grip during one handed operation. Although there's no dedicated kickstand, you can use almost any card to use it as a kickstand. This is a pretty clever way of offering a feature that is otherwise absent.
The corners are made of thick materials to protect the device during drops. Since there's no covering on the front of the smartphone here, users will need to be extra careful not to drop it. But if it is dropped, users can be assured that the bumpy corners will protect your Galaxy S10.
The company also offers cases for the Galaxy S10+ and the Galaxy S10e. The case comes in multiple exciting colors, giving you the freedom to choose something apart from Black and Brown.
While this isn't your conventional wallet case, it does allow you to hold a couple of cards on your person. The advantage with a cover like this is that it also comes with a protective covering on the sides, without blocking the display particularly. The case is made of synthetic leather which makes it extremely comfortable to hold. Since the case has been designed specifically for the smartphone, you will find all the essential cutouts and slots here.
The corners are reinforced here, which will make sure to absorb most of the impact if dropped, thus keeping your phone (primarily the display) safe from breaking. The company offers the case in Black, Dark Brown and Brown, so there are multiple variants to choose from here. While it's not as functional as a typical wallet case, this will definitely get the job done. It is an affordable offering.
This might not look like much, but this is one of the most comprehensive wallet cases you will find for the Galaxy S10 out there. First and foremost, the phone rests on this super soft material with a TPU frame to keep things together.
This wallet case can easily store up to 14 cards at a time, making this a direct replacement to your standard wallet. What makes this even more versatile is the fact that the wallet folio can be removed if it's too bulky for you.
This amount of versatility is rarely seen on a wallet case, and we're glad that Galaxy S10 owners have an option to do this. The company offers this wallet case in a total of five attractive colors, offering something for everyone.
The company mentions that this case can be used by both men and women, with the color choices helping with that as well. For all the features that you find here, you will still not spend a lot for this offering, which is pretty remarkable.
* If you buy through links on our site, we may earn an affiliate commission. For more details, please visit our Privacy policy page.