Are you looking for the best Pixel 6 wallet case? If yes, here's a list for you.
| Product | Brand | Name | Price |
| --- | --- | --- | --- |
| | Ghostek | Ghostek EXEC Pixel 6 Wallet Case with Card Holder and Works with Magnetic Car Mounts Leather | Check Price on Amazon |
| | Spigen | Spigen Slim Armor CS Designed for Google Pixel 6 Case (2021) - Black | Check Price on Amazon |
| | Teelevo | Teelevo Wallet Case for Google Pixel 6, Dual Layer Case with Card Slot Holder and Kickstand | Check Price on Amazon |
| | VRS DESIGN | VRS DESIGN Damda Glide Pro for Pixel 6, Sturdy Semi Auto Wallet [4 Cards] Case Compatible | Check Price on Amazon |
| | KingShark | Wallet Case for Google Pixel 6 Pro Case with Card Holder Slot with Stand Kickstand Ring Slim Heavy | Check Price on Amazon |
* If you buy through links on our site, we may earn an affiliate commission. For more details, please visit our Privacy policy page.
You just bought your Google Pixel 6 and now, you're looking for the right phone case to protect your gadget.
Before you go ahead and look for a phone case, why not bring it up to a higher level? Instead of just a phone case, try a phone wallet case.
Why use a wallet case?
Now, you might ask, "Why should I use a wallet case?"
That's a good question and here are some of the answers.
A wallet case:
Combines the things you're carrying
Minimizes the chance of you forgetting your wallet and phone
Protects your phone from scratch and fall
Conveniently gives you access to your stuff
Looks stylish
As you can see, there are different benefits to having a wallet case for your phone. Of course, there are disadvantages, too. So, be sure to consider these drawbacks as well.
Now that you have a brief overview of what wallet cases are, it's time you check out our list.
Read on to learn more!
Wallet Case For Pixel 6
If you are looking for a durable, sleek, and functional wallet case, then you have to consider Ghostek EXEC. It comes in various colors such as stormy black, cloudy gray, and sorta pink. This means that the phone case will match whatever fashion statement you might have.
Features
Here are some of the top features of the Ghostek EXEC Pixel 6 wallet case:
Raised corners for better protection
Soft layers for cushion and shock absorption
Scratch protection
Detachable leather pocket
Mounted magnetically
Description
The overall premium feel of this phone case is immediately evident. The overall design looks elegant and impressive.
When it comes to its wallet, it can hold up to four credit or debit cards. You can also use pockets to place paper money, receipts, notes, and other similar things.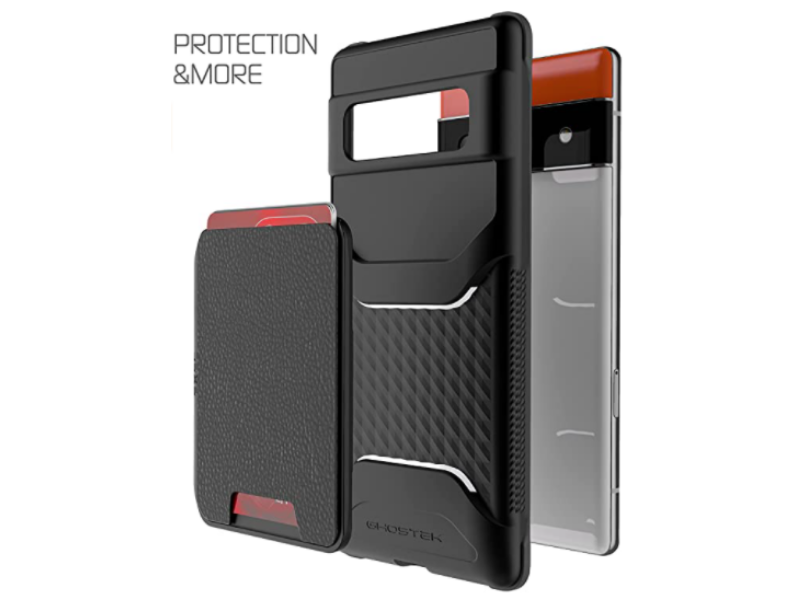 All these additional functionalities might seem too difficult to handle. But don't worry: the Ghostek wallet case comes with an ultra-slim design. It doesn't feel bulky at all. It can easily slide through your pocket and fit in small bags.
What's more, the built-in metal plate allows you to quickly place your phone onto magnetic mounts and phone holders. The leather pocket is even detachable.
Buy it now on Amazon
---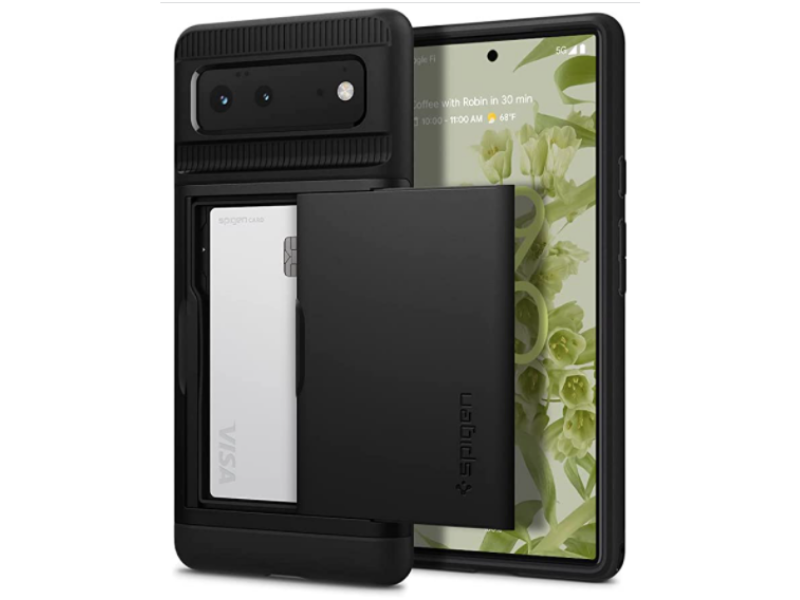 Spigen is a well-known brand in the smartphone accessory industry. So, it is not a surprise that we have one of their products on our list.
Features
Here are some of the best features of Spigen Slim Armor Pixel 6 wallet case:
Air cushion technology
Dual layers of protection
Exterior card slot
Made with polycarbonate, thermoplastic polyurethane
Description
Available in black and rose gold colors, the Spigen Slim Armor eliminates the need to have a bulky wallet. The card holder allows you to store up to two cards at once.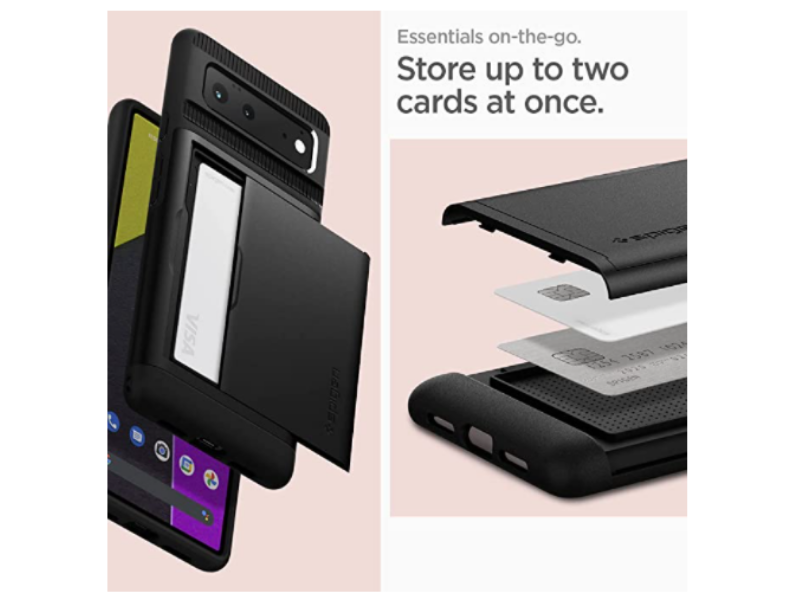 What's amazing about this wallet case is that it can conceal your cards. You can simply slide open and close the cardholder. When you look at it, it seems there's no secret pocket.
Aside from the wallet function, the phone case protects your precious Pixel 6 camera and phone screen from scratches. The polycarbonate exterior and TPU interior absorbs shocks and help your phone survive a fall.
Please note that the Spigen Slim Armor does not allow wireless charging. Nevertheless, it's still a great choice given how impressive its functionalities are.
Buy it now on Amazon
---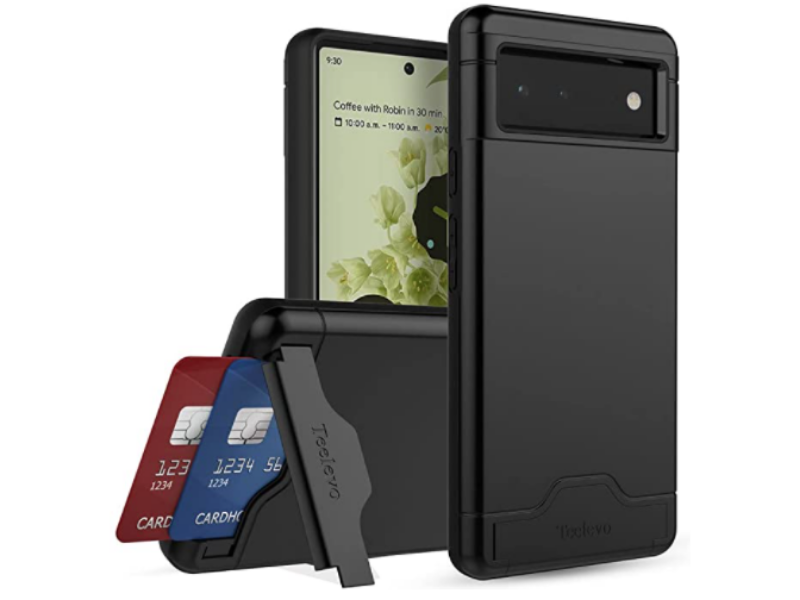 The Teelevo wallet case can be your best Google Pixel 6 case. It doesn't just serve as a phone protector, but also a wallet and a phone stand.
Features
Check out these features to learn more:
Secret card slot
Built-in kickstand
Made of polycarbonate (backside) and thermoplastic polyurethane (front side) materials
impact resistant
The card slots are hidden at the back of the phone case. It is concealed by a cover that you can transform into a kickstand.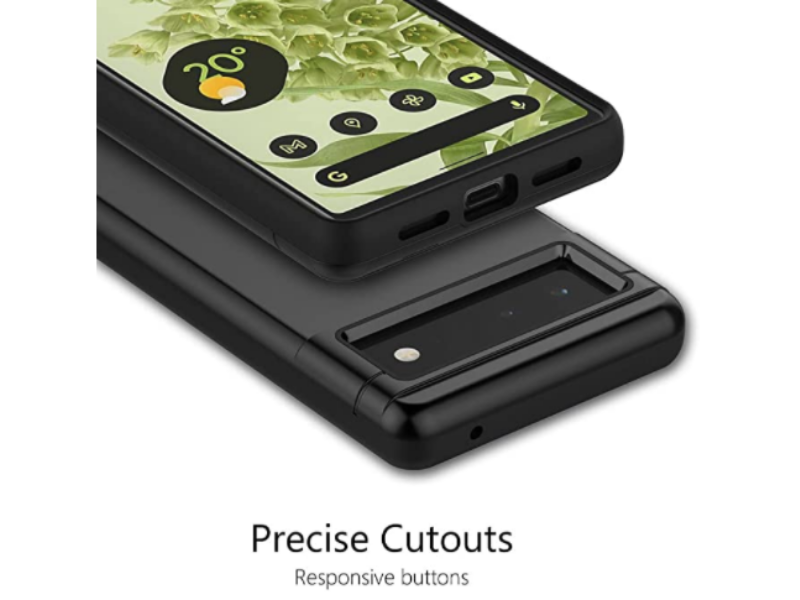 Because it is TPU and PC covered, your new phone can endure a whole lot of accidental drop or fall. Available colors include black, dark green, navy blue, and purple.
Buy it now on Amazon
---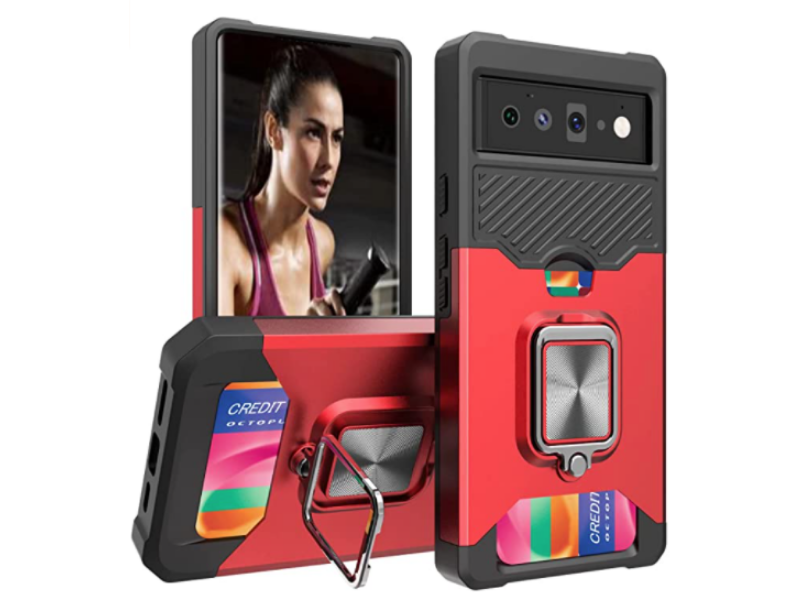 With solid military-grade drop protection, this KingShark phone case is just the phone case you're looking for if you need optimum protection.
Features
Here are some features you will love:
Foldable kickstand
Silicone material
Supports wireless charging
Magnetic case
drop tested
Description
This phone case only comes in red and black color combination. The foldable kickstand is actually a ring stand. This means that aside from being a stand, it also serves as a way to hold your phone securely and gives you a better grip.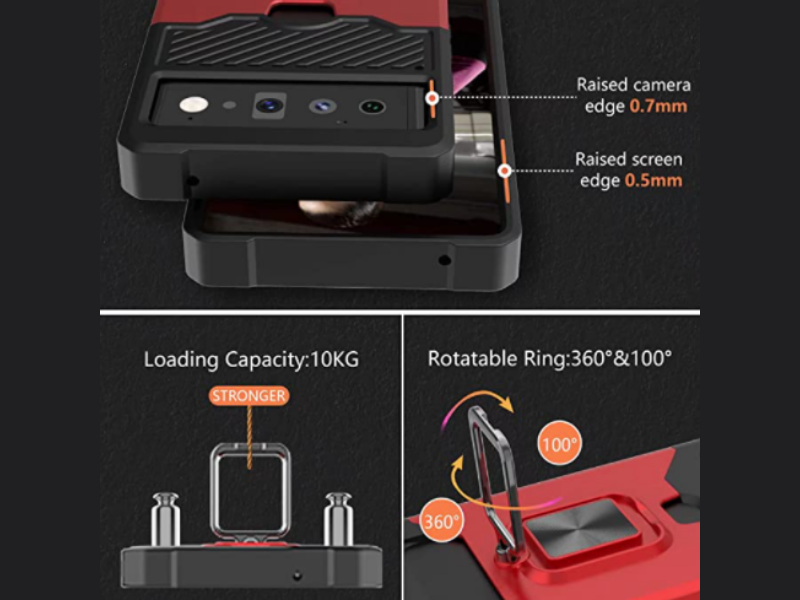 The silicone material used in creating this case makes it soft and lightweight but tough and durable at the same time. It protects your phone from scratches and falls. The lips and raised bezels around the camera create a space between your phone's camera and any surface it may get in contact with.
What's more, because of its slim design, you don't have to remove the case when charging wirelessly. The magnetic case also means you can easily attach it to magnetic car mounts.
Buy it now on Amazon
---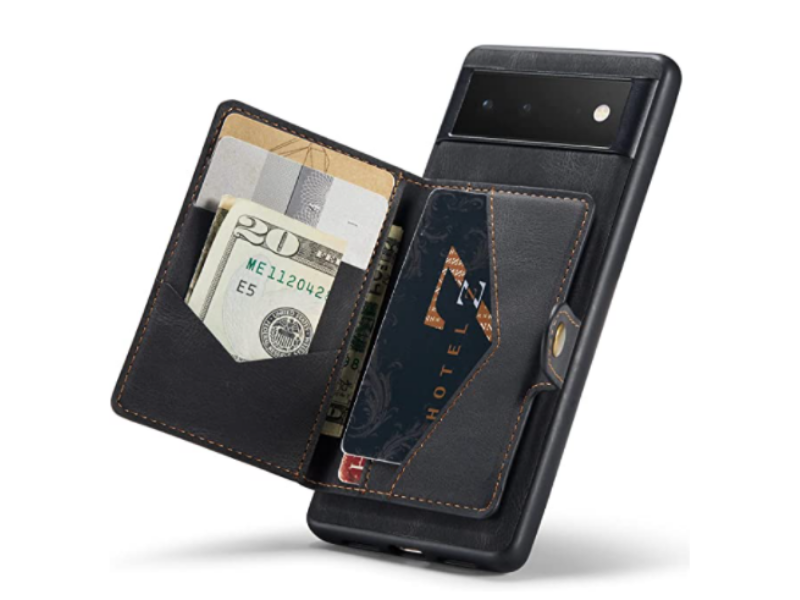 If you like a phone case that has the option to serve as a phone case or with a wallet, then this product is for you. HXY cases are known to be durable, beautiful, and functional.
Features
Check out these features:
Compatible with wireless charging
Detachable magnetic wallet
Retractable stand
Made with high-quality materials
Description
Since the magnetic wallet is detachable, you have the option to simply have a phone case or a phone case with a wallet. The versatility in use makes this phone case an extremely good choice.
The phone case allows you to charge your Pixel 6 wirelessly. When you have the wallet installed, its flap can serve as a phone stand.
The phone case is made of faux leather and thermoplastic polyurethane. These materials are light and durable at the same time.
The magnetic wallet supports up to four cards. There's also a cash bag where you can put your paper money. If you have a magnetic mount, you can easily stick your phone into it. You can even have your phone stick to your refrigerator.
Buttons are easy to press, making your life easier when using your Pixel phone.
Buy it now on Amazon
---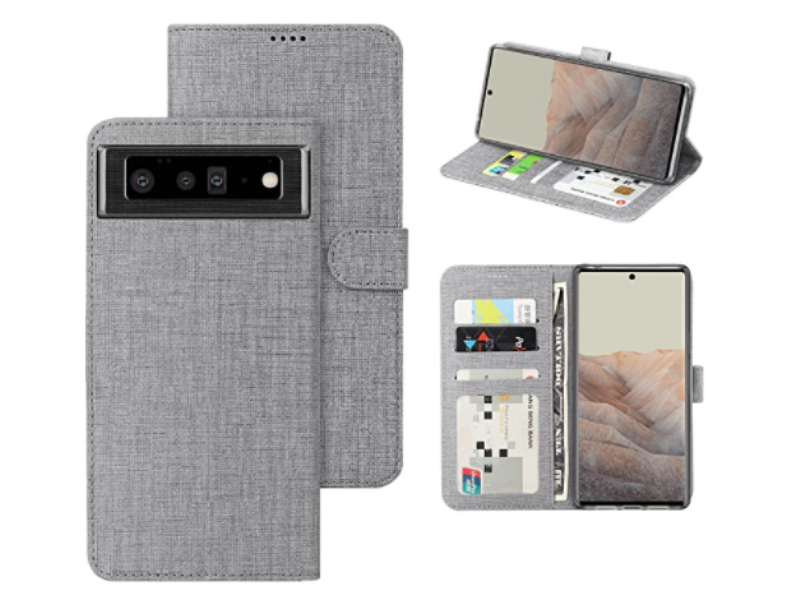 The Foluu phone case for Google Pixel 6 offers a lot of functionalities. It serves not just as a phone case, but also as a phone cover and wallet.
Features
Here are some of the best features you should know about:
Ultra-slim
Strong magnetic closure cover
Kickstand
Durable and stylish
Description
As an ultra-slim phone cover, it won't add too much thickness to your phone.
The primary purpose of this phone case it gives your phone added protection from accidental drops and scratches.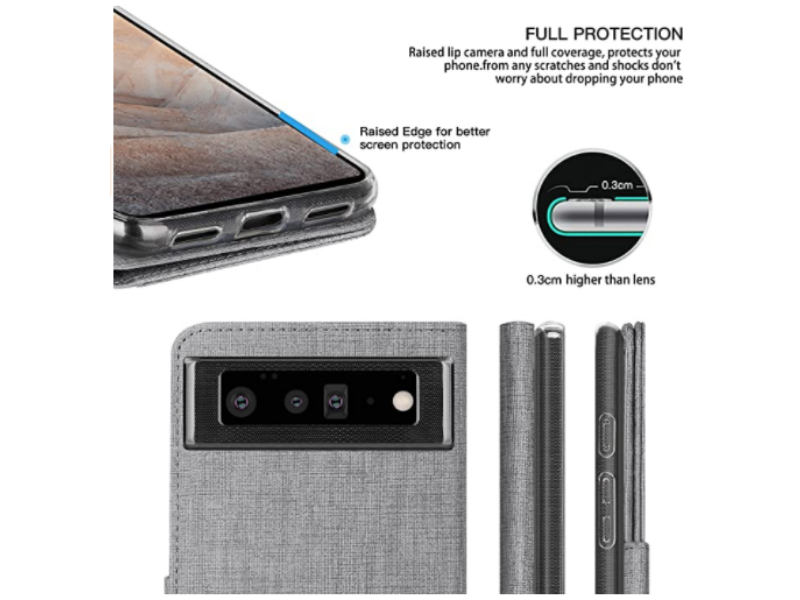 As a phone wallet case, this product hold cards and bills. It has a strong magnetic clasp to ensure your phone is fully covered all the time.
Foluu's phone cover is made with high-quality materials which include soft inner TPU, synthetic soft canvas, and leather. The phone case is available in three colors: gray, blue, and black.
Buy it now on Amazon
---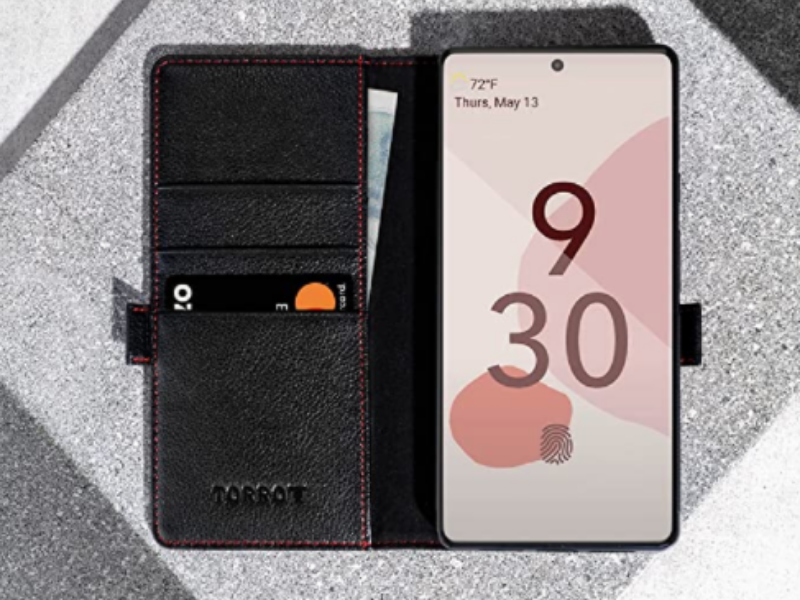 Your phone would look like a premium and beautiful wallet with Torro's phone case. It covers the back and front portion of your phone like a book cover.
Features
Check out these features of the Torro best Google Pixel cover:
Microfibre lining
Luxurious leather feel
Durable frame
Magnetic closure
The Pixel cover serves as a stand as well for viewing or checking notifications. You can put credit cards, debit cards, IDs, and money inside the wallet case.
Buy it now on Amazon
---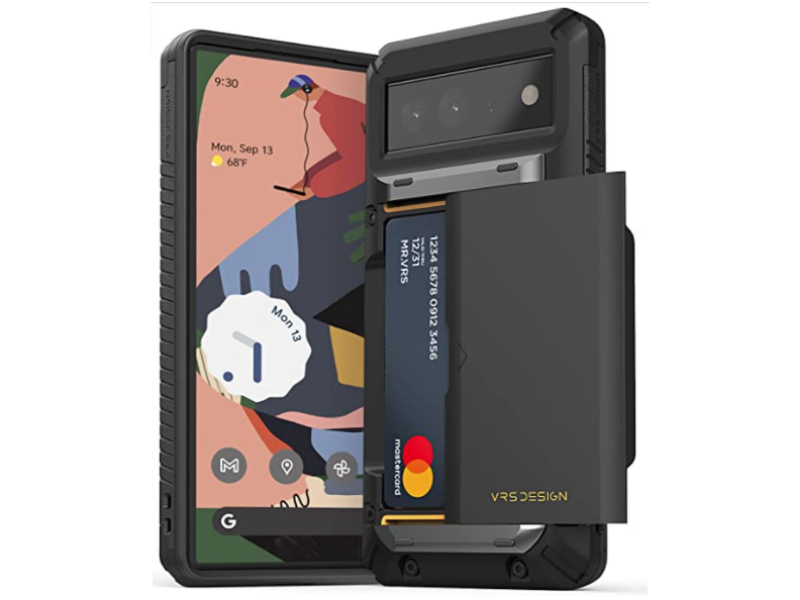 The main selling point of this wallet case is its heavy-duty protection capabilities. This means that the Damda Glide Pro can protect your Pixel 6 when it falls from a high place. It can also protect your phone from intense pressure, scratches, and water.
Features
Here are some features worth noting:
Semi-automatic door mechanism
Complete all-around protection, from back to front
Specially designed to protect the rear camera from scratches
Soft button sensitivity
Your card and IDs are safe with Damda Glide Pro. You can easily just slide open the wallet case to store and access your stuff. The wallet compartment can comfortably hold up to four cards and some cash.
Buy it now on Amazon
---
Choose the best wallet case for Pixel 6
There you have it, the list of wallet cases that will surely protect your phone and serve as a place where you can store your precious stuff.
Be sure to consider your budget, preference, and need in search of the right product. Moreover, read as much information as possible about the case you're interested in. The more details that you have, the better your chance of getting the best wallet case.
With this in mind, go out there and have the best experience in using your Google Pixel 6.
| Product | Brand | Name | Price |
| --- | --- | --- | --- |
| | Ghostek | Ghostek EXEC Pixel 6 Wallet Case with Card Holder and Works with Magnetic Car Mounts Leather | Check Price on Amazon |
| | Spigen | Spigen Slim Armor CS Designed for Google Pixel 6 Case (2021) - Black | Check Price on Amazon |
| | Teelevo | Teelevo Wallet Case for Google Pixel 6, Dual Layer Case with Card Slot Holder and Kickstand | Check Price on Amazon |
| | VRS DESIGN | VRS DESIGN Damda Glide Pro for Pixel 6, Sturdy Semi Auto Wallet [4 Cards] Case Compatible | Check Price on Amazon |
| | KingShark | Wallet Case for Google Pixel 6 Pro Case with Card Holder Slot with Stand Kickstand Ring Slim Heavy | Check Price on Amazon |
* If you buy through links on our site, we may earn an affiliate commission. For more details, please visit our Privacy policy page.