If you're not already familiar with what an Android emulator is, it's basically a program or software that allows you to get your phone on your computer. This means that you can use social media, workspace, fitness, and all of the other great apps from the Play Store on your desktop laptop or computer.
The really awesome thing about emulators is that they're usually built for one of two things: gaming, or developing. First of all, the gaming is truly an amazing experience, because if you're a bit of die-hard fan when it comes to Candy Crush, first-person shooter apps, Clash of Clans, or even virtual farm life, you can move up to such a bigger screen and more immersive gameplay. And for app developers, this is a great way to really visualize what you're creating, but also test it out to make sure it will run smoothly for all users. So today, we're sharing the best 5 Android emulators that are out right now.
Andy
Andy takes your computer and turns it into your Android phone in no time. It allows you to run Android on your Windows desktop, and you'll be able to play and utilize all of the popular games and apps right from your computer. This supports games like Candy Crush, Subway Surfer, and the ever-famous Clash of Clans, where you can use your phone as the joystick, as well as communication apps like Whatsapp, Snapchat, and so much more.
The thing we like about Andy so much, and know you'll love too, is that every feature except for developer support, is completely free. So you can download this, test it out, and even use it most likely with no issues for as long as you need. If you decide you do want the developer support, you can get that for just $12 a month or $99 for the entire year, at any time.
Download it now: Andyroid
Genymotion
Genymotion definitely leans to the more sophisticated and higher-end side of emulators. Rather than necessarily just playing games, this can really be used for diving deeper into your smartphone and utilizing apps that you may work with on a daily basis, but on your computer. You can utilize Android Studio, Eclipse, and more.
If you're developing an app on your computer, Genymotion will equip you with the right tools to ensure that every detail is thought of and every page will be seamless when it shows up on smartphones all over the world. You can test your development in web browsers, use GPS widget for testing, see how much battery juice your app will take, and more. It may seem a bit pricey, beginning at $136 a year, but truly Genymotion opens up a whole host of new tools for app developers.
Download it now: Genymotion
Bluestacks 3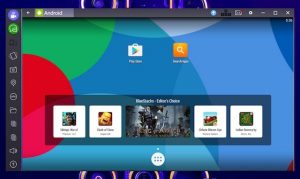 With Bluestacks, you'll actually get to choose between 2 different kinds of emulators, and we think it's fantastic to have options. The first is App Player, which is geared towards a wide variety of apps. A wide variety, as in, any app you want. That's right: Bluestacks 3 makes every single app in the Play Store available on your desktop.
The second emulator is specifically geared towards gamers. This one is for every hardcore Clash of Clan-ner, Angry Birds thrower, and dedicated digital farmer out there. With this version, you'll get exclusive in-game gifts for only Bluestack users. There's a ton of other features as well, but our favorite is probably the friends-list and corresponding chat window. Not simply because it's a friends list, but because you can sync your contacts from Google, Facebook, Steam, or all three if you choose.
Download it now: Bluestacks
KoPlayer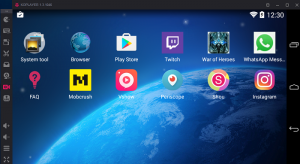 KoPlayer is a free emulator, which makes this a  great option if you're wanting to try it but aren't necessarily sure yet that you want to commit to paying a monthly fee for one. You'll be able to play all of your favorite Android games right on your computer after an easy download and installation process.
This awesome app offers keyboard mapping so you can use the typical gaming keys, W, A, S, and D for most, if not all, of your gaming excursions. Another neat thing about KoPlayer is that  you can also take advantage of the built-in recorder to record your gameplay, and then easily share on your facebook or upload it to your YouTube channel.
Download it now: KoPlayer
Android Studio
If you're currently working on creating your own app, or are wanting to know what program to use in getting started, look no further than Android Studio. Similar to Genymotion, this is a great emulator designed more for developers rather than gamers. Android Studio has a lot of amazing features that developers can utilize to create a quality app that goes far beyond others.
Those features really are what makes Android Studio so great. While there's certainly a level of code required to make every app function the way it does, Android Studio also offers a truly visual creation experience. For those developers that need to see it before they can believe it, the Visual Layout Editor will allow you add images and text, then resize and organize it to look exactly how you're envisioning it. This is a truly fantastic tool!
Download it now: Android Developer
Verdict
One thing we try to do in all of our articles is offer a lot of variety, and this one is no different. Whether you're a gamer, developer, or even just curious, there's something on this list for everyone. If you try one of these emulators out, please be sure to tell us about your experience and what you're utilizing it for in the comments section.