The Your Phone Companion app can now support drag and drop of files between a Windows 10 PC and Galaxy device, and vice versa.
This feature is currently accessible only to Windows Insiders running at least version 1.5 of the app or higher.
Samsung and Microsoft recently added support for copy and pasting of text and files on select Galaxy flagships.
Microsoft's Your Phone Companion app has just received support for drag and drop files between Windows 10 PCs and Galaxy smartphones or tablets. Last month, Samsung announced support for copy/paste of text and media to and from Windows 10 computers. This new drag and drop feature has some limitations, however.
The company mentions users can only send 100 files at a time, and each file size shouldn't exceed 512MB. Folders are currently not supported either. The process is fairly straight forward, although it is only available to Windows Insiders at the moment. To access this feature, users will need to be running at least v1.5 or higher of the Your Phone Companion app on their compatible Galaxy smartphone or tablet.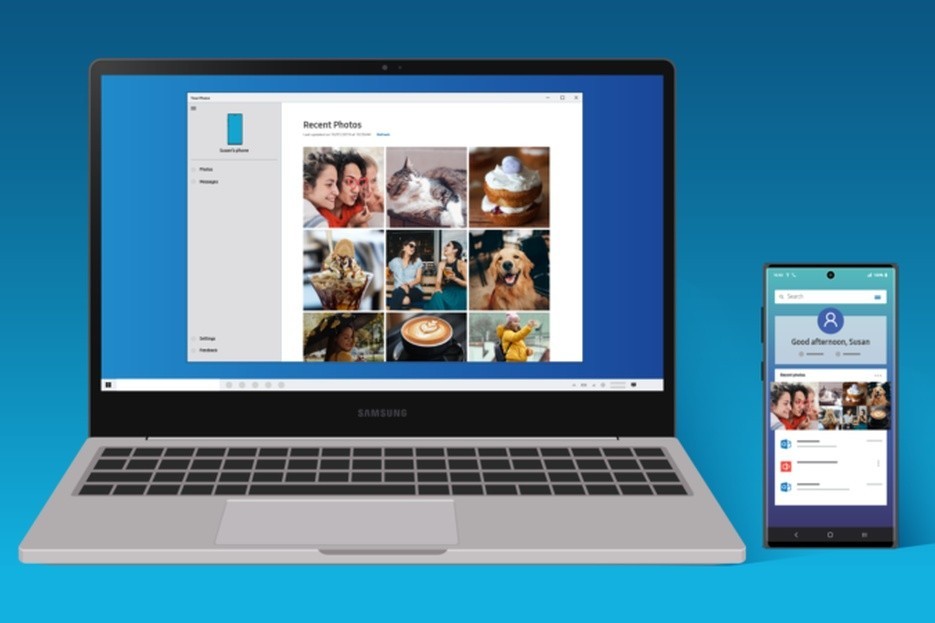 If you're transferring files from a Windows 10 computer to your Galaxy phone/tablet, you can tap on the notification to check out the files that have been sent over. Files will also be present in the default download folder on your phone.
If you're new to the process, Microsoft explains how it works:
To drag from the Gallery app:

Once you've opened Phone screen in the Your Phone app, use your mouse to navigate to your Albums and select one.

Long press on a photo until a checkmark appears, then release. If you'd like to select additional photos, you can do so by tapping on them.

Use your mouse to long press on the photo(s) you've selected, and a thumbnail will appear. Drag the photo(s) to your desired location on your PC. The cursor will change to say Copy when you are able to drop.
Dragging files from your PC to your phone:

Once you've opened Phone screen in the Your Phone app, use your mouse to select the file(s) you'd like to transfer and drag them to the Your Phone app window. The cursor will change to say Copy when you're able to drop.

Release the mouse and your file(s) will start transferring. A progress indicator will show for a few seconds.
There's no word on when this feature will be more widely available, but given that it's already out in the open, we're assuming it won't take much longer. If you own a Galaxy smartphone and a Windows 10 PC, there's good reason to try this out when it's more widely available.
Source: Microsoft
Via: Android Central