There are several factors that can cause the Vampire Survivors crashing issue on your computer. This is usually caused by a outdated graphics card driver , corrupted game file, or compatibility issues, just to name a few. To fix this, you will need to perform a series of troubleshooting steps.
Vampire Survivors is a gothic horror casual game with rogue lite elements that's now available in Steam. The aim is to kill off as many monsters as possible and get as much gold to level up. It has a minimalistic gameplay style where your choices can quickly snowball against the many monsters approaching you.
Vampire Survivors game crashes? Not starting? getting errors? Here's what you need to do
One of the issues that you might encounter when playing this time survival game is when it crashes unexpectedly. Although this is an early access version game there's no reason for it to crash constantly. This can become an annoying issue as it will usually affect your gaming experience.
Here's what you need to do to fix this problem.
Solution 1: Make sure your computer can play Vampire survivors
This game Vampire Survivors does not need a powerful computer hardware to run. Even if you are playing the game on a desktop or laptop that is still running on Windows 7 then you can still play it. You should however check if your computer meets the minimum requirements to play the game.
Minimum system requirements:
OS: Windows 7
Processor: Intel Pentium 4 processor or later that's SSE2 capable
Memory: 1 GB RAM
Storage: 250 MB available space.
Solution 2: Update your graphics card driver
One of the common reasons why a game crashes is due to an outdated graphics card driver. The latest driver update will usually have several performance enhancements as well as bug fixes not found in the older version. It's therefore a good idea to always make sure your computer has the latest graphics drivers installed to avoid any gaming related issues.
Time needed: 5 minutes.
Update graphics driver
Right click on the Start button.

This can be found at the lower left side of the screen.

Click on Device Manager.

This allows you to manage your PC devices.

Click the arrow before Display adapters.

This will show you the graphics card you are using.

Right click on the selected graphics card then choose Update driver.

Your computer will search for the latest updates available.

Select Search automatically for drivers.

Your computer will search for the best driver available and install it.
Once the latest update has been installed restart your PC then try playing the game and check if it still crashes.
Solution 3: Make changes to Vampire Survivors graphics setting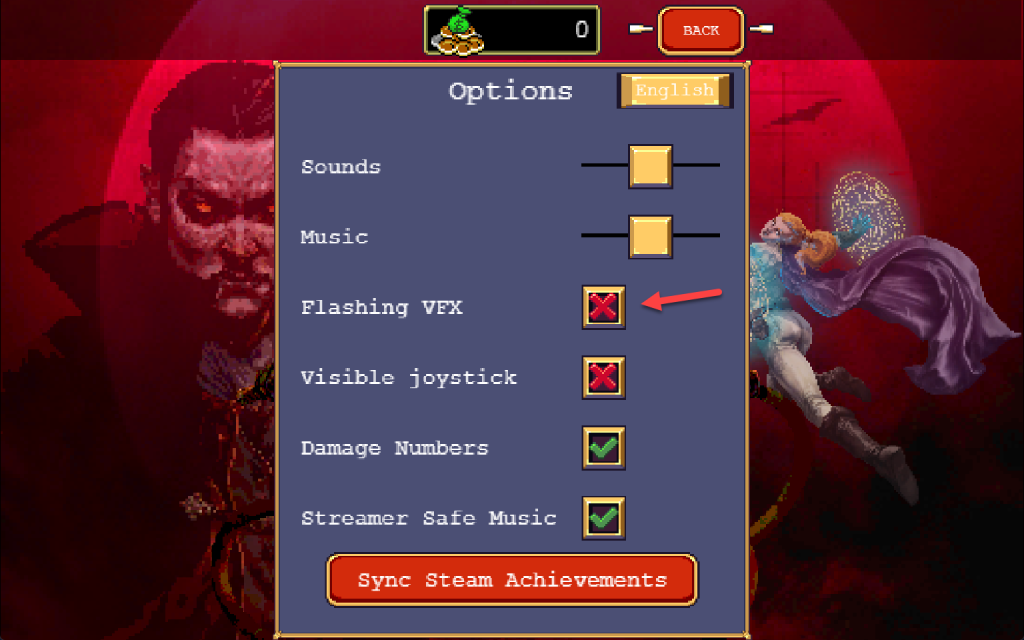 Some players experiencing crashing, freezing and other game glitches have made changes to the graphics setting to improve their gameplay experience. This might just be a bug present in some versions of the game affecting some PC models and will most likely be fixed in the next full version update.
Run Vampire Survivors.
Press any key to start.
Click Options.
Uncheck Flashing VFX.
Click the Back button.
Try playing the game and check if the same issue still occurs.
Solution 4: Try running Vampire Survivors as an administrator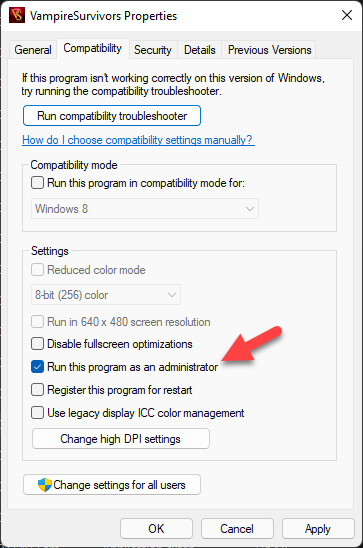 There's a possibility that the game is crashing because it does not have the necessary permission to access certain Windows components. You should try running the game as an administrator then check if the problem still occurs.
Right click on the Vampire Survivors game from its installation folder.
Select Properties.
Click on the Compatibility tab.
Make sure to place a check mark on the Run this program as an administrator box.
Click on Apply then Ok.
Solution 5: End other running applications when playing the game
It's always a good idea to close any other running applications such as your browser when playing Vampire survivors. This will allocate the most system resources such as RAM, CPU, and GPU to the game allowing it to run more smoothly.
Right click on the Start button then click on Task Manager.
Make sure to click on More details found at the bottom left part of the window if it appears.
Click on the Processes tab.
Right click on the apps running and select End task. Do this for all apps except Vampire Survivors and the Steam client.
Solution 6: Repair your Vampire Survivors game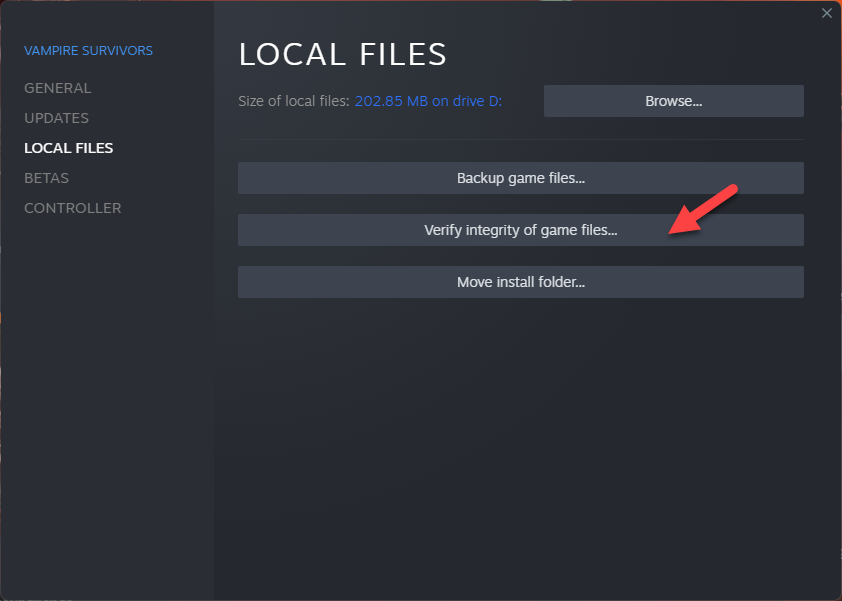 Sometimes a corrupted or missing game file can cause the game to crash. In order to check if this is what's causing the problem you will need to verify the integrity of the game using the Steam client. If any file issues are found a fresh replacement will be downloaded from the server.
Open the Steam client.
Click on Library.
Find Vampire Survivors then right click it then click on Properties.
On the new window that appears click on Local Files.
Click Verify integrity of game files…
Solution 7: Reinstall Vampire Survivors
In case the issue persists even after performing the troubleshooting steps listed above then you should try uninstalling the game then install a fresh version.
Open the Steam Client.
Go to the Library tab.
Right click on Vampire Survivors then click on Manage then uninstall.
Click on Uninstall again to uninstall the game.
Right click on Vampire Survivors then click on install.
Click next to proceed with the installation.
FAQ
What is an early access version?
An early access game is an unfinished version of the game that's ready for the public to play. As player give feedback on their game the developers will take this into account and update or add content accordingly.
Approximately how long will this game be in Early Access?
The game developers estimate around 1 year however it may take longer depending on player feedback.
What is the current state of the Early Access version?
The early access version is already playable. You start the game by choosing from any of the main characters. All forms of night creatures and enemies will appear on screen. Your aim is to use your offensive weapons to kill these night creatures at the same time you should grab gems to earn money. You can then spend money to upgrade your armor. You should avoid death as much as possible and survive the cursed night. You will however run out of luck eventually and die however the gold you gathered can be used by the next survivor.
Feel free to visit our YouTube channel for additional troubleshooting guides on various devices.